West Virginia Football: A Very Biased 2010 Schedule Prediction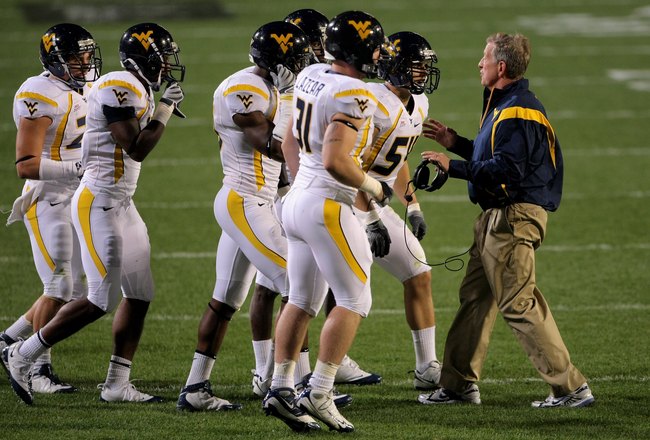 Stewart gives final instructions
Doug Pensinger/Getty Images
Mountaineer fans, everywhere, are gearing up for the 2010 football season. Whether it is Noel Devine's quest for the top running back spot, or Robert Sands quest to be the best safety ever at WVU, there is plenty to keep an eye on in 2010.
For the first time since he was hired, Bill Stewart enters a season with players he has recruited as the nucleus of the team.
How Stewart's third team performs will go a long way in deciding his future as head coach. Fair, or not, Stewart must reach double-digit wins in 2010 to squelch the unrest in Mountaineer Nation.
Accepting 10 wins as the barometer for the season, can WVU reach that plateau?
A glance at the provided schedule provides no opponent that is clearly superior to the 2010 Mountaineer football team.
9/4 Coastal Carolina
9/10 at Marshall
9/18 Maryland
9/25 at LSU
10/9 Nevada-Las Vegas
10/14 South Florida
10/23 Syracuse
10/29 at Connecticut
11/13 Cincinnati
11/20 at Louisville
11/26 at Pitt
12/4 Rutgers
Certainly, there are teams on the schedule that are more than capable of beating WVU. However, none of the opponents on the schedule are guaranteed losses.
Coastal Carolina, Marshall, and UNLV Try To Climb the Mountain but Fail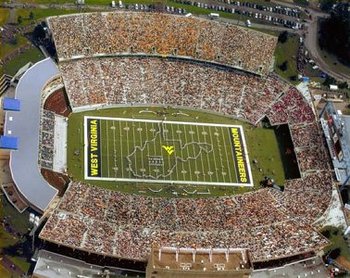 Milan Puskar Stadium on a football Saturday
There are three teams WVU will face this year that would provide a monumental upset if they were to defeat the Mountaineers.
Those three are Coastal Carolina University, Marshall University, and the University of Nevada at Las Vegas. For the sake of this analysis, we will count those three games as wins for the Men from Morgantown.
CCU represents the annual opening day tune-up game for the Mountaineers. WVU has had problems putting teams away under Stewart. Those problems will not be present in this game.
Marshall University is attempting to make this game a rivalry, they even hired Doc Holliday away from WVU. Doc has bought in, and is doing everything in his power to stir up trouble.
Until Doc stirs up some recruits, it will be the same old story line. Marshall is severely out-manned in this game.
The UNLV Runnin Rebels are, well, not. UNLV will be waiting for the final gun to sound to signal their trip home.
Conversely, nine games will test the Mountaineer football team to varying degrees.
WVU stands 3-0.
University of Maryland Terrapins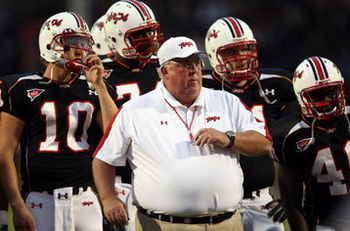 Ralph Friedgen
When Ralph Friedgen first took over at Maryland, it appeared that WVU would be hard pressed to win another game against the Terrapins. Friedgen owned the Mountaineers in his first three seasons.
The Mountaineers own the overall record with a 23-21-2 count.
Maryland has fallen on tough times recently. Their record of 2-10 in 2009 does not bode well for Freidgen's future.
Expectations for 2010 are brighter, but only slightly. Friedgen has not recruited well enough during his tenure to field a perennial winner.
Traditionally, this game has been played in mid to late September. Since 1973, only three games in this rivalry have been played outside the month of September. One of those was a New Years Day appearance in the Gator Bowl in 2004.
There was a time that this border rivalry signaled a successful season and bowl game for the winner.
That axiom will hold true in 2010, unfortunately, the rivalry will not live up to past expectations.
It is good to see Maryland back on the WVU football schedule. With a little "Luck", Maryland will stay on the WVU schedule in the future.
WVU stands at 4-0
Louisiana State University Tigers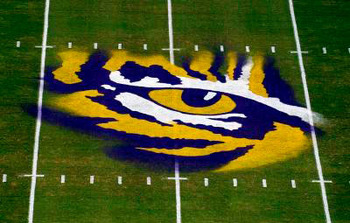 Eye of The Tiger
The first big test for WVU will come on the road against Louisiana State University. Saturday night in Death Valley has not always been a good place to be for LSU opponents.
LSU head coach Les Miles, and WVU head coach Bill Stewart find themselves needing wins in 2010 to squelch the static from their respective fan-bases.
Both teams field good defenses, and show offense as the biggest question mark. The team that can control the line of scrimmage will decide this game.
LSU does not respect the overall team speed that WVU possesses. Historically, that has been proven a bad approach when facing the Mountaineers.
Still, I posted an article earlier detailing this game, and gave the Tigers the edge due to special teams play. I stand by that assumption until proven otherwise. WVU has been horrid on kickoff coverage under Stewart.
Against premier teams, poor special teams play equals a loss.
Steve Dunlap was tasked with fixing the kickoff coverage woes at WVU. Should Dunlap be successful in that endeavor, WVU could very well come out of this game with a win.
WVU stands at 4-1.
University of South Florida Bulls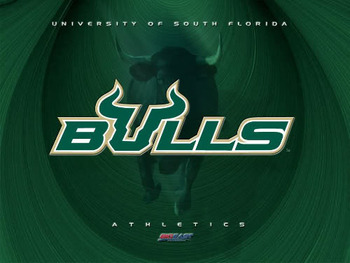 USF Bulls
Skip Holtz brings his South Florida Bulls to Morgantown this year, his first trip to Morgantown as the Bulls head coach.
Although this won't be his first trip to Morgantown as a head coach. Holtz has never defeated the Mountaineers on their home field as a head coach. Expect that string to continue on October 14.
Holtz is a quality football coach, and the Bulls have quality players on their roster. However, it will be the first season both have been together.
This game has taken on a rivalry atmosphere in recent years. It will be no different in 2010. The difference in this game is that WVU will be looking to repay South Florida for the drubbing they received last year.
If Holtz were in his second or third year, I may not be so bold to predict a victory. Alas, he is not and WVU will prevail. Look for this match-up to become a heated rivalry over the next few seasons.
These two teams genuinely don't like each other.
WVU stands at 5-1.
Syracuse University Orange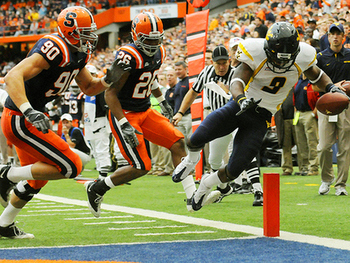 Jock Sanders takes it in
Doug Marrone was hired at Syracuse to fix all of the progress Greg Robinson had made during his tenure.
Marrone has certainly made improvements entering his second season for the Orange. How much improvement remains to be seen?
As a life-long WVU fan, I patiently await the return of Syracuse football. When Don Nehlen and Dick MacPherson were roaming the sidelines this was a rivalry game for these two teams.
Marrone is still one-year away, maybe two, from fielding a true conference contender.
If this game were to be played in the Carrier Dome, Syracuse's home field, the final would be closer.
As it stands, Syracuse is cannon fodder for the annual homecoming game in Morgantown, West Virginia.
For those WVU fans that choose to make the trek for homecoming, disappointment will not be part of the festivities.
WVU stands at 6-1
University of Connecticut Huskies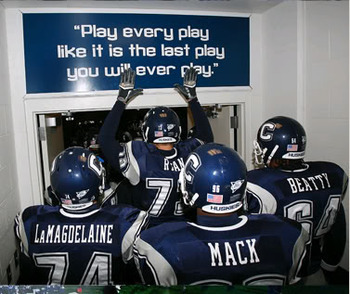 Words to play by
WVU travels to Connecticut to face Randy Edsall's University of Connecticut Huskies. UConn will not cede this game easily.
UConn is becoming an annual contender for the title in the Big East.
Edsall has done, and continues to do an excellent job of fielding a quality football team.
Again, I believe WVU will prevail. UConn will put up a valiant fight, but team speed will again pull the game out for WVU.
Overall team speed has cost UConn over the last two years. Several of the losses UConn has suffered have been late in games to faster teams.
Edsall will address the issue of speed, just not in time to face the 2010 Mountaineers. Edsall has never defeated the Mountaineers as UConn's coach, WVU will keep that streak alive in 2010.
WVU is now 7-1.
University of Cincinnati Bearcats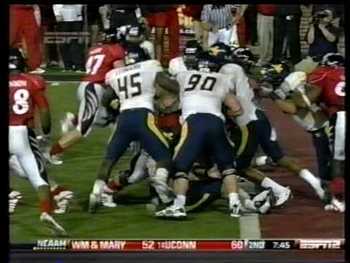 The touchdown that wasn't
The Bearcats from the University of Cincinnati come to Morgantown this year.
Butch Jones has a quarterback, Zach Collaros, which is capable of making his spread offense formidable in 2010.
With Isiah Pead returning as the starting running back and Armon Binns as the receiving threat, Collaros has the playmakers he needs to score points.
One of the strengths of the 2010 Mountaineer football team is defense. The matchup between the Bearcat offense and the WVU defense will be interesting to watch.
Butch Jones spent two years at WVU as the offensive coordinator under Rich Rodriguez.
WVU defensive coordinator Jeff Casteel faced Butch Jones' offense everyday in practice during that time. How much help that will provide Casteel and his defense is uncertain? Rest assured Casteel and Jones know each other well.
In fact, the argument could be made that Jeff Casteel knows more about the intricacies of Jones' spread than his players do. Jones is in his first year at the helm of UC football.
The biggest question mark for the Bearcats is on the defensive side of the ball. Can the Cincinnati defense stop opponents from outscoring their offense?
The WVU offense will outmatch the UC defense. The Mountaineers simply have too many weapons for a questionable UC defense to control.
Too many factors are tilted in favor of the Mountaineers in this matchup. WVU will prevail, by a larger margin than most prognosticators believe.
WVU stands at 8-1.
University of Louisville Cardinals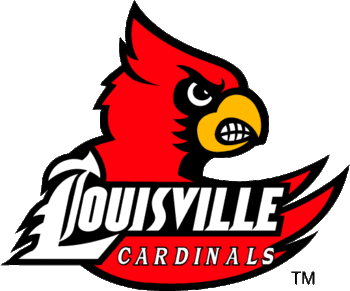 Strong needs more recruits to contend
Charlie Strong needs more than one recruiting class to return Louisville to contender status in the Big East.
Strong has the pedigree to do great things with the Louisville program. Look for Strong to make noise in the recruiting battles over the next two seasons and beyond.
Louisville will field a well coached, fundamentally sound football team in 2010. Something Strong's predecessor often failed to do at Louisville.
The Ville will ultimately become a contender in the Big East in 2012. Since we are outlining the 2010 schedule, WVU is safe.
Even though WVU must travel to Kentucky to play this game, home field advantage will not be enough to tilt the scales in favor of the Cardinals.
WVU moves to 9-1.
Pitt Panthers, The Backyard Brawl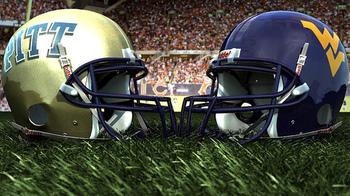 A storied rivalry
The Backyard Brawl is the most storied rivalry in the Big East, having been played 102 times.
Not since 1989 have both WVU and Pitt entered the game ranked in the top 10. This year could end that streak.
The winner of this tilt could represent the Big East Champion in 2010.
During a halftime interview against WVU a few years back, Dave Wannstedt was asked what his Pitt Panther team needed to do to beat the Mountaineers. His response was, "We need to coach them to run faster".
It is obvious that Wannstedt has found a way to coach his players to run faster. Pitt is the favorite to win the Big East this year.
WVU and Pitt are almost mirror images of each other.
Both have new starting quarterbacks and questions at offensive line.
Noel Devine for WVU and Dion Lewis for Pitt look to battle it out for the top running back spot in the Big East this year. Both have an outside shot at winning the Heisman Trophy.
Pitt holds an edge over WVU at wide receiver with Jonathan Baldwin.
On defense, both WVU and Pitt field an excellent unit. Both schools start an impressive defensive line, with depth. The line backing corps for both is equally stout.
WVU holds the edge for the defensive secondary; Pitt is replacing both starting corners from last year.
Wannstedt has a history of losing the big games at Pitt, although he won a big one in December of 2007 against WVU.
WVU will invade Pittsburgh and come away with the victory. Stewart will get his 10th win, to secure his job, against the Mountaineers most hated rival.
WVU stands at 10-1.
Rutgers Scarlet Knights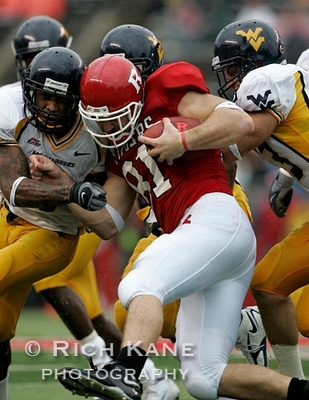 WVU will stuff Rutgers
Greg Schiano has done a remarkable job during his tenure in New Jersey. Scarlet Knight football is no longer considered to be weak.
In fact, Schiano's coaching tenure represents the golden years of college football's oldest football program.
WVU may face the best quarterback receiver combination on their 2010 schedule when they play Rutgers in Morgantown.
Tom Savage, Rutgers' sophomore signal caller, and Mohamed Sanu, Rutgers' do-it-all wide receiver, are a formidable pair. Unfortunately, the Rutgers football team is peppered with youth. Though, by December, that youth could become seasoned.
Still, Rutgers is probably one year away from fielding a championship quality team. The players are on the roster, Schiano just needs time to mold them into champions.
As with UConn, Rutgers will make this game a dog-fight. The Mountaineers will need to bring their "A" game to win.
Expect WVU to do just that. With the Big East title there for the taking, and its associated BCS Bowl appearance, Devine and company will be at their best.
This game will mark the final time that Noel Devine and Jock Sanders play at Milan Puskar Stadium. Their performance in this game will not disappoint the WVU faithful.
Schiano will be forced to wait one more season for his first victory over WVU.
WVU will end the season 11-1 and witness a return to the top ten and BCS Bowl game. Additionally, Bill Stewart will become the fastest coach at WVU to win 30 games.
Keep Reading

WVU Football: Like this team?