Georgia Football: Breaking Down the Matchup with Louisiana-Lafayette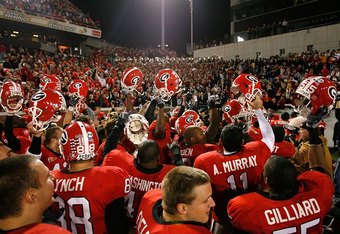 Kevin C. Cox/Getty Images
It's that time of year again Bulldog Nation!
It's time to tee it up Between the Hedges and make a run for a National Championship!
This week's game one matchup between the Dawgs and the Ragin' Cajuns of Louisiana-Lafayette figures to be a tune-up before the Week 2 showdown with South Carolina.
However, with a new defense and a new quarterback, the Bulldogs have to adhere to the "One Game at a Time" cliche. Georgia cannot afford to look past anyone in 2010.
Game previews are always good for breaking down how each team looks in the categories of offense, defense, special teams, and intangibles. The team that has the edge in the majority of those categories should come away victorious.
Here's how the Dawgs and the Cajuns compare in those four categories.
Offense:
Louisiana Lafayette: In 2009, the Ragin' Cajuns were pedestrian as far as offense goes.The passing game should be improved with second-year starter Chris Masson at quarterback. The receiving corps is experienced and will be led by tight end Ladarius Green, who, at 6'6", 225 pounds led the team with 553 receiving yards last season. Louisiana-Lafayette is replacing three starters on an offensive line that only allowed 13 sacks in 2009. The running game may suffer from a lack of experience, seeing as projected starter Julian Shankle only has 14 carries for 38 yards in his career.
Georgia: Offensively in 2009, the Bulldogs failed to put up the same kind of numbers they were accustomed to while Matthew Stafford and Knowshon Moreno were on the field. However, despite quarterback Aaron Murray's lack of experience, the Bulldogs just might have the experience and talent to light up the scoreboard this season. Although Murray has never taken a snap in a college game, the Georgia starting offensive line boasts a combined 127 starts, the receivers are extremely talented with All-American AJ Green and sophomore tight end Orson Charles leading the way, and a pair of tailbacks in Washaun Ealey and Caleb King who came on strong at the end of 2009. Aaron Murray will have plenty of options on offense this season. All he needs to do is take care of the ball and the rest will fall into place.
Offensive Edge: Georgia. The Ragin' Cajuns simply do not have the same experience or talent as the Bulldogs offensively. The only category in which the Cajuns have a slight advantage is quarterback, but I guarantee Aaron Murray will outdo the 10 touchdowns Chris Masson threw in his debut season.
Defense:
Louisiana Lafayette: The Ragin' Cajun's defense was even worse statistically than their offense last season. Although the secondary intercepted 16 passes in 2009, the Cajuns still allowed 404 yards per game, which was 92nd in the nation. This year, Lafayette has depth and experience in the secondary and the defensive line so defensive numbers are expected to improve, but anything drastic might be a little too much to ask.
Georgia: This will be the first look at Georgia's new 3-4 defense—a moment Bulldog Nation has been waiting for all summer. The secondary and linebacking corps should be good if not excellent. Led by outside linebacker Justin Houston, inside linebacker Akeem Dent, and cornerback Brandon Boykin, the Georgia defense should be much improved in the area of the pass where they allowed 213 yards per game. The run defense might be a little vulnerable with three starters on the defensive line and a lack of an experienced nose tackle. However, the defensive coaches have been extremely impressed with the development of offensive lineman-turned-nose tackle Justin Anderson.
Defensive Edge: Georgia. Again, this is another case of Georgia having more talent than the Ragin' Cajuns. Although there is a possibility that the Cajun's blitz-happy defense could cause trouble for redshirt freshman Aaron Murray, there is an even greater possibility that the Bulldog's bigger, stronger, and faster defense will cause trouble for the entire Louisiana-Lafayette offense. Expect the Georgia defense to run a very vanilla scheme so as to avoid giving too much away in Week 1.
Special Teams:
Louisiana-Lafayette: Overall, special teams may be the most impressive aspect of the Ragin' Cajun's entire team. All-Sun Belt punter Spencer Ortego only allowed an outstanding 21-punt-return yards in conference play last season while kicker Tyler Albrecht made 8 out of 11 field goal attempts. Louisiana-Lafayette has blocked 41 kicks under head coach Rickey Bustle, which may be the most impressive statistic of all.
Georgia: Special teams is the one area in which no one is really worried about this upcoming season. With the Ray Guy award winner and the potential Lou Groza award winner on the roster, the Bulldogs are pretty much set at punter and kicker. Kick returner Brandon Boykin proved to be dangerous every time he touched the ball in 2009, returning three kickoffs for touchdowns. There has also been rumor that AJ Green may get a little action returning punts, and obviously anytime AJ Green touches the ball, he has the ability to take it to the house.
Special Teams Edge: Georgia. Although the Ragin' Cajuns are good on special teams, the Bulldogs are better. All-American punter, Lou Groza finalist kicker, and phenomenal kick returner can't be beat.
Intangibles Edge: Georgia. Coming off an 8-5 season, season opener in Sanford Stadium, new defense, explosive offense, new attitude. There is no way the Bulldogs lose game one to the Ragin' Cajuns. The game could be close in the beginning, but the Bulldogs have too much in their favor in this one. After suffering a game one loss on the road in 2009, Georgia knows just how important it is to get off to a fast start.
Dawgs take this one with ease and pound Louisiana Lafayette 42-3.
This article is
What is the duplicate article?
Why is this article offensive?
Where is this article plagiarized from?
Why is this article poorly edited?

Georgia Bulldogs Football: Like this team?