Florida Gators Football: 10 Things To Watch for in Week One vs. Miami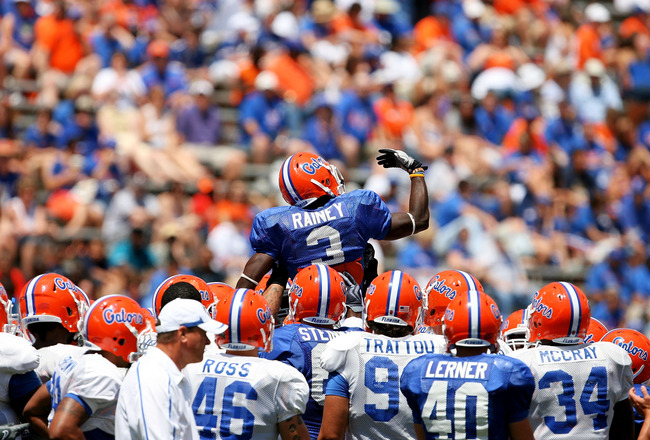 Its good being Chris Rainey
Doug Benc/Getty Images
It's finally here! Months of waiting, reading, waiting, trying to find other sports to fill the football void, disliking other sports for failing to fill the football void, waiting, and above all, months of speculating over things that couldn't be proven until September finally rolled around are over.
Football starts this week. I'm sure I didn't need to remind you of that though. For the Florida Gators, Saturday is the first game of a new era, game one, PT (Post-Tebow).
It's also game one, Post-Pouncey twins; game one, Post-Spikes; game one, Post-Haden; game one, Post-Dunlap; and game one, Post-everyone who caught a pass last season. Beyond all of that, this is the first time in two years that uncertainty has crept into the Florida depth chart.
That means this is the first time in two years that you may want to catch the season opener. Not that the Gators are at any risk to lose this game; they will win by a comfortable 50 points or so. However, that's all we know about this team right now.
We don't know how they'll blow out Miami, and considering how much more difficult the season is going to get, knowing who can be looked towards to make plays will provide a decent barometer of what we can expect for the rest of the season.
To that end, here's a list of ten things to look for in Week One that could have consequences for the rest of the season. If that sounds boring, then it could also be a list of ten things to watch for in Week One: the drinking game (Rule one: Every time you hear "Tebow", drink!).
John Brantley's Fancy New Throwing Motion

John Brantley and Soulja Boy, a match made in the 7th circle of Hell but still delicious.

HAHAHA JUST KIDDING. That was that other guy who played here before (You see that? You wanted to drink, BUT I WON'T LET YOU).
Back on topic, for the last three years, the Gators have been around a 50–50 split as far as rushing yards vs. passing yards go. I don't expect that to change too much this year, but with Brantley's quarterbacking strengths leaning heavily towards the passing side of the scale, I'd expect a different kind of spread offense this year.
The Gators aren't going to become Houston or Texas Tech or anything, but the yardage breakdown will likely be closer to 4000–2000 than it will 3000–3000. Look for more passing plays right out of the gate, especially if the Gators are having trouble with their short-yardage rushing attack.
Drink: Every time the Gators switch QBs to run the Tebowdozer (aka Wildcat).
Finish your beer: If anyone completes a jump pass.
The New, More Open Receiving Corps

Nice video of the 2010 returners.

Last year, the receivers group was more exclusive than the "People Who Have Walked On the Moon" club. Tebow was quite comfortable inside of his comfort zone and saw no reason to really ever leave it.
The frustrating thing is that it worked, and it worked damn well. Everyone likes to grumble about the Gators' offense, but the truth is that they were the best in the SEC even with the total lack of creativity.
If you require reasoning for the offensive dissing on the No. 10 offense in the country, look to the 2008 season, where the Gators managed 8 more points per game. It was a matter of maximization, not production. The Gators should have been better.
Brantley has not shown that heat-seeking, "lock on" mentality in his back–up role so far. Miami will be his first test (ha) against a first-team (hahaha) defense, so we'll see if that holds true when teams are actively blitzing (AHHAHAHAHA!). Ok, maybe we'll need to hold off til USF to see if Brantley can escape the "throw to target No. 1!" offense.
Drink: Every time Deonte Thompson catches a pass from a real quarterback
Finish your beer: If Brantley falls in line with the rest of the quarterbacks on the roster and lines up at TE.
Will Hill's Explosion Onto the National Stage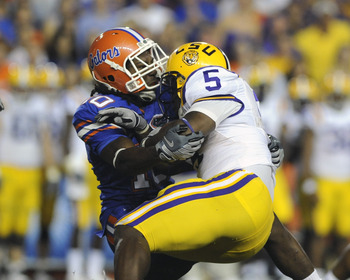 Will Hill teaches a hands on course on impact dynamics and kinetic energy. Keiland Williams dropped the course after this days lesson
Al Messerschmidt/Getty Images
Taken over a two-year period, Florida definitely has the best secondary in the country. In 2008 and 2009, the Gators boasted the number three and number six pass efficiency defenses, respectively. They also intercepted 46 passes during that period.
Part of that credit goes to the outstanding play from the front seven, and the linebackers' impressive coverage. A lot of the credit goes to Florida's back five though. Yes, Georgia Tech grad, I realize that seven and five equals twelve. I also realize that you know that so well because that's roughly your average wins and losses during the Chan Gailey era (dig No. 1!).
However, bad maths aside, Florida effectively had a back five last year because of the presence of Will Hill, the 5-star nickel/backup safety. He may have run Major Wright to the NFL, or it may have been the fact that Wright might be starting on Sundays this year (depending on how his finger is). He also may have nearly forced Ahmad Black, a second-team All-SEC preseason selection, to transfer last year.
Hill is poised to breakout this year. I've said it multiple times before. Other people have said it too. It's happening this year, though. A mediocre year gets him drafted. A great year, with his athleticism and potential, puts him in top 10 territory. Hill is aware of this and is reportedly much improved this year (you know, improved over being arguably the second-best member of a top secondary last year).
Drink: Every time Hill crushes some poor sap's bones into dust
Finish your beer: As soon as you realize that Matt Elam is, in fact, a bigger, more athletic, Will Hill-ier Will Hill.
Omarius Hines' Coming Out Party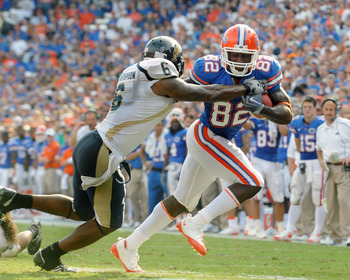 Omarius Hines practices his Heisman pose in case a TE/WR/FB/Flex guy gets the Heisman in 2010
Al Messerschmidt/Getty Images
My excitement over Hill is well documented, but the player I'm looking forward to seeing the most outside of Will Hill may surprise you. Hines, a 6', 220-ish lb WR/TE hybrid, is probably the least publicized member of Florida's new group of receivers. He also might not be a WR in any sense of the word any more.
Reportedly, he's taken his move to TE well, adding size to his upper body all offseason and impressing coaches enough that he's vaulted to the starting spot. At 6' and at least 220 lbs, Hines is built like a mini–Cornelius Ingram, and will take over Aaron Hernandez' mismatch–made position nicely. Oh, he also runs a 4.33 40-yard dash (Jeff Demps, the fastest human being in college, is in the 4.2 to 4.3 range).
Plus, Brantley is already comfortable with Hines. Last year, he led the second team receivers with 14 catches for 172 yards and a touchdown. Look for him to be utilized often as Florida installs its post-Tebow offense.
Drink: Every time CI, err... O–Hines outruns a linebacker or runs over a poor DB who incorrectly attempted to tackle him high.
Finish your beer: If Hines switches his jersey to No. 7.
Bonus! Drink until: We can come up with a nickname for Hines.
Janoris Jenkins As a Number One

JJ had a lot of ups last year but will need to improve to reach Joe Hadens level

JJ had a good year and a down year last year. The Freshman phenom went through some growing pains in his sophomore tour as receivers were able to beat him on double moves and open field carries. I wouldn't call it a slump, exactly; his down year was by no means bad.
There was a clear divide between him and Joe Haden, though, which forced me to lower the lofty and hastily set bar that I had set for my expectations of Jenkins. Jenkins enters this year in the shadow of nobody. He's most scouts' highest rated corner, and for all of my love of Will Hill, this is JJ's secondary.
If he's going to take up that mantle, he'll have to play like a number one. Haden wasn't great only because he was an "island" DB like Revis or Champ Bailey. He was great because he could do everything else that was asked of him, from open field solo–tackling to blitzing effectively.
Jenkins certainly doesn't lack in the speed or coverage aspect of playing corner. He's faster than Haden, with better hips and more range. He's lagging behind Haden's extraordinarily high standards in the other areas though. The secondary will go as far as Jenkins can take it.
Miami may be a crap team, but they're a crap team that throws the ball around. Jenkins won't get thrown into the number one role against anything he wouldn't be able to handle on his worst day, but he's going to get challenged right away.
Drink: Every time Jenkins doesn't put a textbook form tackle on a running back, instead going for a shoulder drop to the shins.
Finish your beer and weep: if that happens and fails and the crappy MAC RB scores a touchdown.
The New Running Game

Less of this, probably

Urban Meyer's rushing attack is the zone read. I don't say "built on" because there's really nothing else. It is the zone read. Tim was one of the best zone read QBs of all time. If you had put him in a triple option offense, he would have rushed for eleventy-bazillion yards.
Brantley can probably read, but I don't think he's going to do a whole lot of run. The option will still be present and probably heavily used, but Urban's going to have to find a new bread and butter rushing play to remain effective.
I doubt we're going to see a switch to I–Form, or even a single back pro-style like Bama runs, but I don't think the pistol is out of the question. Misdirection will still be the main goal, but it will come in the form of something other than, "Is that Olympic Sprinter going to run right or is that bull elephant QB going to run left?"
Look for the signs of the running game early. I doubt you'll see much for long though. Once the starters come out (roughly half-time by my prediction), the offense will dial back into "don't show your cards" mode.
Drink: Every time you see a fullback, a LEGITIMATE fullback, on the field
Finish your beer: If Florida debuts the Tebowdozer with a QB wearing #15.
Where Does the Pass Rush Come From?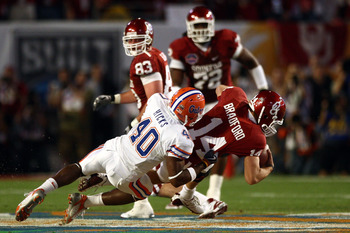 Brandon Hicks enjoys introducing quarterbacks to the finer things in life like BCS bowl turf
Donald Miralle/Getty Images
Florida has had an unprecedented string of great pass-rushing defensive ends. Unfortunately, that streak is over. Trattou is a damn fine player, but he's not a QB nightmare like Cunningham, Dunlap, Harvey, or Moss. Lemmens is in the same boat as Trattou, and likely isn't as far along in his development as Trattou is.
The Gators will have to get sacks to remain a top defense. No secondary, no matter how stout, can defend receivers indefinitely. Last year, the Gators led the SEC in sacks. In 2008, they were a little less impressive, but still comfortably over the two sacks per game mark.
I don't see the pressure coming from the ends unless one of those "cocky" freshmen steps up and gets a lot of playing time. I do see it coming from what could be an even more pass-rushy linebacking corps.
Jelani Jenkins is like, waaaay fast, dude. He's fast enough to burst through a line and get to the QB before a hand off. Bostic is less fast, but is built like Brandon Siler (always a good thing). Brandon Hicks and AJ Jones may not be as physically gifted as the young guys, but they understand the art of blitzing and have combined for 10 career sacks.
There's also a chance that Florida could run a lot of 3-4/3-3-5 in passing situations to play to the Gators' strong interior line and speed at the coverage positions. This will put more exotic blitzes in play, something that NFL fans have seen out of the 3-4 for the last decade.
Drink: Every time you have to look up a player who just made a hit on the QB because you haven't seen him before
Finish your beer: If that player ends up playing TE.
The Other Guy: You Know, the One on That Side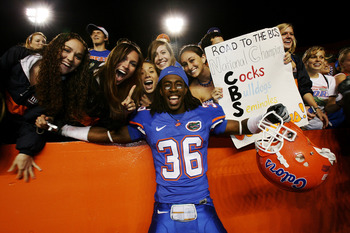 Moses Jenkins, maybe?
Doug Benc/Getty Images
Right now, the other corner is literally just "the other guy". I'm sure Teryl Austin knows who's going to start Saturday, but we don't (in the spirit of my articles having terrible shelf lives, this will likely be irrelevant within 30 minutes of publication).
Who is that other guy? What can he do? Is he any good? Is he Wondy Pierre-Loius? That guy graduated, didn't he? I hope he did. I still have nightmares about 2007's secondary.
That other guy will likely be Moses Jenkins or possibly Jeremy Brown, maybe. It could also be Joshua Shaw. Hell, Chris Rainey might line up out there. Who knows? Not you, that's who. Regardless, "that other guy" will have lots of protection around him. It won't be the end of everything if he's not that good.
Drink: Every time that other guy changes into some other guy
Finish your beer and run and hide: If Wondy Pierre-Loius sneaks onto the field
Urban's Involvement in Everything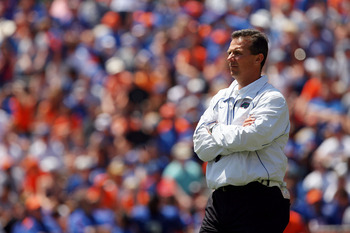 Head Coach Urban Meyer contemplates retirement, then maybe not.
Doug Benc/Getty Images
Is he calling the plays? Is he skinny again? Is he seizing on the sideline? Is Addazio ascending into a power position?
Try to see if you can catch Urban chewing people out. If he's doing that, and not withering away, that's a good sign. If he's scarfing down hot dogs, that's a better sign. If he's on the phone with Dan Snyder, that's probably not a good thing.
Drink: Every time health issues are mentioned.
Finish your beer: If Urban retires at half-time and comes back for the fourth quarter.
Special Teams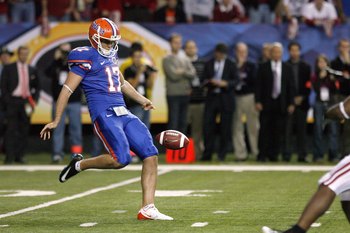 Punt guy Chas Henry led the Gators to a second ranked NCAA net punting average
Kevin C. Cox/Getty Images
Urban's baby lost its longest tenured player in Brandon James. It also loses one of the punt blockers, possibly, as Demps or Rainey might be returning punts this year.
Beyond the losses, there's the issue of time. I'm assuming that Urban came back, and is basically doing the same thing he was doing before he nearly died at the hands of Saban because people don't change. If that's not the case, and he's actually been more hands off, Florida's special teams may be the first place you'll notice it.
For the last five years, the Gators have been the special teams leaders of college football. Intensity to the craft was brought in a big way, and most of the starters on defense (and some on offense) owe a lot of their early experience on playing time earned through special teams (go back and watch 2008 Will Hill if you can find it).
If the head coach isn't involved in the special teams, that farm system will suffer, and the method for earning reps will change. That may not be a bad thing, just a different thing as far as who's playing where, but it will definitely be a bad thing for the special teams.
One thing you won't have to worry about is Chas Henry. If he saw the field more often, he'd win awards because his leg is amazing.
Drink: Whenever the Gators go for a block, a fake, or any other ballsy special teams play against the weakest FBS school in existence (Western Kentucky still doesn't count in my book).
Finish your beer: If said block/fake/ballsy special team play works against the weakest FBS school in existence.
Keep Reading

Florida Gators Football: Like this team?