Ohio State-Marshall: Game Preview, History Lesson and Prediction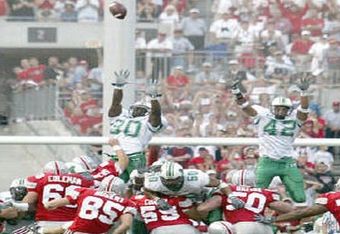 Game Preview

The 2010 Ohio State football season is set to kickoff next Thursday night (9/2/10) at 7:30 p.m. on the Big Ten Network as the Buckeyes host the Thundering Herd from Marshall University.

The Herd are coming off of a disappointing 7-6 season and are now under the direction of new head coach, Doc Holliday.

It could be understating the situation to say that Marshall is not currently a very good football program. Basically, the program has been down ever since Byron Leftwich departed in 2003.

They have several big holes to fill where they had talented players last year, or where they were projected to have them in 2010.

Their top rusher in 2009, Darius Marshall, declared for the NFL after the season and just a little over a week ago, it was announced that QB Willie Korn, a once-highly-regarded transfer from Clemson is now leaving Marshall for DII North Greenville after being told he would be moved from quarterback to safety.

Contrarily, Jim Tressel's Buckeyes are coming off an 11-2 season which culminated with their 26-17 Rose Bowl win over then-No. 7 Oregon, a game which has been billed as Terrelle Pryor's coming out party.

The Buckeyes did lose a handful of very good players from last year's team, but they return 16 starters and many of the projected new starters were used as part of a two-deep rotation so they are not raw and inexperienced.

As (unintentionally) disrespectful as this is going to sound, the fact is that even Ohio State's third or fourth string players could almost certainly defeat the first team squad from this Marshall team.

Since this is the season opener, I will mention a few of the key players from each team and list their respective stats from 2009. This section will be slightly different in future "preview article" editions over the coming weeks as the season progresses.


Marshall—By the Numbers

QB—Brian Anderson (6'3", 213) - Senior

In 13 starts, Anderson had 2,646 passing yards, 14 touchdowns, 13 interceptions, and a QB rating of 118.96. He was also sacked 24 times.


RB—Martin Ward (5'9", 201) - Sophomore

As a backup in 2009, Ward rushed for 393 yards and three scores, all while averaging 4.8 yards per carry.


WR—Antavious Wilson (6', 196) - Sophomore

Wilson led the Herd in receiving last year with 60 receptions for 724 yards and three touchdowns. He played in all 13 games a year ago, and in two of those games he had over 150 yards receiving.


WR—Aaron Dobson (6'3", 203) - Sophomore

Appearing in only six games last season, Dobson caught 15 balls for 358 yards and four touchdowns.


LB—Mario Harvey (6', 250) - Senior

Harvey led the Marshall defense in 2009 with 117 tackles and 7.5 sacks and he also had 1.5 tackles for loss.


LB—Kellen Harris (6'3", 232) - Junior

Harris recorded 71 tackles including 5.5 tackles for loss as well as one-half of a sack.

FS—Omar Brown (5'11", 194) - Junior

Brown's 73 tackles are second only to Harvey's 117 among returnees. He also has 10 passed defended ans two interceptions.


Ohio State—By the Numbers

QB—Terrelle Pryor (6'6", 235) - Junior

Pryor led the Buckeyes both through the air and on the ground, passing for 2,094 yards and 18 touchdowns and rushing for 779 yards and seven touchdowns. He also threw 11 interceptions, a feat that he preferably not repeat or exceed in 2010.


RB—Brandon Saine (6'1", 220) - Senior

Saine is a dual-threat back who rushed for 739 yards and four touchdowns with a 5.1 yards per carry average. He also caught 17 passes for 224 yards and two scores—not bad considering he was part of a running-back-by-committee approach used last season in Columbus.


RB—Dan Herron (5'10", 202) - Junior

In eight full games, Herron rushed for 600 yards and scored seven touchdowns last season, but potentially see his role (and stats) diminished in 2010. With the emergence of a healthy Brandon Saine, as well as talented youngsters Jordan Hall, Jaamal Berry, and Carlos Hyde all looking to earn their share of playing time, Boom could be relegated to just a third down and/or goal line back.


WR—DeVier Posey (6'2", 213) - Junior

Posey led Ohio State in receiving with 60 catches for 828 yards and eight touchdowns. He had over 100 yards receiving twice last year, and he caught the fourth quarter touchdown that sealed the victory over Oregon in the Rose Bowl.


WR—Dane Sanzenbacher (5'11", 180) - Senior

Sanzenbacher wasn't that far behind Posey with six touchdown grabs and 570 receiving yards last season. His value and stats could increase this year as OSU is talented, but young and inexperienced, and in at least one case inconsistent, at the wide receiver position after he and Posey.


TE—Jake Stoneburner (6'6", 245) - Sophomore

Stoneburner had just two catches for 30 yards in 2009, but all indications from the Spring game are that he will be used as an extra receiver quite often in addition to his blocking duties.


DT—Cameron Heyward (6'5", 290) - Senior

Heyward came back for his senior year to "be the best" and to hopefully win the Big Ten and a national title. He posted 46 tackles with 3.5 for loss and 6.5 sacks. Although the stats don't tell the full story or include how often he was double-teamed, he will need to nearly double those numbers this year to truly be considered the best ever lineman at Ohio State. I'm not sure that he can, but he might. He's that good.


LB—Ross Homan (6', 230) - Senior

Homan quietly led the Buckeyes in tackles with 108 in addition to his two sacks and five interceptions. I see no reason why he won't post similar stats in 2010.


LB—Brian Rolle (5'11", 220) - Senior

Rolle emerged as a star immediately last year when he became the hero against Navy in the too-close-for-comfort 2009 opener. He recorded one sack and was second on the team in tackles just behind Homan with 95, seven of them for loss. Another big year out of Rolle should be on tap.


Ohio State—Marshall: History Lesson and Other Tidbits

• This will be only the second ever meeting between Ohio State and Marshall.

• Ohio State defeated Marshall 24-21 on a last play, 55 yard FG in 2004.

• Ohio State has won 31 straight home openers by an average of 20 ppg.

• Since 2001 under Jim Tressel, Ohio State is 35-8 vs. non-conference opponents.

• Overall since 2001, Ohio State is 56-7 at home.

• Marshall is 0-5 all-time vs. Big Ten opponents.

• Marshall has lost 10 straight road openers by an average of 23 ppg.

• Marshall is 1-13 all-time and has lost nine straight vs. ranked FBS opponents.


Summary and Prediction

We know No. 2 Ohio State is highly regarded and should have a very potent offense to complement one of the stingiest and best defensive units in the nation.

We also know that no matter how you slice it, Marshall is clearly considered a cupcake in anyone's opinion unless if you are asking a coach, player, or fan of the Herd.

Like I said before, I am not trying to be overly disrespectful to the Marshall program, but it has seen its' better days.

The 2004 game was a fluke, so with all that being said, it is time for my not-so-surprising final score prediction.

Let it be known that I wouldn't be shocked by a shutout, and even though Ohio State could easily break 50+ points, Tressel is a classy coach that tends not to run it up just for "style points" like the Urban Meyer's of the world.


Ohio State 45
Marshall 3
For more Ohio State Buckeyes Football, check out my blog:
Block-O-Nation ::: Ohio State Football Lives Here™


Sidenote

I am having surgery next week so I might not be able to sit at the computer for an extended period of time, meaning I may or may not publish any articles for the next couple of weeks. It will depend on how I am recovering (hopefully fast) and the level of pain and discomfort (hopefully very little or none) I am experiencing post-op.
This article is
What is the duplicate article?
Why is this article offensive?
Where is this article plagiarized from?
Why is this article poorly edited?

Ohio State Football: Like this team?