College Football: 10 Week One Games With The Best Chances Of Upsets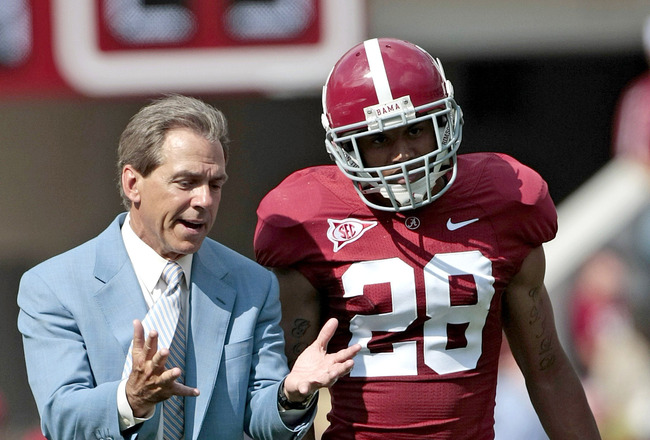 Dave Martin/Getty Images
We are just a tad over one week away from the first game of the 2010 College Football season! As with any season comes the anticipation and questions that currently linger amongst pundits and fanatics.
Will the Crimson Tide of Alabama repeat as SEC and BCS champions? How will the Florida Gators respond now that St. Timmy is a Denver Bronco? Will Boise State or TCU be the non-BCS party crashers in 2010? Which team will rise from below and make a serious run at the BCS title?
Before any of those questions can be answered, the season must first begin.
Arguably, there are 10 games that could answer some of the questions above and get fans on the edge of their seats immediately.
Here is a review of the best potential upsets in Week One of the 2010 College Football season.
James Walker is a syndicated and National Writer for Bleacher Report. You can follow him on Twitter at http://twitter.com/BRJamesWalker. Also, feel free to subscribe to his Facebook page: James Walker - National Writer for Bleacher Report.
Pitt at Utah on Sept. 2—Utah Favored By Three Points

RB Dion Lewis - Heisman Candidate in 2010?

The Pitt Panthers football team is truly an enigma. Coach Dave Wannstedt is a well-liked and respected football coach, but has had limited success in college and professional football. However, he is a Pitt guy, and is well-loved in Pittsburgh.
The Panthers travel to Salt Lake City to face the Utes to open the 2010 season. Utah will transition to the new Pac-12 conference in 2011, so nothing would please them more than to win the Mountain West championship while waving good-bye walking out the door.
The key for Pitt will be their rushing attack behind sophomore Dion Lewis who had 1,799 rushing yards as a freshman in 2009 against a Ute defense that only returns three starters. If the run game opens up the passing attack, then Pitt will be able to attack an inexperienced secondary. However, Pitt sophomore QB Tino Sunseri is also inexperienced, so Pitt offensive coordinator Frank Cignetti Jr. may continue to pound the rock and rely less on the passing game.
For Utah, sophomore QB Jordan Wynn, the MVP of the 2009 Poinsettia Bowl, will lead the offense. Wynn will have to bring his "A" game when he meets the Panthers stud defense that returns both DEs Greg Romeus and Jabaal Sheard, who combined for 13 sacks and 22 hurries. Pitt also features hard-hitting MLB Dan Mason.
Count on Pitt controlling the clock on the wheels of RB Dion Lewis. Utah will need to do the same, but I do not see them able to stop Lewis. Pitt wins in a low-scoring game: 13-10.
Kentucky At Louisville On Sept. 4—Kentucky Favored By Six Points

A look at the 2010 Kentucky Wildcats.

Kentucky debuts Joker Phillips as he replaces former head coach Rich Brooks. On the other side is Charlie Strong, also a new head coach for the Cardinals and former defensive coordinator for the Florida Gators.
This in-state rivalry should be fun to watch. Phillips was on Brooks' staff so his transition should be easier, whereas this is Strong's first year on Louisville's campus.
Expect Charlie Strong to implement the spread offense, but it will take time to make it work. However, senior QB Adam Froman has wheels to take off at any given time, but struggles throwing the ball. This will give Kentucky's experienced secondary several options and help defend the run.
On offense, the Wildcats have senior QB Mike Hartline returning from injury, and he seemed the best one to come out of spring practice. Veteran WR Randall Cobb returns as Kentucky's main playmaker and the Cardinals need junior Safety Terrance Simien to return from a lacerated kidney and lead the secondary if they are stop Cobb.
Kentucky will win this game, but it will be closer than most predict: 17-10.
UConn at Michigan on Sept. 4—Michigan Favored By 2.5 Points

The 2010 UConn Huskies.

There is no other head coach that is more under the microscope than Michigan's Rich Rodriguez. To say his tenure in Ann Arbor has been a disaster would not be unheard of.
On the other hand, head coach Randy Edsall has been a pleasant surprise at Connecticut, and the 2010 season has UConn returning 16 starters.
Michigan's offense should be more prolific in 2010 now that they enter Rich Rod's third season with the spread. However, consistency on the Wolverines defense is the key to their success. If the defense continues to struggle, the Wolverines will not get to a bowl game; the offense is not good enough to carry the team load.
UConn, on the contrary, is solid on both sides of the ball. The one possible area of concern for the Huskies is the secondary. If Michigan can successfully leverage a passing attack, then expect UConn to struggle in this game.
Unfortunately for Rich Rod and the Wolverines, they will start the 2010 with a loss: 30-17.
UCLA at Kansas St. On Sept. 4—UCLA Favored By 1.5 Points

A Preview of the 2010 Kansas State Wildcats.

Rick Neuheisel's UCLA Bruins come calling on Kansas State, and the Wildcats are still stinging from losing to Nebraska last season. Due to losses to two FCS teams in 2009, they did not play in a bowl game. The Wildcats plan on changing that in 2010.
The Bruins will come calling with sophomore QB Kevin Prince. OC Norm Chow continues to tweak the "Revolver", a scheme patterned by Nevada's "Pistol" offense. However, expect UCLA to rely on RB Johnathan Franklin as Price and the rest of the offense continues to acclimate to the Revolver. Unfortunately for the Wildcats, they only have five returning starters to the defense, and four of them are in the secondary.
When on offense, the Wildcats will look to senior RB Daniel Thomas to carry the load. That being said, UCLA will have to shore up a huge hole at linebacker now that Brian Price is long gone. The defensive line has one returning starter, junior DE Datone Jones, so their are serious concerns when it comes to defending the running game.
Sorry, but the Bruins will be sent back to LA with a loss: 17-7.
Northwestern at Vanderbilt on Sept. 4—Northwestern By Four Points

Listen to Bobbie Caldwell on the field....

When the Wildcats travel to Nashville to face the Commodores, they will go against the worst team in the SEC and first-year head coach Robbie Caldwell.
Don't let that tidbit of information compel a simple conclusion.
Northwestern will have a new starting QB, junior Dan Persa, and must get back to running the ball. Vanderbilt's defense has always been their strength, and that should remain the same in 2010.
The Commodores may have a pleasant surprise in store for 2010. Junior College transfer Jordan Rodgers, Green Bay Packers QB Aaron Rodgers brother, will push incumbent and struggling QB Larry Smith. That being said, the Wildcats will have a new-look secondary, so this may be the story of the game.
This should be an entertaining game with Northwestern winning but not covering the spread: 13-10.
LSU at North Carolina (Chik-Fil-A Kickoff)—LSU By Seven Points

A New Dawn for LSU Football?

First question: is LSU head coach on the hot seat in Baton Rouge? Many feel he is. After several controversial calls in 2009, it's crucial for Miles to start the 2010 season strong.
That being said, head coach Butch Davis and the Tar Heels will not go quietly into that good night in Atlanta.
LSU truly is one season away from competing in the SEC West, but the kickoff in Atlanta will help him see what kind of improvement, if any, his QB Jordan Jefferson brings to the table in his junior season.
When you talk about the Tar Heels in 2010, the first thing mentioned is defense. North Carolina returns nine starters, and will give LSU fits on offense. The question for the Tar Heels is the offense, which also returns nine starters from the 2009 season. However, will the offense step up and relieve the pressure on their defense?
This will be a great game to kick off the season, and LSU will defend the SEC's honor with a victory but will not cover the spread: 24-20.
Cincinnati at Fresno State on Sept. 4—Cincinnati Favored By One Point
Bryan Kelly is in South Bend now. QB Tony Pike and WR Mardy Gilyard are also gone. The Bearcats are in serious rebuild mode as they travel to Fresno, Cali. to face the Bulldogs.
With seven players returning on offense and eight on defense, Fresno State is in a position to defend their home turf. Some may see this game as a toss-up, but I see it as a slam dunk for the Bulldogs: 24-10.
Washington at BYU on Sept. 4—BYU Favored By Three Points

A glimpse of Heisman hopeful Jake Locker.

BYU surprised many a week ago when they announced their departure from the Mountain West Conference. They feel like they can be the Notre Dame of the West, and with their own television network they may certainly be able to. Will this decision play into the play on the field in 2010?
Probably not.
The Huskies bring Heisman Trophy hopeful QB Jake Locker and eight other returning starters on offense to Provo, while BYU must negotiate the loss of Unga to the NFL that puts added pressure on Utah State transfer junior QB Riley Nelson.
Also, the Cougars have only five returning starters on defense with the biggest hole in the linebacker corp.
I just don't see the Cougars stopping Locker and the Huskies offense. Huskies win 28-14.
Oregon State at TCU on Sept. 4—TCU Favored By 13.5 Points

A look at the 2010 TCU Horned Frogs.

TCU is thought to be one of two schools to possibly bust up the BCS in 2010.
To quote the famous Lee Corso: "Not so fast!"
Oregon State will benefit from having 60 returning letter-men that include seven starters on offense and defense.
It all starts with returning junior RB Jacquizz Rodgers. Count on the Beavers running the ball as new starting sophomore QB Ryan Katz gets acclimated, and the sooner the better. TCU's concern on defense is in the secondary, so if the Beavers can establish a passing game they could get the Horned Frogs in trouble quickly.
On offense, TCU has senior QB Andy Dalton returning along with a very established receiving corp. If the Beavers do not control the game clock and keep TCU's offense off the field, the Horned Frogs will eat them alive with speed and accuracy.
TCU will win this game, but will not cover the spread. This will be a very close match-up: TCU 28-21.
Boise St. at Virginia Tech (Landover) On Sept. 6—Boise St. By Three
The other BCS buster, Boise State, travels to Landover, Maryland to face Virginia Tech at FedEx field. This is the game of the week to start the 2010 season.
Boise State returns nine starters on both sides of the ball, while Virginia Tech returns seven on offense but only three on defense. That being said, experts believe that the Hokies will win the ACC Coastal Division in 2010.
Virginia Tech football is built on defense, but in 2010 that may be in question. Stopping a team that is 26-1 in the past two seasons will be a very tall order. If Boise State survives this game and the month of September, they will be well on their way to there first BCS title game.
This will be a great game and very close, but Boise State will prevail. They will not, however, cover the spread: 28-27.
Keep Reading