10 Small Conference Quarterbacks Who Could Start at a BCS School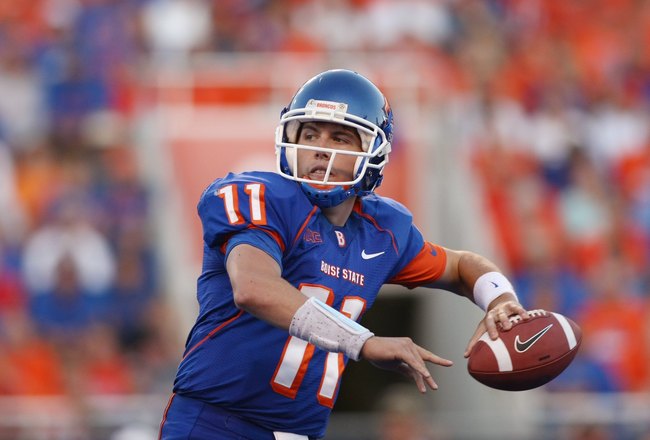 Jonathan Ferrey/Getty Images
Oftentimes, it's easy to overlook players located outside the spotlight of a BCS conference. Smaller conference schools don't receive the type of national media attention and coverage that the larger schools are privy to.

But that doesn't mean that there aren't some talented players showing off their skills every week on the gridirons of conferences like the Mountain West, Conference USA, the WAC, and others.

Smaller schools have been producing talent at every position, but one position of special note is the quarterback spot.

There have been a few small school quarterback stars who have emerged over the past few seasons. Although no matter how great players such as Hawaii's Colt Brennan or Houston's Kevin Kolb would perform, the questions always inevitably popped up.

Is this guy benefiting from weaker competition? Is he really good enough to play at the BCS level?

Well, here are 10 smaller conference quarterbacks who I think could not just survive but actually thrive at a BCS school.

Maybe these guys couldn't last at USC or Florida, but they could all certainly make a name for themselves at a place like Louisville or Washington State.
1. Kellen Moore: Boise State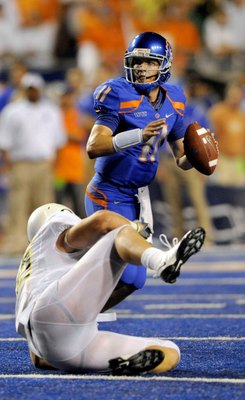 Steve Dykes/Getty Images
Moore is 26-1 as a starter—good enough for college football's best winning percentage among current quarterbacks.

After winning WAC Freshman Player of the Year honors in his first season, Moore followed it up with an even better performance as a sophomore. The 6'0" QB carried the Broncos to an impressive perfect season topped by a victory in the Fiesta Bowl.

He's the best winner in college football and may also be the smartest player at his position. He's clutch and rarely makes mistakes (just three interceptions in 2009).

It's odd that Kellen was such a highly regarded recruit, yet received little to no recruiting interest from BCS schools.
It just goes to show that height isn't always what counts.
2. Jordan Wynn: Utah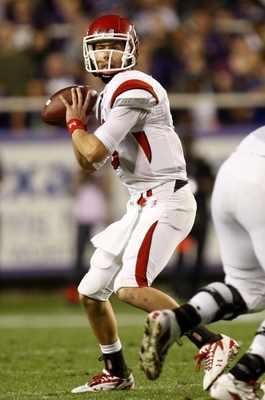 Ronald Martinez/Getty Images
Wynn takes over full time at Utah this year after starting the last five games of the 2009 season. In those games, Wynn really showed off his skills, throwing for over 1,300 yards and eight TDs. His performance against Cal in the Poinsettia Bowl was cause for a lot of positive chatter around the college football world.

He may only be 6'1" and 200 lbs, but Wynn is a superior decision maker. He's the type of player a team like Utah can really rally behind and do some special things with.


3. Colin Kaepernick: Nevada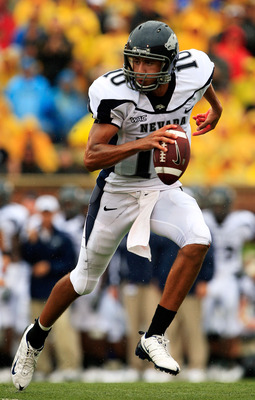 Jamie Squire/Getty Images
Kaepernick enters his final year at Nevada as one of the most feared dual threat quarterbacks in the country. The 6'6" senior has thrown for over 2,000 years in all three of his seasons at the school.

He's also been a dangerous runner. Just ask the Idaho Vandals, who Kaepernick ran through for 230 yards last year.

Nevada's pistol offense is loaded with ammunition this year and Kapernick is the perfect trigger man to make sure it fires on all cylinders.
4. Case Keenum: Houston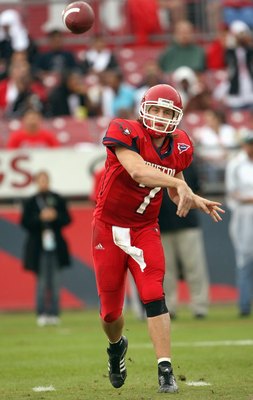 Stephen Dunn/Getty Images
Houston's Keenum is preparing to break some mighty big college football records this season. He's within reach of some pretty important passing marks, but his offensive system has some wondering if all the production is just overkill.

Case hurled the ball almost 700 times during the 2009 season. By comparison, Colt McCoy had only 470 pass attempts.

To Keenum's credit, he has been impressive with his accuracy (70 percent completion) even though he's had to throw so often.
That type of consistency could be used at a few BCS schools.
5. Jake Heaps: BYU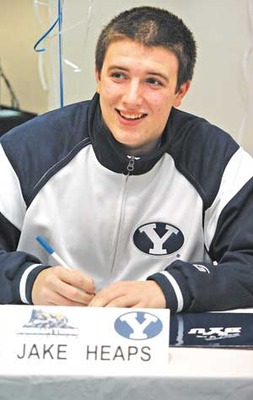 Photo courtesy of Issaquah Press
The departure of Max Hall leaves a void at the BYU quarterback position for the 2010 season. There may be no player better suited for taking the reins than new hotshot recruit, Jake Heaps.

The highly-rated high school quarterback recruit had offers from the likes of Florida State, Oklahoma, and LSU, but he saw that the fit was right at BYU.

His talents and skills will be of great use to the Cougars this season and well on into the future.

Right now, the battle for starting quarterback is even, but there's no doubt who everyone wants to see. Heaps is the rising star of the program as it looks to make its move to the national stage in the future.
6. Andy Dalton: TCU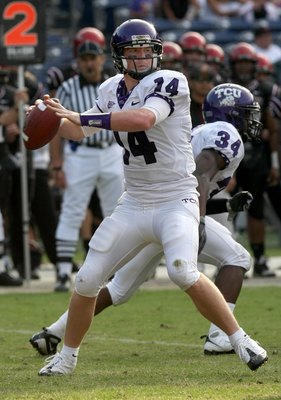 Stephen Dunn/Getty Images
All Dalton has done in the last two seasons is lead his Horned Frogs to consecutive double-digit win seasons and a BCS Bowl berth.

He's not the flashiest player you'll ever see, but Dalton gets it done when the time calls for it.

His 23-8 touchdown to interception ratio last year was impressive, but what it really comes down to with Dalton is his ability to guide his team to victory.

What will the senior do for an encore now that the pressure is on?
7. GJ Kinne: Tulsa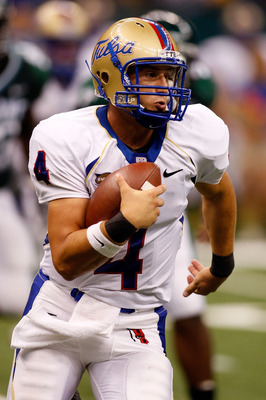 Chris Graythen/Getty Images
After a redshirt season at Texas in 2007, Kinne made the move up to Tulsa where he has been quite a nice fit.

Kinne took over the Hurricanes' offense and really went to work in 2009. He threw for over 2,500 yards and added 22 touchdown tosses.

Kinne couldn't quite cut it for the Longhorns, but right now he would probably be of good use to a team like Nebraska, who also offered him a scholarship.
Other schools that offered Kinne a chance to come play for them included Oklahoma, Florida, and Tennessee.
8. Ryan Griffin: Tulane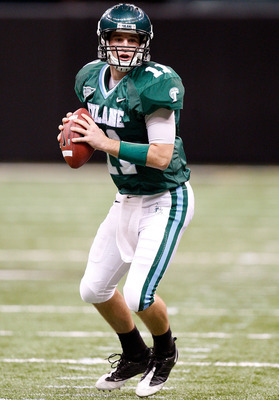 Ronald Martinez/Getty Images
Judging from their 3-9 record, Tulane definitely wasn't a team full of world beaters in 2009. They were just downright bad at times, and the offense was tough to watch for the most part.

You do have to factor in that it was Griffin's freshman season and there were bound to be mistakes made. Plus, he wasn't exactly surrounded with loads of talent.

With a year under his belt and seven starters returning, Griffin is now improved and should be ready to lead Tulane out of the hole they've dug for themselves.
9. Ricky Dobbs: Navy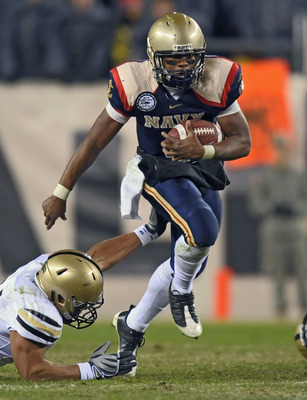 Drew Hallowell/Getty Images
Dobbs was pretty much the main reason Navy pulled off one their best seasons in decades last year. The school's 10-4 finish was due in large part to the decision making and running skills that belong to Dobbs.

He's not going to win any quarterback competitions with his passing prowess, but as runner, there aren't many as elusive as Ricky.

Paul Johnson would love to have him running Georgia Tech's offense, and he would also be a great fit in a spread attack like the ones Michigan and West Virginia utilize.
10. Zac Dysert: Miami-Ohio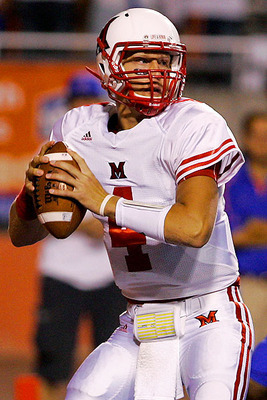 You may ask yourself how a 1-11 team can have the most talented quarterback in the conference, and quite frankly, I'm a little puzzled myself.

In Dysert's defense, the team's struggles can't solely be pinned on his shoulders. The Redhawks' defense was terrible last season and the skill position players surrounding Dysert weren't exactly All-World.

At 6'4" and 200 lbs, expect Dysert to lead Miami-Ohio to a bounceback season in his sophomore year. His competitive spark should help get an offense that has 10 returning starters back on track in 2010.
Five Other Quarterbacks Who Might Be Able To Handle the BCS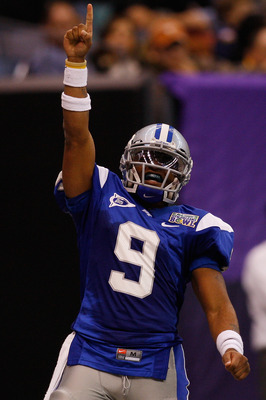 Chris Graythen/Getty Images
1. Dwight Dasher: Middle Tennessee State
2. Kyle Padron: Southern Methodist
3. Nathan Enderle: Idaho
4. Austin Davis: Southern Miss
5. Ryan Lindley: San Diego State
Keep Reading