Boomer Sooner: The Five Best Active Professional Athletes from OU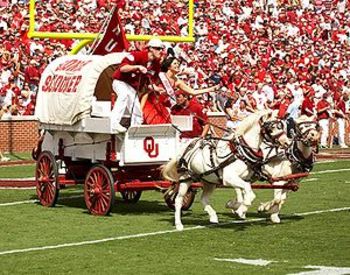 School officially starts next week, which means the end of summer. However, the silver lining is the sports seasons, most notably football, are about set to begin.
In honor of that, here are the top five active professional athletes who attended the University of Oklahoma.
Boomer Sooner.
5. Jason Bartlett (MLB: Tampa Bay Rays)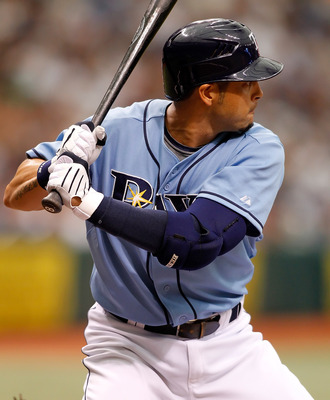 Believe it or not, OU has a rich baseball history, which more people should embrace. They also had a nice little run during the College World Series last year. In 2000, Bartlett was named to the All-Big 12 team.
Bartlett's career has been split between playing for the Minnesota Twins and Tampa Bay Rays. Ozzie Guillen calls him a piranha player for his tough and nasty style of play.
While this isn't his best year, 2009 was a year he wouldn't forget, when he was arguably the best shortstop in the American League.
He's a career .281 hitter and has averaged 23 stolen bases and five triples over his six-year career.
4. Anthony Kim (PGA)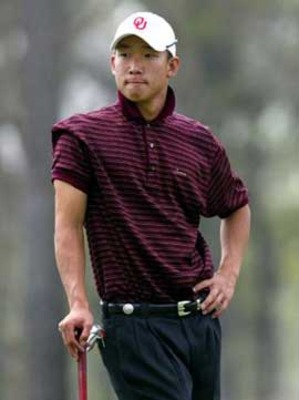 Kim attended the University of Oklahoma for three years before he turned professional. He said he chose OU because he wanted to see some football games.
Kim is only 25 and he's already got three PGA tour wins, including the Wachovia Championship and AT&T National.
He's already earned over $8.5 million in his four-year career. He finished third at the Masters this year and seventh at the British Open in 2008.
Golfers on the tour say that Anthony Kim has the right stuff to potentially win a major in the future.
Honorable mention: Todd Hamilton also attended OU and has been a pro since 1987. He has won the British Open, but only one other PGA tour event.
3. Tommie Harris (NFL: Chicago Bears)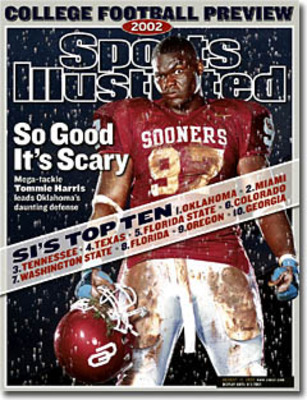 Ah, football, finally.
A Chicago Bear from the University of Oklahoma: a perfect combination for a Chicagoan currently at OU.
While at OU, Harris won the Lombardi Award and Bill Willis Trophy for being the best lineman in college football.
Harris has been to the Pro Bowl three times and was named All-Pro once. While injury has slowed him down lately.
When he got off to the red-hot start in 2006 and proceeded to get injured, the Bears saw how valuable Harris was to their team, eventually losing in the Super Bowl.
Harris has 27 career sacks.
2. Roy Williams (NFL: Cincinnati Bengals)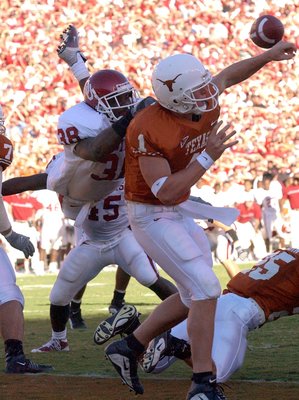 Superman. We all remember the amazing play in the 2001 Red River Shootout. While at OU, Williams was decorated with the Bronko Nagurski Trophy and Jim Thorpe Award.
Williams in the NFL was known as one of the hardest hitting safeties. He also has 19 career interceptions.
Williams spent his first seven seasons in the NFL with the Dallas Cowboys. While with Dallas, Williams was a five-time Pro Bowler and once All-Pro.
He has since signed with the Cincinnati Bengals but missed most of 2009 with a forearm fracture.
1. Adrian Peterson (NFL: Minnesota Vikings)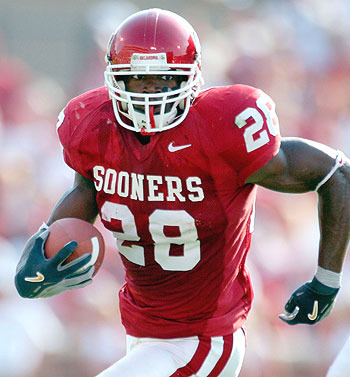 Was there any doubt? I hate seeing him in purple and gold, but I still root for him to do well.
At OU, Peterson was an All-American, Jim Brown Trophy winner, and finalist for the Doak Walker and Heisman Trophies.
In the NFL, he's been brilliant. In only three seasons, he's been First Team All-Pro twice and Second Team once.
He's been to the Pro Bowl each year and won the Offensive Rookie of the Year Award.
He set the NFL record for most yards rushing in a single game (296). He's also led the league in yards per game twice.
If he could only reduce the fumbles...
Future: Blake Griffin (NBA: Los Angeles Clippers)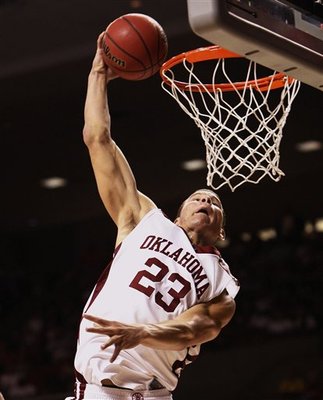 Griffin will compete with John Wall, Evan Turner, and Demarcus Cousins for the NBA Rookie of the Year Award this upcoming season.
At OU, he won the Wooden and Naismith Award as the best player in country. He also led the Sooners to the Elite Elight at the 2009 NCAA Tournament.
Griffin is surrounded by a decent cast in Los Angeles and should produce.
Future: Sam Bradford (NFL: St. Louis Rams)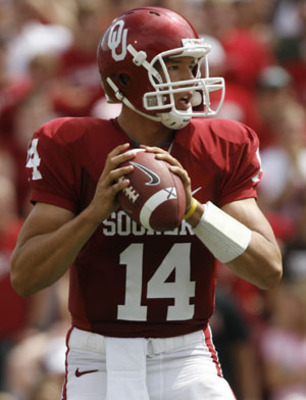 Three out of the first four picks in the 2010 NFL Draft were from the University of Oklahoma.
The No. 1 overall pick, Sam Bradford, won the Heisman and a litany of other awards while at OU and is the new face of the St. Louis Rams franchise. He led the Sooners to the BCS Championship in his sophomore year.
It will be interesting to see what Bradford does what his supporting cast in St. Louis.
Honorable mention: Gerald McCoy, Trent Williams, and Jermaine Gresham were all also taken in the 2010 NFL draft's first round.
Keep Reading

Oklahoma Sooners Football: Like this team?