College Football Week One: Where Jax State's Upset Of Ole Miss Ranks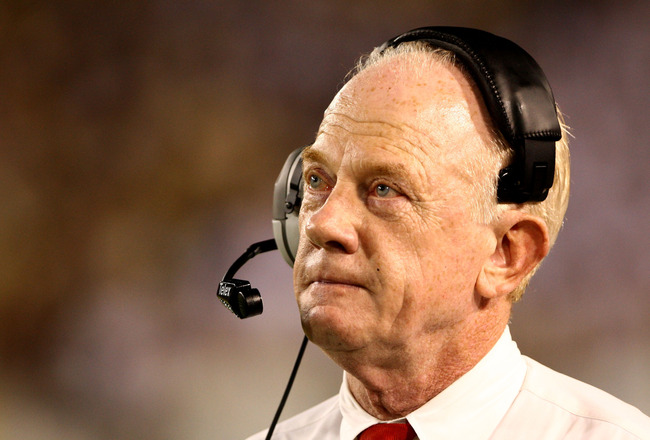 Jacksonville State Head Coach Jack Crowe
Mike Zarrilli/Getty Images
This was certainly one for the ages. Tiny Jacksonville State came into Vaught-Hemingway Stadium in Oxford and erased a 31-10 halftime deficit to ultimately win in two overtimes. On a day where North Dakota State also took down the Kansas Jayhawks in Lawrence, this result got all the press, and rightfully so.
In the grand scheme of things, where does this upset fit in? Can a FCS team taking down a squad from the mighty SEC in the opener contend with a postseason shocker from Tempe?
Well, start the slideshow and find out!
Jan 3, 2003: Ohio State 31, Miami (FL) 24, Fiesta Bowl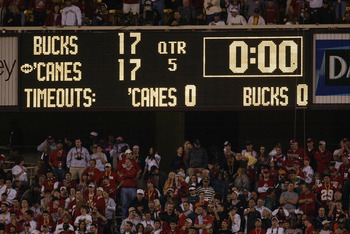 The 2003 Fiesta Bowl Heads To Overtime
Brian Bahr/Getty Images
Let's be honest. Forget the spread and the record. If you weren't from the state of Ohio, you didn't give the Buckeyes half a chance in this version of the national championship game. Miami hadn't lost in a year and a half and featured a roster chock full of NFL-bound players. Ohio State was undefeated as well, thanks to the scheduling computers, who gave them a virtual cake walk to Tempe.
The nation braced itself for a Hurricane that never came. Instead, fans got to witness an absolute thriller; a nip-and-tuck battle that saw Willis McGahee blow out his knee and a phantom pass interference flag thrown after Miami players and coaches began to celebrate what they thought was their second consecutive title.
The game still wasn't over at that point, but when the smoke finally cleared, it was Ohio State that had won the BCS title. It was their (and the Big Ten's) first since 1968, and it has yet to be replicated.
In retrospect, with the decline of the Big Ten and subsequent collapses by the Buckeyes in BCS Title games since, this result has even more significance.
November 27, 1926: Carnegie Tech 19, Notre Dame 0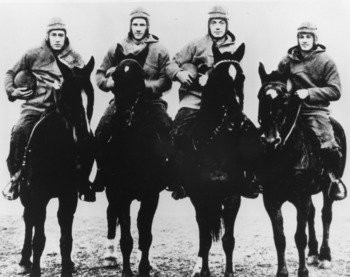 The Era In Which This Mammoth Upset Took Place
Notre Dame University/Getty Images
Carnegie Tech (now Carnegie-Mellon) at the time boasted a lightly-regarded football team with less than 30 players. They were coached part-time by a lawyer who didn't even live in the Pittsburgh area.
Legendary Notre Dame coach Knute Rockne took Carnegie Tech (a five-to-one underdog) so seriously that he went to Chicago to watch Army play Navy, rather than coach his team in the actual game.
The Carnegie Tech Tartans lead 13-0 at the half and scored again to close the game out. They kept the Fighting Irish out of the end zone for the day, destroying Notre Dame's undefeated record and national title hopes.
This was the zenith of the program for Carnegie Tech/Mellon. They ceased to play football for World War II and now compete at the Division III level.
Hopefully Rockne had a blast at the Army Navy game.
Nov 17, 1984: Navy 38, South Carolina 21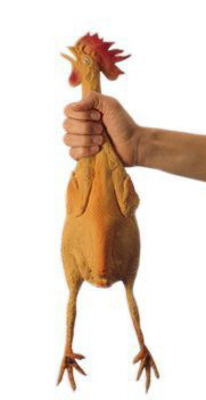 The "Chicken Curse" Was In Full Effect Against Navy
Entering the game with Navy, the 9-0 Gamecocks had already turned down an invitation to the Sugar Bowl. Their sights were set on the Orange Bowl and a shot at the national championship.
Whoops. They should have taken the 3-5-1 Midshipmen a bit more seriously.
Navy dismantled South Carolina on a cold, blustery, November day. The dreaded "Chicken Curse" was in full effect as they relegated the Gamecocks to a Gator Bowl berth and no shot at the title.
There's a reason that South Carolina went more than a century before they won their first ever bowl game. Maybe there is something to that mythical curse.
Sept 4, 2010, Jacksonville State 49, Ole Miss 48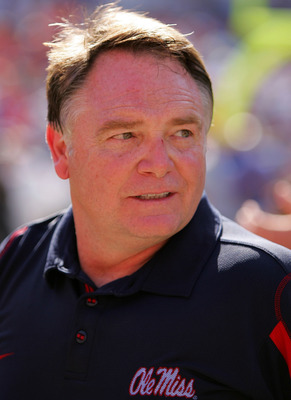 Ole Miss coach Houston Nutt
Sam Greenwood/Getty Images
Ole Miss had to see this one coming, but they were powerless to stop it.
Tiny Jacksonville State led the mighty Florida State Seminoles last year in the fourth quarter, but were unable to close it out.
In 2010 they got another chance to fell one of college football's powers, this one from its top conference, and they weren't going to be denied. Despite trailing by 21 at the half, the Gamecocks hung in there and used an explosive fourth quarter to even things out. Overtime was the nail in the deflated Rebel's coffin.
What can the rest of the world take from this result? More than anything, it's that in this day and age, you have to take every game seriously, regardless of the division they might play in. When they line up, it's still 11 on 11.
Even if you get to chant "S-E-C, S-E-C" repeatedly at home games, you can still be beaten.
Oct 6, 2007: Stanford 24, USC 23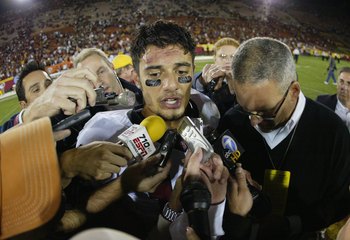 Tavita Pritchard's first start for Stanford was the shocker over USC
Jeff Golden/Getty Images
Pete Carroll's boys were 4-0 and looking for another national championship in 2009. Stanford was 1-3 and looking for a starting quarterback prior to this game at the L.A. Coliseum. The Trojans were favored by 41.
Enter Tavita Pritchard. Exit Southern Cal's 35 game home winning streak.
It took a 17 point fourth quarter for the Cardinal to secure the win. What followed was perhaps the beginning of the end of Pete Carroll's dynasty, though the seeds of ruin might have been planted with the Reggie Bush years.
As the announcers stated, it was nothing short of an "all-timer."
Oct 19, 1985: Oregon State 21, Washington 20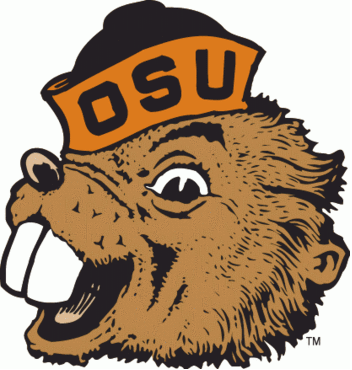 1985 was the last year of the old Oregon State Beaver
Washington was a 38 point favorite headed into this Pac-10 contest. Needless to say it stayed a lot closer than that. Leading into the game, Washington coach Don James went as far to say that he was looking forward to giving his backup quarterback some playing time.
The Beavers responded well to the slight, holding the lead for much of the first half and keeping it close deep into the fourth quarter. With 1:29 remaining in the game, Washington was forced to punt from just outside their own end zone, leading 20-14. Oregon State's Andre Todd rushed in and blocked the kick. The ball stayed in play and the Beavers recovered in the end zone for a score.
The obligatory extra point and a few defensive stops gave Oregon State the win and a spot in college football upset history.
Jan 1 2007: Boise State 43, Oklahoma 42 (Fiesta Bowl)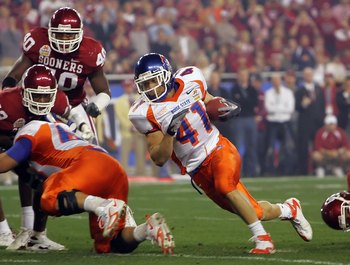 The star of the 2007 Fiesta Bowl, Ian Johnson
Lisa Blumenfeld/Getty Images
If you missed this one, you are either an ostrich or have been on another planet for the last four years.
Obviously this game had it all. The "Hook and Ladder," the "Statue of Liberty," and an end zone proposal by (pictured) Ian Johnson following his game winning conversion were all present.
This game was so special because of what it represented. The little guy won, and not because he snuck up on the giant. It was a BCS bowl game, on national television, on New Years Day.
To this day we can all argue about the non-automatic qualifier's role in the BCS. This was the day when the argument really started.
Sept 1, 2007: Appalachian State 34, Michican 32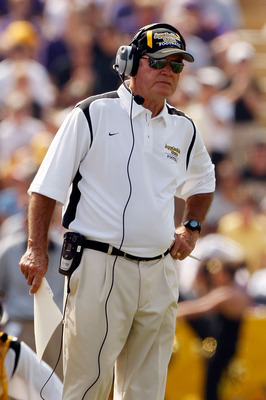 Appalachian State Coach Jerry Moore
Chris Graythen/Getty Images
At the time, Michigan was a $50 million budget football team. Appalachian State had a little less than $5 million to play with. The "Big House" in Ann Arbor sat 110,000 fans, while Kidd-Brewer in Boone, NC, could handle about 16,000.
Michigan had Mike Hart and Chad Henne. App featured the likes of Armanti Edwards and Dexter Jackson. What followed was an epic battle, described by many as "David versus Goliath."
In the end, it was the Mountaineers celebrating after they blocked a field goal to clinch the win.
It wasn't the first time a FCS team marched in and beat one from the FBS. It was probably the most exciting. It was certainly the best.
Keep Reading

Ole Miss Football: Like this team?