With the Exception of Jake Locker, UW Huskies Absorb National Limelight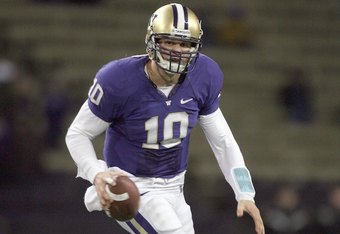 Otto Greule Jr/Getty Images
The national scene is relevant in the highly regarded superconference, an elite conference roughly producing transcendent quarterbacks and recalling the growing pains of Jake Locker, a well-respected quarterback star in the midst of presumably being a Heisman candidate.
But realistically, it's based on how efficient and brilliantly Locker performs in a 12-game regular season and whether he could accomplish a breathtaking pursuit in his senior season as the starting quarterback of the Washington Huskies.
As advertised, he's believed to be the most essential piece to potentially a divine rebirth on a spiritual and zealous school campus near the Pacific Ocean.
If there's one particular star player in collegiate sports that everyone adores heavily in Seattle, it's the Huskies' hopeful savior Locker, who isn't a typical college student constantly embraced by the students inside the study halls and on campus. Projected as a No. 1 pick in the 2011 NFL Draft, he's in conversations as the leading candidate for the Heisman and has a credible opportunity in certainly escorting the Huskies to a substantial bowl game.
It's fascinating that his presence alone amplifies the exposure and emphasis of Huskies football in a conference where normally USC, Oregon, or Arizona State absorbs national consciousness. Regardless of the Huskies' deficiencies and subpar finishes each season, Locker is a rare talent and fun to watch on any giving Saturday.
For years, there has been much talk about his undying legacy that he forged at Ferndale High School and stood as a beloved legend for claiming the school's first championship with a 37-4 record in three seasons as quarterback.
While he earned the All-American image and is now in the bidding for the Heisman, Locker is ambitious and knows that he can deliver as a versatile athlete with soundness and nifty mobility to elude the pocket and explosively run to the end zone. The dynamics of his abilities are anything but fragile, considering that his work ethic is convenient in good position to lead the Huskies to their first bowl game since 2002 with a miraculous turnaround.
He is, believe it or not, one of the best quarterbacks, if not the best, in college football this season, a primary name heard regularly in the Pac-10 Conference, and he's prepared to endure the challenge and transform an inferior program, all while under second-year head coach Steve Sarkisian.
But he obviously needs to adapt to Sarkisian's pro-style offensive tactics before raising the climax in college football and turning around the uncertain program. It figures that the Huskies are in BCS contention without even having to speculate as long as Locker is taking the snaps, gaining much-needed yardage, and hurling the passes.
His inexperience running the pro-style offense remains the biggest question, even when he's familiar with running a spread-option offense in his first two seasons as the starter, a scheme that cemented his fame and notability in an underrated conference with very little notability.
Maybe we'll witness a healthy Locker in the upcoming season showcase the generics of Tim Tebow, since he has the stamina and agility to excite and alarm the nation by manipulating the complexion of the game.
From the look of things, he has recovered from a severe thumb injury that he sustained in his second season, which limited a promising season as it ended agonizingly after merely starting four games. When Locker conducted the team, the Huskies finished as one of the nation's greatest turnarounds and, as a result, fell short of qualifying for a bowl game with a 5-7 record, one game shy of eligibility.
So vigorously, you can imagine the Huskies as monstrous bowl contenders, and you can also imagine Locker in contention for the Heisman.
In this era, typically, it's very seldom that an athlete commits all his devotion and effort in one sport. As a multitalented athlete and a sports-oriented human being, Locker signed a contract a few summers ago with the Los Angeles Angels. So he obviously has the finesse to hit and belt homers, I assume, but has a tremendous zest for the game of football.
The issue now is whether he could actually lead the Huskies to a bowl game and manage the national spotlight, with a believable track record of 58 completed passes for 2,800 yards, the third-highest single-season passing total in Washington's history.
This season, he will enter with 21 touchdowns and 11 interceptions, but more noticeable is his ability to create an unstoppable rushing attack.
It would be easy to guess that Sarkisian, the offensive expert, will design running plays for the speedy and forceful Locker. His athleticism and quickness is an advantage, and with the intelligence of Sarkisian, he can plot all kinds of styles and maneuver the spread formation around the versatility of the centerpiece in their high-powered offense.
If we can believe in a man who rushed for 388 yards and seven touchdowns, just so we can revere a tradition and the enthralling aura of college football, it would be Locker. He is, without question, the most captivating athlete entering the regular season.
Such drama expands when a quarterback is two yards short of becoming the Huskies' all-time leading rusher as quarterback. With all due respect, he's an understated athlete and may extend a boundless legacy at the collegiate level by completing an immeasurable career.
In a way, he's probably elated by all the praise, but he won't buy into the hype—well, at least not this early. However, he's very skittish and timid, especially when he absorbs all the media attention.
Before then, the Northwest natives bickered about the disregard that Locker accepted from the nation, disappointed over the lack of consideration. His laid-back, typical demeanor defines him as a genuine and modest star with raw talent of a unique brand.
As he looks to convince the nation and flourish as the biggest star, Locker is the most interesting athlete quarterbacking a team on the rise. Trust me, he's a one of a kind.
This article is
What is the duplicate article?
Why is this article offensive?
Where is this article plagiarized from?
Why is this article poorly edited?

Washington Huskies Football: Like this team?