Comin' To Your City: Predicting Every College Gameday Stop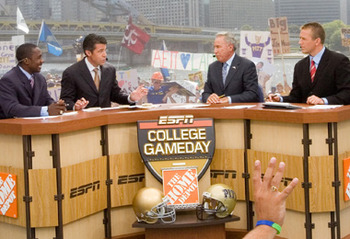 Many people dislike watching ESPN. Especially college football fans, who often claim bias towards certain conferences and players and teams.
But one thing we can all agree on is that we do enjoy the ESPN show "College Gameday", which stops at the week's best college football game on Saturday. I have seen one of these shows in person at the 2008 Auburn-LSU game, and it was very entertaining.
Fans go crazy or begin the booing depending on who the guys pick and which mascot head or helmet Lee Corso dons, which has become a show tradition.
Here is my predictions for College Gameday's stops this season. Are they comin' to your citaaay?
Week One: LSU vs. North Carolina (Atlanta, Ga.)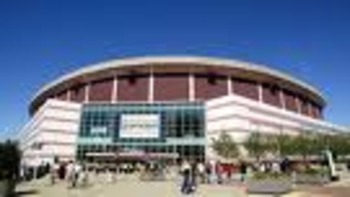 While this may not be the best game of the week (Boise vs. VT), it is the best one on the opening Saturday. The Chick-Fil-A Kickoff Classic has belonged to the SEC two straight years, both victories by the Crimson Tide of Alabama.
This has all the makings of a defensive game, as two offenses that were bad in 2009 face off against defenses that were strong in 2009. LSU's defense will be one of the best in the SEC, and UNC without a doubt has the best defense in the ACC.
For the 3rd straight year, College Gameday opens in Atlanta.
My Predicted Winner: Louisiana State University
Week Two: Penn State at Alabama (Tuscaloosa, Ala.)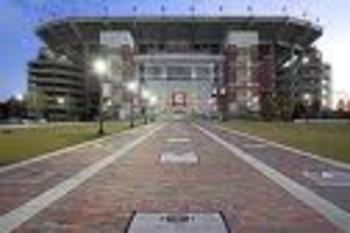 For the first time since 2007, Gameday visits Tuscaloosa to watch the defending National Champions face off against timeless Joe Paterno and the Nittany Lions. Both teams have question marks, but Alabama has fewer of them. Penn State has an inexperienced offense. The same can be said for the Crimson Tide defense, who return just Marcell Darrius, Mark Barron, and Donte Hightower from last season.
I have the feeling this might be a low-scoring game as well. I think it takes 17 points to win.
My Predicted Winner: Alabama
Week Three: Texas at Texas Tech (Lubbock, Texas)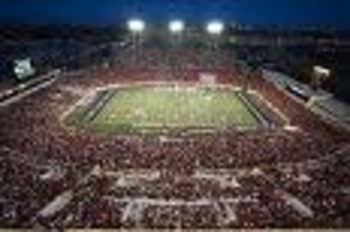 For the 2nd straight time, Texas Tech will play host to both the Texas Longhorns and College Gameday.
Former Auburn head coach Tommy Tuberville takes over Texas Tech (Yes, TT at TT). All the pirate displays have been removed, and there will be a more casual feel to the Raiders. There will be more running, as 40 percent of the plays will be running, as opposed to, what, 20 percent under Leach?
After a couple of cupcakes to start the season, Garrett Gilbert should be more comfortable. We all remember him fighting valiantly in the Rose Bowl that night against the mighty Crimson Tide defense.
So, Tommy Tuberville faces Mack Brown. Who wins?
My Predicted Winner: Texas
Week Four: Alabama at Arkansas (Fayetteville, Ark.)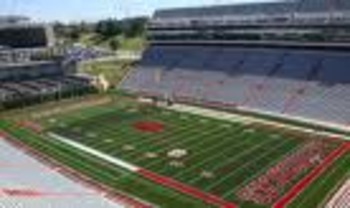 Once again, the SEC gets the spotlight. I think Alabama will be unbeaten and No.1 coming in. Arkansas, I believe, will be coming off a heartbreaking defeat to Georgia in Athens. However, the impact this game on the West draws Gameday to the hills.
This is an interesting matchup. Ryan Mallett might be the best QB in the SEC, and Arkansas's offense should put up huge numbers. Arkansas is at home in rowdy Fayetteville in front of 80,000 Hog-Callers. Bama has question marks on defense, especially in the secondary.
Everything sets up perfectly for an Arkansas win. But the question is, will they stop Mark Ingram and Trent Richardson? Do I think they will?
My Predicted Winner: Alabama
Week Five: Florida at Alabama (Tuscaloosa, Ala.)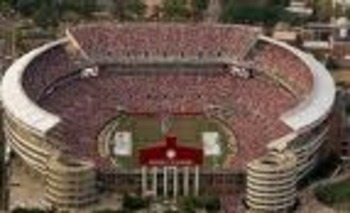 Dadgum, Gameday is going to Tuscaloosa a lot, huh?
But this is obviously the game of the week. After Alabama beat down the #1 Gators 32-13 in Atlanta last season, Florida looks for revenge. UF is likely to be unbeaten coming in, and this could be a Top 5 matchup.
Fans get to listen to the charming voices of Verne and Gary (Orlando McCain?), as this has the CBS night slot.
This game will be much better than last year. But will the result be different?
My Predicted Winner: Alabama
Week Six: Florida State at Miami (Miami, Fla.)
The game was an instant classic in 2009, as Miami pulled out a dramatic victory in the Doak, 38-34. This is such a historic rivalry, and both teams seem to be on the upswing. Miami looks to break through, while FSU looks to break out under Jimbo Fisher.
Who will win the Sunshine Showdown at Sun Life Stadium, or whatever the stadium is gonna be called when October rolls around?
My Predicted Winner: Miami (FL)
Week Seven: Texas at Nebraska (Lincoln, Neb.)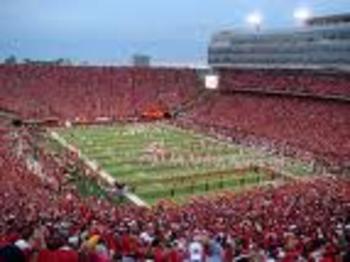 Sorry, Badger and Buckeye fans. In my NCAA sim, that game was No.2 vs. No. 3. But this game will likely also feature two Top 10 teams, and because of what happened last year (I still say Nebraska won) in Arlington, and the hate between these teams now, it looks like you'll be seeing Husker red on Saturday morning.
This will be a 13-3 type of game. Very low scoring. Neither team may have over 200 yards of total offense. Whose defense will step up more?
My Predicted Winner: Nebraska
Week Eight: LSU at Auburn (Auburn, Ala.)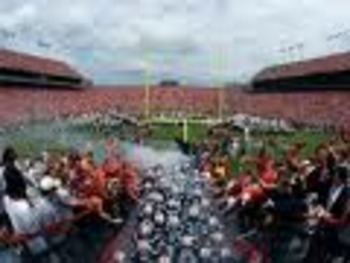 Gameday returns to Auburn to see the premier game of the week. LSU's record will have no more than one blemish on it and Auburn will be undefeated, after winning a thriller over Arkansas the previous week.
After LSU crushed AU last year 31-10, AU will look for redemption at home in Jordan-Hare.
One edge AU will have is being at home, during the day, as CBS will likely pick up the game for the 2:30 slot.
How will Auburn's improved defense play against LSU's offense? Will LSU's defense contain Auburn the way it did last season?
My Predicted Winner: Auburn
Week Nine: Oregon at Southern California (Los Angeles, Calif.)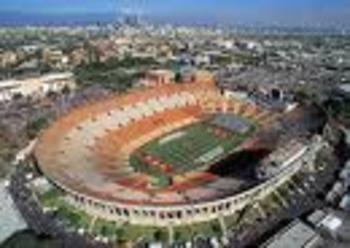 Gameday heads west to see Oregon face USC. USC is feeling the stings of probation, and probably didn't make the best hire in the world, but the storylines of this game attract Corso and crew away from going to see the Buckeyes take on the upstart Minnesota Golden Gophers.
Oregon smashed USC last year, rolling up 47 points and 618 yards of offense. Oregon doesn't have Jeremiah Masoli back, as he is a Rebel. Oh, and he enrolled Ole Miss and plans to play ball there.
Oregon is still favorites in the Pac-10. Will USC pull out the win for pride?
My Predicted Winner: Oregon
Week Ten: Alabama at LSU (Baton Rouge, La.)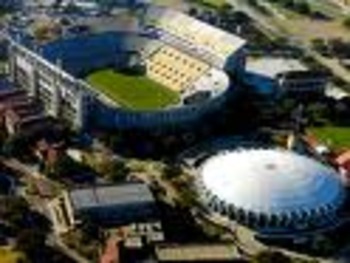 Was there any doubt? When Saban visits Death Valley, people follow.
LSU will be pretty good in the rankings coming in. Bama will be undefeated and No.1 in America. Through all the turmoil Les Miles has endured, this game seems like a must-win for Miles, who sits on a very hot seat.
It has seemed the gap between LSU and Alabama has grown, as Bama has won two in a row over the Bayou Bengals. Will they pull it out in Death Valley again and remain No.1?
My Predicted Winner: LSU
Week Eleven: Miami (FL) at Georgia Tech (Atlanta, Ga.)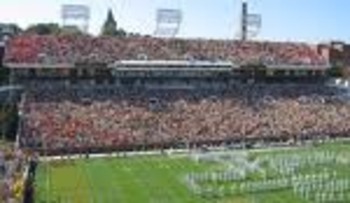 Gameday's back in Atlanta, but not at the Georgia Dome. This game will decide who wins the division and represents in the ACC Championship.
Last year, Miami beat Georgia Tech on a Thursday night, 33-17, shutting down GT's option.
Dwyer is gone, but Nesbitt returns, and might be the best dual-threat QB in college football.
But "the U" looks for a return to national prominence. Something's got to give.
My Predicted Winner: Georgia Tech
Week Twelve: Ohio State at Iowa (Iowa City, Io)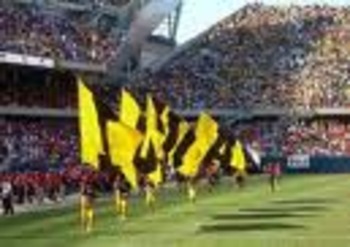 This will be maybe the biggest home game in Iowa history. Both teams will be undefeated coming in and looking for a berth in the Rose Bowl, or the BCS National Championship.
I'm in love with the Hawkeyes. Ricky Stanzi might be the most underrated QB in America. They are tough to beat at home. Mostly because opponents are dazed by the pink locker room.
A record crowd will come to see Iowa take on the Buckeyes, who have an overrated QB in Pryor. The place will surely be rockin'.
However, as much as I like this Iowa team.... Not so fast, my friends!
My Predicted Winner: The Ohio State Buckeyes
Week Thirteen: LSU at Arkansas (Little Rock, Ark.)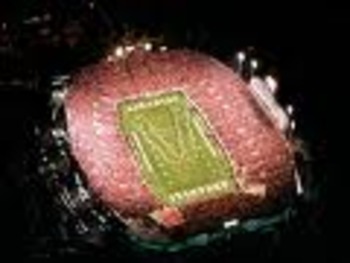 Arkansas gets another visit from Gameday, even though it won't be back in Fayetteville, as this game is in Little Rock.
LSU broke Arky's heart last season, beating them 33-30 while looking like Tulsa (Those uniforms....). Les Miles saved his clock managing talents for the Hogs.
However, Arkansas has home-field advantage in cozy War Memorial Stadium. Both teams will be in the top 20. Who will win the last regular season College Gameday?
My Predicted Winner: Arkansas
Conference Championship Week: SEC Championship Game (Atlanta, Ga.)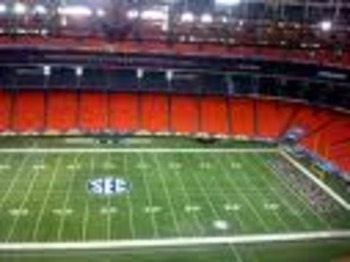 I won't go so far as to say who the teams will be. However, I assure you it will be a top 10 or even top 5 matchup. I doubt either team will be unbeaten, but the winner will be in position for the BCS National Championship in Arizona.
My Predicted Winner: Whoever won the SEC Western Division
Keep Reading