College Football Predictions: The Make-or-Break Games for the Top 25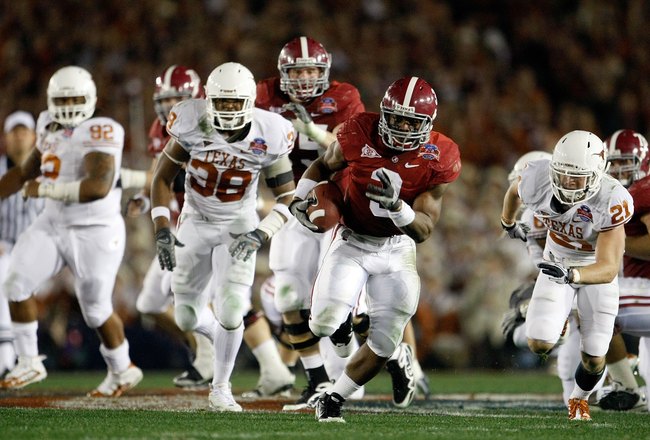 The coaches have spoken. The USA Today Coaches' Poll preseason top 25 is out.
Alabama tops the list, as expected, while Ohio State and Florida come in at second and third, respectively.
So, as we take a look at the teams included in the poll, one can't help but wonder how many of those teams will still be included by the end of the year.
And, playing a large role in whether teams are able to maintain their position in the polls is their performances in important games.
So, what are the biggest, most important, make-or-break games for every preseason top 25 team?
No. 24 (T): West Virginia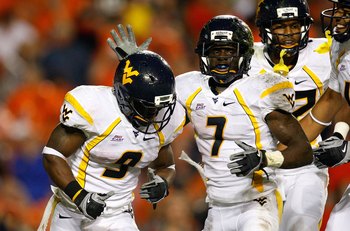 Make-or-Break Game: At Connecticut, Oct. 29
Although West Virginia won't have quite the team in 2010 that Mountaineer fans have become accustomed to, they should still compete for the Big East title.
And one game against a fellow Big East title contender could play a huge role in the outcome of the conference race.
The Friday night match-up between the Huskies and Mountaineers will be West Virginia's first true conference test and could set the tone for the rest of the season.
A win could propel the boys from Morgantown to a surprise Big East title, while a loss could erase that notion.
No. 24 (T): Utah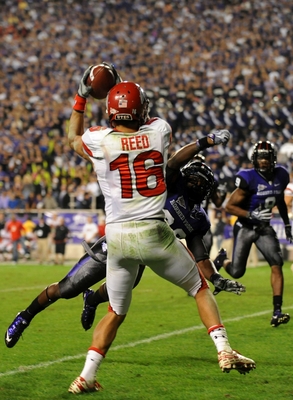 Make-or-Break Game: vs. TCU, Nov. 6
Before they defect to the Pac-10, Kyle Whittingham and the Utah Utes would love nothing less than to win another Mountain West crown.
However, if they hope to steal the title and possibly make a trip to a BCS bowl, they'll have to dethrone the defending champs, TCU.
It certainly won't be easy, but at least they get them in Salt Lake City.
What could essentially be a conference championship game will be fun to watch.
No. 23: Auburn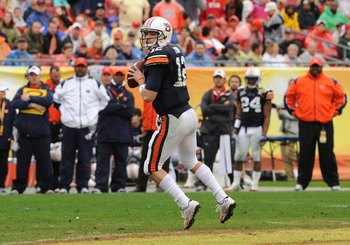 Make-or-Break Game: vs. Arkansas, Oct. 16
Flying somewhat under the radar in the SEC, the Auburn Tigers are hoping 2010 is the year in which they return to national prominence.
Although they definitely face a few good teams in their early games, including a big non-conference showdown with Clemson, the Tigers' first real test in the SEC comes in the form of the Arkansas Razorbacks.
And what a test it will be. With quarterback Ryan Mallett taking the snaps, the Razorbacks will have one of the best offenses in the nation.
But, if Auburn can knock off their fellow SEC title contenders—and they do get them at home—they can officially be included as a BCS presence.
No. 22: Oregon State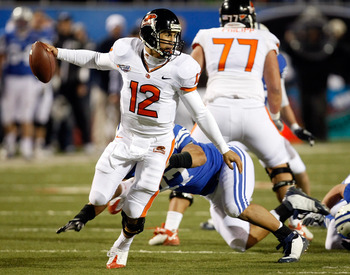 Make-or-Break Game: vs. Oregon, Dec. 4
Their colossal non-conference games against TCU and Boise State aside, the fate of the Oregon State Beavers could once again come down to their Civil War match-up against rival Oregon.
With the Rodgers brothers leading the way, the Beavers definitely have the tools to make a run at the Pac-10 crown.
Although their are certainly some large obstacles in their path to the conference title (notably Stanford, Washington and USC), the largest one could be their last.
With the Pac-10 likely on the line, expect a high-scoring shootout in Corvallis (as always).
A win could send Oregon State to their first Rose Bowl since 1965.
No. 21: Georgia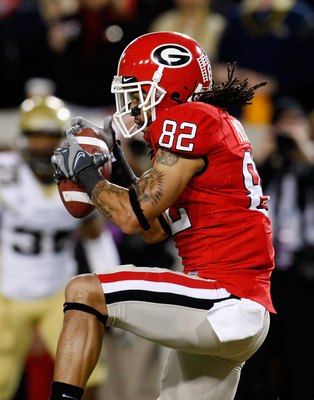 Make-or-Break Game: vs. Florida, Oct. 30
No matter the year, it always seems like the SEC East comes down to the Jacksonville game/party between the Georgia Bulldogs and Florida Gators.
2010 will be no different.
If the Bulldogs hope to dethrone the Gators, they'll have to beat them.
Simple as that.
Whether they'll have the tools to upset the third-ranked Gators remains to be seen.
No. 20: Florida State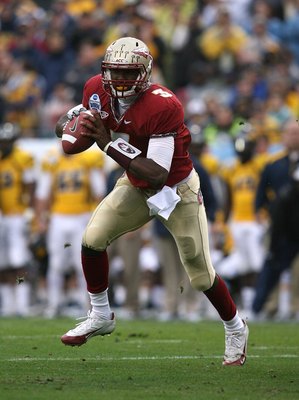 Make-or-Break Game: at Miami (FL), Oct. 9
In their first year under new head coach Jimbo Fisher, the Florida State Seminoles are hoping to win the ACC and get back to the BCS after a recent drought.
For them to that, they'll need to beat their arch-rivals, the Miami Hurricanes.
Both teams are expected to make a run at the conference crown and the Oct. 9 match-up in South Beach could very well decide the race.
A "wide-left" or "wide-right" could send the Seminoles to another disappointing campaign.
No. 19: Arkansas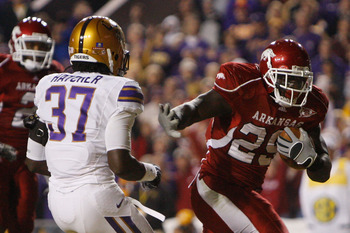 Make-or-Break Game: at Georgia, Sept. 18
With Heisman contender Ryan Mallett leading the way, many expect the Arkansas Razorbacks to give Alabama all they can handle in the SEC West.
However, the first game that will truly test whether Arkansas is BCS-worthy is its Sept. 18 date in Sanford Stadium against the Georgia Bulldogs.
If Arkansas can pull out a win there, anything less than a trip to the BCS will be considered a disappointment in Fayetteville.
No. 18: North Carolina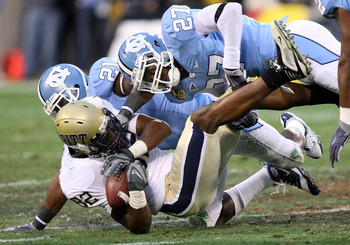 Make-or-Break Game: vs. Georgia Tech, Sept. 18
Behind a stingy defense, North Carolina is expected to make a run at the ACC title in 2010.
It won't take long to determine whether those expectations are realistic.
In their second game of the season, and their home opener, the Tar Heels take on defending ACC champ Georgia Tech.
If they can win, an ACC title doesn't seem so far-fetched. A loss however could end any hopes of a conference championship in Chapel Hill.
No. 17: Georgia Tech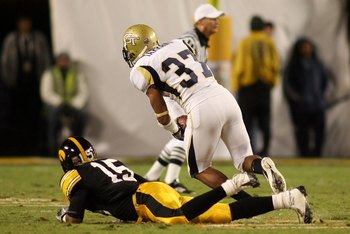 Make-or-Break Game: at Virginia Tech, Nov. 4
Hoping to make it two ACC titles in a row, Josh Nesbitt and the run-happy Georgia Tech Yellow Jackets will have their work cut out for them in 2010.
Although they face numerous quality opponents early on (at North Carolina, Wake Forest and Clemson), their premiere match-up of the year could determine the conference title.
When Georgia Tech heads north to Blacksburg to take on the ACC favorite Virginia Tech Hokies, there could be more than just BCS implications involved.
VaTech is hoping for a possible national title run in 2010 and Georgia Tech could end those, and even ACC title dreams in one fell swoop.
No. 16: LSU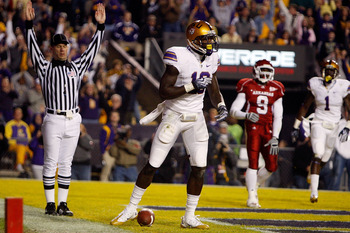 Make-or-Break Game: at Florida, Oct. 9
Although a couple of their non-conference foes (notably North Carolina and West Virginia) provide reasonable chance to stumble, the LSU Tigers, in all likelihood, should be undefeated when they head to Gainesville in early October.
If their previous opponents hadn't exposed any weaknesses, the Florida Gators will.
The Gators will be in the running for the national title in 2010 and if LSU has any hope of winning the SEC, they'll need to beat teams like Florida.
A loss wouldn't be the end of the world. After all, winning in The Swamp is nearly impossible. But it would indicate that LSU doesn't quite have the talent to compete for the SEC title.
However, a win would be astronomical. The momentum associated with that kind of accomplishment could take the Tigers all the way to Atlanta.
No. 15: Pittsburgh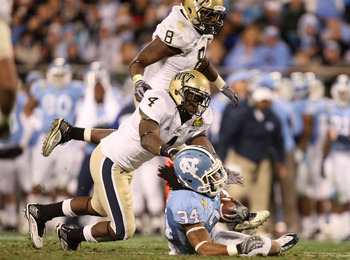 Make-or-Break Game: vs. Miami (FL), Sept. 23
Honestly, the Pittsburgh Panthers should be able make it through their Big East schedule with relative ease.
No, games against West Virginia, Cincinnati, and UConn won't be easy, but Pitt should still come out on top.
Therefore, maybe their biggest game of the season comes in the form of a non-conference battle with fellow BCS contender Miami (FL).
If Pitt can knock off Jacory Harris and the Hurricanes, it will show that the Panthers truly are in the upper class of college football in 2010.
If not, a Big East title is still likely, but not as a legitimate national title contender.
No. 14: Penn State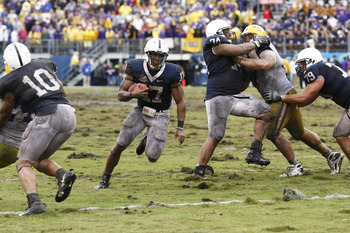 Make-or-Break Game: at Iowa, Oct. 2
Its epic non-conference showdown with Alabama aside, the game that will determine Penn State's fate in the Big Ten could be their conference opener.
With a new quarterback and a relatively inexperienced defense, the consensus is that the Nittany Lions will finish fourth, or worse, in the Big Ten.
When they travel to Iowa City to take on Big Ten title contender Iowa, a lot of those questions could be answered.
A loss wouldn't knock them out of the Big Ten race just yet, but it would show that the Lions may not be in the same class as the other Big Ten contenders in 2010.
A win, on the other hand, could lead to a surprisingly successful season.
No. 13: Miami (FL)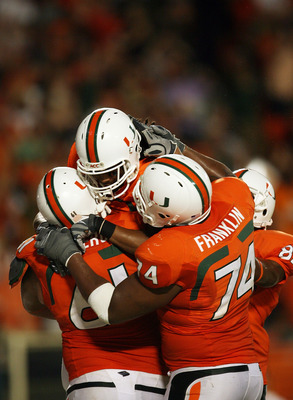 Make-or-Break Game: vs. Virginia Tech, Nov. 20
Although Miami has some huge games before this late-season battle—including ones against Ohio State, Pitt, Georgia Tech, and North Carolina—their battle against Virginia Tech could decide the ACC crown.
If the Hurricanes want to finally win the conference (they haven't done so since they joined in 2005), they'll have to beat the consensus league favorites.
Now, with their tough schedule, there's a possibility that Miami could be out of the conference race by Nov. 20. But, don't count on it.
What could essentially be the ACC Coastal Division championship, this South Beach showdown could be the game of the year in the ACC.
No. 12: Wisconsin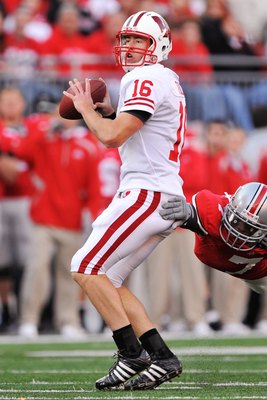 Make-or-Break Game: at Iowa, Oct. 23
No disrespect to Ohio State, but if Wisconsin wants to win the Big Ten, they're going to need to get a win in Iowa City.
In the previous week, the Badgers get the Buckeyes at home. Certainly no easy task, but a win wouldn't be that much of a surprise.
However, if they eked out a win against Iowa—at Kinnick Stadium—that would be a different story.
Both teams will be competing for the conference title and this game could play a large role in determining who comes out on top.
An Iowa win would give them the fast track to the title. A Wisconsin win, paired with a win against Ohio State the previous week, would then make the Badgers the favorites.
No. 11: Oregon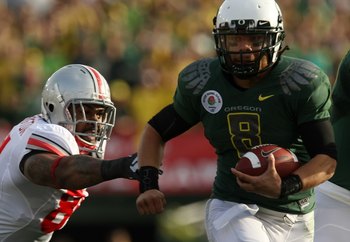 Make-or-Break Game: at Oregon State, Dec. 4
Like their rivals Oregon State, the biggest game on Oregon's schedule could be their last—against the Beavers.
Without quarterback Jeremiah Masoli, expectations aren't quite as high in Eugene as they were immediately following the 2009 season. That said, Oregon still expects to win the Pac-10.
Now, there are undoubtedly some tough matchups earlier in the Ducks' schedule. USC, Washington and Stanford all come to mind.
But, the game that could decide who is road trippin' down to Pasadena could be their season finale.
No. 10: Iowa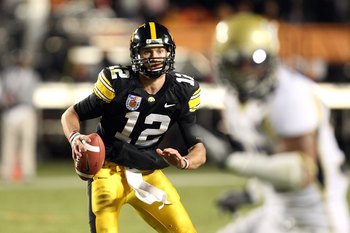 Make-or-Break Game: vs. Ohio State, Nov. 20
For the Iowa Hawkeyes, anything less than another BCS appearance in 2010 will be considered a disappointment.
But, if the team can play to their potential, a national championship bid isn't out of the question.
The Hawkeyes have virtually all of their tough games at home—including Penn State, Michigan State and Wisconsin—while their final game at Kinnick Stadium pits them against Ohio State.
This game could not only be for the Big Ten championship, but for a trip to the national title.
No. 9: Nebraska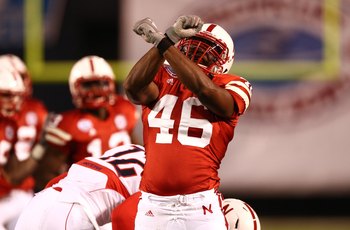 Make-or-Break Game: vs. Texas, Oct. 16
If Nebraska hopes to steal the Big 12 title in their last year in the conference, there's one opponent they need to defeat: Texas.
Although the Longhorns lost star quarterback Colt McCoy, they are still the decided favorites to win the conference and possibly make a return trip to the national championship.
Luckily the Cornhuskers get them in Lincoln, but this will still be a huge challenge.
Whether they win this match-up or not, Nebraska will still take the Big 12 North with relative ease, setting up the possibility for a rematch with the Longhorns in the Big 12 Championship Game.
But, if they can't beat them at home, how are they going to defeat them in Arlington?
No. 8: Oklahoma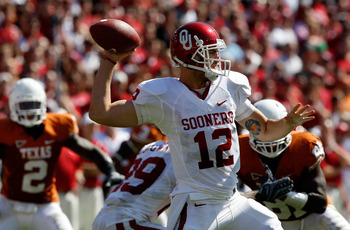 Make-or-Break Game: vs. Texas, October 2
As is the case virtually every year, the Big 12 South will come down to the Red River Shootout between Texas and Oklahoma.
If the Sooners want to return to the BCS after a disappointing season in 2009, they have to beat the Longhorns.
There's no way around it.
A loss will likely send the Sooners to a second-place finish in the division and another BCS-less year.
A win, on the other hand, could lead to a possible Big 12 championship and an appearance in a BCS bowl.
No. 7: TCU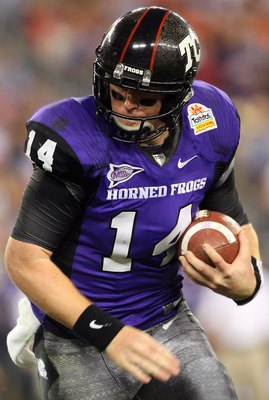 Make-or-Break Game: vs. Oregon State, Sept. 4
If TCU is going to return to the BCS, they'll need to win every single game. Such is the life of a mid-major.
But luckily, the Horned Frogs have probably the most favorable schedule of any team in the nation for doing just that.
Sure, the Mountain West is tough, but TCU is by far the best team. Utah, Air Force, and BYU could pose challenges, but in the end, the Horned Frogs should come out on top.
No, their toughest game might actually be their first. When TCU plays Oregon State in Cowboys Stadium on Sept. 4, they may actually run into the the danger of losing.
A win against the Beavers would not only start the Horned Frogs on the right foot going into the rest of their schedule, but it might actually get their toughest obstacle out of the way.
No. 6: Virginia Tech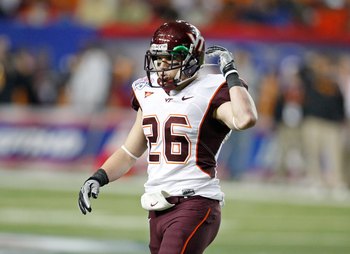 Make-or-Break Game: vs. Boise State, Sept. 6
Not only will Virginia Tech be gunning for the ACC title in 2010, but a shot at the national title as well.
To put themselves in a position to earn a bid to the title game, the Hokies will probably need to go undefeated.
Other than their ACC schedule, there is one enormous obstacle in their path: a monumental non-conference clash with Boise State.
Although the game is essentially at home (it will be played at FedEx Field, home of the Washington Redskins), VaTech will not run into a better opponent all year.
No. 5: Boise State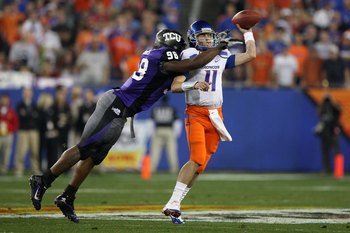 Make-or-Break Game: vs. Virginia Tech, Sept. 6
Like their opponent Virginia Tech, Boise State hopes to make a run at the national title in 2010.
Like VaTech, they'll need to win every game to do that.
Compared to the Hokies, the rest of the Broncos' schedule should seem like a piece of cake. But they have to beat Virginia Tech.
If they don't, there goes their shot at the BCS and a national title.
No. 4: Texas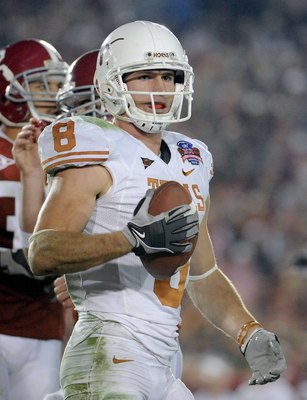 Make-or-Break Game: vs. Oklahoma, Oct. 2
For Texas to get the chance to repeat as Big 12 champs, it'll need to beat its archrival, Oklahoma.
It's their biggest game of the year for a reason.
The Big 12 North, and ultimately a slot in the Big 12 Championship, is what's on the line.
If they lose to the Sooners, their chances of returning to the Big 12 Championship, much less the national title, plummet.
No. 3: Florida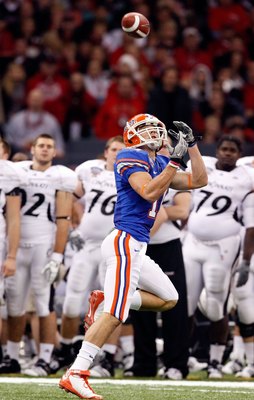 Make-or-Break Game: at Alabama, Oct. 2
Although their matchup against Georgia may ultimately mean more for the Florida Gators in terms of reaching the SEC Championship Game, no game will mean as much to Urban Meyer and company as the one on October 2.
After falling to Alabama in last year's SEC title game—eliminating the possibility of a repeat national championship—the Gators are hungry for revenge.
Not only would a win in Tuscaloosa put the Gators in great shape to get back to the national championship, but it would knock 'Bama out of the running.
There would be no sweeter revenge than that.
No. 2: Ohio State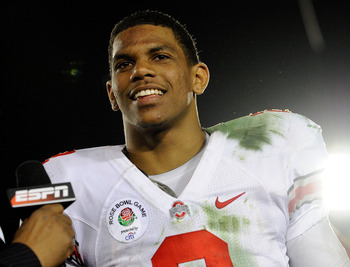 Make-or-Break Game: at Wisconsin, Oct. 16
Ohio State fans expect a Big Ten title in 2010. But what they're really hoping for is the national title.
The Buckeyes experience their first real test when they travel to Madison to face the Badgers on Oct. 16.
It's no easy task winning in Camp Randall Stadium, but if the Buckeyes can manage a victory, they'd be setting themselves up for one last challenge (at Iowa) to get to the national championship.
However, they have to beat Wisconsin. Any losses and Ohio State fans can kiss the national title goodbye.
No. 1: Alabama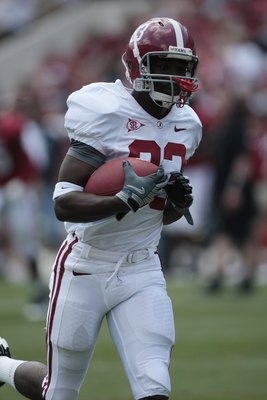 Make-or-Break Games: All SEC games
Ah...the life of the defending national champ.
Literally every team you face the following year is giving it their all to knock you off.
Arkansas, Florida, South Carolina, Auburn, LSU...the list goes on.
They will all be aiming to knock Alabama off their No. 1 perch.
If the Tide hope to repeat as national champions, they'll need to once again win every single game.
With every team you face, especially your SEC opponents, aiming for your throat, it's not going to be easy.
Keep Reading