Alabama Crimson Tide: A Bryant Deny Stadium Fan Interview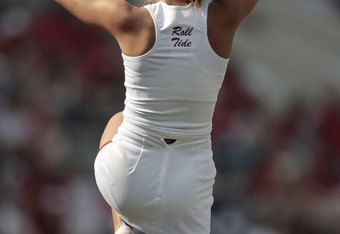 Dave Martin/Getty Images
While planning some upcoming sports road trips for the Sports Trekker I had the fortune to interview a Tuscaloosa Native and Alabama Alum, Brittany Cockrell, on what one can expect if you go to a 'Bama game in the fall. Brittany was eager to help me out and I thought she had plenty of insightful tips. For the record Brittany was adamant that Bryant Denny is the best place on earth.
Sports Trekker | So, If I were to plan to attend a 'Bama game, where is the best place to tailgate?
Brittany Cockrell | The Quad. The Quad is located in the center of campus and is an open field/park. There is always many tailgates, concessions from local food vendors, memorabilia and t-shirt vendors, and when GameDay comes they locate on the Quad as well. Denny Chimes and Gorgas Library are located on the Quad. It is only about 1 block to the stadium.
ST | What type of food are we talking about at these tailgates?
BC | Hot dogs, burgers, dip, chips, gumbo, wings, pasta salad, etc. Typical tailgate food.
ST | Big fan of drinking games? How does Alabama get down?
BC | Presidents & A**holes, 3 Man, Cornhole. The most popular really just depends on what tailgate or party you're at.
ST | Not really into spending the night in jail, what are the laws on having an open container? Is it enforced?
BC | Yes open container is strictly enforced near the bars and restaurants. You are fine if you are tailgating but don't go near the stadium. Cops live for arresting people on game days for open containers.
ST | Any sports museums near by? Statues?
BC | Directly in front of Bryant Denny is "The Walk". There are concrete stones for each national and sec championship. Bear, Gene Stallings, Wallace Wade all have statues in this area. There is even a spot for the next statue.
ST | Perhaps that was included in Nick Saban's contract. What is the most unique feature at Bryant Denny?
BC | Murals throughout the stadium depicting famous scenes in football. The front entrance to Bryant Denny is also very unique. Great landscaping, statues, stones for all the championships, the A carved in the stone on the stadium. There are Alabama A's on each seat in the stadium (excluding bleachers). Our jumbotrons are very nice also.
ST | Nice jumbotrons, what makes them nice?
BC | Bryant Denny has 2 large jumbotrons, 1 at the south end zone and 1 located in the stadium close to the north end zone. There was 1 large jumbotron at the north end zone until the latest addition. With the expansion of the south end zone, I'm sure that one will come down and be relocated like the other.
ST | So for my first game at Bryant Denny, where should I get seats?
BC | The lower deck, A-N because those seats tend to stay out of the sun
ST | Are there any seats that I should avoid?
BC | AA-NN tend to always be in the sun for day games and will be the hottest sections. However the student section and band are located in those sections which are the most fun in my opinion.
ST | What is the food like inside the Bryant Denny?
BC | Denny dogs are the best! The stadium went under a huge renovation and the concessions were completely redone. They offer dogs, candy, sodas, nachos, chicken fingers, burgers, etc. Typical concession food but not bad.
ST | Alright, the game's over where is the best place to grab a bit to eat after the game?
BC | Within walking distance of the stadium is Buffalo Phils which is a great sports bar with decent food, outdoor seating. It's typically a young crowd. However there is an excellent Mexican Restaurant (El Rincon) on the same street as well as Qdoba, Bento (Japanese/Sushi), Subway. If you are willing to drive a little further out (2-3 miles), Wings is a really good restaurant decked out with all sorts of Alabama memorabilia, great bar area, and TVs. Tuts is a real small hole in the wall, but they have awesome cheesesteaks, gyros and calzones.
ST | What is the best bar to go to after the game?
BC | Houndstooth (before the rennovation) was the #1 Sports Bar in North America but was completely rebuilt and has lost a little of its luster and great vibe. The Legacy is close by and offers a wide selection of beers, pool tables, usually live entertainment on the weekends and flat screen tvs.
ST | Sounds great, is there a local signature drink at either one of these places?
BC | Alabama Slammer? Not really sure.
ST | Are there hotels nearby? Near an airport?
BC | Hotels in Tuscaloosa tend to be select service and located right off the interstate. The closest hotels to the stadium are The Capstone (formerly Four Points By Sheraton and the only full service hotel in the area) and the Hampton Inn University. No major airport in Tuscaloosa. Birmingham International Airport (45 minutes to an hour away) is the closest.
ST | What's is the traffic situation like?
BC | Traffic is bad on game weekends. Parking is limited. Arriving a few hours early is highly recommended.
This article was featured on the SportsTrekker.com

Are you an expert on your favorite teams Stadium? Shoot the Sports Trekker email to set up an interview.
This article is
What is the duplicate article?
Why is this article offensive?
Where is this article plagiarized from?
Why is this article poorly edited?

Alabama Crimson Tide Football: Like this team?