2010 College Football Predictions: Top 10 Neutral-Site Games Of 2010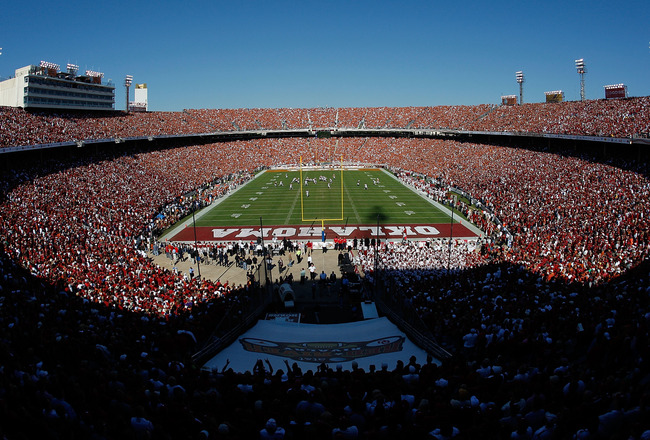 Ronald Martinez/Getty Images
In recent years, neutral site games have become all the rage in college football.

Traditional rivalry games and non-conference tilts played off-campus create a festive atmosphere for fans and produce added revenue for institutions.

The 2010 season features a host of intriguing neutral site games. Opening weekend features a cross-country matchup between Boise State and Virginia Tech that could have huge implications in the BCS picture down the road.

On Nov. 20, two baseball stadiums will host college football classics. Northwestern and Illinois battle at Wrigley Field and Notre Dame and Army invade Yankee Stadium.

Here's a closer look at 10 of the most interesting and important games of the upcoming season:
No. 10: Missouri Vs. Illinois, Edward Jones Dome
Dilip Vishwanat/Getty Images
The 2010 edition of the State Farm Arch Rivalry looks like a mismatch on paper.

Illinois is firmly embedded in rebuilding mode. Ron Zook failed to land the deep recruiting class he desperately needed and could find himself looking for work after the season.

Redshirt freshman Nathan Scheelhaase makes his debut as the Illini starting quarterback on a big stage.

Meanwhile, Missouri's Blaine Gabbert has already endured his trial by fire. The junior threw for 319 yards and three touchdowns in his first career start in the Tigers 37-9 rout over the Illini last September.

Prediction: Optimism runs high in the first game of the season. That won't be enough to carry Illinois to an upset of Missouri. The Tigers have three talented pass-rushers and a fast defense to go along with an assortment of weapons on the offensive side of the ball. Mizzou wins in another rout.
No. 9: Notre Dame vs. Army, Yankee Stadium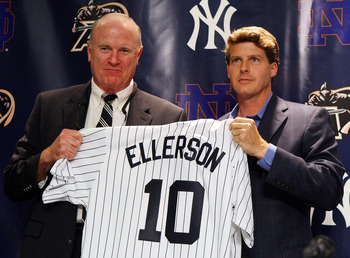 Jim McIsaac/Getty Images
For the first time since 1987, college football will be played in the Bronx.

Notre Dame and Army meet as a precursor to the New Era Pinstripe Bowl, which will be held at Yankee Stadium on December 30.

The Irish have a clear advantage in the game, but the atmosphere and setting should make it worth watching for all avid college football fans.

Notre Dame has some promising pieces and figures to have things together by late November.

Army returns seven starters on offense and eight starters on defense and could make a huge push for a bowl game by beating the Irish.

Prediction: There is just too much talent on Notre Dame's side. Army will make it a game, but Brian Kelly's team is likely to prevail.
No. 8: Illinois vs. Northwestern, Wrigley Field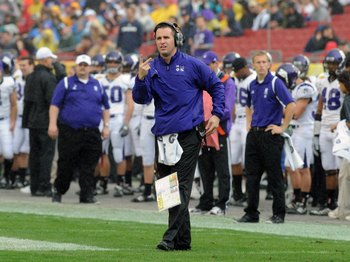 Al Messerschmidt/Getty Images
Northwestern has embarked on an aggressive campaign to generate fan interest and boost ticket sales.

One of the best moves was to secure a conference battle with Illinois at Wrigley in late November.

The nostalgia surrounding the game will be astounding, but the matchup on the field probably won't be.

Northwestern and Illinois are two programs heading in very different directions.
Prediction: Will Pat Fitzgerald ever get the credit he deserves? Northwestern has a legitimate chance to snag another New Year's Day Bowl this season.
The Wildcats should be able to put down any uprising from Ron Zook's team.
No. 7: Notre Dame vs. Navy, Meadowlands Stadium
Jim McIsaac/Getty Images
Notre Dame's ridiculous dominance of Navy came to a merciful end in 2007. With the Midshipmen winners of two of the last three meetings, the table is set for another entertaining battle in the Meadowlands this fall.

Navy's Ricky Dobbs leads a powerful running attack that has certainly given the Irish trouble in recent years. But with the front seven returning for Brian Kelly, yards could be harder to come by for the Midshipmen.

Notre Dame has plenty of talent, but also a fair amount of questions at key positions. The offensive line will feature five new starters and might be a work in progress even in late October when these teams tangle.

Prediction: The game is basically a toss up, which makes forecasting a winner extremely difficult. The pressure could get to a relatively young Notre Dame team if the game gets close. Navy wins.
No. 6: LSU vs. North Carolina, Georgia Dome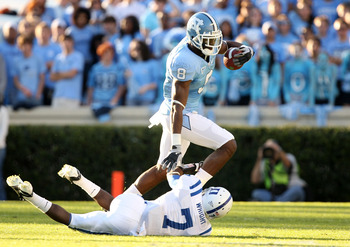 Streeter Lecka/Getty Images
If you like defense, then this game is for you.

The Tar Heels will boast one of the best defenses in college football, and LSU isn't far behind.

Les Miles is looking for offense, but he probably won't find it in the first game of the season.

North Carolina's offensive unit isn't spectacular, but wide receiver Greg Little is one of the most underrated playmakers in the nation.

Prediction: It's almost too close to call. In the end, North Carolina has weapons on both sides of the ball and squeaks out the win.
No. 5: Oregon State vs. TCU, Cowboys Stadium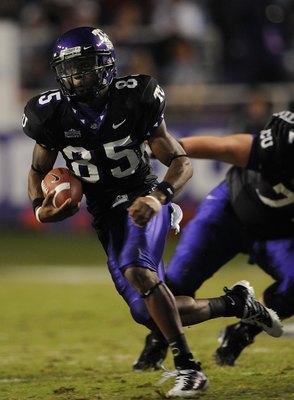 Ronald Martinez/Getty Images
If the Horned Frogs hope to avenge the Fiesta Bowl loss at the hands of Boise State by making a return to the BCS, the work starts in the season opener.

Andy Dalton leads what should be another explosive offense and Jeremy Kerley is the best of a speeding group of receivers.

Oregon State appears to have another solid squad heading into 2010. Jacquizz and James Rodgers should help Ryan Katz ease into his role as starting quarterback.

It might be a bit optimistic to expect Katz to step in against one of college football's most aggressive defensive units without missing a beat.

Prediction: Oregon State should make some noise in the Pac-10, but the season opener could be rough for Mike Riley's team. TCU makes a statement with an easy win.
No. 4: Arkansas vs. Texas A&M, Cowboys Stadium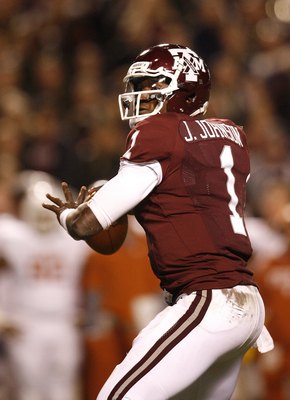 Aaron M. Sprecher/Getty Images
Get ready to watch plenty of touchdowns and ridiculous offensive numbers.

Gunslingers Ryan Mallett and Jerrod Johnson meet in what could be the best quarterback battle in 2010.

The Razorbacks have the edge of the defensive side of the ball, but that isn't saying much given the Aggies' struggles last season.

Unless Texas A&M improves dramatically on defense, Johnson will have to put the team on his shoulders again.

Prediction: Both teams could easily put up 40 points, which makes predicting a winner virtually impossible. Arkansas appears to have a slight edge on defense. The Razorbacks win in one of the most entertaining games of the season.
No. 3: Florida vs. Georgia, EverBank Stadium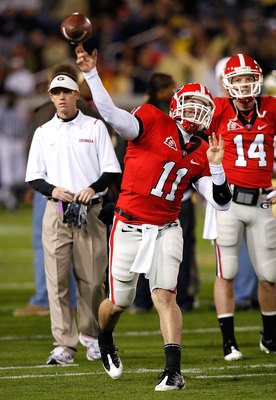 Kevin C. Cox/Getty Images
One of college football's best rivalries should provide plenty of intrigue in 2010.

John Brantley takes over for golden boy Tim Tebow and isn't likely to miss a beat. Florida's offense has the usual supply of speed and talent.
Meanwhile, Mark Richt finds himself on the hot seat and hopes to find a quarterback.

Aaron Murray has been named the starter and looks to resurrect the fallen Bulldogs' offense.

Prediction: Georgia could surprise many in 2010, but Florida still has the edge. The Gators win in a close game.
No. 2: Texas vs. Oklahoma, Cotton Bowl
Ronald Martinez/Getty Images
As usual, The Red River Shootout figures to be a pivotal battle in the Big 12 landscape next season.

Landry Jones and Garrett Gilbert look to author their own legacies now that Sam Bradford and Colt McCoy have moved on.

Jones was a bit of a revelation last season, overcoming inconsistent play and a horrible offense line to produce solid numbers.

Gilbert is light on experience but has plenty of talent.

Besides getting bragging rights, the winner will figures to gain the inside track in the Big 12 South race.

Prediction: Oklahoma is used to life with Sam Bradford, Texas isn't used to life without Colt McCoy. The Longhorns also must find away to replace Jordan Shipley, Sergio Kindle, and Earl Thomas. Oklahoma wins the next edition of the Red River Shootout.
No. 1: Boise State vs. Virginia Tech, FedEx Field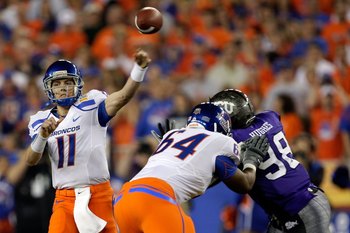 Jamie Squire/Getty Images
One of the most underrated factors in the race to the BCS is already at work.

Preseason poll positioning can be enough to propel teams all the way to the top. Teams just like Boise State.

However, the highly-ranked Broncos have an uncharacteristically difficult schedule in 2010. It starts with a Monday night matchup with ACC powerhouse Virginia Tech at FedEx Field.

Boise State's dynamic offense faces a stiff challenge against the Hokies defense. The Broncos will also be forced to contend with talented running back Ryan Williams.

The contrasting styles of these teams should make for an interesting battle.

Prediction: There is no question Boise State can compete with any team in the country. But if Virginia Tech can find balance on offense, the Hokies should have an advantage against the Broncos defense. Virginia Tech makes the game ugly and does just enough to win.
Keep Reading