An Open Letter To TCU, BYU and Boise State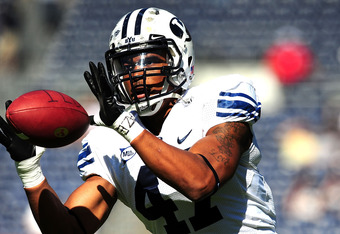 Jacob de Golish/Getty Images
You are at a crossroads Cougars, Horned Frogs, and Broncos.
If you have reached this stage of college football evolution and its BCS structure, and you three have not had some private meetings together to discuss your future, something is wrong.
Certainly there are those in your athletic departments and administrations that have figured things out by now. Right?!
It is hard, at this point, to understand your devotion to the likes of Wyoming, Colorado State, UNLV, and New Mexico.
Somebody has done the math, right?!
Are you really going to plug along with the outside chance that the Mountain West Conference is going to get an automatic berth in two years? There is some major restructuring going on, and it would be safe to bet that the BCS is going to be transformed by then.
By the current BCS bylaws, if they can be counted as such, it is the bottom half of your league that will prevent you from playing on the larger stage.
If you don't chart your own course and get the numbers right, the BCS will find the arguments to keep you out of the money pool.
You cannot afford to be stranded.
Currently, all three of your programs are considered to be playing BCS quality football. How long can it stay that way under these conditions?
TCU, you can still hope for an SEC invitation down the road. I wouldn't put all my eggs in that basket if I were you. You certainly deserve that invitation by your performance on the field, but it's hard to bet on when that will materialize.
Based on Dan Beebe's recent comments, the thoughts of getting TCU into the Big 12 don't look too promising. Said Beebe, "Certainly we wouldn't look to expand with any institutions that are in our geographic five-state area now."
Ouch.
BYU, you are hoping for inclusion in the Big 12. Certainly this could be realized down the road. However, if the Big 12 big-wigs are to be believed at this juncture, it isn't going to happen soon.
Boise State made the right move joining the Mountain West Conference, considering the conference structure at the time. However, Utah has departed your ranks for the Pac-10.
Utah is now where all of you want to be.
The Utes' absence has also made the math more difficult for the current construction of the MWC.
I propose two alternatives to changing your plight.
Plan One: Approach the Big East and propose a Superconference that spans the country and consists of East and West Divisions. The Big East is walking on eggshells. They are petrified about what their status will be once the Big Ten decides that the current round of conference expansion is over.

The Big East is worried about tumbling into non-existence within the next year. I believe that they would sincerely listen to, and consider, this type of proposal.
Gather Air Force and send invites to Houston and Memphis, as a starter, to build a West Division. Consider East Carolina and UCF for additions to the East. Louisville and Cincinnati could join the West Division.
Travel is an issue, but the East and West divisions should somewhat ameliorate the number of long distance contests.
Which is worse? Traveling greater distances or receiving 10 to 20 times less revenue to support your programs. Long flights or the BCS label to flash to recruits?
Plan Two: Gather the best of the non-BCS conferences and create a brand new conference. Under this plan, send invites to Fresno State, Memphis, Houston, and Nevada. This would create an eight team conference along with the top half of the MWC: BYU, TCU, Boise State and Air Force. Consider including Navy in the new conference.
Under each of these scenarios, the overall strength of the conference would mathematically satisfy the BCS requirements for inclusion for the four-year review period. If the Big East plays ball, you'd already have a seat at the table and would solidify the conference, giving it staying power.
Both of these scenarios are extremely plausible.
The time to act is now.
This article is
What is the duplicate article?
Why is this article offensive?
Where is this article plagiarized from?
Why is this article poorly edited?