Utah to PAC is TCU, BYU, and the Rest of Mountain West's Worst Nightmare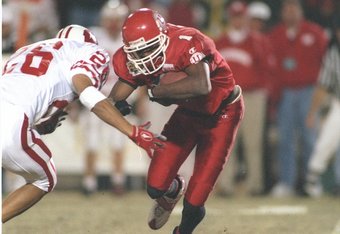 Todd Warshaw/Getty Images
Remember the movie Little Big Man? Where the U.S. Government promised the Cheyenne their land as long as the wind blew, the sun shined, and the rain fell?
By the end of the movie, Little Big Man said, "Well, sometimes the wind don't blow, the sun don't shine, and the rain don't fall…"
Out in the Mountain West, they're starting to get the same feeling.
Only a week after capturing Boise State, and with heady visions of pillaging the crumbling BCS Big 12 dancing in their head, the Mountain West's worst nightmare seems to be on the horizon.
The PAC-10's raid on the Big 12 has been stymied, with only Colorado defecting. And unlike with the guitarist in Spinal Tap, 11 ain't a good number for the PAC.
Twelve, on the other hand, is just dandy…since it gives them enough teams for a playoff.
And it looks like they have come a courtin' for the Utes of Utah.
Now, if you're TCU, BYU, or any other Mountain West fan, this truly stinks.
Big time.
Because instead of looking at grabbing a coveted BCS berth, you are once again put in the position of being on the outside looking in.
If the league loses Utah, it loses a premiere program in both football and basketball, and a team that has BCS busted and won not once but twice. Thus, the metrics for automatic conversion to BCS status, which were looking so good when Boise joined, will promptly plummet like BP's stock after the Gulf oil rig blow out.
In addition, the TV contract for the league is heavily dependent on the Salt Lake City market. The defection of the Utes will obviously split that market, and result in a restructuring and loss of television revenue. That hurts.
BYU will also lose its in-league rivalry, which was a big draw for the league in terms of national interest.
Even if BYU continues to play the Utes, which they most likely will, they'll be playing second fiddle to them.
Let's face it; Utah will be hosting league games against the likes of USC, Arizona, Arizona State, Oregon, and California. BYU will, other than TCU and Boise, be playing decidedly lesser draws such as UNLV and San Diego State.
The Mountain West is looking at a situation where it is again a nine-team league, and one that has probably seen its chance to get a BCS affiliation go by the boards.
This has to be an especially bitter pill for TCU to swallow.
After all, four of their former SWC rivals are in the Big 12 minus two, which has BCS status. And they are better than three of them; Texas A&M, Texas Tech, and Baylor. The last one rankles the most.
Then, after a sojourn in the WAC, TCU joined Conference USA.
A few years later, TCU went to the Mountain West, while three of their former rivals in Conference USA (Louisville, South Florida, and Cincinnati) got to join the Big East. With the coveted BCS status. And TCU is better than all of them.
Now, with the Mountain West on the verge of BCS "big time"…poof, it may all disappear once again.
The Frogs must be wondering when their Prince Charming is going to come along and give them a kiss, since they certainly have been the bridesmaid on plenty of occasions over the last 15 years.
So what to do?
As I have written before, I think it is time for the Mountain West to get very aggressive. Sitting back and waiting for things to happen is not a strategy for success in most endeavors in life, and this case is no different.
The remainder of the Big 12 made it very clear last week that they were more than willing to give the shaft to Iowa State, Kansas, Kansas State, Baylor, and Missouri.
So the Mountain West should approach those teams.
Those teams might be amenable to a league that actually wants them, and hopefully the Mountain would be able to grab at least a couple…Iowa State, Kansas State, and Baylor would seem to be ripe for the pickin'.
Additionally, the Mountain West should cherry pick the better schools in the WAC and Conference USA…now. That means extend an invite to Nevada and Fresno State out West, and to Houston of Conference USA.
Add these six teams, and the league has a legitimate claim for BCS status in terms of both footprint and on-field performance.
If the Mountain West does not act and act now, they will be marginalized as a "so what" conference once again.
In that case, TCU should take care of its own business and approach the Big 12, or whatever they are calling themselves right now, and petition to be admitted as team number 11. Then the league can add another team (BYU or Houston being the best bets), and the Frogs can play in a conference which is a match for the talent that their team possesses.
It's a brave new world in college football. And everyone has to look out for number one. TCU has come too far over the last two decades not to be recognized.
It's time to act.
This article is
What is the duplicate article?
Why is this article offensive?
Where is this article plagiarized from?
Why is this article poorly edited?

TCU Football: Like this team?