Conference Realignment: Oklahoma Sooners Move To the Pac-10 All but a Certainty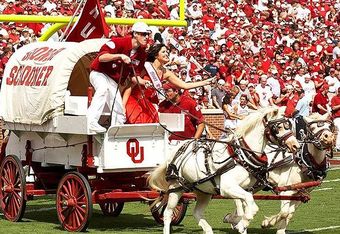 Barring a drastic turn of events, which given the past week is still quite the possibility, the Oklahoma Sooners will be announcing that they are joining the Pac-10 conference this week.
Multiple sources confirmed late last week that Oklahoma has decided to move conferences, but will wait until at least Tuesday to make the announcement.
On Tuesday, the University of Texas board of regents will meet and decide what the Longhorns are going to do. Later in the day, the regents of Texas Tech University will also meet and decide, although that may be merely a formality should the Longhorns decide to move to the Pac-10.
Both Texas Tech and Oklahoma have said that they will be tied to Texas' decision on where to go.
The OU board of regents will meet Wednesday to discuss the Sooners' options. The board has the authority to approve a move to the Pac-10 during the meeting.
Pac-10 Commissioner Larry Scott and deputy commissioner Kevin Weiberg met with Oklahoma president David Boren and athletic director Joe Castiglione and Oklahoma State president Burns Hargis on Saturday in Oklahoma City, presumably to discuss realignment options and to hand out invitations to join the conference.
Oklahoma State has yet to announce whether or not it will have a regents meeting this week. It has until Monday to call a meeting for Wednesday.
Oklahoma moving to the Pac-10 may not be an appealing thing for many Sooner fans out there, but in the long run, this will be a great move for Oklahoma.
First, the revenue garnered from a new TV deal will be close to double what the school makes right now in the Big 12.
The current TV deal for the Big 12 has schools making between 7-10 million a year. Pac-10 commissioner Scott promises to have a TV deal comparable to the SEC and Big 10, both of which pay around 20 million a year.
Second, people are concerned with the Sooners playing on the West Coast because of travel. That's really not going to happen that often when you have 16 teams in a conference.
There have been reports that the conference will continue to keep the current nine game conference schedule that is currently in place.
With two eight team divisions, that would leave two games for teams from the West Coast each season, and both wouldn't necessarily be out there every year.
The Sooners' division would basically be the Big 12 South minus Baylor plus Colorado, and the Arizona schools. There would not be much of a difference from who Oklahoma plays now in the Big 12.
The future of many schools has been very unclear for the past week, but for Oklahoma, the future may have just gotten a lot clearer.
However, as we have seen this past week, nothing is certain and Oklahoma could very well go elsewhere besides the Pac-10. There have been confirmed contacts between the SEC and OU, but talks haven't appeared to have gone anywhere.
Texas A&M has been in talks with the SEC and has been rumored to have been working to convince Oklahoma to join the SEC with them.
Nothing has been confirmed on that and for now, the Sooners remained committed to joining the Pac-10 conference this coming week.
But I'm going to stay skeptical until it becomes official on Wednesday.
This article is
What is the duplicate article?
Why is this article offensive?
Where is this article plagiarized from?
Why is this article poorly edited?

Oklahoma Sooners Football: Like this team?