Breaking News: Texas, Texas A&M To Big Ten, Oklahoma to The SEC?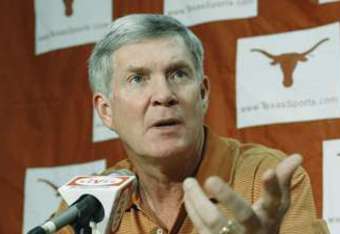 Bleacher Report's Pete Tietjen is reporting that Texas and Texas A&M are possibly getting ready to petition the Big Ten for entrance into the conference, while OU will look to enter the SEC.
The story was first reported by KCTV-5 in Kansas City and was posted on the USA Today website.
The report states "High level sources in multiple conferences have told KCTV-5 that Texas and Texas A&M are looking to move to the Big Ten Conference and are in talks to join the conference, while the University of Oklahoma is planning on petitioning the Southeastern Conference to become a member of its conference."
This comes as a bit of a shock after many sources, including Chip Brown of orangebloods.com, have pointed to Texas, Texas A&M, Oklahoma, Oklahoma State, and Texas Tech joining Colorado in the Pac-10.
Officials from Texas and Texas A&M met behind closed doors today in Austin to discuss possible options for the two Texas flagship schools. It was widely believed that they would meet only to confirm their intent to join the Pac-10.
It was also believed that Oklahoma would follow suit and join the other Big 12 South schools out west.
The new report from KCTV-5 complicates matters a bit, though it hasn't been confirmed by any major news network or officials from any of the schools.
The Big Ten has publicly stated that landing Texas was their top priority, but all the recent talk about forthcoming invites the Pac-10 and Nebraska's hasty departure from the Big 12 had defused that notion a bit.
If there is any truth in this latest addition to the conference expansion bonanza, the Longhorns will be splitting up with rival Oklahoma and the other Big 12 schools offered admission into the Pac-10, excluding A&M.
Moreover, a move to the Big Ten would likely upset Tom Osborne and other Nebraska officials who jetted from the Big 12, due to some suspected animosity between the two schools over the past few years.
As for the SEC, the report stated the conference was prepared to offer admission to not only Oklahoma, but to Texas A&M and Virginia Tech as well.
It sounds like Texas A&M has a tough decision to make. Do they follow natural rival Texas to the Big Ten or do they try their luck in the nation's toughest conference alongside new additions Oklahoma and Virginia Tech?
It is worth noting that Oklahoma State stated its intention to join the Pac-10 today, putting pressure on OU to make the decision to split with both of their major rivals.
Both Texas and Texas A&M have stated that they received approval from the Texas state legislature to drop ties to Baylor and Texas Tech, essentially leaving them in the dust alongside Kansas, Kansas State, Missouri, and Iowa State should the Pac-10 deal fall through.
Still, I still believe that the Pac-16 is the most likely scenario despite these recent developments.
We have to remember that Texas and Oklahoma have all the power in this situation and that they are likely just playing the field to see what lucrative offers they can garner.
It's all wait and see at this point.
This article is
What is the duplicate article?
Why is this article offensive?
Where is this article plagiarized from?
Why is this article poorly edited?

Texas Longhorns Football: Like this team?