College Football's Top 50 Juniors Heading into 2010 Season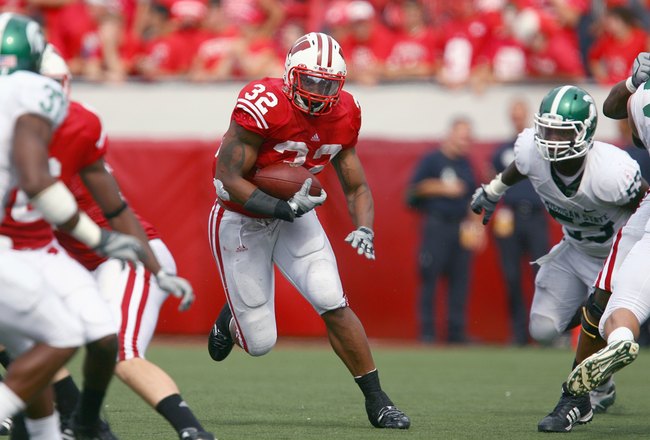 It's a vicious cycle.
Every year, dozens of juniors leave early for the NFL, depleting the rising senior class of top talent for the upcoming season.
It happened once again a few months ago as dozens of underclassmen saw the threat of a rookie salary cap and felt the need to cash in while the time was right.
There's still some talented players left in the senior class, but many of the elite players in the game have the letters JR next to their name.
Even though NFL scouting departments aren't technically "allowed" to scout underclassmen, you can bet scouts will be keeping mental notes of many of these junior players.
Here's a look at 50 juniors (five at each position) who are poised to have a big 2010 season.
Ten players who just missed the cut at each position:
QB - Blaine Gabbert (Missouri)
RB - Shane Vereen (Cal)
WR - DeAndre Brown (Southern Miss)
TE - Kavario Middleton (Washington)
OL - Matt Reynolds (BYU)
DE - Adrian Robinson (Temple)
DT - Derek Wolfe (Cincinnati)
LB - Chris Marve (Vanderbilt)
CB - Brandon Boykin (Georgia)
S - Kenny Tate (Maryland)
Quarterback: Ryan Mallett - Arkansas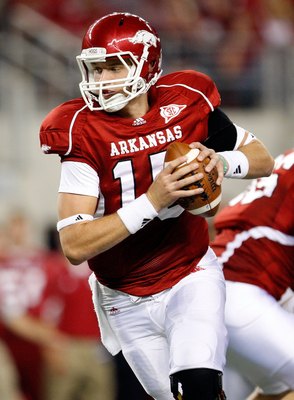 Mallett may not be just the No. 1 QB prospect in college football, he could very well be the No. 1 prospect overall.
The 6'7" Razorback QB has the arm to torch any defense put in front of him.
With Mallett running the show, Arkansas has a right to have serious SEC Championship aspirations.
Quarterback: Terrelle Pryor - Ohio State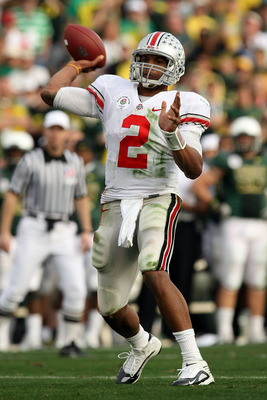 The 2010 Rose Bowl was a culmination.
It was a culmination of two years of waiting.
Yes, for two years we waited for that moment when it all clicked for Terrelle Pryor. That moment when his play finally caught up with his immense potential.
It happened in the 2010 Rose Bowl, when Pryor's MVP performance quieted his critics and set the stage for a future National Championship run.
He still has some polishing up to do, but Pryor finally looks like he's arrived.
Quarterback: Nick Foles - Arizona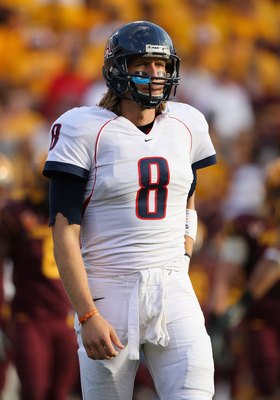 It hasn't always been rosy for Nick Foles.
After unceremoniously transferring from Michigan State, Foles led a resurrection at Arizona during the 2009 season, only to finish it all off by getting trounced in the Holiday Bowl by a superior Nebraska team.
Foles and the rest of the team must now put that loss firmly in the rear view mirror. If they can do that, the 6'5" QB has the ability to lead Arizona to a Pac-10 Championship in 2010.
Maybe then, things will finally turn up rosy for the QB.
Quarterback: Kellen Moore - Boise State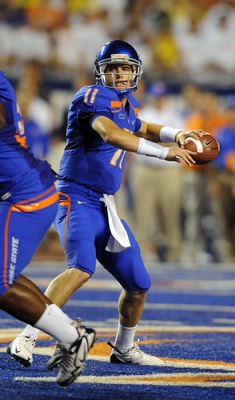 Kellen Moore won't strike fear in the heart of opponents based off looks.
At just six-feet tall, Boise's QB is far from imposing with his size, but it's his play that's truly immeasurable.
During his two years as the Broncos' starter, Kellen has lost a grand total of one game.
Now the pressure is on Boise to keep up their winning ways in a quest for the school's first national championship berth.
Quarterback: Dayne Crist - Notre Dame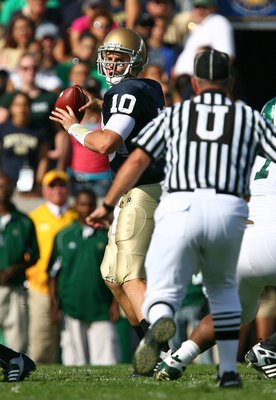 Jimmy who?
There's a new regime in South Bend this fall. It starts with head coach Brian Kelly and ends with new QB Dayne Crist.
Crist looks like he has all the tools to flourish in Kelly's offense with targets like Michael Floyd and Kyle Rudolph at his disposal.
It won't happen overnight, but Dayne Crist looks like the guy who can lead the revitalization of Notre Dame football.
Running Back: John Clay - Wisconsin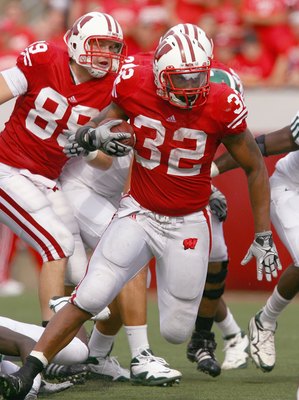 Clay is built like former Ohio State RB Chris Wells, and so far, he has been every bit as productive as Wells was during his first two seasons in Columbus.
The 250-pound Clay already has 2,400 yards of rushing under his belt and he looks to keep building on that total this year behind one of the strongest O-lines in the country.
Clay won't challenge Ron Dayne's all-time Badger rushing record, though. This will likely be his last season in Madison before an early departure to the NFL.
Running Back: Mark Ingram - Alabama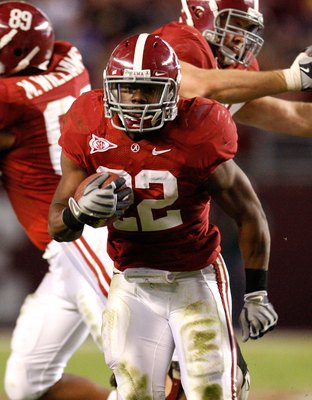 Mark Ingram may not be the best back on his own team (it's a toss up between him and Trent Richardson), but there's no denying his vital productivity during Alabama's 2009 national championship run.
Ingram perfectly suits Alabama's offense and gives them the weapon they need to wear down SEC defenses.
Don't expect Ingram to have another Heisman-type campaign, but that doesn't mean his productivity won't once again be crucial for a team looking to make a trip back to the SEC Championship Game.
Running Back: Quizz Rodgers - Oregon State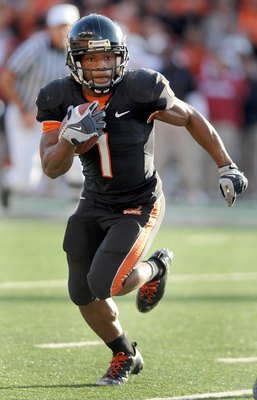 Jacquizz Rodgers may only be listed at 5'7", but he has shown he is more than capable of carrying the load during his first two seasons in Corvallis.
Quizz has carried the rock over 250 times in back-to-back seasons and he shows no sign of slowing down anytime soon.
Stat to keep in mind: Rodgers scored a TD in all but one of OSU's games last year.
He's always a factor.
Running Back: Jordan Todman - UCONN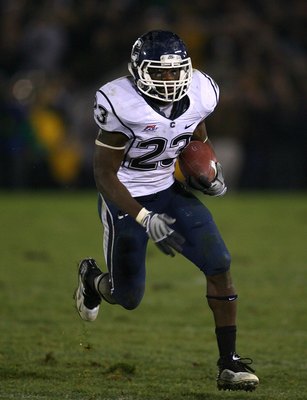 Noel Devine and Dion Lewis will get most of the preseason accolades, and deservedly so, but don't expect them to be the only backs lighting up the Big East this year.
If Jordan Todman can produce a thousand yard rushing season while splitting carries with Andre Dixon, just imagine what he can do now that he has the backfield to himself.
Jordan had some academic issues earlier this spring, but it looks like Randy Edsall is fully behind his junior back as the season approaches.
If UCONN wants to truly become a legitimate contender in the conference, they will need a big year out of number 23.
Running Back: Montel Harris - Boston College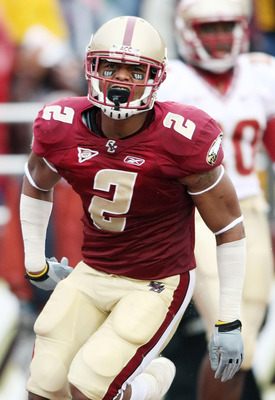 In Frank Spaziani's first year at the helm of BC, the coach knew he was going to need a potent rushing attack to be successful.
So he turned to his solid sophomore running back, Montel Harris, to do the job for him.
Harris rushed for almost 1,500 yards and was a main key for the Eagles as they went 8-5 during their coach's rookie season.
If Spaziani wants to repeat that level of success in 2010, he'll be sure to give Harris plenty of opportunities to do damage behind one of the best lines in the ACC.
Wide Receiver: A.J. Green - Georgia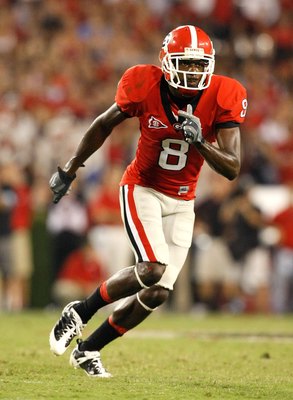 He was a star since he signed on the dotted line for Georgia.
Green, at 6'4", 200 pounds, is a little on the frail side. Still, there's probably no better receiver prospect in college football than the lanky Bulldog.
Green is a scary proposition for opposing secondaries, but how effective will the junior be with new freshman QB Aaron Murray taking over the offense?
It may be a bit rocky in the beginning, but Murray looks like the type of young player that can get his feet under him quickly.
Wide Receiver: Jonathan Baldwin - PITT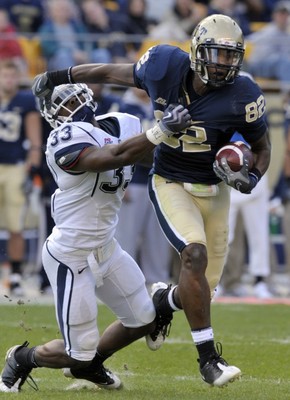 Jonathan Baldwin might be a completely different type of player than former Pitt star Larry Fitzgerald, but the two still share some similarities.
Baldwin, like Fitzgerald, is a matchup nightmare.
He's too big to be handled by a small corner and he's too good of an athlete to be covered by bigger DBs.
He uses his 6'5" frame better than any receiver in the country and the way he adjusts to passes is extraordinary.
Because of his long speed, Baldwin won't go as high as his predecessor Fitzgerald (pick three), but he surely has first-round potential.
Wide Receiver: Michael Floyd - Notre Dame
Michael Floyd has always had the talent.
In 2008, Floyd came into the program as one of Notre Dame's highest rated recruits of the decade.
After setting numerous freshman receiving records, Floyd fought through a shoulder injury last year to find the end zone nine times in just seven games.
He teamed with Golden Tate to form one of the most dangerous receiving duos in the country, even though their great play didn't result in too much overall team success.
Floyd lost Golden to the NFL this offseason but he also gained Brian Kelly as his head coach, which means an offense built for the 6'3" receiver to put up some serious numbers.
If things click for Dayne Crist early on, Floyd should have a monster year. If not, then things might get a bit shaky.
Wide Receiver: DeVier Posey - Ohio State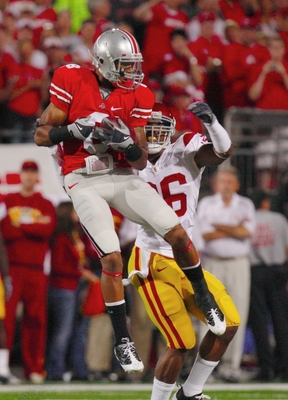 DeVier Posey has the chance to have a true breakout season in 2010.
As it is now, he's still flying under the radar as far as the top receiver conversation is concerned.
That should change by mid season though.
Posey has the size (6'3"), track type speed, and sure hands to become a star for the highly rated Buckeyes.
Pryor to Posey could be quite a tough duo for defenses to tame.
Wide Receiver: Julio Jones - Alabama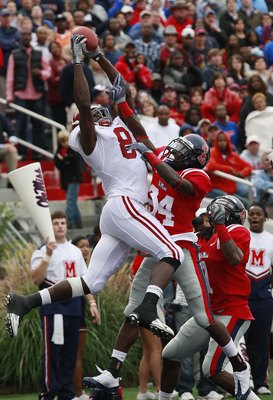 Jones, from a physical specimen standpoint, is a rarity.
At a solid 6'4", 215 pounds, Jones has the superior size plus the total skills package to become a superstar.
The only problem?
He has yet to ascend to that next level during his first two years in an Alabama uniform.
Alabama fans are hoping he can finally reach his huge potential in 2010.
Tight End: Kyle Rudolph - Notre Dame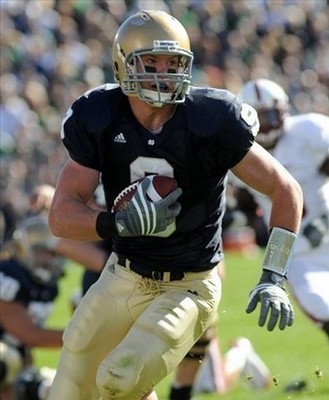 It didn't take long for Brian Kelly to heap praise on his new tight end.
The coach has already made the claim that there's no tight end in college football that can rival his guy.
If coach Kelly was able to turn Ben Guidugli into a productive player during his time at Cincinnati, he can make Rudolph a legend.
Tight End: Deangelo Peterson: LSU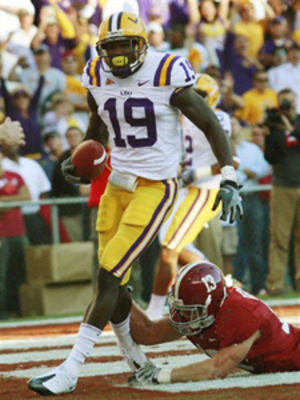 While Kyle Rudolph may be considered the best tight end in the country, there's no doubt about who's the most athletic.
That's Deangelo Peterson of LSU.
Peterson may have only hauled in five passes last season, but expect a big boom in catches for his 2010 campaign.
Peterson is the quintessential wide receiver in a tight end's body.
Tight End: Anthony Miller - Cal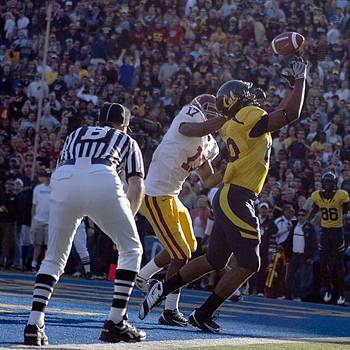 It doesn't seem like Cal has had many big time tight ends since Anthony Gonzalez was drafted back in 1997.
While, Miller isn't on Gonzalez's level, he may be the best TE the school has seen since.
Look for the athletic 6'3" Miller to find the end zone with greater frequency in 2010 as he sets out to become the best at his position in the Pac-10.
Tight End: Kevin Koger - Michigan
If you ever feel like doubting Kevin Koger's athleticism, just go back and watch his fourth quarter catch against Western Michigan last year.
It's evident Koger isn't short on athletic gifts.
The tight end is a position that has never been a huge part of a Rich Rodriguez offense, but with the gifted Koger back in the fold, that has a chance to change in 2010.
Tight End: George Bryan - North Carolina State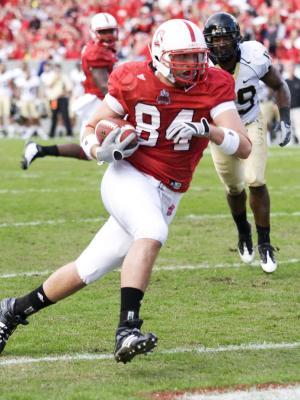 Drug charges.
They've spelled disaster for many college football players in recent times.
Luckily for George Bryan, arguably the best tight end in the ACC, they didn't spell the end of his career. He'll still have his spot in the Wolfpack offense this season.
And they're sure gonna need him.
The junior TE caught 40 balls last season and was an intricate part of a surprisingly successful NC State passing attack.
Offensive Lineman: Mike Brewster - Ohio State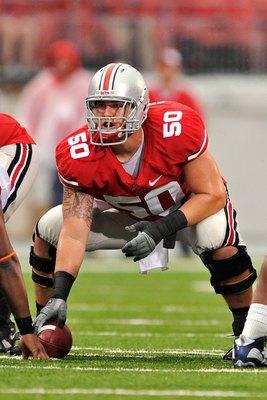 Brewster has been the leader of the Buckeyes offensive line since he stepped foot on campus.
Like former Buckeye center Nick Mangold, Brewster has a chance to be a solid starting center in the NFL.
Offensive Lineman: Cordy Glenn - Georgia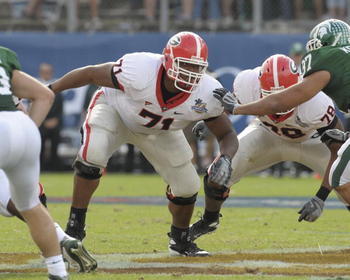 There is certainly a lot of talent scattered across Georgia's offensive line but Cordy Glenn might be the best of the bunch.
The one time Freshman All-American, has started 23 games in his first two years.
His experience against SEC defensive lineman should serve him well as he prepares to open holes for Washaun Ealey and Caleb King this season.
Offensive Lineman: Nate Potter - Boise State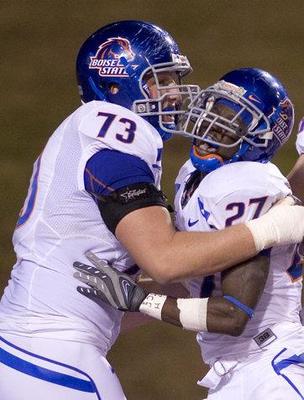 Coaches felt the need to move Nate Potter inside to guard for 2010, but don't expect the 6'6" All-Wac performer to be any less effective.
Potter has the strength to handle the inside and the quick feet to one day make the move back outside in the pros.
Offensive Lineman: Ryan Miller - Colorado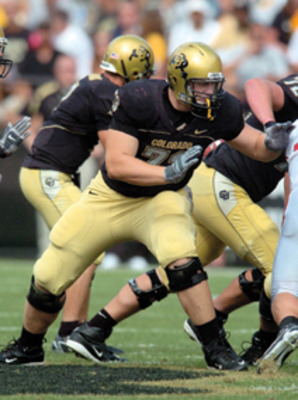 Offensive tackle Nate Solder may have the bigger pro upside, but it's offensive guard Ryan Miller that could be the real lineman to watch for the Buffs this season.
At 6'8", Miller is unnaturally tall for the guard position, which makes sense considering he made the move inside from tackle last year.
He may be tall, but Miller can sink his hips and drive people around in the run game.
Offensive Lineman: Andrew Datko - Florida State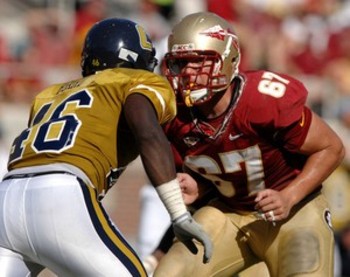 in 2008, Andrew Datko entered Florida State with a tall, thin 6'6" frame just begging to be loaded with muscle.
The athletic junior has put on 30 pounds of good weight in the last two seasons which has helped him become a more versatile, well-rounded tackle.
Noles QB Christian Ponder should have no fear considering he has Datko protecting his blindside this season.
Defensive End: Robert Quinn - North Carolina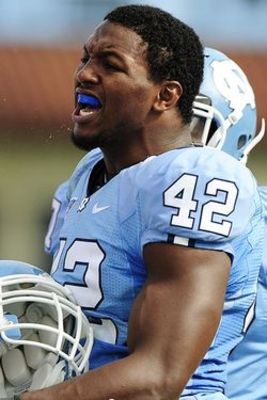 Robert Quinn may be the downright scariest player on the Tar Heel defense this season.
And when you begin to look at the names littered on that depth chart, you realize what a true compliment that is.
To put it simply, Robert Quinn has the chance to be the next Mario Williams.
At 6'5", with edge speed to burn, the junior has an opportunity to become the most dominant pass rushing force in the country and the top defensive end the school has seen since Julius Peppers left town.
Quinn already totaled double-digit sacks as a sophomore playing alongside the likes of Marvin Austin.
With Austin and a host of other talented defenders surrounding him, Quinn has the sky as his only limit this year.
Defensive End: Marcell Dareus - Alabama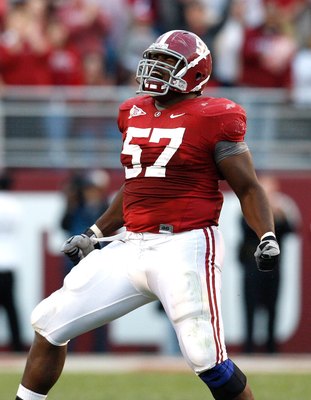 Some teams have rebuilding seasons while others have reloading seasons.
Nick Saban looks like he has Alabama in the reloading category.
Their defense may be losing a bevy of talent, but the guys that are coming back and the new ones they are plugging in, have the potential to be as good if not better than their former teammates.
One of those players is defensive end Marcell Dareus.
At 300 pounds, Dareus has what it takes to be an effective contributor against both the run and the pass.
He should be one of the big difference makers on a very talented Crimson Tide defense this year.
Defensive End: Broderick Binns - Iowa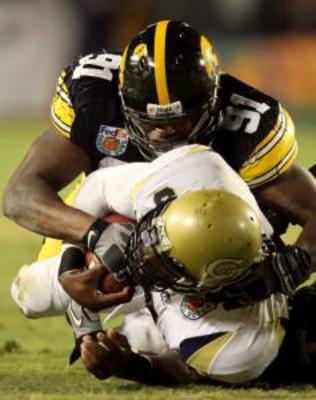 Binns may get overshadowed by his more highly acclaimed teammate, fellow defensive end Adrian Clayborn, but you can bet opposing O-linemen know to beware of the junior as well.
Broderick's sack totals (five) may have paled in comparison to Clayborn's (11), but the two aren't that far apart from a talent perspective.
Iowa looks like they have a scary D-line for 2010.
With teams focusing more of their attention on his teammates, expect Binns to have a big year in 2010.
Defensive End: Armond Armstead - USC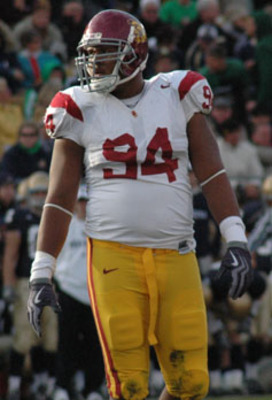 USC defensive end Armond Armstead is looking for a better start to 2010 than the one he went through last year.
After breaking his foot in camp, Armond missed the first five games of the Trojan's season before working his way back to gain hold on his starting position.
His play late in the season was somewhat encouraging, but what really caught the eyes of everybody was Armstead's efforts this Spring.
USC has had a recent history of gifted defensive lineman that knew how to make an impact.
Armond now looks to join that group this season.
Defensive End: Da'Quan Bowers - Clemson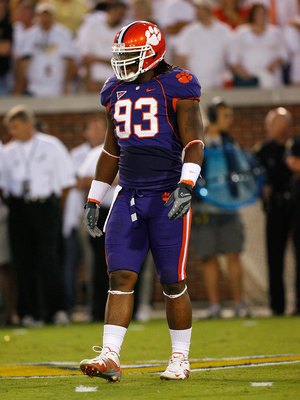 Bowers, once the top high school prospect in the country, has yet to live up to his full potential during his first two years at Clemson.
Da'Quan has only brought down opposing quarterbacks four times in his career, a far cry from what many were expecting from him.
With Ricky Sapp off to the NFL, Bowers finally needs to step up and make the type of impact his ability warrants.
Defensive Tackle: Jared Crick - Nebraska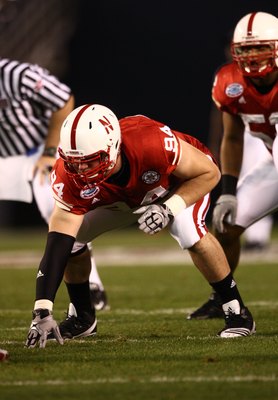 As a defensive tackle on Nebraska's defense, Jared Crick couldn't compete with Ndamukong Suh in a popularity contest last season, but the 6'6" Crick may have been every bit as important to the defense's success.
He may not be the shear dominator that Suh was, but Crick is a sound interior player who has high intangibles for the position.
Don't expect a big fall off for the black shirts with Crick manning the middle.
Defensive Tackle: Lawrence Guy - Arizona State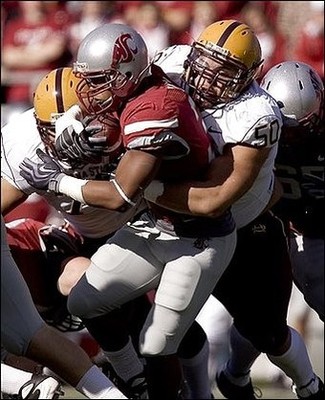 After starting the last eight games of his freshman campaign, Lawrence Guy hasn't looked back since.
Guy was one of the fiercest forces in the Pac-10 last season, disrupting opposing offenses with regularity.
The 6'5", 300-pound Sun Devil is simply a fighter that no offensive lineman wants to have to deal with for four quarters.
Expect the junior DT to be a frequent visitor to opponent's backfields once again this season.
Defensive Tackle: Jurrell Casey - USC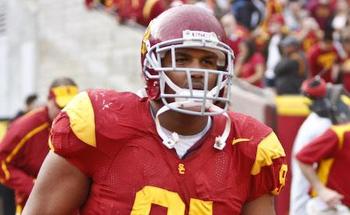 One of the players who will battle it out with Guy for top Pac-10 DT honors is Jurrell Casey of USC.
If you watch him play, it's obvious Casey has what it takes to be the next Sedrick Ellis.
Both have similar builds but Jurrell actually might have the edge in overall athleticism.
There's some that have pegged Casey as future top-10 pick already.
That might be a bit premature, considering there are those like Todd McShay who once donned former USC DT Fili Moala with the same tag.
Nonetheless, Casey has a world of potential and should be the dominate catalyst which makes USC's 2010 defense one of the best in the nation.
Defensive Tackle: Josh Chapman - Alabama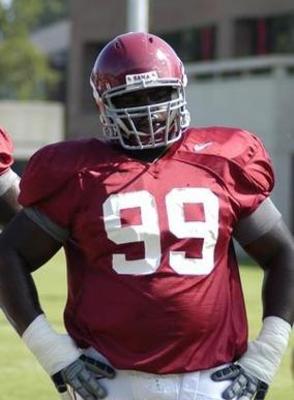 At 360 pounds, former Alabama NT Terrence Cody can cast a heavy shadow.
Just ask Josh Chapman, who has lived in it for the last two seasons.
Now that Cody is with the Baltimore Ravens, it's time for Chapman to step in as the clogger Alabama's defense needs.
At just 310 pounds, the junior doesn't have the luxury of using his massive size to shut things down like Cody did. He'll have to use his quickness instead.
Defensive Tackle: Jaye Howard - Florida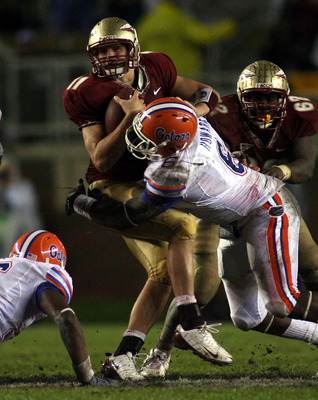 For the 2010 version of Florida's defense, Jaye Howard will be in the DT rotation along with Lawrence Marsh, Terran Sanders, and Omar Hunter.
Well, that's how things will start out at least.
Don't expect Howard to stay simply a rotation player this year, he's too good.
Yes, Florida's D-line seems deep, especially after the 2010 recruiting class gets to town, but Howard is a special talent capable of outplaying almost anybody.
Linebacker: Akeem Ayers - UCLA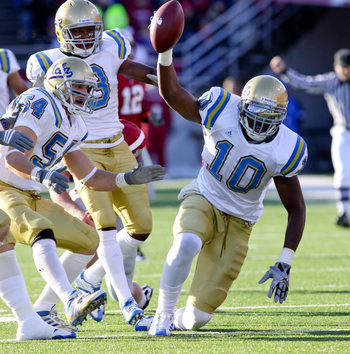 Note to Pac-10 teams: Akeem Ayers is getting better.
Prepare yourselves.
Linebacker: Nigel Bradham - Florida State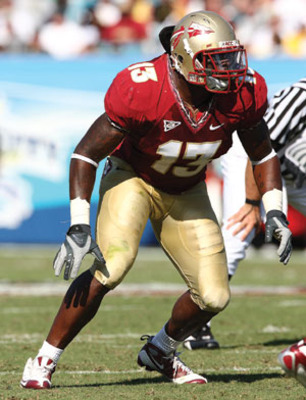 It was just three years ago when former Noles linebacker Lawrence Timmons went from relatively unknown commodity to top-15 caliber player in one season's time. It wouldn't be surprising to see current FSU backer Nigel Bradham follow a similar path.
Bradham made his fair share of mistakes last season, but so did everybody else on that defense.
Expect the 6'4" junior, and the FSU defense as a whole, to be much more improved and mature in 2010.
Linebacker: Travis Lewis - Oklahoma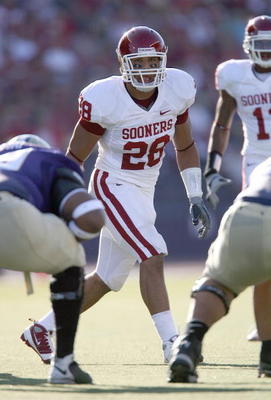 As just a sophomore in 2009, Travis Lewis took the reigns as Oklahoma's defensive leader, totaling over 100 tackles for the Sooners D.
For the upcoming season, Oklahoma is looking to get back to being national title contenders once again, especially after their speed bump in 2009.
If they want to get back to that level, Lewis will have to keep the talented Sooner defense glued together throughout the entire season.
Linebacker: Keenan Robinson - Texas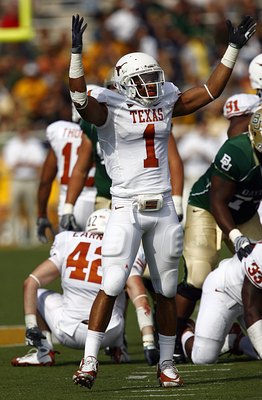 Keenan Robinson may not have the pass rushing prowess of former Longhorn Sergio Kindle, but he may have the edge in tackling and pursuit skills.
Robinson is one of best ball trackers returning to the Big 12 this season.
Kindle didn't have his breakout season until his junior year and it seems Robinson is about to follow in his footsteps.
Linebacker: Brandon Maye - Clemson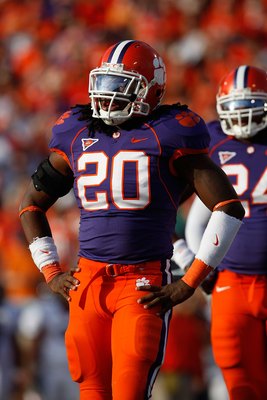 Injuries in 2009 may be the only thing separating Brandon Maye from ACC superstardom.
If the former freshman All American can stay healthy this season, he could be poised to take the conference by storm.
Cornerback: Patrick Peterson - LSU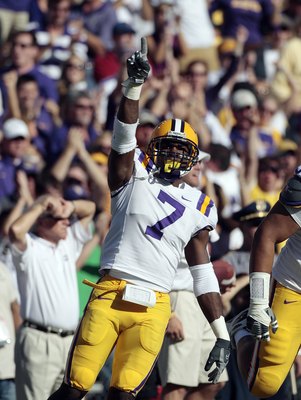 The most talented cornerback in America.
Sometimes a young man comes along, who is THAT much better than his peers.
Patrick Peterson is that young man. He is the total package.
Cornerback: Brandon Harris - Miami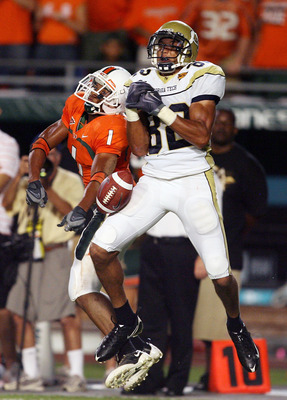 There was a time not so long ago when Miami was churning out multiple top defensive prospects every year.
That seems to have slowed down recently, but with CB Brandon Harris, the Canes may have finally found the player to restart the trend.
Cornerback: Trevin Wade - Arizona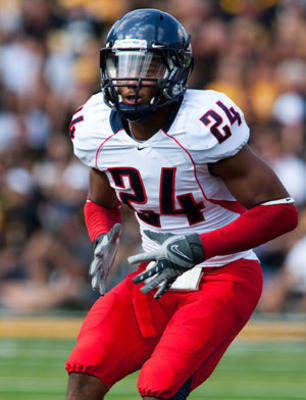 Trevin Wade may be the top pass defender in the Pac 10 this season.
After a five INT performance in 2009, Wade has his eyes set on an increasing that total for his junior season.
With Ricky Elmore pressuring QBs this year, Wade has a good shot at reaching that goal.
Cornerback: Janoris Jenkins - Florida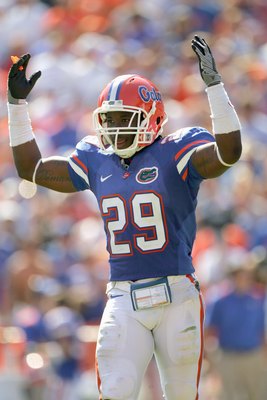 Playing the opposite CB position to Joe Haden is a tough job for anyone to handle.
Over the last two years, Janoris Jenkins has been constantly attacked by teams shying away from Haden's side of the field, and through it all, the junior has more than held his own.
That may be because Jenkins is a supreme talent in his own right.
Janoris earned All-American honors as a two-way star at Pahokee high school and has honed those skills since arriving in Gainesville.
He seems ready to embrace the pressures of being the number one CB for the Gators after Haden's departure to the NFL.
Cornerback: Aaron Williams - Texas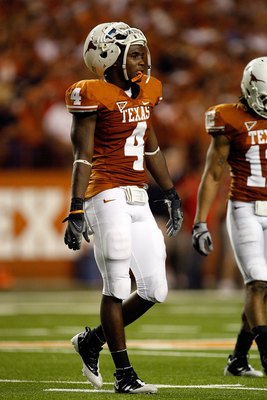 Texas cornerback Curtis Brown is really good. In fact, Brown could be the top senior corner in the country right now.
With that said, Brown's pro potential may not compare to that of Aaron Williams.
Williams, a former five star recruit, has the size and speed to shut down almost any receiver in the country.
Texas has produced some big name DBs recently and it seems Brown and Williams are on track to be the next in line.
Safety: Mark Barron - Alabama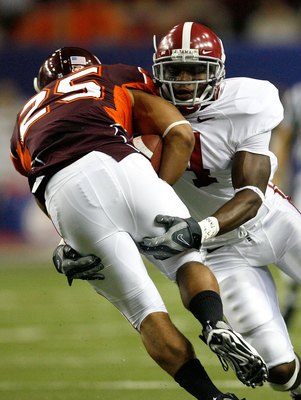 Nick Saban has shown a specialty for developing quality DBs throughout his coaching career and he seems to have another one to add to the list in the form of Mark Barron.
The 6'2" Barron stepped in last season to become the leader of the defense in just his first season as a starter.
Barron showed his knack for finding the ball, finishing second on the team in tackles to future top-10 pick Rolando McClain.
With Saban coaching him up, it could be possible for the junior safety to find himself in the top 10 as well one day.
Safety: Rahim Moore - UCLA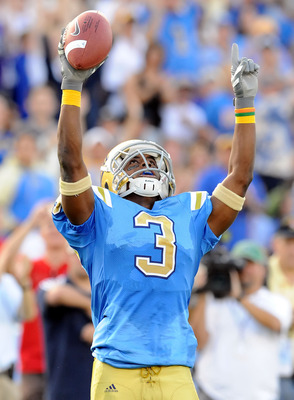 UCLA's secondary was one of the best in the Pac-10 last season and probably the biggest reason why is the play of Rahim Moore.
Moore is big, fast, and instinctive. Three of the top qualities you want in a safety.
If UCLA really is going to take back the city from USC this year, they'll need another solid season out of their most consistent defensive player.
Safety: Robert Sands - West Virginia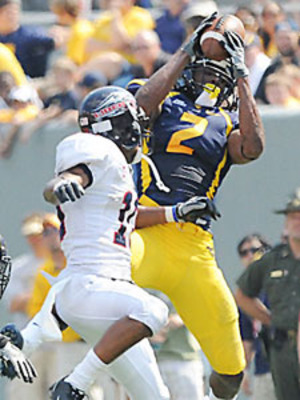 At 6'5", there aren't many safeties that can match Robert Sands' natural size.
Considering the way Sands can fly around the field with ease, running patterns against WV's secondary won't be a fun task for receivers this season.
Safety: Will Hill - Florida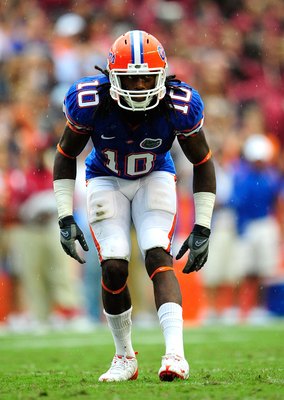 Will Hill, once a top notch athlete who just so happened to play safety, is slowly taking steps to becoming a top notch safety who just so happens to be a great athlete.
After making his way down to Florida from New Jersey, it didn't take long for the one-time high school All-American to make a difference for the Gators.
Will now returns as one of the most experienced members of the defense. His leadership skills will be put to the test in 2010.
Safety: Tyler Sash - Iowa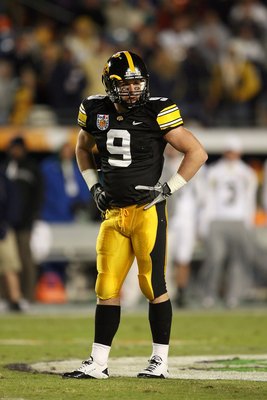 Tyler Sash currently has 11 interceptions as an Iowa Hawkeye, which is seven shy of Nile Kinnick's all time school record.
When you factor in the young safety's will power, it's easy to believe he'll one-day pass Kinnick for the number one spot.
The Big Ten conference will fully get behind Terrelle Pryor in promoting his Heisman campaign in 2010. However, you can make the case that Sash, the unglamorous safety from Iowa, deserves the publicity just as much as the acclaimed Buckeye QB.
Keep Reading