Renaming the Rimington Award After the Florida Gators' Pouncey Twins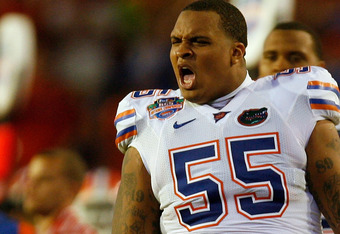 Eliot J. Schechter/Getty Images
Mike Pouncey made a tough decision this past offseason, as he watched his twin brother, Maurkice, declare for the NFL Draft. Mike had always played with his twin brother, but while Maurkice was slated to go in the first round of the draft, Mike was projected to fall somewhere into the third round. The two brothers would most likely not play together if they went to the NFL anyway, so Mike made the very wise move to return to school for his senior season.
Mike will move from guard to take over the center position vacated by his brother. Before ever playing a snap at center, Mike has already been named to the Rimington Award Preseason Watch List for the nation's best center. There is a good chance that the name on the trophy this season will be the same as the one handed out in 2009 because his brother is the one currently holding that piece of hardware.
Maurkice has the versatility to seamlessly transition between any of the interior line positions. Also, his cerebral performance on the field comes in an ever-increasingly important position in football, as offenses become more complicated, coaches are realizing how important it is for the man snapping the ball to actually have something of substance inside the helmet. These characteristics helped market Maurkice to NFL personnel men almost automatically and instantaneously. It didn't hurt that he (and his brother) had the size and physical talent to go along with it (You don't usually put complete package and interior lineman in the same sentence, unless he is standing in line at McDonald's).
His move definitely paid off, as he was selected 18th overall by the Pittsburgh Steelers, the highest selected center since Damien Woody was drafted 17th overall by the Patriots in 1999. In fact, Maurkice was only the seventh center taken in the first round since 1993 (five of those have occurred in the past six years, another indication of the growing importance of the center position).
With that paucity of talent at the center position rising in the ranks of football programs nationwide, most coaches would get on their hands and knees and pray to see one, maybe two, if you are really fortunate to stick around that long, more player who could play the center position that well.

Luckily, for coach Urban Meyer, he has one that is cast from an identical mold.
This season, Mike will have every opportunity to showcase that versatility that made Maurkice so desired among NFL front offices. In fact, he is already considered the top center prospect heading into the draft and is expected to go in either the first or second round in 2011, much of that is based on the assumption of what we will see from Mike's transition.
And don't doubt for a second that he won't be able to transition without a hitch. In his freshman year, Mike was asked to play defensive line because there were so many injuries that Florida's depth chart was absolutely barren at the position. The next thing you knew, Mike was a stalwart on the line, starting the last four games of the regular season. Moving from offensive line to defensive line? Piece of cake. Moving over one position on the same line? Just hand him the award already.
Heading into this season, he has compiled 28 consecutive starts, so opposing defensive linemen better think of another excuse to avoid seeing Mike this season.
Barring the unforeseen, Mike should walk away with the award this year, keeping it in the family.
The award is named after Dave Rimington (Nebraska, 1979-82), who is considered one of the greatest centers in college football history, being the only player to ever twice win the Outland Trophy for best offensive lineman. With credentials like that, I could never be the one to say that the award should be renamed.
But if anyone ever wanted to consider it, they wouldn't have to look any further than Pounceys exhibit A and B to name it the Pouncey Award. Considering no school has taken home the award twice (admittedly, it has only been around since 2000), having one family with two on their mantel is definitely an argument.
The Pounceys are certainly revolutionizing the position with their adaptability and brains to go along with talent, so much so that they might even be making the center position sexy again, (wait, it was never sexy in the first place?), which is certainly a feat in itself. You might not see a pair quite like these two come around for a while, so enjoy them while you can.
This article is
What is the duplicate article?
Why is this article offensive?
Where is this article plagiarized from?
Why is this article poorly edited?

Florida Gators Football: Like this team?