Big 12 Extravaganza: Predicting Every Game of the 2010 Conference Season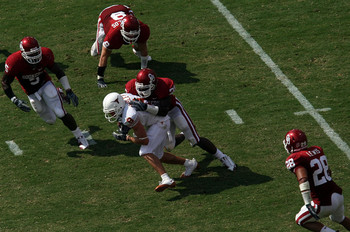 48.
That's how many games take place within the Big 12 from year to year.
Coming up with the total is simple math, but fleshing out a prediction for every contest, complete with a winner and final score, is anything but elementary.
But, I gave it a whirl, doing my best to come up with some half-ass explanation as to how each game will play out, as well as which Big 12 teams will be ascending and descending in 2010.
Lastly, check out the show's final slide, where I posted some sketchy Big 12 standings based on my predictions.
If nothing else, it will be fun to look back on this in December and assess how shiny or cracked my crystal ball is.
All images provided by Getty Images
Early-Season Matchups (Sept. 18)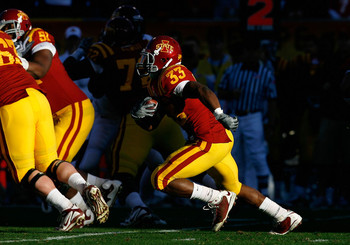 Iowa State at Kansas State (Arrowhead Stadium)
Winner: Iowa State, 24-23
And why, exactly: Karma. A season ago, a blocked extra point with 32 seconds remaining likely cost the Cyclones a win in the inaugural game of the Farmaggedon series.
In 2010, the Fates will shine upon Paul Rhoads' squad, as Iowa State holds off a late K-State rally thanks to a combined 250 yards rushing from running back Alexander Robinson and quarterback Austen Arnaud.
Early-Season Matchups (Sept. 18)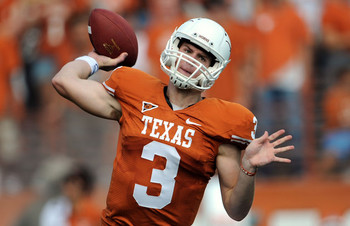 Texas at Texas Tech
Winner: Texas, 31-20
And why, exactly: The last time the Longhorns visited Jones AT&T Stadium, Garrett Gilbert was a bright-eyed high school senior, so consider him detached from the emotional windfall that characterized Texas' shocking last-second loss to Tech in 2008.
Now a somewhat hardened sophomore, Texas' new No. 1 quarterback explodes in his Big 12 debut, making minced meat of the Red Raider secondary en route to three touchdown passes and a decisive road victory for the Longhorns.
Week 1 (Oct. 2)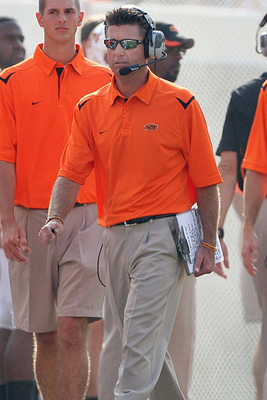 Texas A&M at Oklahoma State (Thurs., Sept. 30)
Winner: Oklahoma State, 28-21
And why, exactly: For whatever reason, few pundits are giving Oklahoma State a fighting chance in the Big 12 South. Maybe it's because last year's senior-laden team was hit hard by graduation and the NFL.
Prognostications aside, the Cowboys are young and untested to some degree, but talent isn't necessarily an issue. And they'll make an early-season statement with an inspired win over the Aggies — the very team many experts are labeling a darkhorse candidate to make a run at the Big 12 title in 2010.
Week 1 (Oct. 2)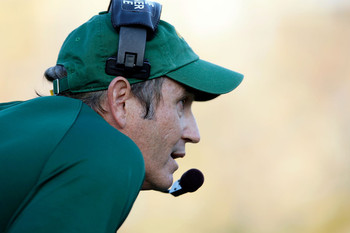 Kansas at Baylor
Winner: Baylor, 24-13
And why, exactly: Because Baylor is no longer an automatic win for the rest of the Big 12. The Bears had their struggles last season, but losing sensational quarterback Robert Griffin to a torn ACL in September set the tone.
Head coach Art Briles, in just two short seasons, has changed the culture in Waco, and after a successful non-conference portion of the schedule, Baylor will sustain some momentum for an unforgiving divisional slate with a win over the Jayhawks, spoiling Turner Gill's Big 12 debut.
Week 1 (Oct. 2)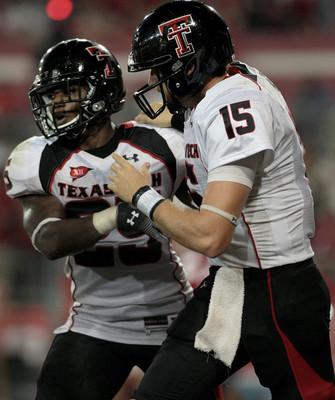 Texas Tech at Iowa State
Winner: Texas Tech, 45-24
And why, exactly: The Red Raiders, regardless of the triggerman, can pass on anybody. And that doesn't bode well for Iowa State, which allowed 250.2 yards through the air last season.
The Cyclones, because the game is in Ames, will have a shot, but recent history suggests a Tech victory is imminent. Over the past two meetings, both Tech wins, Red Raider quarterbacks (aka Graham Harrell) have averaged 414 yards and five touchdowns.
Week 1 (Oct. 2)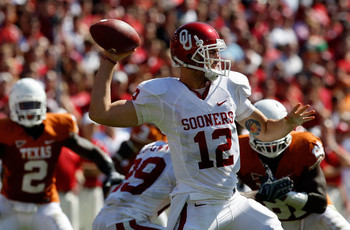 Texas vs. Oklahoma (Dallas, Tex.)
Winner: Oklahoma, 23-20
And why, exactly: Because Landry Jones will make more plays than Garrett Gilbert. Both quarterbacks are sophomores, but Jones has the advantage of a redshirt season, not to mention the experience gained in last year's Red River Shootout while taking over for the injured Sam Bradford.
As was the case in '09, both defenses will steal the show, but on a day when points are at a premium, a fourth-quarter touchdown from Jones to receiver Ryan Broyles will seal the deal to give the Sooners their first victory in the series since 2007.
Week 2 (Oct. 9)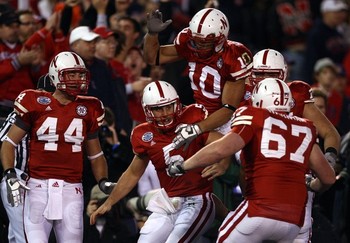 Nebraska at Kansas State (Thurs., Oct. 7)
Winner: Nebraska, 24-6
And why, exactly: Nothing too fancy about this matchup. It'll be the Huskers' top-rated defense from a season ago against one of the Big 12's better ground games.
Call it smashmouth football, call it whatever you like, but in the end, Nebraska will have worn down the host Wildcats and gotten enough offense from quarterback Zac Lee and his supporting cast to successfully begin its North title defense in front of a national audience on ESPN.
Week 2 (Oct. 9)
Colorado at Missouri
Winner: Missouri, 42-17
And why, exactly: There was a point in time when this game was a mere blip on the radar for Colorado. Not anymore. Coinciding with the Buffs' fall from grace in the North, Missouri has won the last four meetings, and done so in dominant fashion, outscoring CU by an average of 34 points.
And that trend will continue in 2010. The Buffaloes don't have the personnel to deal with the Tigers' spread, nor do they have enough playmakers outside of WR Scotty McKnight and RB Rodney Stewart to give QB Tyler Hansen the help he needs on offense.
Week 2 (Oct. 9)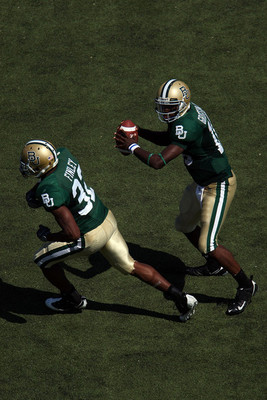 Texas Tech vs. Baylor (in Dallas)
Winner: Baylor, 31-27
And why, exactly: Why not? With this game being played at the Cotton Bowl and likely to be broadcast to at least a regional audience, a win over Tech would be a telling statement for the Bears.
In addition to the influx of talent on offense, Baylor has upgraded the speed and athleticism on defense, particularly in the secondary. Tech will lead through three and a half quarters, but a late pick by heralded true freshman safety Ahmad Dixon leads to a rushing score by Robert Griffin, his third of the game.
Week 3 (Oct. 16)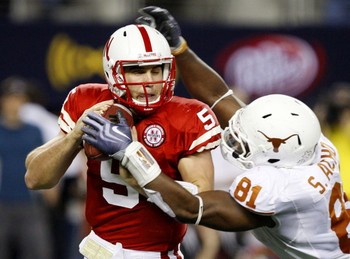 Texas at Nebraska
Winner: Nebraska, 17-10
And why, exactly: Revenge for 2009's last-second defeat in the Big 12 Championship will be brought up more than once, but the Huskers can ill-afford to drop this game if for no other reason than what follows it.
After hosting the Longhorns, Nebraska goes on the road at Oklahoma State before an implication-filled bout with Missouri at home on Oct. 30. With that being said, if you're looking for a sidebar to this game, consider this: Texas has yet to lose in Lincoln as a member of the Big 12.
Week 3 (Oct. 16)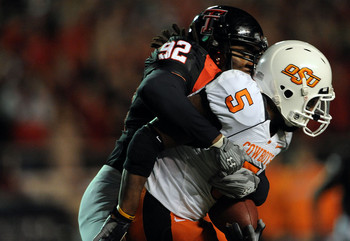 Oklahoma State at Texas Tech
Winner: Texas Tech, 31-17
And why, exactly: OSU quarterback Brandon Weeden's first career road start in the Big 12 won't go as planned.
Running back Kendall Hunter will keep the Cowboys afloat with his play between the tackles, but the story of the day is the Red Raiders' refurbished defense, which, at this point, has had nearly half a season to soak in Tommy Tuberville's aggressive schemes.
Week 3 (Oct. 16)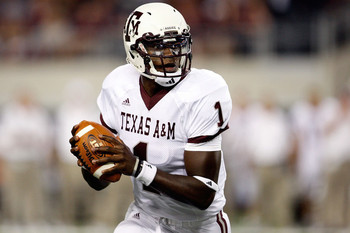 Missouri at Texas A&M
Winner: Texas A&M, 28-17
And why, exactly: I'm a homer for Missouri, it's true. But considering this matchup in College Station is but the first in a three-game midseason stretch that includes an emotional Homecoming date with Oklahoma followed by a season-defining road contest at Nebraska, I have to put my loyalties aside and say that my alma mater will come up short in at least once.
More than anything else, this game will be about the best two quarterbacks in the conference. In the end, the dual-threat capabilities of Jerrod Johnson win out over the NFL-caliber right arm of Blaine Gabbert.
Week 3 (Oct. 16)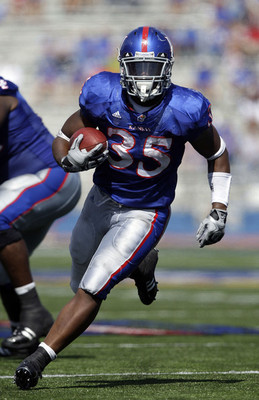 Kansas State at Kansas
Winner: Kansas, 24-18
And why, exactly: It's mid-October, but will Turner Gill have settled on a quarterback? As things stand leading up to preseason camp, as many as six candidates stand a chance of succeeding Todd Reesing, which means the Jayhawks could play a different quarterback in each game prior to the Sunflower State Showdown and still not have exhausted their options.
Sounds ridiculous, I know. So, instead of plucking any one player from KU's QB merry-go-round, maybe I should just assume that Kansas wins this one on the legs of massive running back Toben Opurum (6'1", 240), who blistered K-State last season with seven yards on two carries.
Week 3 (Oct. 16)
Iowa State at Oklahoma
Winner: Oklahoma, 42-16
And why, exactly: The Cyclones will raise some eyebrows by sprinting out to an early 10-0 lead on the road in Norman, but the remaining 50 minutes and 37 seconds of the game will yield no more surprises.
Fueled by the theatrics of DeMarco Murray, the OU offense spends most of the final three quarters passing through the invisible ISU defense, while end Jeremy Beal, linebacker Ronnell Lewis, and the rest of the defense limit the Cyclones to 125 yards of total offense, including just 35 on the ground.
Week 3 (Oct. 16)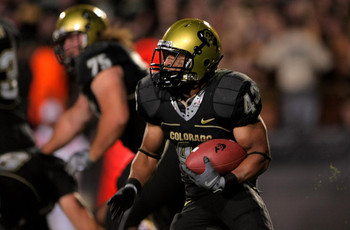 Baylor at Colorado
Winner: Colorado, 13-10
And why, exactly: Because even an ugly game deserves a winner. It certainly won't be the prettiest thing ever to be displayed on the gridiron, but after consecutive beatings at the hands of Georgia and Missouri, Dan Hawkins and the Buffs regain a semblance of a heartbeat with a close win over the Bears.
Tyler Hansen will show signs of gaining his footing as the No. 1 quarterback, but Rodney Stewart, as he has for most of the season, catalyzes the offense with another solid performance.
Week 4 (Oct. 23)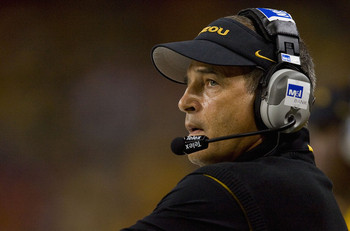 Oklahoma at Missouri
Winner: Missouri, 35-24
And why, exactly: October 23 will be Homecoming in Columbia, so the crazies will be out in force, with the hopes that head coach Gary Pinkel is able to climb to, and over, the summit of the proverbial hump.
Since arriving at MU nearly a decade ago, Pinkel is winless against the two traditional powers in the Big 12 South, and 2010 may be one of the last shots he gets at OU before his Tigers bolt for greener pastures in the Big Ten.
Week 4 (Oct. 23)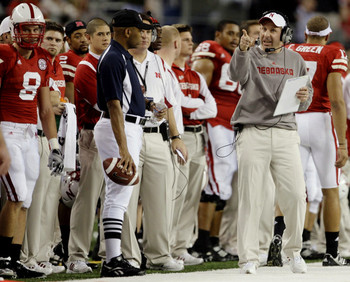 Nebraska at Oklahoma State
Winner: Nebraska, 20-10
And why, exactly: If OSU's rebuilt offensive line can hold their ground against Nebraska's formidable front seven, the Cowboys have a chance. But that may be asking too much.
Including first-round pick Russell Okung, OSU will be breaking in four newbies up front in 2010, which very well could mean open season for Husker tackle Jared Crick, end Barry Turner, and the rest of the D, who seem ever so close to regaining the Blackshirts moniker.
The running lanes that were so accommodating for Cowboy backs a season ago tighten up, and Nebraska waltzes out of Boone Pickens with a fairly easy victory.
Week 4 (Oct. 23)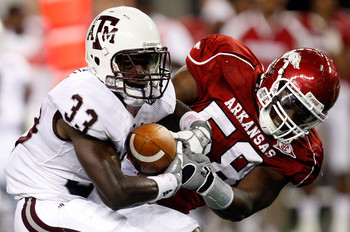 Texas A&M at Kansas
Winner: Texas A&M, 34-16
And why, exactly: World, if you haven't already, say hello to Christine Michael — the up-and-coming sophomore A&M running back who makes having a girl's name less and less emasculating with every week of the college football season.
Michael was awesome as a true freshman last season, leading the Aggies with 844 yards on 166 carries, and he posted the seventh-highest rushing total in the conference. A sophomore slump is possible but, as the Jayhawks discover, not entirely probable.
Aided by a staunch defensive effort, including two sacks by Von Miller, the Aggies have a field day on offense against KU's still-adjusting defense and ride Christine's fourth 100-yard game of the season to a comfortable road win.
Week 4 (Oct. 23)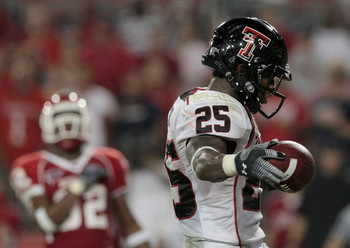 Texas Tech at Colorado
Winner: Texas Tech, 55-17
And why, exactly: Because Colorado doesn't have the horses in the secondary, nor does it have the personnel on the defensive line to disturb Tech's rhythm on offense — both of which belie the fact the Buffs allowed 201.8 passing yards per game in 2009, fourth-best in the Big 12.
Of Tech's returning receivers, six had at least 35 receptions and 380 yards last season, so quarterback Taylor Potts and the Red Raider offense have more than enough firepower to hang half of a hundred on CU, which stands no chance if it doesn't improve on its minus-6 turnover margin from 2009.
Week 4 (Oct. 23)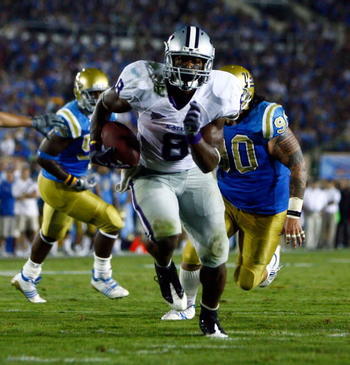 Kansas State at Baylor
Winner: Kansas State, 23-14
And why, exactly: Daniel Thomas. Daniel Thomas. Daniel Thomas. Those two words comprise 75 percent of KSU's offensive playbook, or so it seems. And if they don't, they should.
The senior juco transfer running back from Florida burst onto the scene in a major way in 2009, leading the conference with his 1,265 yards and 11 scores. He'll spend 2010 as a marked man, but don't expect Thomas to run into a wall.
As the Wildcats' lone weapon to offset a hideous passing game, Thomas will see plenty of action, including a 35-carry effort that gives Bill Snyder his fifth win against Baylor in as many tries.
Week 4 (Oct. 23)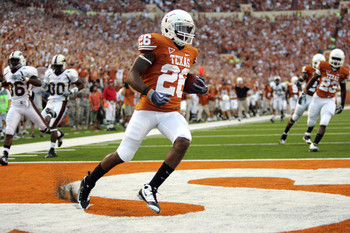 Iowa State at Texas
Winner: Texas, 45-6
And why, exactly: The poor Cyclones. Why should they be the ones to bear the brunt of the Longhorns' frustration, which at this point is well pent-up following consecutive losses to Oklahoma and Nebraska?
This one will be ugly from the start, as dynamic return man D.J. Monroe sprints 95 yards for a score on the game's opening kick to ignite a 28-point outburst in the first quarter.
Week 5 (Oct. 30)
Missouri at Nebraska
Winner: Nebraska, 24-19
And why, exactly: With the exception of Texas vs. Oklahoma, no game in the Big 12 this season will carry more implications than this battle. Two seasons ago, the Tigers ended a 30-year drought in Lincoln in grand fashion, embarrassing the Huskers by 35 points while hardly breaking a sweat.
Much has changed since then. Though MU remains a force in the North, Nebraska has risen from the ashes and, with its win in Columbia in '09, is threatening to reclaim its stranglehold on the division.
The monsoon conditions that marred last year's meeting won't make an appearance, but a pair of erratic offenses will make up for the lack of slop, as each defense plays inspired ball. Ultimately, Nebraska has a little bit more in the tank and embarks on the final fourth of the season with a commanding two-game lead in the division.
Week 5 (Oct. 30)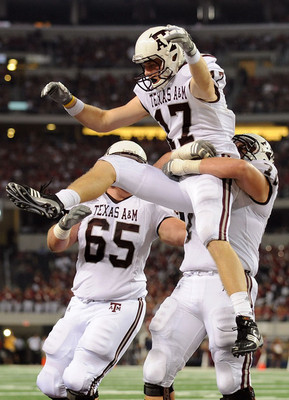 Texas Tech at Texas A&M
Winner: Texas A&M, 45-42
And why, exactly: Because A&M will have the ball last. In arguably the most exciting game of the Big 12 season, these South division rivals decide to save the defense for another day and trade points for 60 minutes.
Reminiscent of the 2009 duel, when the teams combined for 82 points and nearly 1,100 yards, this scoring extravaganza features heroes galore, but the man of the hour proves to be Aggies kicker Randy Bullock, who drills the game-winner from 53 yards out as the overworked clock expires.
Week 5 (Oct. 30)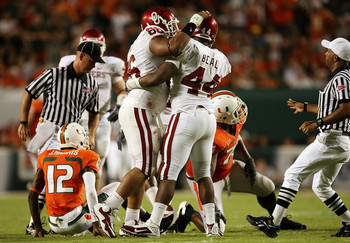 Colorado at Oklahoma
Winner: Oklahoma, 49-23
And why, exactly: The OU defense flexes its muscle. The offense has its moments, but the foursome of ends Jeremy Beal and Frank Alexander and tackles Adrian Taylor and Jamarkus McFarland dominates the line of scrimmage, paving the way for six Sooner takeaways, including two interceptions returned for touchdowns.
But the defense's offensive production only tells half the story. Fresh off an uncharacteristic performance against Missouri, the OU defense limits Colorado to 99 yards of total offense, or just over three per snap.
Week 5 (Oct. 30)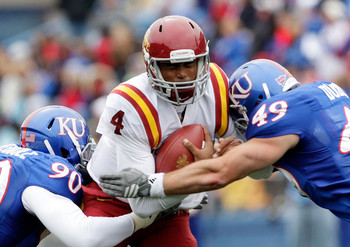 Kansas at Iowa State
Winner: Iowa State, 26-14
And why, exactly: As a team that prides itself on executing fundamentals and maximizing the talent available, Iowa State has an identity. I don't know if I'll be able to say that about Kansas just seven games into the Turner Gill era.
Granted, in my opinion, KU probably has more overall speed and athleticism than ISU, but it won't matter. The unrest and inexperience under center will continue to haunt the Jayhawks, which will be a complete 180 from the savvy of Austen Arnaud, who accounts for all three scores.
Week 5 (Oct. 30)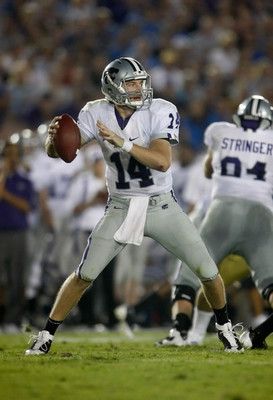 Oklahoma State at Kansas State
Winner: Kansas State, 28-17
And why, exactly: Just call it a hunch. Each team will do its best to run the ball 25-30 times, so as to relive the pressure on a green quarterback.
Kendall Hunter will outgain Daniel Thomas in a head-to-head matchup of elite Big 12 backs, but the Wildcats, who have outscored OSU 75-36 in the past two meetings in Manhattan, will emerge as the more well-rounded offense.
Week 5 (Oct. 30)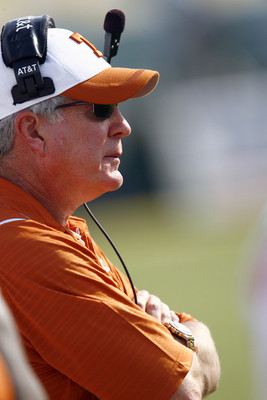 Baylor at Texas
Winner: Texas, 35-13
And why, exactly: Because Texas' chances of extending its streak of 10 or wins in a season are otherwise in jeopardy, at least according to my predictions.
For nine straight seasons, Mack Brown has led the Longhorns to double-digit wins, and the run has been one of the more impressive feats in college athletics.
Under my model, which assumes the 'Horns win all three of their non-conference matchups in September, Texas has already dropped games to Oklahoma and Nebraska and enters the Baylor contest at a rather pedestrian 5-2. With a win against the Bears, the Longhorns will still have an excellent shot at reaching 10 wins prior to a bowl game.
Week 6 (Nov. 6)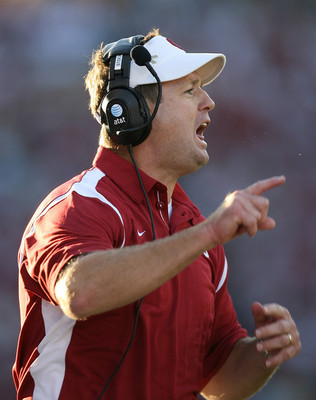 Oklahoma at Texas A&M
Winner: Oklahoma, 27-16
And why, exactly: With the season winding down, no one team seems to want to grab firmly onto the Big 12 South. No one but OU, that is.
As they have all season, the Sooners flash impressive balance on offense, with DeMarco Murray posting 175 all-purpose yards and Landry Jones tossing two TD passes.
Defensively, the Oklahoma front seven wreaks havoc on the A&M spread, corralling Christine Michael, limiting Jerrod Johnson to his lowest output of the season, and forcing the Aggies to settle for three field goals.
Week 6 (Nov. 6)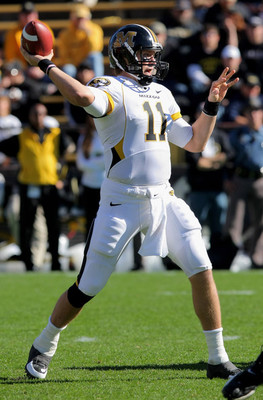 Missouri at Texas Tech
Winner: Missouri, 38-31
And why, exactly: If you're a stickler for defense, turn away; if points whet your fancy, pull up a chair.
You could argue that no two teams run the spread more effectively than Missouri and Texas Tech, but, oddly enough, when they have gotten together in recent past, the Tigers have been on the winning end of some one-sided affairs.
MU outscored Tech by an average of 24 points in matchups in 2006 and 2007, but this year should be a bit more entertaining. Blaine Gabber and Taylor Potts come close to eclipsing 850 combined passing yards, and the running games will play large enough roles to keep the two defenses from becoming too honest.
However, after the sides trade blows for more than 59 minutes, an interception by MU corner Kevin Rutland halts a final-minute Tech drive to give the Tigers a crucial win on the road.
Week 6 (Nov. 6)
Texas at Kansas State
Winner: Texas, 37-20
And why, exactly: If there's been one team from the North that's been somewhat immune to Texas' conference-wide dominance as of late, it's been Kansas State.
The Wildcats have won the past two meetings, including a 20-point pasting in Austin in 2007. So, why the success? No idea. Arguably, those two K-State teams, which combined to win 12 games under former head coach Ron Prince, were no better than what Bill Snyder will field in 2010.
So, does that mean the Wildcats will continue the trend? No, no it doesn't. Texas wins without much trouble. The end.
Week 6 (Nov. 6)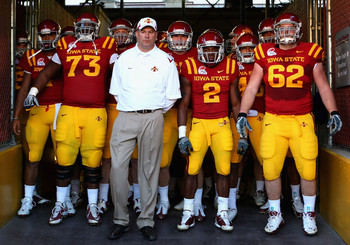 Nebraska at Iowa State
Winner: Iowa State, 18-13
And why, exactly: The probability of Nebraska committing eight turnovers against Iowa State for the second year in succession is, well, not good.
The chances of that happening are about as favorable as the Huskers reaching mid-November unscathed in Big 12 play, which is why I'm going with the Cyclones, who will likely enter this game an underdog of at least 14 points.
Week 6 (Nov. 6)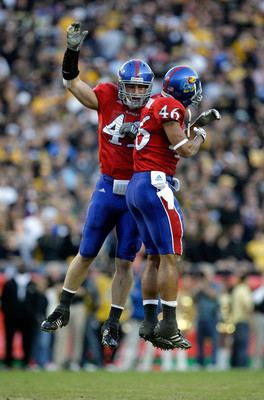 Colorado at Kansas
Winner: Kansas, 23-10
And why, exactly: Because the Jayhawks will have had nearly nine weeks to fully absorb Carl Torbush's schemes. A journeyman defensive coordinator, Torbush has always had a fondness for a traditional 4-3 alignment. But in December, upon becoming part of the KU staff, he revealed that his goal was to incorporate a number of different looks, including a three-man front and six defensive backs.
As should be expected, the variations give Jayhawk defenders some trouble during the season, but over time the alterations start to make sense. Plus, it doesn't hurt that the Buffaloes, which produced a Big 12-low 314.3 yards per game in '09, don't feature an abundance of firepower in 2010.
Week 6 (Nov. 6)
Baylor at Oklahoma State
Winner: Oklahoma State, 13-10
And why, exactly: Because turnovers are the theme of the day. In one of the more unattractive — and strangely riveting — Big 12 games of the season, the Cowboys and Bears combine to give the ball away nine times on a slick and blustery day in Stillwater.
And it doesn't take long for the follies to begin, as OSU coughs it up on the opening kickoff, only to get the ball right back on an interception by Robert Griffin. After three quarters of Pee Wee League-caliber play, both offenses gain some traction, trading touchdowns with less than five minutes to play.
Then, rather fittingly, while coasting down the sideline toward the go-ahead score with less than a minute to play, Baylor receiver Kendall Wright loses the ball, and Oklahoma State recovers to take over at its own 16 and run down the clock.
Week 7 (Nov. 13)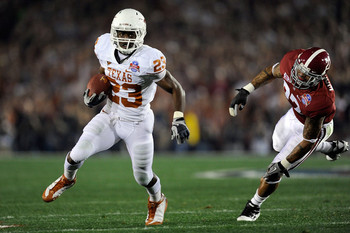 Oklahoma State at Texas
Winner: Texas, 31-13
And why, exactly: The Longhorns rushed for the fifth-highest total in the conference in 2009, but you'd never know it. Determined to give his team more of an offensive equilibrium, Mack Brown stressed the running all offseason and admitted that his teams pass-heavy ways last season were due in large part to Colt McCoy's effectiveness as a passer.
Enter Garrett Gilbert who, with a strong inaugural campaign, hasn't given the 'Horns that much of a reason to become a running team. But the aerial display takes a day off against Oklahoma State.
With the Cowboys employing six defensive backs for much of the day, the Texas ground attack takes advantage, opening massive whole en route a season-high 295 yards, including 205 by Tré Newton, last season's leading rusher.
Week 7 (Nov. 13)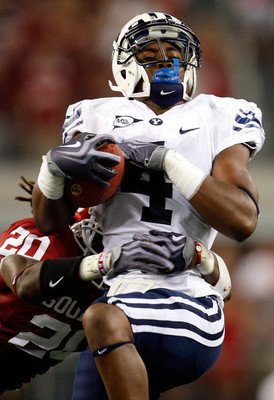 Texas Tech at Oklahoma
Winner: Oklahoma, 41-24
And why, exactly: Few teams are equipped to handle the frenetic pace of Tech's all-out offensive assault, but Oklahoma is one of them.
For years, the Sooners' speed and athleticism have allowed them to successfully defend the spread offense, especially in the secondary.
The Red Raiders get their yards, but only because they chuck 35 passes in the first half. And, with no running game to speak of, they keep chucking it, which only plays into the hands of OU corner Jonathan Nelson and safety Quinton Carter, who each collect a pick to elevate the frustration level of Tech quarterback Taylor Potts.
Week 7 (Nov. 13)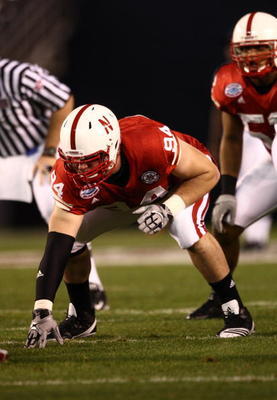 Kansas at Nebraska
Winner: Nebraska, 35-9
And why, exactly: After falling flat against Iowa State, the Huskers return home to regroup against Kansas, a team that hasn't won in Lincoln since the days of the Lyndon B. Johnson administration — 1968, to be exact.
But there's more than just history on Nebraska's side. As they have for much of the season, the interior of the Cornhuskers' defensive line will dominate its counterparts, resulting in a nightmarish day for quarterback Kale Pick and the stagnant KU offense.
Meanwhile, Zac Lee has his most productive game of the season, completing 65 percent of his passes and throwing for three first-half scores en route to a four-TD performance.
Week 7 (Nov. 13)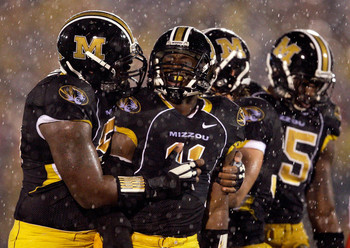 Kansas State at Missouri
Winner: Missouri, 28-10
And why, exactly: Because MU can ill-afford a loss. At this point, the race for the Big 12 North has narrowed to two horses, but a stumble at home against the Wildcats would be costly, so much so that it would inevitably enable Nebraska to run away with the division title and hide.
For Missouri, the game plan is simple: First, score 38 or more points on K-State for the fifth straight year. Second, contain Daniel Thomas. And most importantly, under no circumstances, do not lose a crucial late-season conference game that you are expected to win but have shown an almost impressive knack for losing in the past.
Week 7 (Nov. 13)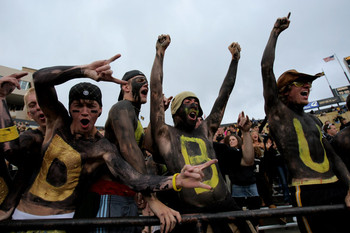 Iowa State at Colorado
Winner: Colorado, 27-23
And why, exactly: Because it's Colorado's turn. Dating back to 2004, neither team in this series has won back-to-back meetings, with the Buffaloes winning on each even-numbered year.
My criteria may seem a bit lazy, overly presumptuous, and steeped in superstition, but what kind of analysis do you expect for a game between two teams that will likely combine for no more than 12 wins in 2010?
Week 7 (Nov. 13)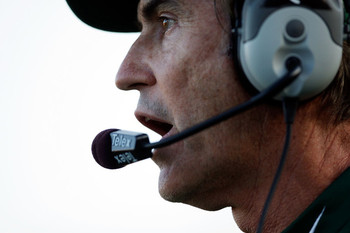 Texas A&M at Baylor
Winner: Texas A&M, 27-10
And why, exactly: The Aggies take advantage of a downtrodden Bears team.
Factor in the 25,000 or so who don't show up to Floyd Casey Stadium, and it's easy to see why Baylor would perform so underwhelmingly. Once 2-0 in conference play, Art Briles and his team have since lost four in a row and are in no shape to sustain the punches of an A&M squad that's still shooting for an unanimous selection to a Jan. 1 bowl game.
Week 8 (Nov. 20)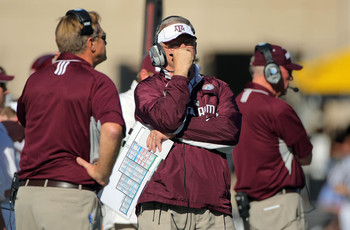 Nebraska at Texas A&M
Winner: Texas A&M, 17-14
And why, exactly: Because a win over the favored Huskers will provide the Aggies with instant credibility as a force to be reckoned with in the Big 12 in 2011.
A couple weeks ago, I picked A&M as one of my teams across college football that could without a single hiccup. That's not to say I expect it to happen; clearly, based on these predictions, I don't. In fact, I'm betting that the Aggies lose to Oklahoma and Texas in 2010. I'm merely opining that the Aggies are reaching the point where the suggestion is a valid one.
OU and Texas still rule the South, and though Mike Sherman is slowly closing the competitive gap with his efforts at A&M, the chase for a division title will have to wait till next season. And that means it's time for Plan B, which is to show you are close to arriving by taking down a North opponent with serious BCS aspirations.
Week 8 (Nov. 20)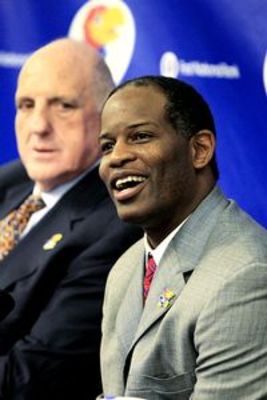 Oklahoma State at Kansas
Winner: Kansas, 29-24
And why, exactly: Because Turner Gill decides to violate his own "no cursing" policy.
Thanks to scoring strikes of 75, 63, and 18 yards from Brandon Weeden to Hubert Anyiam to give OSU a 21-0 lead at the break, Gill unleashes a hell of saucy expletives on his team in the locker room, whereby he is forced to deposit $25 in his own swear jar after the game.
But his rant pays instant dividends. Fueled by a long kickoff return to start the second half, the KU offense scores on its first three possessions of the third quarter to close the gap. Sans a few veteran members of the secondary, the defense does its part, holding the Cowboys to three points over the final 30 minutes, as well as sealing the win with a late safety.
Week 8 (Nov. 20)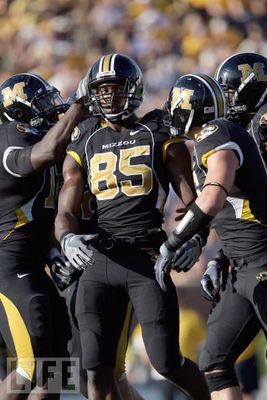 Missouri at Iowa State
Winner: Missouri, 41-13
And why, exactly: Aldon Smith. The scintillating defensive end became MU's single-season record-holder in sacks as a redshirt freshman last season. Statistically, the ceiling doesn't seem too far off, but the fact of the matter is that Smith may not even be close to realizing his full potential.
On a sunny but frigid afternoon at Jack Trice Stadium, the Cyclones will witness just a glimpse of that potential, but the results will be harrowing nonetheless.
Double-team or no, Smith, a 6'5", 255-pound pass-rushing beast with the wingspan of a bald eagle, consistently finds a route to the ISU backfield, collecting four of the Tigers' six sacks of quarterback Austen Arnaud and registering a total of nine tackles for loss.
Week 8 (Nov. 20)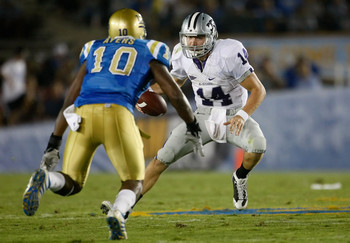 Kansas State at Colorado
Winner: Kansas State, 23-15
And why, exactly: Daniel Thomas once again gets it done on the ground, but this game is won by Carson Coffman, the multi-talented quarterback who can affect a game with both his arm and feet.
The Wildcats possessing a slim one-point lead late in the game, Coffman guides the offense on an impressive 15-play, 92-yard drive, during which the Peculiar, Mo., native completes all nine of his passes and rushes for 47 yards, including an electrifying 28-yard scamper for the decisive tally.
Week 8 (Nov. 20)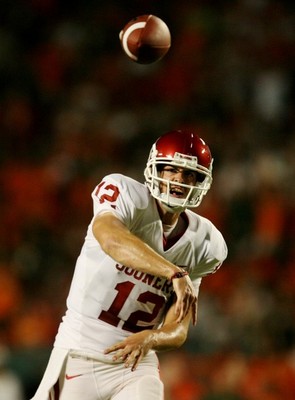 Oklahoma at Baylor
Winner: Oklahoma, 38-6
And why, exactly: It's the same old story. The Sooners are on the cusp of capturing another Big 12 South title, while the Bears are left going through the motions during another meaningless November, lamenting what began as such a promising season.
This victory is claimed swiftly and decisively by the Sooners, who put up 325 first-half yards as they steamroll toward a fourth Big 12 Championship appearance in five seasons.
Week 9 (Nov. 27)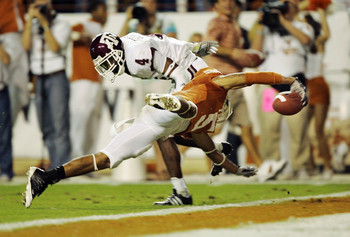 Texas A&M at Texas (Thurs., Nov. 25)
Winner: Texas, 35-21
And why, exactly: Because Big Brother always wins out. Or does he? Texas A&M has won half of the last four meetings, and came within a play here or there of absolutely destroying the Longhorns' BCS title hopes a season ago.
There's reason to believe the Aggies are gaining, but this is Texas, which will forever be perceived as the symbol of preeminence as far as football in the Lone Star State is concerned.
A&M grabs an early lead, but the Longhorns take the recover before the half and cruise the rest of the way, scoring a touchdown on offense, defense, and special teams along the way.
Week 9 (Nov. 27)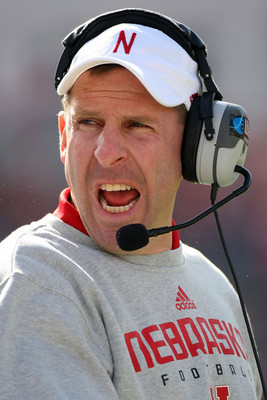 Colorado at Nebraska (Fri., Nov. 26)
Winner: Nebraska, 30-10
And why, exactly: A year ago, complacency nearly cost the Huskers in Boulder. With the Big 12 North already in the bag, Nebraska seemed a tad preoccupied with its upcoming matchup with Texas, and sleepwalked through a tougher-than-expected 28-20 win over Colorado.
Suffice it to say that Bo Pelini will be a bit more guarded about his team treating a win at home over the Buffs as a foregone conclusion, especially with Missouri eager to take advantage of any missteps taken by the front-running Huskers.
Week 9 (Nov. 27)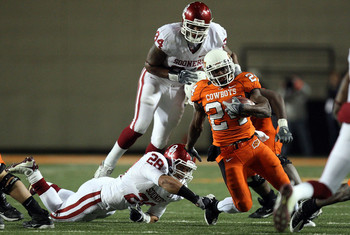 Oklahoma at Oklahoma State
Winner: Oklahoma, 40-28
And why, exactly: Bedlam? Maybe. At least for the first half.
Backed by a raucous, orange-clad throng at Boone Pickens Stadium, the Cowboys go toe-to-toe with the Sooners for two quarters, capitalizing on two OU turnovers. Kendall Hunter eclipses the 100-yard mark, and Brandon Weeden plays mistake-free football, but it's not enough.
Ryan Broyles makes a late push for the Biletnikoff Award with three touchdown receptions, and the Sooner defense shakes off a sluggish first half, posting five sacks and forcing the Cowboys into six consecutive three-and-outs that span the third and fourth quarters.
Week 9 (Nov. 27)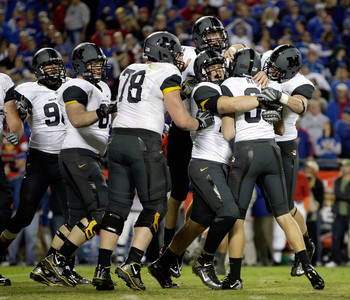 Missouri vs. Kansas (Kansas City)
Winner: Missouri, 42-24
And why, exactly: One of the more underappreciated rivalries college football, the Border Showdown is driven by an unmistakable disdain between Missouri and Kansas that dates back to the Civil War.
But the main problem has been a lack of national attention, which stems from the bizarre notion that neither team has seemed too interested in being good for an extended period of time, let alone simultaneously.
So, as it has for 120 years, the beat goes on for this rivalry, which means one team (Missouri) will arrive having something to play for, while the other (Kansas) is relegated to the spoiler role. Long story short, MU wins thanks to three second-half TD passes from Blaine Gabbert, thus giving the Tigers a 56-54-9 lead in the series.
Or, if you ask Kansas fans, evening it 55-55-9,.
Final Big 12 Standings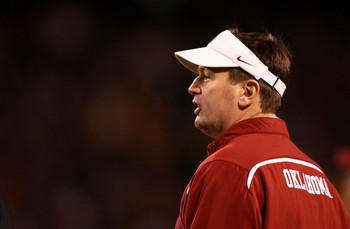 With all 48 Big 12 games in the books for 2010, here's how the final standings shake out, taking into account conference games only:
North Division
Nebraska (6-2)*
Missouri (6-2)
Kansas State (3-5)
Kansas (3-5)
Iowa State (3-3)
Colorado (2-6)
South Division
Oklahoma (7-1)
Texas (6-2)
Texas A&M (5-3)
Texas Tech (3-5)
Oklahoma State (2-6)
Baylor (2-6)
Big 12 Championship Game: Oklahoma vs. Nebraska
* Nebraska finishes ahead of Missouri by virtue of a head-to-head tiebreaker
Keep Reading