Predicting the Outcome of Every 2010 ACC College Football Game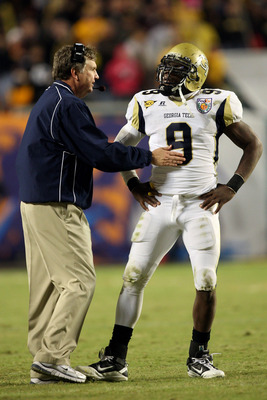 With the football season months away, it is really insane to go through every single ACC game and predict a winner.
Of course, that's what makes it so much fun.
We all know that things never go according to plan. Key injuries appear out of nowhere, unexpected stars rise and upsets rock the college football landscape.
Games cannot be viewed in a vacuum, the schedule shows the ebbs and flows of a team's season.
Will a big road victory lead to overconfidence and a loss with a cupcake at home the next week?
The following looks at every single ACC game played next season and will try to predict a winner. I even give a weak explanation as to why.
As we all know though, sometimes sports defy logic. That's the beauty of the game, and that's the beauty of this list.
Let the debate, begin!
9/11: Duke at Wake Forest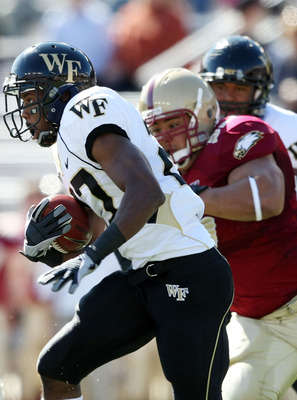 In the past we got Florida State and Miami to open up the ACC slate.
In 2010, our ACC opener involves two teams that finished last season with losing records.
Sweet.
These two teams played each other to end last season, Wake Forest winning 45-34.
I would expect the score to be lower as both teams deal with completely new offenses without their starting quarterbacks from a year ago.
In the end, the Demon Deacons have a better running back in Josh Adams and the Blue Devil defense has trouble stopping anyone.
Wake Forest will use a strong rushing attack to run the clock and milk a lead at home to start off the season with an important victory.
SCORE: Wake 24 Duke 17
9/18: Georgia Tech at North Carolina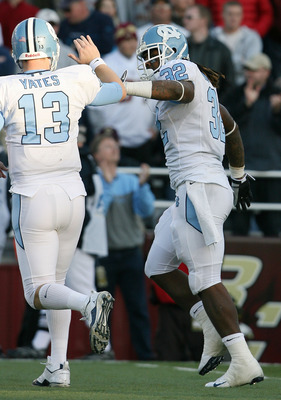 Perhaps the REAL ACC opener should be a great Coastal match-up.
Georgia Tech may have won the title last season, but they have an early test on the road against arguably the most talented team in the conference.
This is really the make or break year for Carolina. If the Tar Heels win their season opener against LSU, there will be tremendous momentum and hype entering this game.
This battle will revolve around quarterbacks trying to prove something.
Yellow Jacket Josh Nesbitt has to prove that he can win without his stellar supporting cast of 2009.
Tar Heel T.J. Yates has to show that his junior season was a fluke based on injuries and bad luck.
In the end, Yates has too many weapons around him and the Yellow Jackets simply will need time to adjust to life without some of their biggest stars.
Defensively, North Carolina has an amazing front seven that should be up for the challenge of stuffing the run. Their questions at secondary should not be an issue against the run first, ask questions later offense of Georgia Tech.
North Carolina lives up to the hype...for one game at least.
SCORE: UNC 31 GT 21
9/25: Virginia Tech at Boston College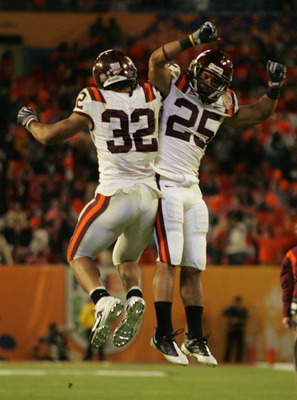 Boston College has caused regular season headaches for Virginia Tech these past few seasons.
The Eagles are 3-2 against the Hokies since joining the ACC, 2-0 at home.
Both of these times like to ride their running back to the finish line and let their defense handle the dirty work.
Hokie quarterback Tyrod Taylor has truly developed during his time in Blacksburg. His versatility makes him a nightmare for ACC defensive coordinators for he can make big plays whenever you least expect it.
By comparison, Boston College signal caller Dave Shinskie still has something to prove. His touchdown-to-interception ratio needs to improve and the Hokies know how to make teams pay for their mistakes.
Boston College may have the better defense this early in the season since Virginia Tech will have to remake its defensive line. However, the Hokies will break the curse in dramatic fashion.
A late comeback for Taylor and company keep the Hokie faithful smiling.
Score: VT 20 BC 17
9/25: Wake Forest at Florida State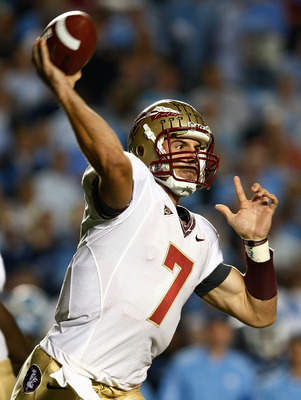 If anyone is going to respect Florida State, they cannot afford to stumble against the Demon Deacons.
Wake Forest has taken down the Seminoles three out of the past four years. Although this match up does not look particularly close on paper, Florida State has had trouble shaking off the boys from Winston Salem.
Florida State needs to make a statement early because if they let the Deacons hang around then things will get scary.
After all, the last two meetings in Tallahassee, Florida State has scored three points.
Fortunately for Florida State, they have one of the best offenses around. Quarterback Christian Ponder has some homerun threats and he will want to make a statement in front of the home crowd.
Wake Forest will once again try to burn the clock but the Seminoles will not need much time to rack up the points. Florida State grabs the victory and starts the ACC schedule off on the right note.
Score: FSU 31 Wake 14
9/25: North Carolina State at Georgia Tech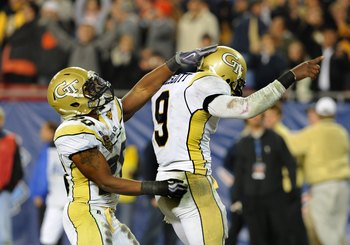 The Yellow Jackets defense vs. the North Carolina State offense will be the only match-up people care about heading into this contest.
Georgia Tech had trouble stopping anyone last season and Wolfpack leader Russell Wilson knows how to put points on the board.
Although the Jackets are still going to be filling some large holes early on in the season, Georgia Tech will still pull this one off. The addition of Al Groh to their defensive staff will help and the home field advantage could prove to be the difference.
Ultimately, this game will come down to the roles these two teams play in the ACC. Georgia Tech still has confidence after their ACC title and N.C. State has been unable to get out of its own way to be successful.
Some things never change.
SCORE: GT 24 NC State 17
10/2: Florida State at Virginia
So...yeah, then there is this game.
Virginia had two huge victories in 1995 and 2005 over the Seminoles.
Unfortunately, the Cavaliers are about five years away from victory number three in the series.
The Cavaliers have a stout defense, one that contain Florida State's massive offense for a quarter or two. However, the anemic offense will tip the time of possession and the Virginia defense will wear out.
Coach Mike London has a long road in front of him. Until he finds a way to move the ball down the field though, these games will remain out of reach.
SCORE: FSU 35 UVA 14
10/2: Duke at Maryland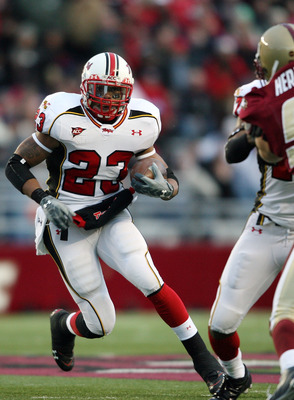 Here are two teams with two new quarterbacks and two coaches desperate to prove their program can contend in the ACC.
Cutcliffe is a tremendous coach and he has helped change the culture a bit in Durham, but this early game could make or break Friedgen at Maryland. He simply cannot afford to lose this game at home.
With Da'Rel Scott desperate to redeem himself after last season, Maryland should be able to run the ball effectively against one of the worst defenses statistically last season.
Duke simply does not have the firepower to match-up with Maryland without quarterback Thaddeus Lewis. Their defense will not be able to slow down the ground game and Maryland picks up an early victory.
SCORE: Maryland 24 Duke 10
10/2: N.C. State at Virginia Tech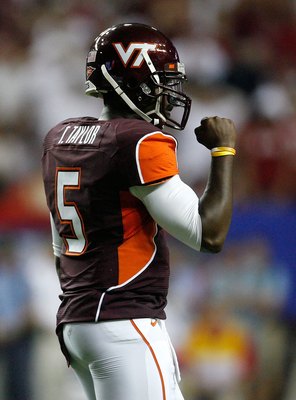 The Wolfpack was the first ACC opponent to take down the Hokies when they joined the conference in 2004. The next season they narrowly lost in the season opener 20-16.
It looked like a budding rivalry was emerging. That is until a four year hiatus and a 38-10 beat down last season appeared.
North Carolina State is built on its offense and the Hokies build their reputation on defense. Virginia Tech's defense has some question marks and the Wolfpack still have a great receiving corps but it will not be enough.
Quarterback Tyrod Taylor can play the game at just about any tempo. He has improved his game to become a serviceable passer, but even that will not be needed.
The Wolfpack have one of the worst defensive lines in the ACC, the Hokies have the best running game overall in the conference.
The margin will be closer, but the victor does not change.
SCORE: VT 34 North Carolina State 21
10/2: Georgia Tech at Wake Forest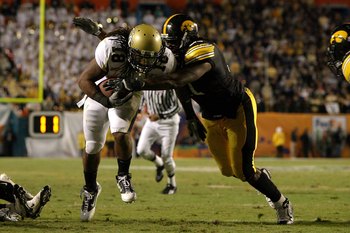 Anthony Allen will be the biggest offensive weapon not named Josh Nesbitt this season for the Yellow Jackets.
With running back Jonathan Dwyer and wide receiver Demaryius Thomas gone, Nesbitt has to carry the load like never before. Allen needs to prove that he can be a pressure release valve for the senior signal-caller.
While this could be a tall task, it should prove to be enough against the Demon Deacons. A team that finished 10th in the ACC in rushing defense.
Wake Forest is simply too young at positions which will prove to be critical in this game. Without an offense that can pace the Jackets, coach Paul Johnson and company should be able to control the clock and the game.
Nesbitt should run for two touchdowns and I predict a defensive score, a welcome sight for Georgia Tech fans.
SCORE: GT 28 Wake 13
10/2: Miami at Clemson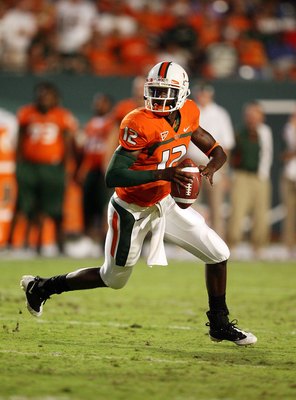 Miami sure likes to make things hard on themselves.
Last season, Miami opened the season with a brutal four game stretch of Florida State, Virginia Tech, Georgia Tech and Oklahoma.
This season, Miami will roll through Florida A & M before a rough three-game road trip to Ohio State, Pittsburgh and Clemson.
In other words, the Hurricanes will already be battle tested by this point.
Clemson, on the other hand, has two laughers to open the season before a road game at Auburn.
Both of these teams have talent and both have question marks heading into the season. Just how good will these offenses be?
Miami quarterback Jacory Harris may be coming off of offseason surgery and may be facing a great defensive line, but he has had some brilliant moments under center.
In this game, the Hurricanes will get off to a big start, catching the Tiger by the tail early. A few big plays will silence the raucous crowd and shock analysts.
When Clemson wakes up though it will make for a great comeback. It will truly be a tale of two halves.
However, it will not be enough. With a good running tandem of Graig Cooper and Damien Berry, Miami survives with a huge road victory.
SCORE: Miami 31 Clemson 27
10/9: Boston College at North Carolina State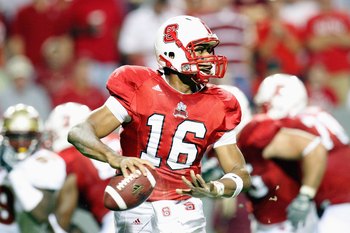 Defense may win championships, but offense will win this game.
North Carolina State has struggled under Tom O'Brien, including a three-game losing streak to the Boston College Eagles.
However, the last time these two teams played in Raleigh, the Eagles escaped with a 38-31 victory. If Boston College gets into another shootout, they will be asking for trouble.
Quarterback Dave Shinskie still has much to prove and if the Wolfpack defense need only focus on running back Montel Harris, they can do that enough to let Russell Wilson do his thing.
A few big plays will rock the Eagles and the Wolfpack get their first ACC victory.
SCORE: NC STATE 35 BC 20
10/9: Virginia at Georgia Tech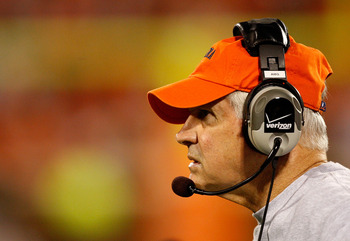 We all know that Al Groh had a rather unceremonious exit from Virginia, a school that he coached for nine seasons.
He gets a chance at revenge against his alma mater as defensive coordinator of the Yellow Jackets. Fortunately for Groh, stopping the Virginia offense is not much of a challenge.
Don't get me wrong, the Cavaliers are going to be motivated for this game. Their new man Mike London is an energetic and dynamic personality and the players want to show Groh that they can achieve under the right guidance.
However, the pieces are just not in place.
Quarterback Marc Verica may have led Virginia to victory in Atlanta two years ago, but he had the help of running back Cedric Peerman. Dominique Wallace and Torrey Mack have not reached any level of consistency and it would be hard to find that on the road.
Even if Virginia can find some big plays, they cannot sustain enough momentum to pull off the huge upset.
Still, it won't be a cake walk.
SCORE: GT 27 UVA 17
10/9: Clemson at North Carolina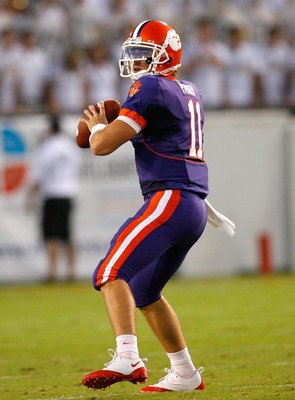 So...last week I said that Miami was going to pull the upset of Clemson.
Well the Tigers are going to get revenge this time around.
As I have said before, North Carolina is a team full of talent but coach Butch Davis has just been unable to put all the pieces together. This is clearly one of the tougher challenges for the Tar Heels for Clemson has a great deal of talent as well.
Both teams also have stout defenses, the difference will be at quarterback. Tar Heel senior quarterback T.J. Yates had a rough season last year for many reasons, but I think this game could be a return to bad form.
Given Clemson's front seven, they should be able to put pressure on Yates. For a guy with 15 interceptions last season, that's not a good sign.
Clemson will win the turnover battle and that will give the Tigers just a few more plays and the victory. A tough loss for the Tar Heels but a big bounce back victory for the Tigers.
If the Tar Heels make a quarterback change this season, I would expect it starts here.
SCORE: Clemson 24 UNC 17
10/9: Florida State at Miami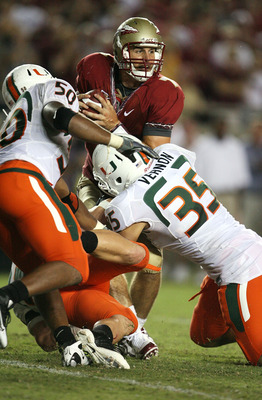 The big showdown which hasn't quite lived up to the "preview of the ACC Championship" we may have once imagined it would be is next on the list.
These two teams have tons of talent, dynamic offenses and a great deal of hatred towards one another.
Last season Miami opened the season with a dramatic 38-34 victory over the Seminoles, making them 3-3 in the series since joining the ACC.
Considering the topsy-turvy nature of the rivalry, it makes sense that Florida State will return the favor in 2010.
I know that Florida State's secondary is suspect, but this shootout will provide enough fireworks to offset some blown coverages.
Coach Randy Shannon has improved the program under his watch, but he still has found ways to lose games that cost his team momentum and the respect from his fans. This will be that situation again.
Jacory Harris plays well at home, but in a game like this he only needs one mistake to make the difference. The Seminoles escape the eye of the Hurricane and keep their ACC title dreams alive.
SCORE: FSU 42 Miami 34
10/16: Miami at Duke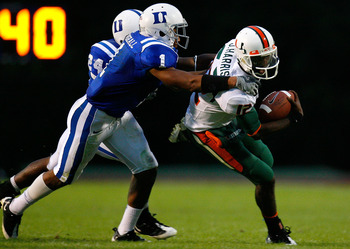 Miami has never lost to Duke since joining the ACC.
There is no reason for that to change this season. The Hurricanes have scored at least 20 points in every contest against the Blue Devils, three times they have broken the 34-point barrier.
Duke, on the other hand, has scored at least 20 points once since 2005.
A one-dimensional running game is not going to help Duke out either. Coach Cutcliffe simply will have endure the growing pains this season.
Miami comes in frustrated with a home loss and takes it out on Duke. Harris scores three times in the air and the Duke offensive line takes a beating.
SCORE: Miami 38 Duke 13
10/16: Maryland at Clemson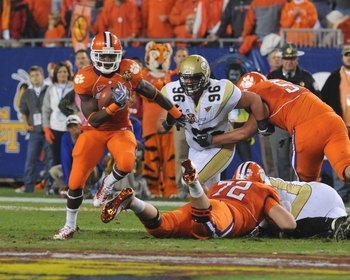 Clemson football has had some heartache against the Terrapins.
Since the conference expanded, Maryland has won three times in this series by a combined seven points.
In fact, since 2004, five of the six matches have been decided by four points or less.
The desperation factor once again has to kick in for Maryland. These players know they are playing for Friedgen's job, but their running game is going to hit a brick wall.
Clemson is going to stuff the tandem of Da'Rel Scott and Davin Meggett, putting the pressure on quarterback Jamarr Robinson.
In only his second road game of the season, Death Valley will not be a hospitable place for him.
Despite a good linebacker corps, Clemson's offense will roll and the Terrapins will end up shell-shocked.
SCORE: Clemson 28 Maryland 13
10/16: Wake Forest at Virginia Tech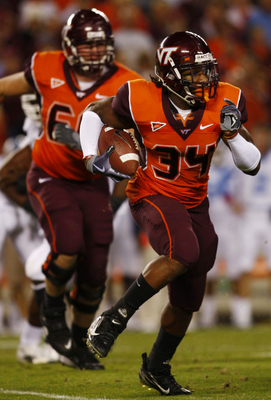 Wake Forest is a pesky team.
Whenever you like to count them out against the big boys, they find ways to stay in a game.
Last year, despite a losing season, Wake Forest still took down Stanford with running back Toby Gerhardt.
Five of Wake's seven losses were by three points or less.
However, they are taking on Virginia Tech. A team that last faced the Demon Deacons when Wake Forest was on the verge of claiming an ACC title.
Virginia Tech responded with a 27-6 beatdown and should look for a similar performance at home in 2010.
I expect Wake Forest will keep it close for a half, but Tech has too many athletes and too much confidence to let one get away from them at home.
SCORE: VT 28 Wake 13
10/16: Boston College at Florida State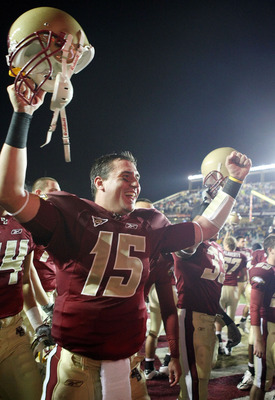 The Eagles had a big win last season 28-21 over the Seminoles.
In fact, Boston College is 3-1 against Florida State recently and another year of experience for quarterback Dave Shinskie should clearly give the Eagles the edge, right?
Wrong.
Boston College has a stout defense and a good offense but Florida State will prove to be too much at home.
Florida State will remember what happened last year and even if they will be flying high after the Miami game they will stay grounded enough to focus on their Atlantic rivals.
Boston College simply does not have the offense to keep up with Florida State, I know they can run the clock like last season but that is contingent on them getting a lead. I expect Florida State to force the Eagles into playing their game, making enough big plays to pull away.
Not a bad start to the season so far for coach Fisher.
SCORE: FSU 31 BC 21
10/16: North Carolina at Virginia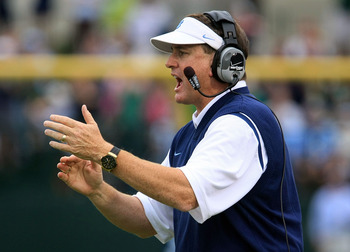 Let's face it, North Carolina has to win this game.
They have more talent, they have experience and they have bitter wounds from an old rival.
However, the Cavaliers have never lost to Butch Davis at North Carolina. They have won 10 out of the last 12 contest and have not lost to the Tar Heels at home since 1981.
That's right, North Carolina will find a way to lose this game. Just like in 2008 when a vastly superior team gagged a lead late in the fourth quarter or the debacle in 1996, Virginia will win.
I expect the Virginia defense to be heroes, making a few big plays to give a short field that allows the Cavaliers to put points on the board. That confidence on offense will prove to be just enough.
Coach Davis will be ready to volunteer the Cavaliers to another conference by the end of this one.
SCORE: UVA 13 UNC 10
10/23: Duke at Virginia Tech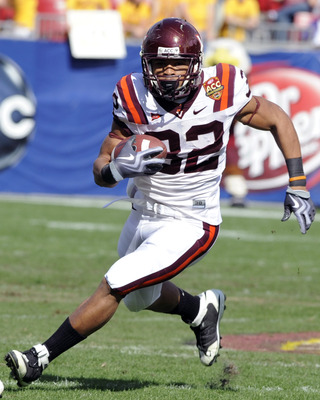 Duke has no real shot in this one.
I expect Duke to make a play or two early in the first quarter. Sometimes Virginia Tech takes awhile to get going but things can turn quickly in Lane Stadium.
One defensive turnover and the rout will be on. I expect Tyrod Taylor to try and stretch the defense enough to let the running game carry them to victory in the second half.
The score will be closer than the actual match-up was because Virginia Tech can pack it in early. Still, this game will provide a valuable learning experience to the Blue Devils as they try to salvage a season quickly getting away from them.
SCORE: VT 21 Duke 7
10/23: Maryland at Boston College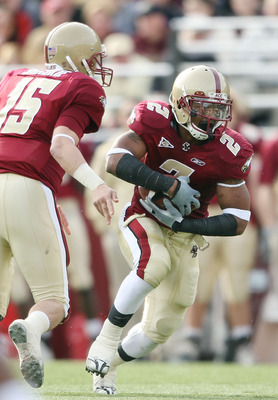 Both of these teams like to run.
Montel Harris of the Eagles may have been lost in the shuffle between Ryan Williams of Virginia Tech and C.J. Spiller of Clemson but 1,457 rushing yards is hard to ignore.
The Eagles are simply more balanced on offense than the Terrapins. Their defense is a little bit better and they are playing at home.
While they do not hold a major edge in any one area, the little advantages in nearly every category will prove to be the difference and get Boston College a much needed victory.
Maryland, on the other hand, will be starting the countdown to the pink slip for Ralph Friedgen.
SCORE: BC 24 Maryland 14
10/23: Georgia Tech at Clemson
A rematch of last year's ACC finalists and two bitter rivals should provide for some fireworks in 2010.
Clemson knows how close it was to an ACC title. The Tigers also know that they have lost four straight against the Yellow Jackets.
Fortunately for them, this time the stars are aligned in Death Valley.
Without some of the major playmakers from last season, Clemson's defense will accept the challenge of stopping an offense that scored a combined 69 points in their two meeting last season.
Kyle Parker will be able to stretch the field and Andre Ellington will provide enough plays to break down the 3-4 defense.
It's going to be a great game because Yellow Jacket coach Paul Johnson is one of the best around, he just will not have enough explosiveness on offense this time.
SCORE: Clemson 38 GT 27
10/23: North Carolina at Miami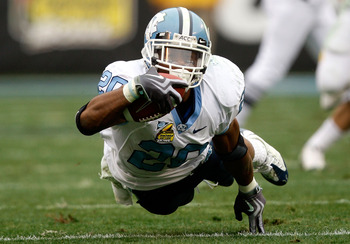 So the bad news is that North Carolina has struggled against Virginia. That's why they were handed a devastating loss the week before.
The good news is that the Tar Heels can weather just about any Hurricane.
North Carolina has the talent to match-up with Miami, they also have the toughness on defense to rattle Jacory Harris and make the quarterback play at a quick pace.
The Tar Heels will use their ground game to eat up the time of possession and Greg Little should have a touchdown reception to add to his lofty totals.
Miami will keep it close, especially at home, but Carolina wills itself to a victory.
SCORE: UNC 24 Miami 17
10/28: Florida State at North Carolina State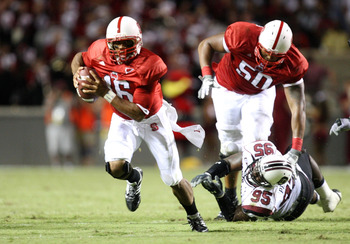 If there's one thing I have learned about college football it's that Thursday night games matter.
The home team and the home crowd rally around this tradition and play lights out. Teams that have had little to cheer for all year long capture some magic on Thursday night and shake up the college football landscape.
It's going to happen with the North Carolina State Wolfpack. Despite another tough season, despite the pressure on coach Tom O'Brien, their offense is potent enough to take on Florida State.
More importantly, it is skilled and experienced enough to win.
Russell Wilson will have the game of his career against a Florida State defense that still has much to prove. The Seminoles finally come falling back to Earth, but for how long?
SCORE: NC State 42 FSU 31
10/30: Miami at Virginia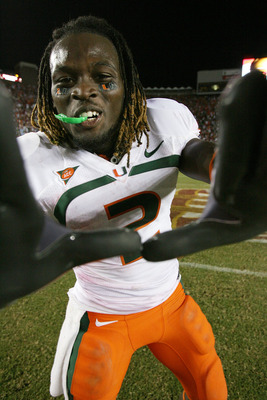 Virginia has typically played well at home, but last season the Cavaliers won only one game in Scott Stadium.
Miami has played some close games in Charlottesville, but this contest should not be another one. The Hurricanes simply have the talent edge and despite the motivational techniques of Mike London, Miami simply has too much for the Cavaliers to handle.
Virginia's cornerback Ras-I Dowling will have his hands full trying to slow down the passing game of Miami. As we saw in the finale against Virginia Tech, he can bite on some good fakes.
Dowling has NFL aspirations and he needs to prove that he can take on and outsmart these Hurricane wideouts. His play will determine the margin of victory, but the outcome is all but decided at this point.
SCORE: Miami 28 UVA 14
10/30: Wake Forest at Maryland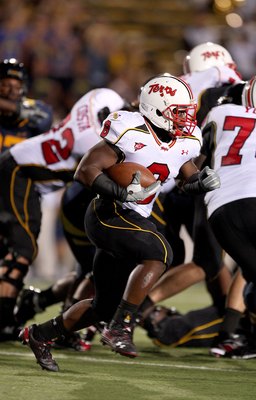 To me, this boils down to which offense do I trust more.
Both teams are going to be using their running game and that could result in some boring football.
However, the Terrapins have three legitimate threats to break one each and every time they touch the ball. Wake Forest has Josh Adams and a whole bunch of question marks.
Maryland has more chance of sustaining drives and a much better chance of picking up a big play or two. Even though Demon Deacon coach Jim Grobe knows how to play to his competition, this will be a close one that falls the way of the Terrapin.
It should help quiet the critics for one week.
SCORE: Maryland 16 WF 13
10/30: Clemson at Boston College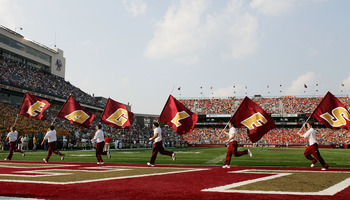 Okay Clemson fans, I know you're probably already mad reading this and it won't get any better.
Boston College competes in the Atlantic Division because they can steal big games at home. Last year, the Eagles went 5-1 in Chestnut Hill.
The three seasons before that, they have gone 19-3.
The Eagles simply find ways to win and with a big team like Clemson coming to town the fans are going to be riled up.
I expect Kyle Parker to play well for the Tigers, but Boston College is going to make one or two more plays. Expect Montel Harris to have a big game running and receiving, they need to use him to confuse the defense.
With Shinksie's growing experience and comfort with the offense, he should be ready for a signature victory.
SCORE: BC 28 Clemson 24
11/4: Georgia Tech at Virginia Tech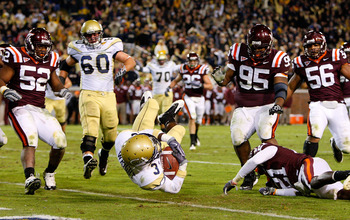 The only two teams to ever win the Coastal Division renew their rivalry on a Thursday night.
Georgia Tech got the last laugh in 2009, but Virginia Tech will have a boisterous night crowd and a defense finally gelling into championship form by late October.
By this point, Virginia Tech will know who they have to stop on the Yellow Jacket offense and defensive coordinator Bud Foster will put the pressure on Josh Nesbitt to try and win the game with little time.
The Yellow Jackets will have time to settle their question marks on defense as well, but the Hokies have multiple proven options.
To be honest, their defensive coordinator Al Groh could never beat Virginia Tech as a Cavalier, why would things be different this time around?
Georgia Tech has enough pride and experience to make this game close, but they do not have the talent or luck to win it.
SCORE: VT 21 GT 10
11/6: Boston College at Wake Forest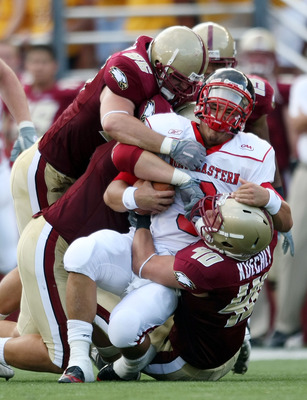 Last year, Boston College was third in the ACC in scoring defense, fourth in total defense, second against the run.
Even though Wake Forest will have found an offensive identity by this point of the season, they still do not have the prolific offense of other ACC teams.
Still, they do seem to give the Eagles a good game.
Despite three straight victories for the Eagles, the last two have been by a combined six points.
Both teams are going to want to run the ball, Boston College does it more effectively. I imagine Wake's defense steps up and plays a big game though.
Just not enough for the Demon Deacons.
SCORE: BC 17 Wake 10
11/6: Virginia at Duke
Perhaps Al Groh lost his job at Virginia two years ago when his team was embarrassed 31-3 by Duke in Durham, NC.
The five turnovers by the Cavaliers cost them that day, but the truth is that Duke no longer needs help from Virginia to win this game.
Both teams are going to be offensively challenged next season, but Virginia's lack of success on the road matched with the fact that the quarterback Marc Verica (who threw four interceptions in the 2008 game) returns does not bode well for Cavalier fans.
I expect Duke to make a few plays and despite a strong effort from Virginia, they lack the leader to carry them over the hump.
SCORE: Duke 17 UVA 7
11/6: North Carolina State at Clemson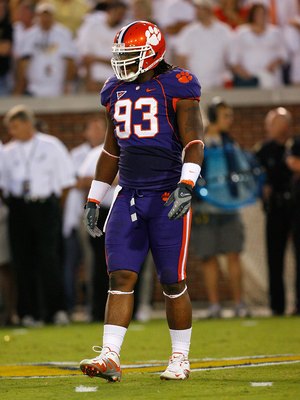 North Carolina State has a good offense, Clemson has a great defensive line.
The Tigers know opposing quarterback Russell Wilson well, they also know victory against the Wolfpack. Six straight victories and counting for Clemson in the series.
This game will be decided on the counter-punch, Clemson has a prolific offense with talented running backs and an athletic quarterback. North Carolina State will have had time to solidify their defensive line but they will still have problems stopping the Tigers pound the rock down the field.
Clemson will force Russell Wilson to try and win the game by himself, something he has been used to, which will cause a few turnovers and make this one lopsided.
Good bounce back for Clemson.
SCORE: Clemson 42 NC State 17
11/6: Maryland at Miami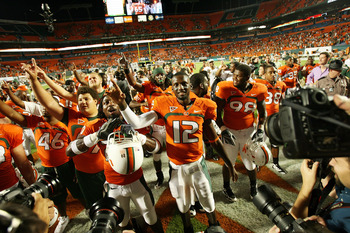 Now is Miami usually reliable? Nope.
However, the Hurricanes will be able to win this won against the Terrapins.
Miami has more talent, they're at home and despite some mind-boggling performances are strong in every phase of the game.
Now Maryland will desperately be fighting for their embattled coach...or they could have packed it in by this point?
No matter which way of thinking prevails, Miami has too much offense with their offensive coordinator Whipple at the helm.
Maryland scores some junk points late, but it's in vain.
SCORE: Miami 24 Maryland 16
11/6: North Carolina at Florida State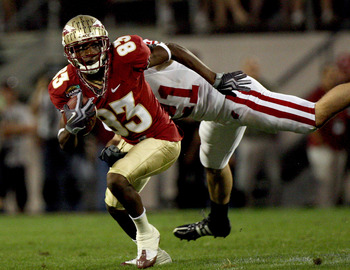 Two talented teams with a great deal to play for in 2010.
This game is going to be good. North Carolina has weapons on both offense and defense to keep up with Florida State.
The Seminoles will challenge Robert Quinn and test the secondary early and often.
These two teams will have some major pressure on it and I think that will lead to some big turnover numbers.
I know that Florida State's defense has been suspect, but this game boils down to which quarterback would I rather have in a two-minute situation.
Christian Ponder wins that argument, they win the game.
SCORE: Florida State 38 UNC 35
11/13: Boston College at Duke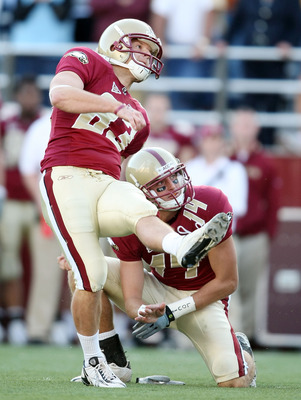 Boston College is simply better.
Duke has a great coach in Dave Cutcliffe but he will find that stopping Montel Harris and the Eagle running game is no small task.
The Blue Devils simply will not get enough time of possession to win this game, but I expect the score to stay close.
The Eagles win in Wallace Wade Stadium.
SCORE: BC 20 Duke 10
11/13: Maryland at Virginia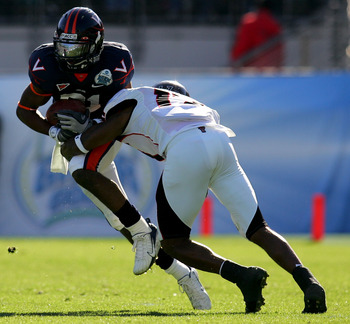 Maryland has dropped three straight to Virginia.
In 2008, Virginia appeared to be destined for an abysmal season before they turned things around on a 31-0 beat down of the Terrapins.
That shell shock must have carried into 2009 when the Cavaliers won again on the road with a 20-9 victory.
Ouch.
Virginia's defense simply has Friedgen's number lately.
Maybe it revolves around the Fridge's comment that his Maryland Terrapins should not lose to teams like Duke or Virginia.
The Cavaliers may have a new coach and new schemes but Mike London was the defensive coordinator for the Cavaliers and has enjoyed a bowl or two of turtle soup in the past.
Virginia will win and Maryland will continue to wonder how this continues to happen.
SCORE: Virginia 24 Maryland 14
11/13: Wake Forest at North Carolina State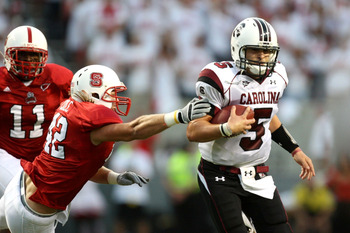 The Wolfpack will show some pride in this game.
Despite some bad losses throughout the season, North Carolina State will rally in front of its hands and dispose of those pesky Demon Deacons.
Russell Wilson will have another big game under center but the defense will capture the headlines with some big fumble recoveries as they shut down Wake's offense.
The talent is there in Raleigh, but things simply did not come together in 2010 for the Wolfpack. However, when the stars aligned, they were a team to be reckoned with.
SCORE: NC State 38 Wake Forest 14
11/13: Miami at Georgia Tech
So maybe Georgia Tech might have a little axe to grind this week.
The Yellow Jackets only lost one ACC game last season and it was against the Miami Hurricanes.
Miami blitzed Georgia Tech and took them out of national championship consideration early.
Well the Yellow Jackets want revenge and coach Paul Johnson knows a thing or two about gaining the mental advantage against opponents.
Miami is a team you can never really be sure of and if the Jackets move the ball with the fire and tenacity I expect, then the Hurricanes won't get a chance to fight back.
These two teams like to ruin each others season, ask the 2005 Miami team whose loss to the Jackets cost them their shot at the ACC Championship game.
Georgia Tech continues the trend.
SCORE: GT 35 Miami 20
11/13: Virginia Tech at North Carolina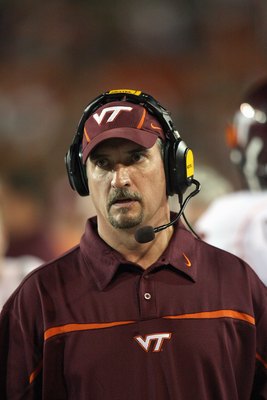 North Carolina shocked the Virginia Tech fans last season when they took out the Hokies in Blacksburg.
Now that the rivalry moves to Chapel Hill, advantage North Carolina right?
Not so fast my friend.
Virginia Tech makes a living of winning ACC games. They do it better than anyone since the joined.
Sure North Carolina has talent and it will make for a great game.
However, Hokie quarterback Tyrod Taylor knows how to win. His record will go down as one of the best in school history and he will make a few plays down the stretch to take the lead.
Fortunately for him, he has a defense to rely on that gives opponents nightmares.
Their physicality will take its toll on North Carolina and allow them to make the fourth quarter comeback and pull out the victory.
SCORE: VT 21 UNC 17
11/13: Clemson at Florida State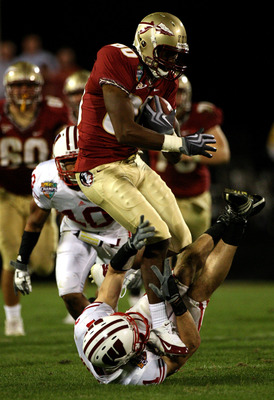 The best game of the ACC this year.
Period.
Clemson is going to come out hot and take a 14-0 lead with two scoring drives to open the game.
Florida State will look rattled but a penalty will give them a short field and the Seminoles will kick a field goal to break the ice.
At halftime, the Seminoles will respond and the two teams will battle back and forth for supremacy.
The Clemson defense will be challenged in the secondary and the Florida State defense will use the crowd to find the energy and resolve to keep their amazing ACC run going.
The Florida State Seminoles have lacked that mental grit for a few seasons now. They have lost games through laziness and poor execution.
This year they prove they have it back with a great game.
SCORE: Florida State 35 Clemson 34
11/20: Virginia at Boston College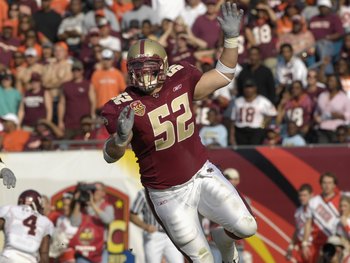 Virginia's momentum from the Maryland victory does not last long.
Boston College has a defense that the Cavaliers will not be able to crack, particularly on the road. The Cavaliers will get a long touchdown reception by Tim Smith but otherwise will have trouble consistently moving the ball.
Boston College will continue their momentum and after losing four games in a row, bounced back to finish the season with five straight victories.
Oh, and they'll get win number six next week against Syracuse.
SCORE: BC 24 UVA 10
11/20: Clemson at Wake Forest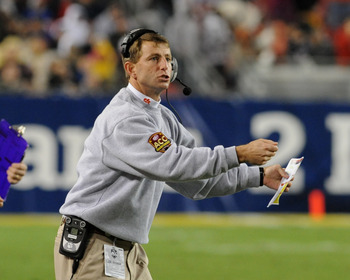 Give Dabo some credit.
People may question whether coach Swinney is destined for greatness or failure, but it is hard to get a team to rebound after a tough loss.
Florida State is going to crush the psyche of the team, it costs them a chance at the Atlantic title.
Wake Forest is a tricky team that plays well at home and can easily knock out teams overlooking them.
Yet Swinney will successfully channel that anger into an inspired performance. Clemson will have a big day on offense and help end the ACC on a positive note.
Clemson will beat the Gamecocks the following week and end the regular season with nine wins. One more than last year.
SCORE: Clemson 28 Wake Forest 7
11/20: Duke at Georgia Tech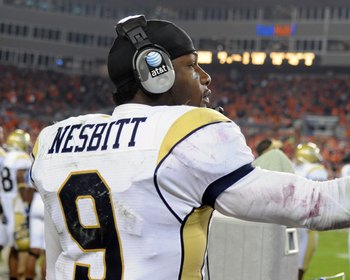 Last minute upset?
Not going to happen boys and girls.
I know that Georgia Tech had a big win last week and has their arch-rival next week. I also know that they know better than to take Duke for granted.
The Blue Devils are going to keep it close but Georgia Tech will get a pick six late that changes momentum and keeps the Yellow Jacket season alive.
Ultimately, Georgia Tech can blame the schedule makers. With road games at Clemson, Virginia Tech and North Carolina, a repeat appearance in the title game looked bleak.
Still, despite the talent overhaul and defensive re-tooling, Georgia Tech still won eight games in the regular season. Unfortunately for the Yellow Jacket fans, the Georgia Bulldogs will not be one of them.
SCORE: GT 28 Duke 14
11/20: Florida State at Maryland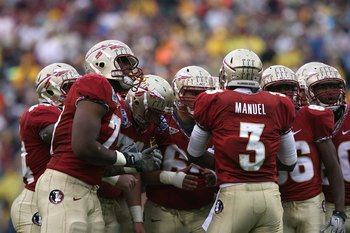 The Seminoles will have one final block to end the ACC season.
Florida State should win this game, I predict them to win this game.
However, this is a prediction that could easily change before August.
Florida State will have wrapped up the Atlantic Division, they have had trouble against Maryland before and this could be one of coach Friedgen's final home games.
Maryland has a running game that can use the clock and shorten a game that most Florida State players may not be paying attention to.
I will give the Seminoles the benefit of the doubt here and they find the will to win, but if they don't it shows that the mental attitude that led to such mediocrity over the last decade has not completely faded.
SCORE: FSU 28 Maryland 20
11/20: Virginia Tech at Miami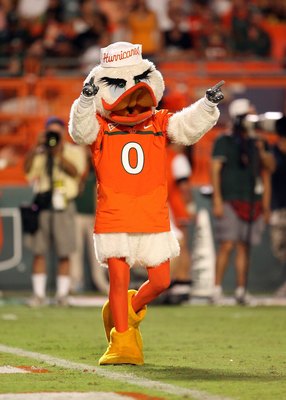 Miami does it again!
The topsy turvy season for the Hurricanes ends the ACC season with a tremendous BCS buster victory.
The Hokies humiliated Miami last season in Blacksburg, something that every player on that team remembers.
When you combine the pressure that comes with an undefeated record and the Hokies will be ripe for an upset.
I expect the running game to falter as Ryan Williams will try to do too much for his team and the Hurricane defense will stay at home.
Jacory Harris will redeem his woeful performance last season and the Hurricanes will roll to a big victory.
If only coach Randy Shannon could enjoy it before he hears more cries for his job.
SCORE: Miami 28 VT 17
11/20: North Carolina State at North Carolina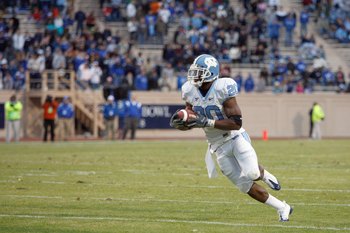 North Carolina bounces back for a much needed victory.
This series has produced some surprising results in the past but I expect Russell Wilson will be out of miracles by this point for the Wolfpack.
The Tar Heels can run the ball effectively and use their defense to break up the rhythm of North Carolina State's offense.
What started out as a season of high expectations ends in eventual disappointment for the Tar Heels.
A 3-4 record in the ACC is highly unexpected, it will also probably get me tons of hate in the comments section.
However, despite all the talent, the Tar Heels simply could not string together the consistent performances it needed to break through in the ACC.
Maybe Carolina can petition ACC commissioner John Swofford to jettison some of these Coastal teams when the super-conferences are created.
SCORE: UNC 24 NC State 14
11/27: North Carolina at Duke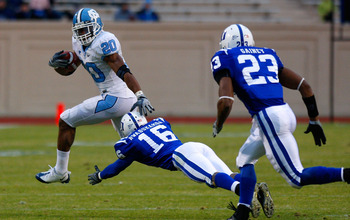 Well, let's make that 4-4 in the ACC.
I already talked about Carolina and even though Duke can cause headaches, I do not think they can pull it all together for the big upset win.
Now on senior day they can probably keep it close but it won't be enough.
Despite the major strides in 2008 and 2009, 2010 will be a fall back to reality for the Devils.
Coach Cutcliffe will have to endure the growing pains of developing his quarterback for the future.
If it is Sean Renfree, Duke will probably make it back on track in 2011.
That is, if Cutcliffe stays.
Duke fans are caught in a tough situation. It will be hard to keep their coach for very long, particularly if he continues to find success.
The Blue Devils have talent and now they have leadership.
Without the latter though, it won't take long for the former to disappear.
SCORE: UNC 31 Duke 17
11/27: Virginia at Virginia Tech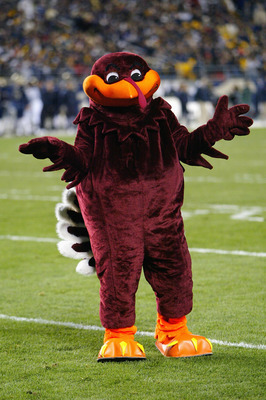 2003.
It's the last time Virginia won in this rivalry.
The Cavaliers fired Groh because of his woeful record against the Hokies but it will take time to repair the damage.
It will not be easy for coach London to turn things around and restore competitive balance. However, he has done a good job of improving Virginia's brand in the Commonwealth.
Playing well would do a great deal for the team and the program. Winning though does not seem likely.
Ironically, Virginia has played better on the road against their arch-rival than at home. Most likely because there is less pressure on them to break the streak in such a hostile stadium.
This game will follow a similar pattern, the Cavaliers string enough defensive stops in the first half to keep it close.
Yet the anemic offense will force Virginia's defense to tire as the long drives of their opponent adds up. Virginia Tech makes a few big plays and the wheels will fall off.
It's not a pleasant thought for Cavalier fans but it's a common occurrence.
Good luck Coach London, the ACC is rooting for you to make this game noteworthy again.
11/27: North Carolina State at Maryland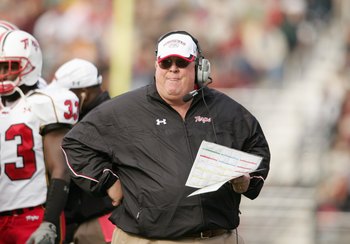 Last but not least...Maryland and North Carolina State.
It's been a long ride in this slideshow and for the coach on your left.
Ralph Friedgen was a hero when he started out, but things are not going to work out this season.
Despite a strong running game and a good linebacking unit, Maryland simply has too many holes at other positions. They cannot find the balance and consistency to be successful and that ultimately would describe Friedgen's time in College Park.
Maryland's senior day is ruined with another strong performance by the Wolfpack.
SCORE: NC State 24 Maryland 21
Recap
Atlantic:
Florida State 8-4 (7-1)
Clemson 9-3 (5-3)
Boston College 8-4 (5-3)
North Carolina State 7-5 (4-4)
Maryland 4-8 (2-6)
Wake Forest 3-9 (1-7)
Coastal:
Virginia Tech 11-1 (7-1)
Georgia Tech 8-4 (5-3)
Miami 7-5 (5-3)
North Carolina 8-4 (4-4)
Virginia 5-7 (2-6)
Duke 4-8 (1-7)
Keep Reading

Florida State Football: Like this team?