Sunday Afternoon Quarterback: A Weekend with the Purple People
November 11, 2007
As an Ohio State Buckeye fan, I feel I should make some kind of public announcement as to why The Ohio State University—the Unstoppable, Prestigious, Undefeated, Sweater-Vest-Wearing Ohio State University—lost...to the Fighting Illini, of all teams.
I should explain why a guy named "Juice" who can't throw the ball passed for four touchdowns and made our defense look silly.
I should explain why our darkhorse Heisman candidate Todd Boeckman inexplicably threw for three interceptions.
I should explain why Ron Zook now has a legitimate shot for the Coach of the Year.
But you know what?
It's beyond all plausible explanation why Ohio State's fairytale season is over, and I'm still in shock...so I'm going to act like it didn't happen.
Maybe when I wake up on Monday, I'll realize that it was all a big nightmare.
So when I buy my tickets for the BCS Championship in New Orleans, I'll hope to see a great game between my OSU Buckeyes and the LSU Tigers, right?
Right?!?
Before I could realize that Ohio State's upset loss at home was actually a reality, I decided to drive up to Chicago (more specifically Evanston, Illinois) to see Northwestern University play Indiana University in the last home game for the Northwestern seniors.
Since I'm still extremely upset at the Big Ten Network for not allowing me to watch the Wisconsin–Ohio State game last weekend, I decided to go and see a Big Ten game for myself—just to guarantee that I wouldn't get shut out.
Not only would I see a spirited competition between two teams playing inspired football to honor their recently-deceased head coaches (Terry Hoeppner of Indiana and Randy Walker of Northwestern)—I could also get my revenge on the Northwestern admissions office for rejecting my undergraduate application.
Not that I'm not bitter or anything.
As in many other games this week, there were bowl implications for both teams.
The only difference is that the winner of this game would be playing for a spot in the Motor City or Meineke Car Care Bowl.
To give you a sense of the optimistic Northwestern perspective, one of the people I stayed with asked me, "Dude, what if we made the Champs Sports Bowl?"...and was completely serious.
But hey, a bowl game is a bowl game, right?
I guarantee you Vanderbilt fans would travel across the country and give up some of their winter break if their team got to play in the San Diego County Credit Union Bowl.
This wasn't exactly a juggernaut matchup like Ohio State-Michigan (more on that later), but I got a chance to cheer with the purple people of Northwestern, including some random guy with a purple-and-black Dr. Seuss hat and Northwestern cape draped around his shoulders.
He unsuccessfully tried to lead a few weak cheers, then resorted to throwing things at the rest of the students in the section.
These are your Northwestern fans.
In many ways Northwestern is like my school, Washington University. They are both moderately-sized universities, with similar academic programs and ridiculously-high tuition that we'll all be paying off for decades.
Even the girls at each school are about the same, which may or may not be a good thing.
The female populations of Northwestern and WashU aren't nearly of the quality of your generic Big State School, but they aren't as bad as, say, Carnegie Mellon, Cal Tech, or MIT.
Thank goodness I didn't go to those schools.
To Northwestern's credit, their academics are top-notch. Their engineering, communications, and law schools are some of the best programs in the country. In terms of major Division I athletic programs, Northwestern—along with Stanford, Duke, and Notre Dame—has one of the best in American academia today.
However, unlike Notre Dame and Duke, Northwestern doesn't have the historical reputation as a powerhouse in football or basketball.
This may be why no one seems to really care about sports at this school.
Northwestern does count Stephen Colbert and Brent Musberger as alumni, though—which is cool in its own regard.
I was slightly worried about the quality of this football game. My school has some of the most apathetic fans I've ever seen, and I thought Northwestern fans might be the same way.
But I did have some optimism, though, because at the very least I'd get to see former "Mr. Ohio" Tyrell Sutton run the ball.
I'd also get to see the only Asian-American quarterback in Division I football, C.J. Bacher.
I hear he's only half-Asian, but that's more than any other quarterback in college football right now.
(If I'm wrong, please let me know and I'll sincerely apologize to all the Asian/half-Asian QBs in the Football Bowl Subdivision I've neglected.)
The last East Asian quarterback I knew of was Hawaii's Timmy Chang, and he set quite a few passing records. Based this fact alone, I will now conclude that Asian quarterbacks are superior in every way humanly possible.
Forget Tim Tebow. Forget Andre' Woodson. I want a guy like Timmy Chang on my team.

In addition to Sutton and Bacher, Northwestern's supporting cast had helped the Wildcats to a 5-5 record leading up to the Indiana game.
Northwestern has some solid players, including stud sophomore defensive back Sherrick McManis and junior linebacker Prince Kwateng—a finalist for "Best Name in College Football"—but no one on their roster has the same mystique as Indiana junior wide receiver James Hardy.
Hardy is a 6'7" specimen with long arms, incredible leaping ability, and surprising agility for a big man. Despite his physical prowess, this talented wide receiver hasn't received a shred of national recognition over the past few years.
He may not have the name recognition of DeSean Jackson or Early Doucet, but he's definitely put up the stats.
With 10+ touchdown receptions in each of his first three seasons in Bloomington, I think it's safe to say that James Hardy is a man to be reckoned with.
Saturday morning we set off for Ryan Field about an hour before the game. The tailgating outside of the stadium exceeded my expectations. The weather in Chicago was a little warmer than the norm for November, so people were out drinking, eating hot dogs, and having a good time.
Ryan Field is a great venue for a medium-sized school; it holds about 50,000 people in a horseshoe-shaped stadium. As we entered, I admired the beauty of the venue, which included some well-manicured flowers and shrubbery behind one end zone, as well as a bowl-shaped field.
(What can I say? I'm a fan of that which is aesthetically pleasing.)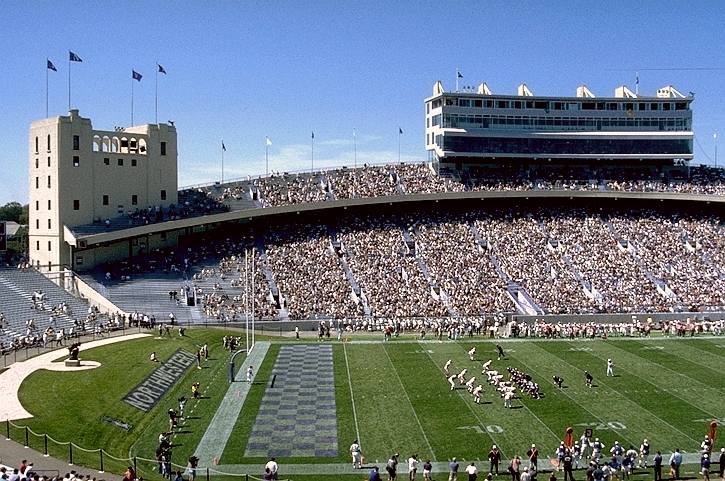 The only problem with the stadium was the lack of fans. While the seats behind both sidelines were mostly filled, there were little or no people in the north end zone.
I thought that maybe they were just tailgating outside of the stadium and would be late arrivals. But those late arrivals never came.
I'd say the ratio of Northwestern to Indiana fans was about 70-30. But the Hoosiers made a lot of noise and so did their band. More specifically, the Indiana band played like a well-oiled machine.
They were all the way across the field from the Northwestern student section, but made more noise than the Wildcats' band situated right next to us. They also played these imperial domination songs that made James Hardy look like the most intimidating person in the world, if he didn't already.
I suggested to one of my friends that one of the easiest ways to get a scholarship to a university would be to play for the band. I'm not saying that every instrument is easy, but Northwestern had two band conductors for one song.
The girl was just dancing to the music and the guy was looking away from the band and watching the game as he carelessly moved his hands back and forth to the music. I bet if I'd just trained to be a cymbal player, I'd be getting a free ride to my school of choice.
While the Northwestern student section wasn't the liveliest, they did hold their own. There weren't too many intelligible cheers, but the students were into the game and decked out in purple attire.
The great thing about the Northwestern fan section is that there were absolutely no pompoms. Over the course of my travels, I have determined that the number of pompoms in the fan section directly correlates to the probability the venue is below the Mason-Dixon line.
This correlation also applies to the attire of the fans. As opposed to Vanderbilt or Kentucky, there were virtually no people dressed up in shirt and tie (for the guys) and sun dresses (for the girls) at Northwestern. While this is probably a good thing for the guys, I think that even if it's too cold in Chicago for girls to wear sun dresses most of the year, they should at least give it a try.
One of my Northwestern friends came up with the undisputed most hilarious quotable of the game as he emphatically belted out about about the Indiana starting QB: "Kellen Lewis is P**sy!"
It wasn't that what he called him that was funny, but his phrasing was: Kellen Lewis equates to p**sy. Kellen Lewis = P**sy.  Welcome to Northwestern.
We ultimately used this equation for every player who made a good or bad play throughout the game. Hence, when Indiana backup quarterback Ben Chappell entered the game and threw an interception that went for a Northwestern touchdown, he was considered p**sy.
After Kellen Lewis began to get into his groove in the second half and made one impressive play after another, we determined that he was NOT who we THOUGHT he was.
Then, using the same logic, we examined why Will Smith's upcoming movie "I Am Legend" is going to be such an incredible movie. Will Smith is not a legend.
Will Smith is Legend.
If you aren't just a little excited about this movie then you don't have a pulse. Or you just don't want to see plot lines where vampires are scared of humans.
The game itself was very entertaining, as there were five lead changes throughout the contest. After Indiana took the an early 14-3 lead, one Wildcat fan depressingly said, "This is typical Northwestern football." But after my friend's emphatic proclamation about Kellen Lewis, the tide seemed to turn in favor of the Wildcats.
Northwestern scored three unanswered touchdowns to go up 24-14 and all of the momentum seemed to be in the purple people's favor. But Indiana came back, as James Hardy took over the game by catching two touchdowns.
James Hardy looks like Plaxico Burress right now. And unlike Burress, he looks like he gives a damn.
The Wildcats then controlled the ball throughout the 4th quarter with a 12-play, 73-yard scoring drive which put the game away. The hope for the 'Cats to pull into the Champs Sports Bowl was still alive.
And you know what? Next week, I'll probably be rooting for the 6-5 Wildcats in their game at Illinois. Right now, I pretty much need anything to distract me from the Buckeyes' loss.
But, that upset loss couldn't have happened, right? And Kansas and Hawaii can't be the only undefeated teams in the NCAA right now. Next, you'll going to tell me that Notre Dame lost to both of the service academies on Notre Dame's schedule or something. I must be dreaming—but this dream has pretty much turned into a nightmare.
At least I have my purple people.