While national signing day is still more than six months away for the 2015 class, many of the nation's top teams are nearly done with the current cycle and are already moving forward with evaluating 2016 and 2017 recruits.
However, Ohio State and Florida State made waves last week by offering Orlando athlete Peter Hayes-Patrick—who is entering his eighth-grade year.
So proud of my lil bro @ThePeterHayes10 for picking up his first offer from The Ohio State University and he's only in the 8th grade !

— The Boy Nino (@jacques_patrick) August 22, 2014
Hayes-Patrick is the younger brother of 2015 4-star running back Jacques Patrick—who happens to have both the Buckeyes and the Seminoles as two of the top contenders on his list.
The elder Patrick—who will make visits to Ohio State and Alabama in September—is scheduled to announce his commitment on October 27, with the home-state Seminoles believed to be the leader for his services.
There's plenty of time until Hayes-Patrick will enroll in college, but the school that lands his brother figures to have a leg up on his recruitment. According to Chris Hays of the Orlando Sentinel, the 5'10", 180-pounder currently plays quarterback even though he's currently listed as an athlete.
3 touchdowns and 157 yards rush today 🙌🏈 #teamnino

— Peter Hayes-Patrick (@ThePeterHayes10) August 23, 2014
Powerhouses offering young recruits such as Hayes-Patrick is rare, but not unprecedented territory.
Two years ago, Louisiana running back Dylan Moses took the recruiting world by storm after earning an offer from LSU as an eighth-grader. Moses, who was recently named the top prospect in the 2017 class, committed to the hometown Tigers last September.
While his recruiting process is still in its infancy, it's clear that Hayes-Patrick will be a player whom coaches across the country will be eager to monitor over the next few years.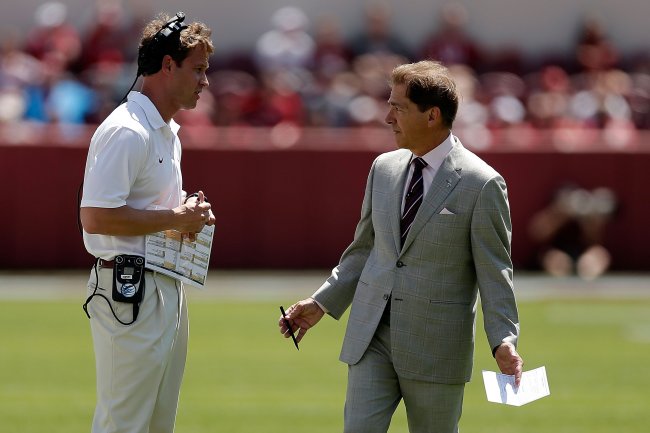 Stacy Revere/Getty Images
Alabama, Miami Jump in the Race for 2017 Georgia QB
The 'Noles and the Buckeyes weren't the only schools handing out offers to underclassmen recruits.
According to BamaOnline's Charles Power, Alabama offered Powder Springs (Ga.) McEachern quarterback Bailey Hockman.
Hockman—the son of McEachern head coach Kyle Hockman—also picked up an offer from Miami.
University of Miami offered!!!! #canes #TheU

— Bailey Hockman (@B10aileyhockman) August 21, 2014
The Crimson Tide and the Hurricanes join the likes of Florida State, Tennessee and Oklahoma State as early offers for the 6'2", 210-pounder. Hockman attended summer camps at FSU and Georgia.
According to Chip Saye of The Atlanta Journal Constitution, Hockman threw for 302 yards and four touchdowns in McEachern's 52-49 loss to North Gwinnett in the Indians' season opener. As the leader of a loaded Indians squad, Hockman's offer list should continue to swell over the next two seasons.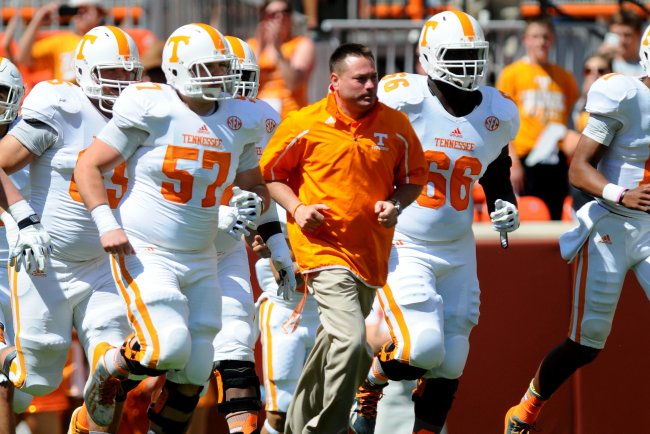 USA TODAY Sports
Tennessee Offers Seven 2016 Stars
Butch Jones and the Tennessee Volunteers have one of the nation's most surprising classes in the 2015 cycle, and the Vols are looking to get off to a strong start with their 2016 class.
As Ryan Callahan of GoVols247 noted, Jones and his staff were busy last week, extending offers to seven recruits who are entering their junior seasons on the prep level.
Headliners on the list of new targets include 4-star linebacker Tre Lamar and 4-star running back DeMario McCall.
One sleeper to keep an eye on is running back B.J. Emmons, who could be the top back in the state of North Carolina, according to Paul Strelow of TigerIllustrated.
#Tennessee has offered Morganton (N.C.) Freedom RB B.J. Emmons, my vote for best '16 RB in N.C. https://t.co/2figclONKD @Volquest_Paul

— Paul Strelow (@PaulStrelowTI) August 20, 2014
With Jones re-energizing the program and the success of the 2015 class, the Vols have built some momentum that should carry over into the 2016 cycle.
Big Ten Powers After Stud 2016 4-Star TE
As Bill Kurelic of Bucknuts noted, one area where Ohio State was hoping to add depth in the 2015 cycle was at the tight end position. With two of the four tight ends on the roster being upperclassmen, the same situation could be facing Urban Meyer in the 2016 class.
Last week, Meyer offered 4-star Pennsylvania tight end Cary Angeline. The 6'7", 225-pounder is ranked as the nation's seventh-best tight end in the 2016 class.
just picked up an offer from ohio state! #buckeyes pic.twitter.com/A4SuDZNxx6

— Cary (@CaryAngeline) August 17, 2014
Iowa also jumped in the race for Angeline—who holds offers from schools such as Penn State, Michigan State, Boston College and Miami, among others.
"I know that they have great tradition at Iowa, and I also know that they have a great tradition of tight ends as well," Angeline told Andrew Kulha of Voice of the Hawkeyes (subscription required). "That's very exciting."
While it's still early and he claims no leaders, Angeline's Crystal Ball page shows Penn State as the early favorite to land the athletic tight end.
Best of the Rest
Sanjay Kirpalani is a National Recruiting Analyst for Bleacher Report. Unless otherwise noted, all recruiting information courtesy of 247Sports.