When it comes to recruiting events, Nike's The Opening is one of the premier competitions during the college football recruiting process.
Several potential stars at the college level will announce their decision to commit in front of the ESPNU cameras. As 162 of the best players in the country take the field in Beaverton, Oregon, each will be looking to prove he is the best at his position.
Before the players ever took the field for The Opening, they were given help on the mental side of the game. Trent Dilfer of ESPN and St. Louis Rams running back Tre Mason spoke to the prospects, per the Elite 11 and The Opening accounts:
"Humility - Let others tell you how good you are, you don't have to tell others" @TDESPN at @TheOpening2014's Brand U pic.twitter.com/705Dtnvn6S

— Elite11 (@Elite11) July 8, 2014
"Social media is a tool that builds or breaks your brand. Always Be Careful" - @TreMason at #TheOpening's Brand U pic.twitter.com/F7i6bPgDYL

— The Opening (@TheOpening2014) July 8, 2014
Players like Josh Rosen, Josh Sweat, Martez Ivey and Malik Jefferson will all be present, hoping to shine on the big stage. Surrounded by other players looking to overtake all four at the top of the position chart, The Opening will be several days of intense competition.
With the competition getting underway on Tuesday, here's a look at the day-by-day recap of the massive event.
2014 The Opening Schedule

| | | | | |
| --- | --- | --- | --- | --- |
| Date | Event(s) | Time (ET) | TV | Live Stream |
| July 8 | SPARQ Rating National Championship | 8-10 p.m. | ESPNU | WatchESPN |
| July 9 | 7-on-7 Pool Play | 8-10:30 p.m. | ESPNU | WatchESPN |
| July 10 | 7-on-7 Semifinal & Championship / Linemen Challenge Finals | 8-11 p.m. | ESPNU | WatchESPN |
StudentSports.com
Day 3 Recap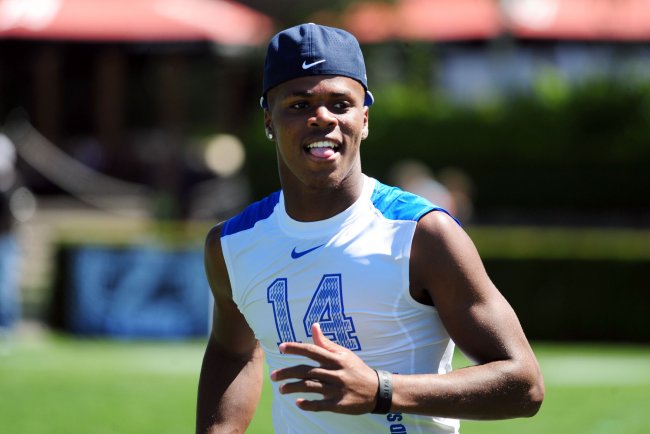 USA TODAY Sports
The Opening concluded on Thursday, but not before a final day of action that saw champions being crowned and elite recruits naming their schools of choice.
With the three-day event grinding to a halt, Thursday featured the ending of the seven-on-seven tournament. The Land Sharks made a run to the championship, but were ousted by Team Apocalypse in the final.
The Opening tweeted their congratulations to the champions:
S/O & congrats to the 2014 7on champions of #TheOpening - Team #Apocalypse pic.twitter.com/83NfjP3qzz

— The Opening (@TheOpening2014) July 11, 2014
Blake Barnett was the main star for Team Apocalypse in the victory. The Alabama commit was on point with his throwing prowess, finding tight spaces to connect with receivers and it led them to a win.
That wasn't the only accolade from Barnett's day. He also won the Elite 11 event that matches up the nation's top high-school quarterbacks.
Elite 11 noted Barnett's MVP:
Congratulations to the 2014 #Elite11 MVP Blake Barnett (@BlakeBarnett_8) of Corona Santiago #KeepClimbing #RollTide pic.twitter.com/NjyKn5UunI

— Elite11 (@Elite11) July 11, 2014
There is little doubt that Alabama fans are excited about their future quarterback after seeing him carve up some of the nation's best defensive backs. But Tide fans also caught a glimpse of Ricky Town—a former Alabama commit that is now committed to USC, per 247 Sports.
The irony of Town facing Alabama-bound Barnett in the final was too much to pass up for Fox Sports' Bruce Feldman:
I get it's only summer 7 on 7 but Ricky Town leading his team to @TheOpening2014 finals vs Blake Barnett's squad is kinda interesting. #bama

— Bruce Feldman (@BruceFeldmanCFB) July 10, 2014
The seven-on-seven tournament is the marquee event of The Opening, but it's far from the only must-see event. One-on-one drills went on through Thursday as well, matching together elite recruits in full pads.
247 Sports' Barton Simmons caught Terry Beckner abusing his challenger:
Terry Beckner has been nasty this week (79). #mizzou leads on Crystal Ball https://t.co/moDErtb4am

— Barton Simmons (@bartonsimmons) July 10, 2014
The Opening gives these athletes perhaps the best chance yet in their young careers to go up against the best competition in the nation. While a recruit won't exactly get written off with a poor performance at the summer camp, it's a real opportunity for elite football players to make a name for themselves.
The 2014 edition was one of the best, and once again, most of the nation's best players flocked to Oregon to take part in the event. It's safe to say that those who attended gained a valuable experience in improving their game.
Day 2 Recap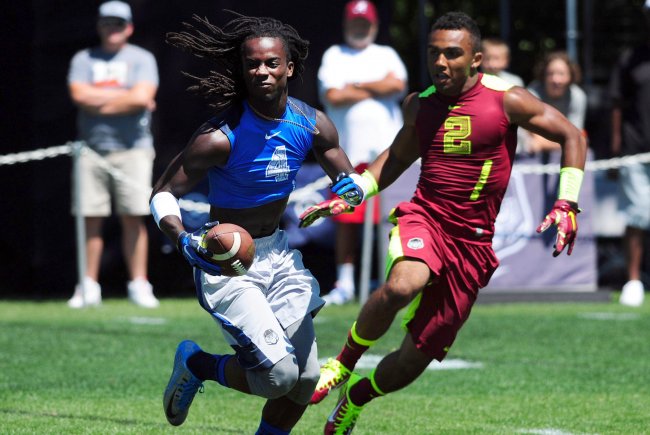 USA TODAY Sports
Wednesday's action at The Opening featured pool play for the seven-on-seven tournament. This scrimmage style is always exciting, because it shows off what the skills players can do, and puts defensive backs to the test against the nation's top passers.
The Opening tweeted the results from the first round:
Final scores of first round of #TheOpening double-elimination tournament: #VaporCarbon 27, #LandSharks 7 #Apocalypse 25, #AlphaPro 18

— The Opening (@TheOpening2014) July 10, 2014
Team Vapor Carbon was keyed by a sensational quarterback in Kyler Murray. The dual-threat dynamo is Texas A&M-bound, and had to show off his poise from the pocket. Murray succeeded in making a highlight-reel throw, displaying clutch ability already:
.@TheKylerMurray to @ImOnMyWay_5 for the 20-yard TD to lift #VaporCarbon to an 18-12 OT win over #FlyRush #TheOpening http://t.co/ydl5lXzSdH

— The Opening (@TheOpening2014) July 9, 2014
Some of the open-field battles from earlier in the day were a marvel to observe, including this one captured by 247 Sports' Barton Simmons:
4.3 Taj Gibson tagged by 4.3 Donte Jackson. 2 of the fastest in the country https://t.co/9IGgnXBSVz

— Barton Simmons (@bartonsimmons) July 9, 2014
It's always nice to make a strong first impression at such a prestigious showcase. That's precisely what diminutive offensive weapon C.J. Sanders, a Notre Dame commit, per 247 Sports, did for former NFL star linebacker Keith Bulluck:
Me & CJ Sanders b4 our 1st game today. CJ caught an 80 yard TD from Brandon Wimbush in the 1st game #TeamMachSpeed pic.twitter.com/uj2TbCOSaF

— keith bulluck (@kbull53) July 9, 2014
A number of fixtures in the NFL, past and present, were in attendance. That included Super Bowl-winning Indianapolis Colts coach Tony Dungy and Seattle Seahawks cornerback Richard Sherman, who won the most recent Lombardi Trophy.
Video: #TheOpening WR's and DB's went head to head in 1on1's as @RSherman_25 kept everyone fired up https://t.co/MB9AazoImQ

— The Opening (@TheOpening2014) July 9, 2014
Sherman posted a story on his official website about his day mentoring the young defensive backs, tutoring them in the ways of Seattle's "Legion of Boom" secondary. Virginia Tech commit Mook Reynolds was thankful for the opportunity, referencing Sherman in particular:
It was a pretty cool experience. Guys who coach in the NFL coach the best, guys who play in the NFL play against the best. Getting the insight from them and taking the experience they've earned and giving it to us, I'm pretty sure made me a better player. [...] [Sherman]'s a dawg. He plays with a lot of intensity, a lot of fire. I don't talk as much as he does, but he is a great player.
NFL.com's Bryan Fischer also took time to appreciate the fact that the offensive and defensive linemen were in pads:
Favorite part of #TheOpening is undoubtedly lineman 1v1's in pads https://t.co/lzie0zzdfC

— Bryan Fischer (@BryanDFischer) July 9, 2014
That element served as a nice contrast to the minimal contact the playmakers were engaging in, giving football enthusiasts a little bit of everything at the Nike Headquarters.
One athlete who has drawn rave reviews is Josh Sweat, who fellow top recruit Martez Ivey couldn't deny was the top overall athlete, per ESPN's Jeremy Crabtree:
Martez Ivey on who is biggest freak in the 2015 class -- DE Josh Sweat. It's been almost unanimous with guys we've talked to. #TheOpening

— Jeremy Crabtree (@jeremycrabtree) July 9, 2014
Another headliner was Cordell Broadus, son of rap superstar Snoop Dogg. Broadus is a fluid athlete at the receiver position, showing off his skills with this touchdown reception:
Another TD catch for Cordell Broadus from QB Jarrett Stidham https://t.co/cyB8fYFoda

— Tom VanHaaren (@TomVH) July 9, 2014
The majority of attention will shift to the seven-on-seven tournament championship on Thursday, along with the continued battles between the big men in the trenches. Both events will see plenty of competitive fire come out.
What's most exciting is that this will serve as a separator for the very best as this crop of young stars prepare to make the transition to the collegiate level in the next year or so. Having NFL veterans on hand taking in the action also adds to the pressure and stakes.
Although there are no pads involved in seven-on-seven, the raw specialized skill on the field is worth tuning in for. For these prospects to execute concepts they're learning against the very best of their peers will only benefit them moving forward. Being under the media microscope is daunting, but also offers a taste of what these players should expect if they thrive in college.
That's what makes The Opening so special. With the grand finale of competition unfolding in the next day, most college football fans should be compelled to see what happens.
Day 1 Recap
Of all the players who felt at home in the Oregon setting, one quarterback shined on the first day of The Opening.
Travis Waller, who committed to Oregon last week, was on the first Elite 11 list released on Monday and continued to stand out on Tuesday. Jeremy Crabtree of ESPN notes his improvement during the two events:
Said it yesterday & saying it again: @traviswaller11 continues to get better & better. Threw pick, but been great rest time. #Elite11 #Ducks

— Jeremy Crabtree (@jeremycrabtree) July 7, 2014
Waller also spoke about his progress and skill set during his time in Beaverton, via Aaron Kasinitz of The Oregonian:
Something I never thought I'd do is just go through those progressions. My footwork from when I got here to how I am now is night and day. They've taught me so much in two days.

My running skills, that's what a lot of people know me for, but really this year I want to focus on passing the ball more, being more of an actual quarterback. I want to known as the guy that, 'Hey, that guy can really throw the ball.'
Currently the No. 4 dual-threat quarterback according to 247Sports' composite rankings, Waller is proving to be a huge get for the Ducks. In a competition with the country's best players, Waller can only improve throughout the event.
Another quarterback who stood out on Day 1 of The Opening was Torrance Gibson. Currently listed as a dual-threat signal-caller, Gibson showed why he's also the No. 1 athlete by 247Sports' composite rankings on Tuesday.
Barton Simmons of 247Sports gives a glimpse of Gibson's 40-yard dash:
5star Torrance Gibson running his 40 at #TheOpening https://t.co/EeWE3AM8lo

— Barton Simmons (@bartonsimmons) July 8, 2014
Not currently on the list for the Elite 11 after Monday's showing, Gibson might just have a shot to prove his worth throughout the rest of the competition.
During the SPARQ prelims, many of the top recruits once again flashed their talents, but one of the biggest standouts was Sweat. The 6'5", 240-pound defensive end put on a show and finished inside the top five out of every prospect.
One of the most impressive feats for the big man was his 40-yard dash, as Chris Coleman of TechSideline.com notes:
Josh Sweat just ran a 4.46 at The Opening. At 6-5, 240. Let that sink in.

— Chris Coleman (@ChrisColemanTSL) July 8, 2014
While he stood at the top of the list after finishing, Sweat was soon overtaken by another elite defensive prospect.
Jefferson, a 5-star outside linebacker who remains uncommitted, put down phenomenal numbers to rise to the top of the list. The 6'3", 215-pound prospect posted his ridiculous numbers on Twitter:
Let's go !!!! #1 pic.twitter.com/Rg3CXenVJQ

— Malik Jefferson 4⃣6⃣ (@Official_MalikJ) July 8, 2014
Despite his strong numbers, Jefferson would eventually fall to second behind another top prospect. The Opening gives a look at the final top 10 from the prelims:
Congrats to the #NikeCombine top 10 tune in tonight at 8pm ET on @ESPNU to see them compete for the SRNC #TheOpening pic.twitter.com/OGpFI5905O

— The Opening (@TheOpening2014) July 8, 2014
The man at the top was Kirk Merritt, a 4-star prospect from Destrehan High School in Destrehan, Louisiana. Listed as the No. 3 all-purpose back by 247Sports' composite rankings, Merritt has yet to announce his commitment heading into The Opening.
As for the actual results, Merritt shared his numbers on Twitter:
#1 baby‼️ #TheOpening ESPNU 📺 pic.twitter.com/Whg529tUpM

— Kwik 〽️erritt ✈️ (@kirkmerritt33) July 8, 2014
Ranking inside the 99th percentile in each category will certainly help him draw attention.
If speedy athletes aren't quite your cup of tea, there were several other strong defensive linemen who had great showings on Day 1 as well.

One of those players was Rasheem Green, who came into the event as 247Sports' composite ratings' No. 3 defensive tackle. Simmons provides video of the lineman running in a drill:
5star Rasheem Green going through figure 8 drill https://t.co/DWzDwFOeL8

— Barton Simmons (@bartonsimmons) July 8, 2014
A prospect who showed shear strength on Day 1 was Breiden Fehoko. The Texas Tech commit posted the highest amount of reps in the bench press workout, per player personnel director Todd Huber:
Breiden Fehoko (@bfehoko1) takes home the linemen 185 bench press comp w/ 42 reps! https://t.co/JiznIpLNFo

— Todd Huber (@ToddHuberSS) July 8, 2014
Following the workouts on Tuesday at Nike, the prospects will now play in the seven-on-seven tournament with six different teams involved on Wednesday. The games will be broadcast on ESPNU as the top prospects look to show off on television.
With the opening day of competition behind them, the linemen will take center stage at the start on Wednesday morning. The big men will then give way for the start of seven-on-seven play as pool play begins throughout the afternoon.
Just two more days remain for the players to make their mark at The Opening, so the pressure will be on for each of them to prove themselves. Many of the events will now be broadcast on TV as each player hopes to make his case as one of the best in the class.
Follow @RCorySmith on Twitter.