The BCS No. 11 Oklahoma Sooners lit up the venerated defense of the third-ranked Alabama Crimson Tide and won the 2014 Sugar Bowl, 45-31, on Thursday, Jan. 2 at New Orleans' Mercedes-Benz Superdome.
OKLAHOMA WINS!!! 45-31 is the final score of the 80th annual Sugar Bowl! Congrats Sooners!!! pic.twitter.com/DTay3ruAPl

— Allstate Sugar Bowl (@SugarBowlNola) January 3, 2014
Sooners quarterback Trevor Knight experienced one of the most interesting breakout performances in recent memory en route to being named the game's MVP.
Knight began the season as the starter but was benched until the middle of the year and proved to be a more effective runner than a passer. That changed against the two-time reigning national champions, as the freshman threw for 348 yards and four touchdowns, displaying decisiveness and accuracy previously unseen.
The number of points given up by the Tide defense was also unprecedented for head coach Nick Saban:
45 points are most Alabama has allowed under Nick Saban (allowed 42 to A&M this season) #OUvsBAMA #SugarBowl

— ESPN Stats & Info (@ESPNStatsInfo) January 3, 2014
ESPN's Trent Dilfer liked what he saw from Knight, who looks to have a bright future after this showing:
This Knight kid is decisive and can #RipIt He needs to tighten up stroke a little, but that will come as he gets stronger.

— Trent Dilfer (@TDESPN) January 3, 2014
This was also a milestone of sorts for Sooners head coach Bob Stoops, who was vindicated for his faith in Knight and made significant history from an individual standpoint, per ESPN Stats & Info:
Bob Stoops: only coach to win Rose Bowl, Sugar Bowl, Fiesta Bowl & Orange Bowl in BCS Era (since 1998) #OUvsBAMA #SugarBowl

— ESPN Stats & Info (@ESPNStatsInfo) January 3, 2014
The play of the evening came when Knight, who helped his team overcome a 1st-and-30 earlier in the drive, improvised and found Sterling Shepard for a key nine-yard touchdown that gave the underdogs some insurance:
Montana-to-Clark like scramble-and-throw? Maybe, but Trevor Knight and Sterling Shepard shined here. #SugarBowl: http://t.co/OSKYJKlGcg

— ESPN CollegeFootball (@ESPNCFB) January 3, 2014
Yes, that play was being compared to the Joe Montana-Dwight Clark "The Catch" connection, and given the collegiate equivalent of the stakes, it was rather appropriate.
What made Knight's eruption more impressive was not only the quality of the Tide's No. 2 scoring defense but also that he upstaged Alabama senior signal-caller AJ McCarron, who threw two interceptions in the first half that led to 14 Oklahoma points.
In fact, the typically disciplined Tide gave the ball away three times in the opening half, leading to three Sooner touchdowns.
The costliest one wasn't McCarron's fault, though. Running back T.J. Yeldon was the culprit, as he fumbled the ball away when the Tide were in position for a critical score. Not long after that, Knight dropped it in the bucket to Jalen Saunders for a beautiful 43-yard touchdown bomb:
How drive started & ended. Yeldon's fumble: http://t.co/UmNULC4bXf. The TD bomb: http://t.co/1aLkGdptMa. #Sooners up 24-17. #SugarBowl

— ESPN CollegeFootball (@ESPNCFB) January 3, 2014
Just about everything imaginable went the Sooners' way before the intermission. That continued when a Christion Jones' 70-yard punt return that would have cut the deficit to seven in the third quarter was called back.
Bleacher Report expert Matt Miller observed how the Sooners defensive front was devastating Alabama up front early on, as it consistently got pressure on McCarron—something he isn't used to:
Sooners' athletes up-front are terrorizing the 'Bama OL. Big boys built for run game can't keep up.

— Matt Miller (@nfldraftscout) January 3, 2014
That didn't necessarily apply to the running game, which Miller noted the Tide are geared for.
Much to the surprise of many, it wasn't Yeldon who kept Alabama in this game, but another Tide running back, Derrick Henry.
The 6'3", 238-pound freshman had carried the ball 28 times all season entering this contest. In adding substantially to that total, Henry proved in his increased opportunities that he has an eye-popping combination of size and speed.
Following the punt-return TD taken away due to a block in the back, the Tide forced a three-and-out and handed the rock to Henry, who bowled his way through the Oklahoma defense en route to the end zone with 8:49 left in the third quarter:
Knight responded later on with his outstanding touchdown march, which then set up Henry for further heroics on a swing pass:
#Bama RB Derrick Henry taking Highway 61 vs #OU. This 61yd reception makes it a one score game. #SugarBowl: http://t.co/6T7RAmqFiL

— ESPN CollegeFootball (@ESPNCFB) January 3, 2014
Unfortunately for the Tide, another protection breakdown caused McCarron to fumble after he was hit on his blindside by Eric Striker. Geneo Grissom then picked up the loose ball and went nine yards to sco the game-clinching touchdown.
Some may argue the Tide had an inevitable letdown after losing to Auburn in the Iron Bowl, but ESPN's Desmond Howard didn't want to hear any of that:
When does the "Bama really didn't want to be there" comments start? Give the Sooners credit, they outplayed Bama tonight.

— Desmond Howard (@DesmondHoward) January 3, 2014
The truth is, the Sooners came to play and Alabama was not as prepared and sharp as usual, costing the Tide another landmark victory for their powerhouse program.
Congratulations to Fr QB Trevor Knight. 348 yds passing w/ 4 TDs!! What a talented young man. Also Sooners Defense creates 5 TOs & 7 sacks

— Kirk Herbstreit (@KirkHerbstreit) January 3, 2014
Stoops has critiqued the celebrated SEC in the past. After the game, he professed his respect for Alabama—but still spun it in a positive way and drove home the point that his Sooners were among the nation's best, per the USA Today's George Schroeder:
Bob Stoops: "I've got the utmost respect for Alabama. I think it shows we can play with anybody."

— George Schroeder (@GeorgeSchroeder) January 3, 2014
Below is a letter-grade evaluation of some of the key performers who defined this offensive shootout.
Grades
Trevor Knight, QB, Oklahoma: A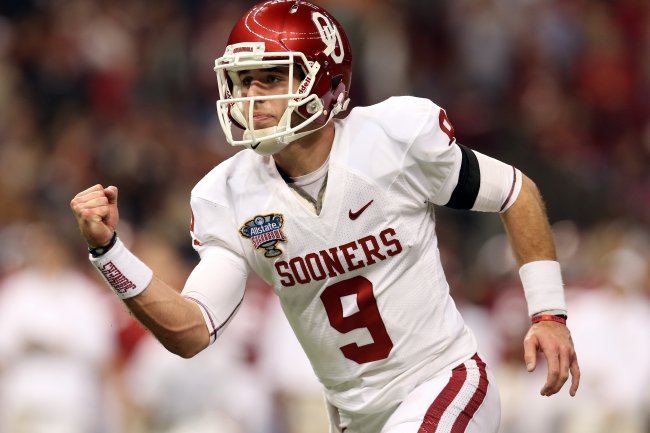 Sean Gardner/Getty Images
Few could have expected anything resembling the display Knight put on for all college football fans to enjoy.
Stoops took heat for playing Knight early on over Blake Bell, and nothing suggested the strategy was sound until Thursday, when the freshman took flight.
NBC Sports' Josh Norris felt like he was watching a different player:
Trevor Knight had a full quarterback transplant since the Sooners last game.

— Josh Norris (@JoshNorris) January 3, 2014
It might as well have been, because Knight capitalized on his promise after a season of struggles. The payoff was a big win in a big game—something Knight and Stoops both needed.
AJ McCarron, QB, Alabama: B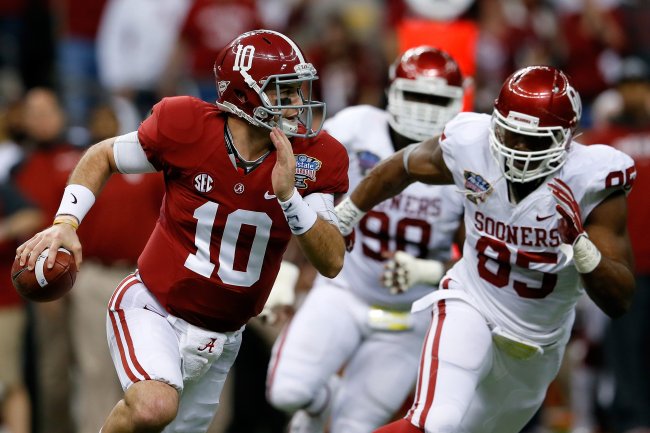 Kevin C. Cox/Getty Images
This wasn't McCarron's best game by any stretch. Still, he battled back from two early mistakes and was still making plays in that stretch, keeping his team in the game while the defense didn't help him.
You can justify McCarron's bad play because his OL, but he's also not handled the pressure well. That's the major concern for me tonight.

— Matt Miller (@nfldraftscout) January 3, 2014
McCarron may catch a lot of flack for being a game manager, yet he made some big throws and set the stage for Henry's emergence. The last sack—and most of them on the evening—also can't go on the seasoned QB.
Jalen Saunders, WR, Oklahoma: A

The scrappy senior may be diminutive, but he makes up for it with quickness and route-running precision. That was evident on his hitch-and-go route on the 43-yard touchdown in the first half.
Saunders also made an excellent catch on his first TD grab—an eight-yard reception that saw him barely get in the front corner of the pylon. His awareness characterized the focus the Sooners displayed and the experience he had to close his collegiate career in style.
Derrick Henry, RB, Alabama: A

Why should we not be surprised? Another Alabama running back tearing it up, seemingly out of nowhere. Saban can sure recruit depth to that backfield, which begs the question: How would some who opt to take their talents to Tuscaloosa fare elsewhere?
Henry's patience paid off, because he was the driving force that kept the Tide afloat.
The early turnovers turned out to be too much to overcome, ending Alabama's season on a rare two-game losing streak under Saban.