If the 2014 Sun Bowl was the last collegiate game for UCLA quarterback Brett Hundley, he put on a grand final act. His play was instrumental in the Bruins' 42-12 victory over the Virginia Tech Hokies on Tuesday.
The redshirt sophomore could bolt for the NFL in May or return to UCLA for at least one more season.
The Hokies had no answers for the scrambling ability of the Bruins' star in the first half. Hundley ran all over them, including this 86-yard touchdown run that gave UCLA the lead.
In the second half, Hundley hurt the Hokies with his arm. He had 387 total yards (226 passing and 161 rushing) and four touchdowns (two passing and two rushing).
UCLA's defense took over for him in the second half.
Jordan Zumwalt's huge hit knocked Hokies' quarterback Logan Thomas out of the game late in the second quarter. Zumwalt was flagged, but the hit looked legal in the replay. You be the judge.
Thomas didn't return and any chance for the Hokies to win this game went out the door.
Mark Leal relieved Thomas, but he was grossly ineffective. He made a few decent plays, but he also had a few perplexing ones. This ridiculous decision led to a pick-six from super freshman, Myles Jack.
Jack is a complete stud and a future superstar on the college level, but this was a gift. Tech was completely overmatched in this one, especially once they fell behind.
Check out the grades for the key players in this rout.
Brett Hundley, A-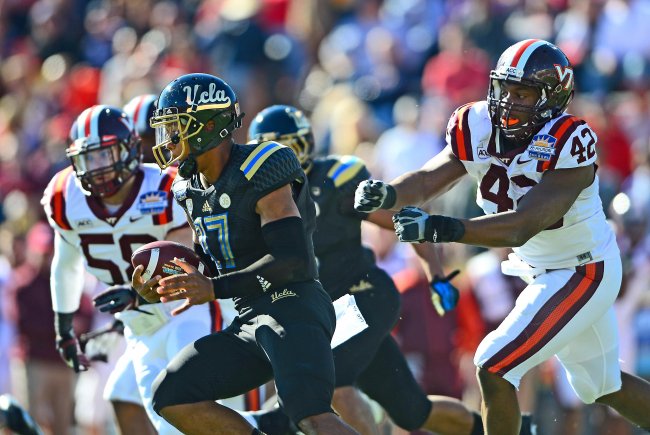 Andrew Weber-USA TODAY Sports
Although he missed a few throws early, his running ability gave his team the lead in the first half. In the second half, his two touchdown passes put the game away.
He still needs some refinement, but at 6'3", 225 pounds with amazing athleticism and a strong arm, Hundley is a big-time prospect. Don't be surprised if you see him selected in the first eight picks—should he leave UCLA. Andy Bitter of the Roanoke Times thinks that Hundley looks like a pro quarterback:
Seems to me that Hundley is ready for the NFL. 59-yard touchdown pass to Shaq Evans just rubbing salt in #Hokies' wounds.

— Andy Bitter (@AndyBitterVT) December 31, 2013
Logan Thomas, Incomplete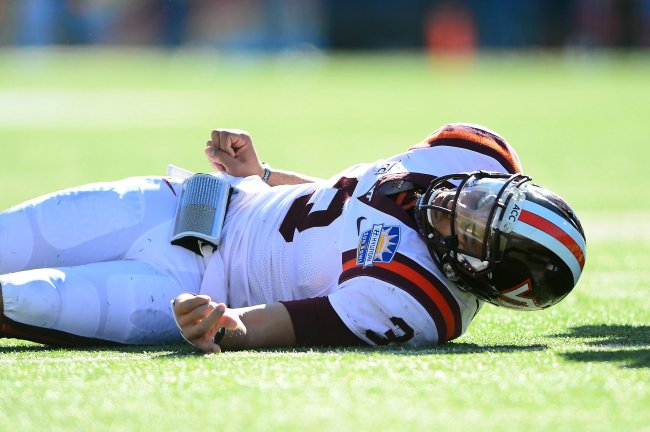 Andrew Weber-USA TODAY Sports
He had a decent first half as a runner. Just before Zumwalt knocked him out of the game, Thomas had produced this awesome run.
He completed 3-of-11 passes for 46 yards and rushed for 50 more before leaving the game. Had he not been injured, the game could have been closer, but chances are UCLA still would have won. Following the game, Thomas spoke about the injury (via Hokies Journal):
Logan Thomas said he lost consciousness on the hit that eventually ended his college career. #Hokies

— Hokies Journal (@HokiesJournal) December 31, 2013
Frank Beamer: "I'm disappointed Mark didn't play better." Logan Thomas on injury: "It's the worst thing that ever happened to me."

— Hokies Journal (@HokiesJournal) December 31, 2013
Jordan Zumwalt, A-
His big hit was the biggest defensive play of the game. Zumwalt also had 10 tackles and an interception. He may have to watch himself on the next level, though. The Bruins senior linebacker seems destined to wind up on Roger Goodell's hit list for helmet-to-helmet infractions.
Nonetheless, he played big in his final game for the Bruins.
Myles Jack, A-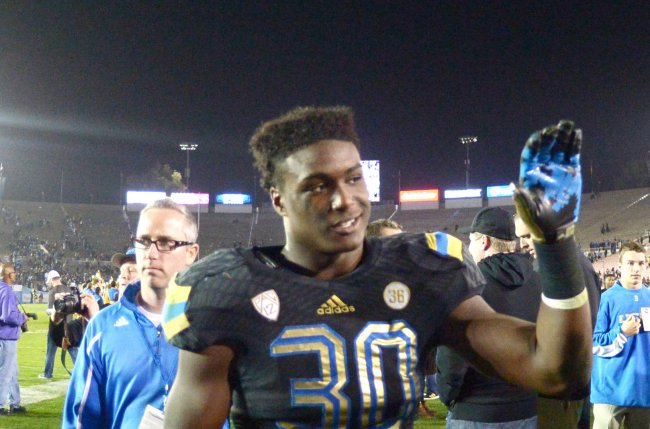 Kirby Lee-USA TODAY Sports
Jack was all over the field. He made his share of big plays, including the pick-six. The future is exciting for this young linebacker.
Follow me for news and opinions in sports.