The Kansas State Wildcats brutalized the remains of a Michigan Wolverines program that had a terrible calendar year via a 31-14 blowout in the Buffalo Wild Wings Bowl at Sun Devil Stadium in Tempe, Ariz. on Dec. 28.
The Wildcats amassed 420 total yards to the Wolverines' 261, primarily behind the arm of quarterback Jake Waters, who put up a 21-of-27 line for 271 yards and three scores. Receiver Tyler Lockett was the main beneficiary with his 10 catches for 116 yards and three touchdowns:
#EMAW proud. #KSU breaks the streak, gets 1st bowl win since 2002, downs Michigan 31-14. QB Jake Waters is MVP: 21-27/271yds/3TD. #BWWBowl

— ESPN CollegeFootball (@ESPNCFB) December 29, 2013
Not a bad outing overall for a duo hardly recruited or given a chance before joining the Wildcats, as Stephen Nesbitt of the Pittsburgh Post-Gazette illustrates:
Tyler Lockett was a three-star recruit with two scholarship offers. Jake Waters is a JUCO transfer. And they're ruining Michigan.

— Stephen J. Nesbitt (@stephenjnesbitt) December 29, 2013
Michigan was unable to get anything going offensively behind the arm of freshman quarterback Shane Morris, who started in place of the injured Devin Gardner. Morris had little help—the Wolverines managed a pathetic 65 total rushing yards and a 4-of-11 mark on third down.
As expected against a woeful Michigan defensive unit, Kansas State had few issues on third down, going 7-of-11. This allowed the Wildcats to control the clock with more than 35 minutes of possession.
This disparity was apparent from the opening drive, as the Wildcats jumped out to an early lead and never looked back, abusing the habitually bad Wolverines defense en route to a 14-3 score through one quarter. The aforementioned Lockett was the star of the show, catching both touchdowns from Waters.
One Lockett score came from six yards out after a 14-play drive to open the game, while the other came from 29 yards away after a quick five-play drive. ESPN summed up the opening quarter nicely:
End of 1stQ, and it's Tyler Lockett's world. 4catches, 55yds, 2TDs. 14-3 #KState is up. #BWWBowl: http://t.co/kx39gk0ico

— ESPN CollegeFootball (@ESPNCFB) December 29, 2013
The second quarter was more of the same, as kicker Matt Wile was the leading scorer for the Wolverines yet again with his 26-yard field goal. It was Lockett catching yet another touchdown with 4:30 remaining in the second half that put the Wildcats up 21-6 entering the half:
#EMAW is happy. Here is Li'l Gronk's catch & rumble: http://t.co/fSpEXt8s87. And here's Locketts 3rd TD: http://t.co/zFoCWTKQze. #BWWBowl

— ESPN CollegeFootball (@ESPNCFB) December 29, 2013
CBS Sports put it best:
Kansas State has had three drives and they've all ended with Jake Waters throwing to Tyler Lockett. 21-6 Wildcats.

— Eye on College FBall (@EyeOnCFB) December 29, 2013
As did ESPN's Chantel Jennings, who summed up Michigan in the first half quite well:
It's halftime. Michigan has 10 rushing yards. Yes, in college football.

— Chantel Jennings (@ChantelJennings) December 29, 2013
The third quarter is likely when most changed the channel, not because of the game getting uglier in a blowout sense, but because nothing of merit happened. Michigan punted twice and the Wildcats missed a field goal and lost a fumble—all of which had no impact on the outcome of the game.
Kansas State broke the boring second-half stalemate via an Ian Patterson 22-yard field goal with 8:09 remaining in the fourth quarter.
From there, things got a bit interesting—but not for the Michigan faithful brave enough to remain in attendance or watching from home.
Morris made his first mistake of the day with a throw into traffic that was tipped, intercepted and returned 51 yards by Dante Barnett. Two plays later, Kansas State's John Hubert rumbled into the end zone from one yard out to make it 31-6.
Michigan then awoke from its slumber to score its first touchdown of the game via a Fitzgerald Toussaint three-yard score, bringing the contest to its final, 31-14.
Key Player Grades
Jake Waters, QB, Kansas State: A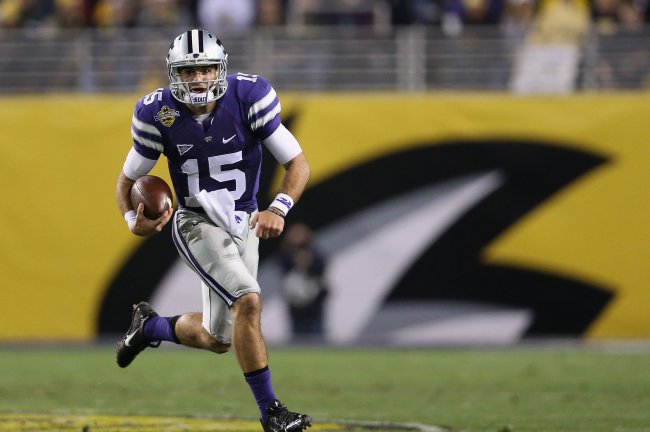 Christian Petersen/Getty Images
Lockett will steal the majority of the credit for the big win, but major kudos goes to the Wildcats junior signal-caller.
Waters entered the game having completed under 60 percent of his passes on the year with 15 touchdowns to nine interceptions. He looked like a drastically different player against the Wolverines.
The Michigan defense tends to do that for quarterbacks. But that is not to take anything away from Waters, who put up an exclamation point on what was a rather dull season.
Shane Morris, QB, Michigan: B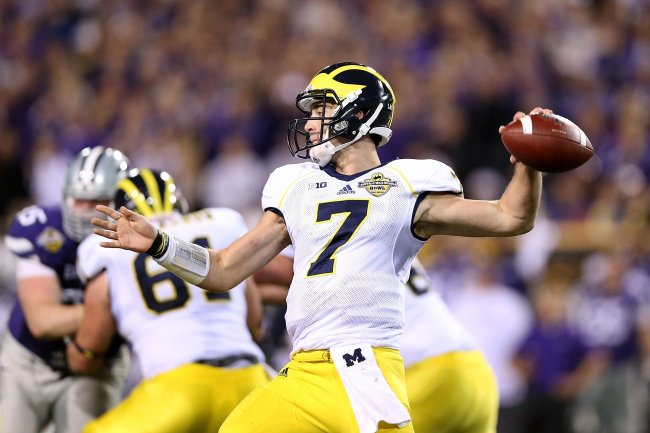 Christian Petersen/Getty Images
Poor Shane Morris.
No matter how well the freshman performed, the shadow of Gardner was simply going to be too much to live up to—even in a win.
But major props should go to Morris in his first-career start. He tallied an 24-of-38 day for 196 yards and an interception. He was even the team's leading rusher with his 43 yards on four carries. ESPN put it best:
This kid's a FROSH? QB Shane Morris looks wise beyond his years, 8-of-9 on that drive. But #Wolverines settle for FG, down 14-6. #BWWBowl.

— ESPN CollegeFootball (@ESPNCFB) December 29, 2013
Not a bad start to a collegiate career, but simply not the end result the Wolverines had hoped for when they named Morris the starter.
Tyler Lockett, WR, Kansas State: A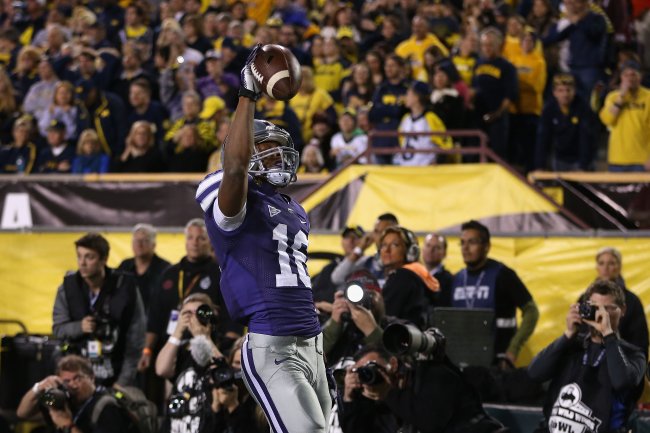 Christian Petersen/Getty Images
What more can be said about Lockett at this point?
The junior was the star of the show and the primary reason the Wildcats were not only able to exploit the Wolverines consistently, but to win the game.
Not a bad way to end the year for the star wideout, who should ask his quarterback for a share of that MVP award.