Russell Athletic Bowl: Once Forgotten, "Teddy Football" Reminds How Elite He Is
December 29, 2013

David Manning-USA TODAY Sports
Following Louisville's 38-35 loss to Central Florida in October, Cardinals quarterback Teddy Bridgewater basically dropped off the face of the Earth. 
He fell out of the Heisman conversation and was barely mentioned in the national discussion about college football. It was as though everything Bridgewater had done over the past couple of seasons never existed. 
Never mind that Bridgewater is 22-3 as a starter over the past two seasons, or that he's thrown for 9,817 yards and 72 touchdowns in his career. That's what happens when respect is hard to come by.
"We been waiting all year for a quality opponent," Bridgewater said via Eric Crawford of WDRB. "Not knocking teams we played, but no one ever respected our schedule."
But after Louisville's 36-9 win over Miami in the Russell Athletic Bowl, all that changed.

Rob Foldy-USA TODAY Sports
If that was Bridgewater's last game in college, what a finale it was. The junior finished with a career-high 447 passing yards and four touchdowns—three passing and one rushing. 
"What a way to go out," Bridgewater said on ESPN after the game, perhaps hinting he's ready to take the next step to the pros. 
Bridgewater is a bright guy, so whatever he decides should be respected. It's also understandable if he wants to come back for another year with his teammates. That said, there's nothing left he needs to prove. 
As NBC Sports Network analyst Shaun King tweets, Bridgewater has the patience, ball placement and the ability to manipulate the defense of an NFL-ready quarterback.
Bridgewater's decision-making and accuracy are fantastic. Beyond stats, Bridgewater's game is meant to be watched and enjoyed. There aren't many quarterbacks in college football who can command an offense like Bridgewater does. 
That Bridgewater makes it all looks so effortless is what the college football world will miss most about him when he does move on to the NFL. 
Did Bridgewater score the most touchdowns in 2013? No, but anyone who watched him should know he was easily one of the best players in college football.
Need proof? How about this "Teddy Football" throw to receiver Damian Copeland on the run: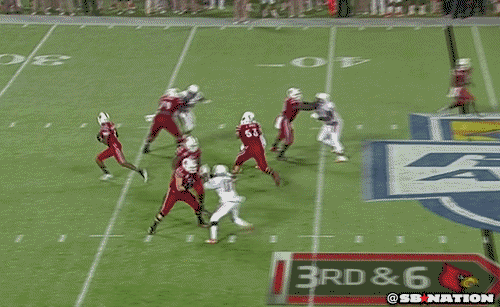 Via SB Nation
Miami's defense may be poor, but there's no explaining away that type of throw. However, it shouldn't take a SportsCenter Top-10 play to know Bridgewater is the real deal. He skewered some stout defenses over the years, including Florida's in last season's Sugar Bowl. 
Criticize Bridgewater's competition at your own risk; he's performed well on the biggest stages. 
Sooner or later—likely leaning toward "sooner"—Bridgewater will have a chance to perform on the biggest stage of all. 
Ben Kercheval is the lead writer for Big 12 football. All quotes obtained firsthand unless noted otherwise. You can follow Ben on Twitter @BenKercheval.