There are no winners here.
No one is coming away victorious given the strange an unfortunate circumstances. This is not a time to celebrate or smile now that the legal process has taken its toll, but rather to process it all and come up with a reasonable interpretation of your own.
The term "reasonable" cannot be stressed enough.
The lives of two people will be forever changed, and Jameis Winston—along with the alleged victim, of course—will be impacted greatly despite the announcement that there will be no sexual assault charges filed against the Florida State quarterback. Jeff Cameron of 97.9 ESPN Radio reported the news first, and State Attorney Willie Meggs confirmed the report at a press conference.
"We've carefully examined all the evidence in this case and have concluded that no charges will be brought against anyone in this case," Meggs said at the podium on Thursday.
When pushed on whether this ruling was "vindication" for Winston, Meggs wasn't willing to go that far as he addressed a room full of anxious media wanting more.
The announcement was strange, and perhaps disgusting feels more appropriate.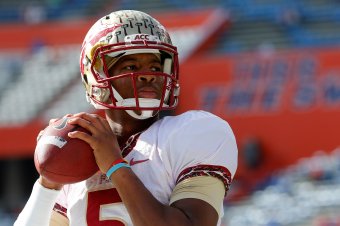 Sam Greenwood/Getty Images
There were jokes, smiles and even subtle laughter from the crowd at a time when the response deserved the opposite tone. It was one cringe-inducing moment after the next under an unnecessary spotlight.
And while the purpose of this bizarre meeting was served—answering one integral question—it also opened the door for further interpretation of the situation.
A decision that many may view as cut and dry is anything but. Although Meggs deemed the case "closed," that's a difficult word to attach to a situation that will follow all parties involved. Legally that is correct, but there's plenty more at play here.
For Winston, the impact on the short-term is pretty obvious. His soaring football career will continue on, and he will play for a BCS National Championship if the No. 1 ranked Seminoles defeat Duke as expected in the ACC Championship on Saturday night.
As for the Heisman Trophy—something that has been debated plenty over the past few weeks—the award is all but his. A clear favorite throughout much of the season, Winston's front-running campaign was put on pause as the allegations surfaced.
It still feels strange discussing just how such decisions will impact football matters, but the effects are real. The impacts—while always secondary in the grand scheme—will be put in motion over the coming days and weeks.
"I will vote for Winston for Heisman. I wouldn't vote for Meggs or Jansen to be county dog catcher. I'm aghast at those 2." - @Finebaum

— David Scott (@ESPNprDScott) December 5, 2013
The perception of the entire situation will vary greatly, taking on strong response on the opposite end of the spectrum. Public perception is often difficult to calculate simply because there are many opinions that warrant no consideration.
Video: Reporter Asks If Jameis Winston's Accuser Has Any Ties To The University Of Alabama http://t.co/hwMjs8LLUM

— College Spun (@CollegeSpun) December 5, 2013
There is one side of the extreme, like the Florida State fans with the painted chests waiting outside the courthouse, celebrating the decision shortly after it was announced.
Could not get tweet oembed code for tweet 408685258335608832
Yes, that indeed happened.
FSU fans with Jameis spelled on their chests. "He's a great guy" Free Jameis" pic.twitter.com/SVaW0PyyxA

— Dan Wetzel (@DanWetzel) December 5, 2013
On the other side, a canyon away on the reaction scale, there are many individuals out there that will—despite the ruling—assume that Winston was guilty of something. Regardless of evidence (or lack of), there are people who made up their minds long ago.
For those lost souls, the damage has been done. This mentality is both incredibly unfair and unimaginably ruthless, although not necessarily surprising.
We live in a world where the extremes are often emphasized and highlighted. The reasonable and sane approaches are conquered by those choosing to take a stand simply because there's a stand to take.
The court of public opinion rarely stops for details, choosing to take a story places it doesn't need to go. In the instance of Jameis Winston, however, one can only hope that a delicate situation is approached with the utmost care it deserves.