Breaking Down the Best BCS Championship Games at Week 11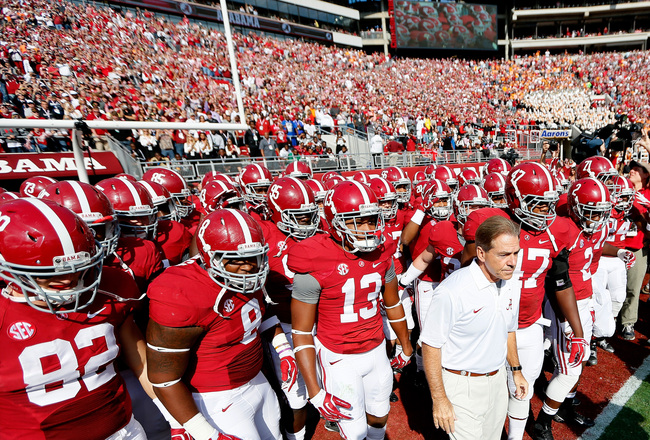 Alabama Crimson Tide
Kevin C. Cox/Getty Images
Week 10 of the 2013 college football season was merely an appetizer that you're forced to pick at compared with the main dishes being served up on Thursday and Saturday.
Florida State did its part in calming the chaos of the BCS standings, which don't look much different from a week ago.
The only notable change, as you've likely noticed, is that the Seminoles now own the No. 2 spot after dispatching Miami on Saturday. Now, the Oregon Ducks will get a chance to prove their worth against Stanford.
Moving east, you'll find a stellar matchup in the Big 12 between undefeated Baylor and one-loss Oklahoma. Head even further east to SEC country, and you'll find a titanic battle between Alabama and LSU.
Needless to say, the BCS championship picture could look very different a week from today.
The favorites have emerged, and the dark-horse candidates are lurking. Let's break down the best possible BCS championship games as we reach Week 11.
All stats via ESPN
The Favorites: Alabama vs. Florida State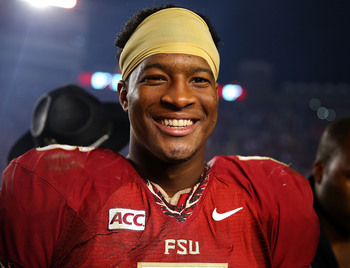 QB Jameis Winston
Mike Ehrmann/Getty Images
The first of our three favorites pits together two teams rich with tradition and full of future NFL talent on both sides of the ball.
Alabama has won back-to-back championships and is once again dominant on defense, holding its past six opponents to just 26 points total. The offense has eclipsed the 40-point barrier in four straight games, although the unit has yet to be seriously tested, which should change against LSU on Saturday.
As for the Seminoles, the tough part of their schedule is over after two dominant wins in three weeks over Clemson and Miami. The victory over the Tigers was particularly impressive because it came on the road in a hostile environment against an explosive offense.
Right now, this is a matchup many people would love to see, purely because both teams have appeared so dominant throughout the season. Quarterback Jameis Winston can do no wrong for Florida State, and he appears to be one of only a few players who might actually be a threat to Kirby Smart's defense.
In order for this to take place, it's likely that the Oregon Ducks will need to drop one of their remaining games. However, voters may take into consideration how dominant Jimbo Fisher's team has been, especially if they continue to light up the scoreboard. Alabama will be in the title game if it wins out.
Alabama vs. Oregon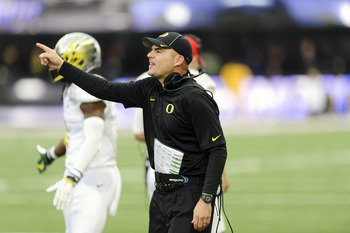 Head coach Mark Helfrich
Steven Bisig-USA TODAY Sports
Before the season, Alabama vs. Oregon took on a definition of mythical proportions, with most fans dreaming of the day when the mighty Ducks offense would take on Nick Saban and company.
Despite the emergence of Florida State as a third and equally dominant contender, this remains one of the favorites to become the matchup we get to see in Pasadena in January.
The difference between these teams and the Seminoles, however, is that their remaining roads are treacherous. The Ducks play Stanford on Thursday night, followed by games against Utah, Arizona and Oregon State. Should they reach the conference championship game, they'll likely rematch with UCLA or battle with an improving Arizona State team.
For Alabama, the most difficult part of the journey begins Saturday against LSU. After that, a couple of easy tests against Mississippi State and Chattanooga should prepare the Tide for a trip to Auburn, where they'll face a hungry Tigers team led by offensive guru Gus Malzahn.
What would happen in this one? Well, we'll let the X's-and-O's guys figure that one out, but there's a solid chance fans will actually see this one play out if both teams can take care of business the rest of the way.
Oregon vs. Florida State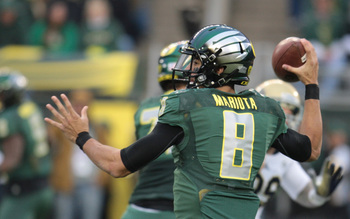 QB Marcus Mariota
Scott Olmos-USA TODAY Sports
You might have shaken your head and told your buddy to quit drinking if he told you that this matchup would be a favorite for the BCS title game back in August.
Now, however, with the very real possibility of Alabama losing to either LSU or Auburn, the Ducks and 'Noles might suddenly be on a collision course headed toward California.
Why is this a favorite?
It's true that if Nick Saban's team can win its games, the Crimson Tide will own one of the spots in the national championship. But if they slip up at all, this is the game you're likely to see.
It would bring together a pair of teams with outstanding offenses led by accurate, dual-threat quarterbacks. It would also feature two athletic defenses that have each held opponents to fewer than 20 points per game.
If the SEC streak of national championship games comes to an end, many want to see it happen because a team from the conference is actually beaten in the title game. But make no mistake, these two squads are as good as anybody in the country, and this matchup would make for a whale of a championship.
Still in the Hunt: Alabama/Florida State/Oregon vs. Ohio State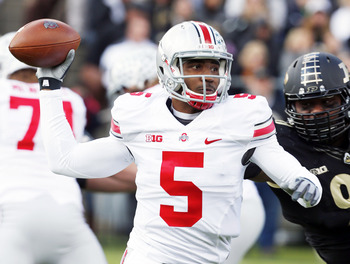 Ohio State QB Braxton Miller
Brian Spurlock-USA TODAY Sports
Not to discount the undefeated Ohio State Buckeyes, but we're putting them in the "still in the hunt" category because they'll need a lot of help to reach the BCS title game.
Fair or not, at least two teams ahead of Urban Meyer's squad will need to drop a game for it to be a contender.
But what isn't controversial is how good quarterback Braxton Miller and this offense really is. In the past two weeks, the Buckeyes have outscored conference foes 119-14, showcasing their ability to dominate just as well as the top three teams in the BCS standings.
We've included Alabama, Florida State and Oregon in this slide because if Ohio State does make it to Pasadena, one of these teams is likely to be the opponent.
You have to figure that the Buckeyes don't want any part of an SEC team after back-to-back losses to Florida and LSU in the 2007 and 2008 championship games. But Braxton Miller is an explosive dual-threat quarterback who might be able to start at running back for most teams in the country. Combine that with improved accuracy in the passing game and a beastly running back stable led by Carlos Hyde, and this team might just be able to hang with the Tide.
If it were to meet up with Oregon, it would be a rematch of the 2010 Rose Bowl in which the Terrelle Pryor-led Buckeyes vanquished the Ducks, 26-17. Of course, the Ducks offense is more consistent with Marcus Mariota at the helm, and Ohio State's defense would be greatly challenged by a unit that can both run and pass the ball with efficiency.
Should Florida State emerge from the rubble at the top of the BCS standings, they would present the Buckeyes with similar challenges to those of the Ducks. Jameis Winston is a fast, accurate passer who has NFL talent at receiver and in the backfield. The Seminoles secondary might make life hard for Miller, who hasn't been tested by an elite defense in 2013.
This final game is the most likely of the three to actually take place given the relatively easy schedule each team has in the month of November.
The Long Shots: Oregon vs. Baylor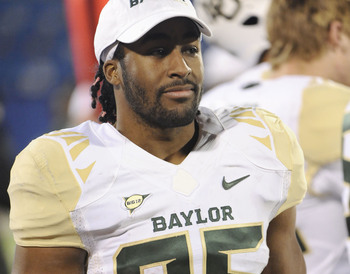 Baylor RB Lache Seastrunk
John Rieger-USA TODAY Sports
Baylor vs. Oregon is the type of game that would be off the charts in entertainment value but might elicit some grumbling from some of the more traditional fans who scoff at the notion of two new-age teams with innovative offenses playing for a championship.
With that said, there are definitely scenarios in which this happens. For starters, both teams would have to win out. We've discussed what that entails from Oregon's side of things, but for Baylor, the road is also difficult.
It starts this Thursday when the Bears host the Oklahoma Sooners, who boast a tougher defense than any of the opponents Art Briles' team has faced. Baylor then faces, in order, Texas Tech, Oklahoma State, TCU and Texas. Every team left on the schedule is as good or better than anyone the Bears have faced thus far.
Still, should both teams win out, we're a couple of mild upsets away from the (offensive) game of the century occurring. It should be noted that both defenses have done nothing but impress thus far in 2013, a fact that still won't prevent the over/under from being set well above 80 points.
Florida State vs. Auburn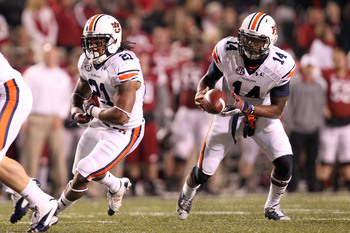 Auburn QB Nick Marshall
Nelson Chenault-USA TODAY Sports
If you had to pick a team from Alabama to challenge the Florida State Seminoles this season, you'd probably go with the Crimson Tide.
However, the Auburn Tigers also remain a candidate to make it all the way. Consider first that the Tigers have just one loss on the season, a 35-21 defeat against LSU.
Then consider their remaining schedule, which features a trip to Tennessee and a visit from Georgia before Alabama comes calling.
If the Tigers can win out, they'll represent the SEC West in the conference championship game. Now, a one-loss SEC team may not jump ahead of an undefeated team from another BCS conference, but with a few odd bounces of the ball, Gus Malzahn's team can still make it out west for the title.
In fact, if Auburn wins out, Oregon loses to Stanford, Ohio State drops their game against Michigan (or Michigan State in the conference title game) and Baylor loses, this is what you'll get.
This particular matchup may not sound appealing to fans around the country given the other candidates vying for a spot in the title, but there's still a chance it could happen.
Alabama vs. Stanford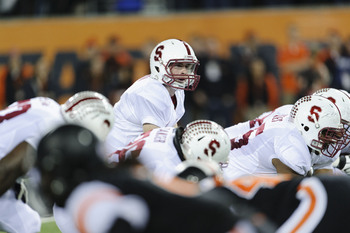 Stanford QB Kevin Hogan
Steven Bisig-USA TODAY Sports
The final long-shot matchup pits together a pair of teams that feature elite defenses and grind-it-out, pro-style offenses.
There's no doubt the Cardinal would be able to keep this thing close by creating turnovers and not allowing the Tide to get into the end zone, but Stanford's offense has struggled throughout the season. So the biggest question would be, can it really put up enough points to win?
Probably not, but it would still be fun to see it try, and Stanford may have the best chance to make it to the championship out of all od the one-loss teams because of its remaining schedule. Reaching the end of the regular season without another loss would require wins over Oregon, USC and either Arizona State or UCLA in the Pac-12 championship game.
Because Oregon would be eliminated by losing to the Cardinal, Stanford should be rooting for Florida State, Baylor and Ohio State to lose. It sounds crazy now, but college football has been and always will be the very definition of crazy, especially in November.
Keep Reading