For as decidedly "blah" as the Big 12 has been in 2013, the month of November has worked out beautifully.
Three of the Big 12's top four teams—which are Baylor, Oklahoma, Oklahoma State and Texas—are set to play each other over the coming weeks (Texas beat Oklahoma last month in Dallas). What was a wide-open conference race has started to narrow.
The next few weeks will be a full-on tournament of sorts for the Big 12, hopefully meaning the best football is still to be played.
#Big12FB @CoachGundy on last month of conference games, "Great thing about BCS is, essentially, we're in March Madness every week."

— Big 12 Conference (@Big12Conference) November 4, 2013
With precious and crucial games upcoming, how do the Big 12's best stack up?
Big 12 title contenders

| | | |
| --- | --- | --- |
| Team | Conference Record | Overall Record |
| Texas | 5-0 | 6-2 |
| Baylor | 4-0 | 7-0 |
| Oklahoma | 4-1 | 7-1 |
| Oklahoma State | 4-1 | 7-1 |
| Texas Tech | 4-2 | 7-2 |
big12sports.com
The Favorite
Baylor
The Bears have played at a level head and shoulders above everyone else in the Big 12 for the majority of the season. They're currently the highest-ranked team in the conference, checking in at No. 6 in the BCS Standings for the second straight week.
Like many other Big 12 teams, Baylor's been living on easy street schedule-wise through the months of September and October. That's led to plenty of criticism, notably from Jon Wilner of the San Jose Mercury News.
That changes Thursday, Nov. 7, when Baylor hosts Oklahoma. The Sooners will be the first Top 25 team the Bears have played all year. Still, early odds from VegasInsider.com say Baylor is a two-touchdown favorite, and that number could rise again over the next few days.
Win or lose Thursday, the road doesn't get any easier for Baylor. In fact, the Bears won't play in Waco again this season until the season-ending game against Texas on Dec. 7.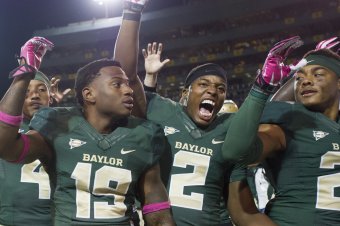 Cooper Neill/Getty Images
A neutral-site game against Texas Tech awaits on Nov. 16. The Red Raiders appear to be coming back down to Earth after losing two straight games, but they can still put up plenty of points (39.1 a game). That could be problematic if Baylor's offense can't get going for whatever reason.
Following Tech, a Nov. 23 game against Oklahoma State in Stillwater awaits the Bears. Given how well the Pokes have been playing the past couple of weeks, this matchup could be/should be even bigger than the one this Thursday.
Baylor is 2-0 away from home this year, which matches their win total on the road from 2011-12 (2-7). However, the Bears have been excellent in the month of November during that same time span, going 7-1 (the only loss being to Oklahoma last year). The next month will be a clash of streaks, to be sure.
The question is which one prevails.
In the Mix
Oklahoma
The Sooners have a chance to shake up the Big 12 standings Thursday with a win over Baylor. Oklahoma is only two games removed from getting run over by Texas 36-20 in the Red River Shootout, but a 38-30 win over Texas Tech in Week 9 has kept conference title hopes alive in Norman.
Beyond Baylor, Oklahoma has a home game against Iowa State before finishing the season with back-to-back road games at Kansas State (Nov. 23) and Oklahoma State (Dec. 7).
Beating Oklahoma State has never been much of an issue for Oklahoma under head coach Bob Stoops. However, the last time the Sooners traveled to Stillwater with OSU in the Big 12 title picture (2011), the Cowboys won easily, 44-10.
With so much football left to be played, and if OU gets a big road win Thursday, it's not inconceivable to think this year's Bedlam game could have a lot riding on it as well. However, the Sooners do not control their own destiny.
Oklahoma State
It took a while for the Pokes, the preseason favorites to win the conference, to find themselves. But after a 52-34 road win over Texas Tech in Week 10, Oklahoma State is thoroughly entrenched in the conference title race.
The Cowboys have one of the most favorable remaining schedules among the Big 12's contenders. Three of OSU's final four games—against Kansas, Baylor and Oklahoma—are at home. Only Texas (Nov. 16) will be played on the road.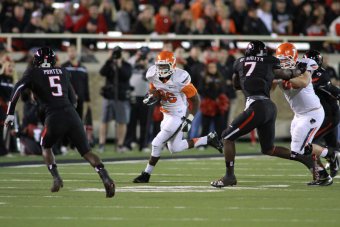 Michael C. Johnson-USA TODAY Spo
Couple that with Oklahoma State playing significantly better on offense over the past two weeks, and Mike Gundy's team looks like it has closed the gap between itself and Baylor. For what it's worth, Jerry Palm, CBSSports' BCS Expert, still has Oklahoma State playing in the Fiesta Bowl as the Big 12 champion.
That prediction doesn't look as outlandish as it did a week or so ago, and there's a strong argument to be made that the Pokes are the second-best team in the conference as of today.
Texas
Wouldn't you know it, Texas coach Mack Brown may have been on to something when he said in late September that the Longhorns could still win the Big 12 title.
Texas is on a 5-0 run since losing back-to-back games in non-conference play to start the season 1-2. That streak is going to be tested over the next several weeks. The Longhorns have two road games at West Virginia and Baylor with home games against Oklahoma State and Texas Tech sandwiched in between.
The 'Horns have been lightyears better on defense under new coordinator Greg Robinson, who has simplified the scheme and concentrated on fundamentals. On offense, Texas is playing to its strength by running the ball. If that's stopped though, will quarterback Case McCoy be able to win another game by himself? Normal starter David Ash has been ruled out for the WVU game, per Texas, and his future status remains unclear.
Needs Some Help
Texas Tech
Texas Tech has fallen behind in the Big 12 title race thanks to back-to-back losses to Oklahoma and Oklahoma State.
Now, the Red Raiders need help, and lots of it, if they're going to win the Big 12. Besides winning its final three games, Tech would need Baylor and Texas to lose two conference games. Oklahoma and Oklahoma State would basically have to fall apart down the stretch, too.
It's not impossible, but it would appear Tech's conference title hopes are mostly over.
And the Winner Is...
Baylor. The Bears have been the best team in the Big 12 and have the offensive firepower to outscore every team in the conference.
But with the surges from Oklahoma State, Oklahoma and Texas, the Bears aren't nearly the shoe-in for the conference title they looked to be just a few weeks ago. It's beyond possible that Baylor won't go undefeated too. With so many difficult games remaining, the top of the Big 12 could cannibalize itself.
In any instance, the Bears have the personnel and coach to outlast the final month of the season with the best results.
Ben Kercheval is the lead writer for Big 12 football. You can follow him on Twitter @BenKercheval.