Like Florida State was going to lose a game where Bobby Bowden was honored.
The Seminoles prevailed 49-17 against the NC State Wolfpack. The final score is very deceiving, as the Noles had a 35-0 lead after the first quarter. Doug, Stu, Phil and Alan would've made a tougher wolfpack.
FSU's win was actually the backdrop for what was arguably the bigger story: Bowden's return to Tallahassee.
This was the first time the legendary coach has officially returned to the school, via SportsCenter:
Former Florida St. coach Bobby Bowden will return to Doak Campbell Stadium for 1st time since his retirement to be honored by school today.

— SportsCenter (@SportsCenter) October 26, 2013
Former players formed a massive tunnel for Bowden as he walked onto the field. He also planted Chief Osceola's spear at midfield:
It was an emotional scene, even for those watching the game on television.
At halftime, the Florida State band had a tribute for Bowden as well, via Florida State's Twitter account:
The man behind the Marching Chiefs' halftime salute! Bobby Bowden #Noles pic.twitter.com/Xs5GTw71df

— FSU Football (@FSU_Football) October 26, 2013
There was also that little matter of the game itself.
On just the second play from scrimmage, NC State quarterback Brandon Mitchell had his pass intercepted. And from there, it was only downhill for the Wolfpack.
Jameis Winston picked up three consecutive first downs through the air, and the Seminoles' drive was capped off by an 18-yard run by Karlos Williams.
After a three-and-out from the Wolfpack, Winston found Kelvin Benjamin on the first play of the drive for a 39-yard touchdown pass.
And the rout was on.
The Seminoles scored touchdowns on their first five possessions of the game, all of which came in the first quarter. They had little to no pushback from the Wolfpack. Florida State was getting whatever it wanted, whenever it wanted.
This touchdown reception by Nick O'Leary to put the Noles up 28-0 was a great example of how poor the Wolfpack's tackling was and how tentatively NC State was playing:
Winston's final touchdown of the quarter was this 42-yard bomb to Rashad Greene:
Looking toward the Heisman Trophy race, Winston only strengthened his position. In the first quarter alone, he had 229 yards and three touchdowns, via Bleacher Report:
Jameis Winston, are you kidding me? 229 yards and 3 TDs in the first quarter #FamousJameis

— Bleacher Report (@BleacherReport) October 26, 2013
ESPN Stats & Info had the best representation of the difference between Florida State and NC State:
Florida State had 35 points in the 1st quarter... NC State had 32 yards.

— ESPN Stats & Info (@ESPNStatsInfo) October 26, 2013
In the second quarter, FSU head coach Jimbo Fisher wasn't content to have a 35-0 lead. He wanted more and opted to go for a fake punt, which was ultimately successful and led to a Devonta Freeman touchdown to help put FSU up 42 points.
The NC State offense showed up in garbage time, after Florida State had called off the dogs. Shadrach Thornton had a 72-yard touchdown run and rushed it in from a yard out to help get the Wolfpack to within 25 points, 42-17.
Just for good measure, Florida State's Levonte Whitfield had a 31-yard touchdown run to help make the score 49-17.
As you'd expect, many fans and experts were left in awe of Florida State's performance.
ESPN's Jemele Hill wants to see an FSU-Alabama national title matchup:
Honestly, think I'd rather see Alabama vs Florida State in a national title game than Alabama v Oregon.

— Jemele Hill (@jemelehill) October 26, 2013
CBSSports.com's Gregg Doyel fears for the Seminoles' future opponents:
Florida State is scaaaaaary.

— Gregg Doyel (@GreggDoyelCBS) October 26, 2013
I mean Florida State is terrifyingly good.

— Gregg Doyel (@GreggDoyelCBS) October 26, 2013
ESPN's Max Bretos thinks the Seminoles are a cut above the competition:
Florida State is a different class. Uncompromising and ruthless.

— Max Bretos (@mbretosESPN) October 26, 2013
Following such a dominant win, it will be interesting to see how Florida State plays against Miami next week. The Hurricanes represent FSU's toughest remaining game in the regular season.
Player Grades
Jameis Winston, Florida State: A+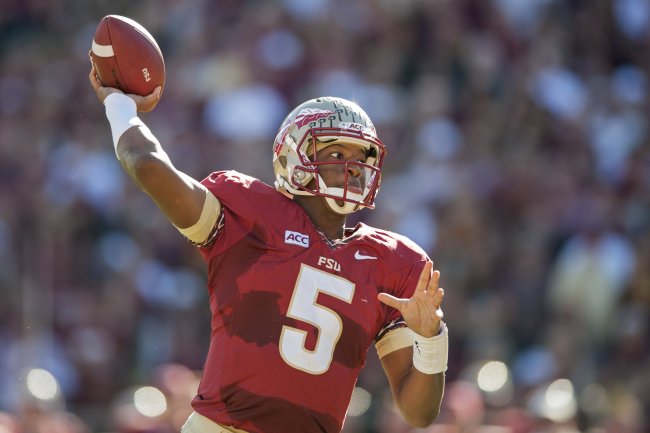 /Getty Images
Going just by the numbers, Jameis Winston didn't have a banner day (17-of-26, 312 yards, three TDs). However, his game was pretty much over after the second quarter. He had one drive in the third quarter, and then that was it. He was done.
Jimbo Fisher wasn't messing around. He didn't want to risk his star quarterback in what was then a 42-3 blowout.
When he was on the field, Winston shredded the Wolfpack secondary. It was surprising just how easy he was making it look.
Jimbo Fisher, Florida State: A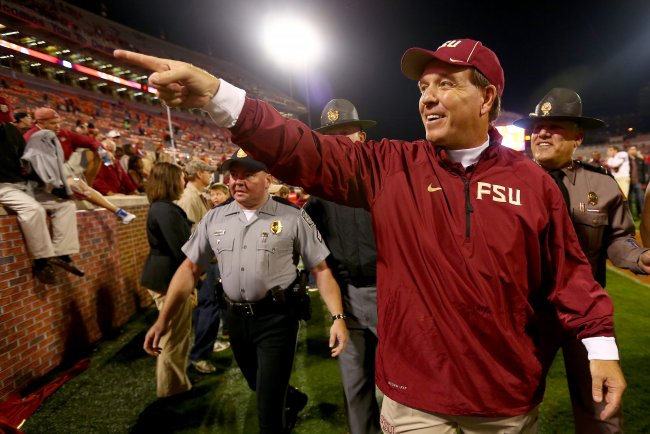 /Getty Images
Give some credit to Jimbo Fisher for this win. He had the Seminoles ready to play and not looking forward to that game with Miami.
More importantly, when Florida State got up, it just continued going right at NC State. It didn't hold back. Just touchdown drive after touchdown drive.
Sure, the players were the ones on the field, but it was Fisher who got them prepared for this game.
While some may look at that fake punt as running up the score, it sent a message that his teams aren't going to take any plays off until the opponent is well and truly demoralized.
NC State Defense: F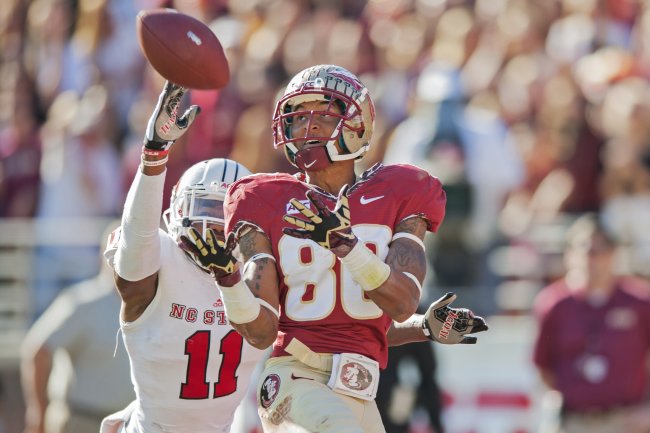 /Getty Images
NC State's defense was nonexistent in that first quarter. The Wolfpack players were blowing assignments and not making any tackles. It was as if after Florida State got that first touchdown, all the fight went out of NC State's players. They resigned themselves to defeat.
Quite simply, there was no fight from the Wolfpack defense.
It doesn't matter whom you're playing, there's no excuse for giving up 35 points to another team in just one quarter.
What's Next?
Florida State has a big game with the Miami Hurricanes to prepare for. It could be the Seminoles' toughest test of the regular season.
NC State will just be looking to get its first ACC win of the season against in-state rival North Carolina.