Miami Hurricanes Sanctions Announced by NCAA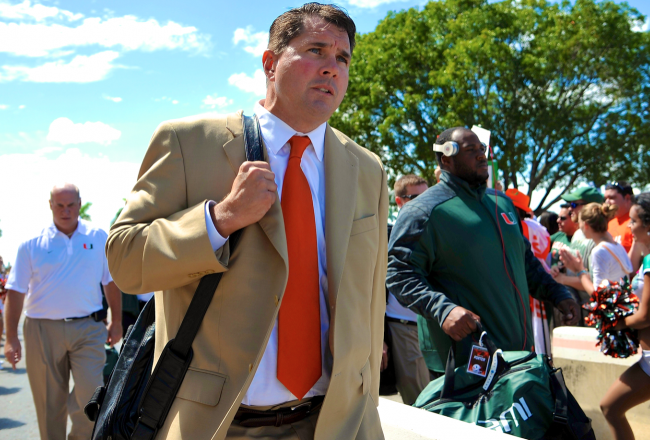 The NCAA announced that the University of Miami football team will be docked three scholarships in each of the next three seasons as punishment for past rules violations. No further bowl ban will be enforced on the school as part of the sanctions. The rulings conclude an investigation that has dragged on for two-and-a-half years.
The lack of a bowl ban comes after Miami decided to impose its own postseason ban for the previous two seasons. It was a decision that kept the Hurricanes from playing in the ACC title game or any subsequent bowl.
The committee acknowledged and accepted the extensive and significant self-imposed penalties by the university. Additional penalties in this case include a three-year probation period; a reduction in the number of football and men's basketball scholarships; recruiting restrictions; a five-game suspension for the former head men's basketball coach; and two-year show-cause orders for two former assistant football coaches and a former assistant men's basketball coach.
More information as to why these sanctions were handed down on Miami's football and basketball programs, including details of the investigation, are featured on the NCAA website.
The Joe Rose Show first broke word of the NCAA's decision:
2014-2015-2016 3 Scholarships Lost for UM Bowl Ban GONE!!!!!!!

— The Joe Rose Show (@JoeRoseShow) October 22, 2013
Miami has since released a statement and noted it will not appeal the ruling:
The University accepts the findings and the additional penalties as detailed in the Committee on Infractions report and will not appeal. The University is grateful to the Committee for a fair and thorough hearing.
The Miami Hurricanes' YouTube channel provides us with video of the team's reaction after being informed of their postseason ban.
Manny Navarro of The Miami Herald is reporting that the Hurricanes are attempting to convince the NCAA to allow them to count unused scholarships towards the punishment they were levied.
Per the report:
Even though it wasn't detailed in the Committee of Infractions report as a self-imposed penalty, UM already had begun making "internal adjustments" to keep its scholarship numbers down with the hope of either receiving credit for it from the NCAA or being in a position where the losses wouldn't be devastating when sanctions finally hit.

James wouldn't say exactly how many scholarships the Hurricanes are currently down (they are allowed 85). But he did say the program would "document with the NCAA the steps" UM previously had taken and "work with [the NCAA] on checking on the possibility of that being included in [future] scholarship numbers."
However, a former NCAA compliance officer was skeptical that the plan would work, according to Navarro's report:
John Infante, a former compliance officer and NCAA blogger, said he would be surprised if the NCAA gave Miami credit for the scholarships it had previously docked because schools usually present that information up front to the Committee on Infractions so it is taken into account before penalties are handed down. James said Tuesday the university had not done that.

"I really struggle to see the logic in this kind of secret scholarship restriction they may have imposed," Infante said. "The only reason I would think you would do it is because you wanted to sort of naturally get your scholarship numbers down instead of having a very small recruiting class once the sanctions hit.

"I don't even know what kind of process it would serve to say, 'Here's this thing we did, we didn't bring it up in the case, we're not really appealing, but we still want you to consider it.' That's not really how appeals work or the reconsideration of how a penalty works. If you didn't bring that up then I think you've kind of lost that opportunity."
After an extended investigation into issues at Miami involving former booster Nevin Shapiro, which were brought to light by Charles Robinson of Yahoo! Sports in 2011, the governing body of college athletics decided against any wide-ranging or potentially program-crippling sanctions, opting instead to take a total of nine football scholarships away.
Shapiro, who received a 20-year sentence in 2011 for running a Ponzi scheme that reached nearly $1 billion, told Yahoo! Sports he was heavily involved in the Miami program for eight years starting in 2002.
According to Pete Thamel of The New York Times:
Shapiro said he gave hundreds of thousands of dollars in cash to Miami players and the service of prostitutes and entertainment at his million dollar homes and yachts. He also said he arranged bounties on opposing players like Florida's Tim Tebow and Florida State's Chris Rix.

The allegations involve 72 former Miami athletes, including Jonathan Vilma, Kellen Winslow Jr. and Devin Hester, and the current quarterback Jacory Harris.
The claims made by Shapiro ran deep, which helps explain why the NCAA investigation took more than two years. The 102-page infractions report laid out what was discovered and the final decisions that were made.
In regard to the basketball program, former head coach Frank Haith currently works at the University of Missouri. He will miss five games after being charged with "failure to promote an atmosphere of compliance" in February, as reported by Jeff Borzello of CBS Sports.
Tim Reynolds of the Associated Press states the basketball punishment is believed to be a total of three scholarships, and the athletic department will be on probation for the next three years.
Miami basketball will lose one scholarship in each of next three years.

— Tim Reynolds (@ByTimReynolds) October 22, 2013
University of Miami athletics also on probation for three years, starting today.

— Tim Reynolds (@ByTimReynolds) October 22, 2013
Given the length of the investigation, the fact that Miami's biggest punishment is a minor scholarship loss for the next three years is a positive for the school.
Erick Smith, senior digital producer of USA Today, reacted to the reported sanctions:
If reports are true and Miami's only additional NCAA sanctions are the loss of 9 scholarships over 3 years, that's a huge win for program.

— Erick Smith (@erick_smith) October 22, 2013
All told, it's a successful result for Miami given the possibilities that were on the table during the NCAA investigation.
This article is
What is the duplicate article?
Why is this article offensive?
Where is this article plagiarized from?
Why is this article poorly edited?