Michigan vs. Penn State: Live Score and Highlights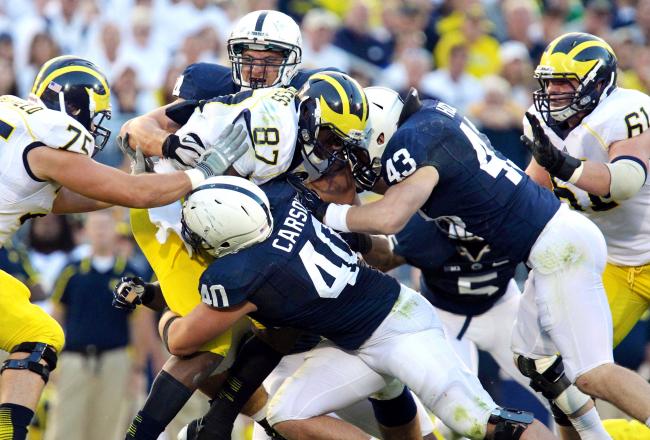 Penn State 43, Michigan 40 (Final, 4OT)
Michigan learned at least 10 things from the loss.
Bill Belton became an instant Penn State hero Saturday night with a two-yard touchdown run during the fourth overtime to seal his team's 43-40 win over the visiting Michigan Wolverines.
Running the ball wasn't the Nittany Lions' (4-2, 1-1) calling on Saturday, but it worked well enough to squeak out a fourth straight series victory over No. 18-ranked Michigan (5-1, 1-1).
Belton finished the night with 24 carries for a team-high 86 yards.
Leading 21-10 at the half, Penn State appeared to be in control of its Week 7 Big Ten showdown. With hotshot frosh quarterback Christian Hackenberg's three passing touchdowns, the Nittany Lions certainly provided enough opposition for Team 134, which was previously unbeaten.
Hackenberg's 40-yard pass to Allen Robinson late in the fourth quarter set the wheels in motion for Penn State's comeback. After that connection, Hackenberg put his head down and bulldozed his way into the end zone for a half-yard touchdown.
That score tied the game at 34-34.
Hackenberg finished the night with 304 passing yards, three touchdowns and a pair of picks.
Turnovers, yet again, caused the demise of Michigan quarterback Devin Gardner, who threw for 240 yards, three touchdowns and two picks. He has 10 interceptions on the year.
Box score, via NCAA.com
Follow Bleacher Report's Michigan Wolverines football writer Adam Biggers on Twitter @AdamBiggers81
The Bottom Line
After watching tonight's loss, one thing is clear.
Not that it wasn't clear weeks ago, but tonight did it for me. Michigan can't continue it's one-back system. Using Derrick Green is the only way to open up the offense and take pressure off of Devin Gardner and Fitz Toussaint.
Toussaint looked incredibly ineffective tonight.
Gardner had to carry the team on the ground with a team-high 121 rushing yards.
But then what?
Running Gardner is a recipe for disaster. It only takes one hit to change everything.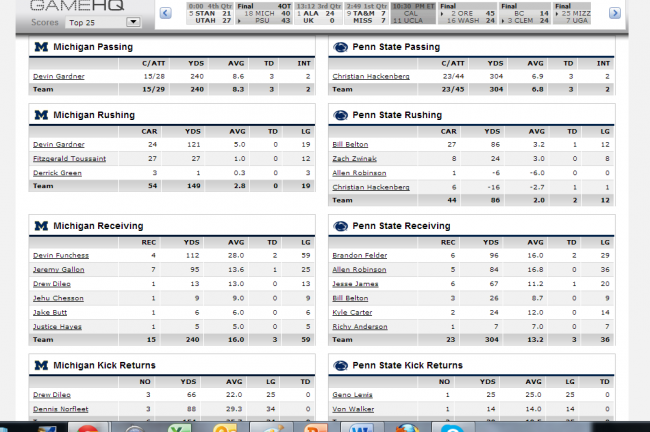 Here are stats for your viewing pleasure.
So much for Devin Gardner's one-game turnover-free streak, huh? He continues to make poor decisions, but don't blame him for the loss. It was the lack of execution and tight defensive play when it mattered most that caused the first loss of 2013.
Penn State 43, Michigan 40 (4OT)
The Wolverines defense held strong in the second half but couldn't make the game-changing play to thwart Penn State's advances.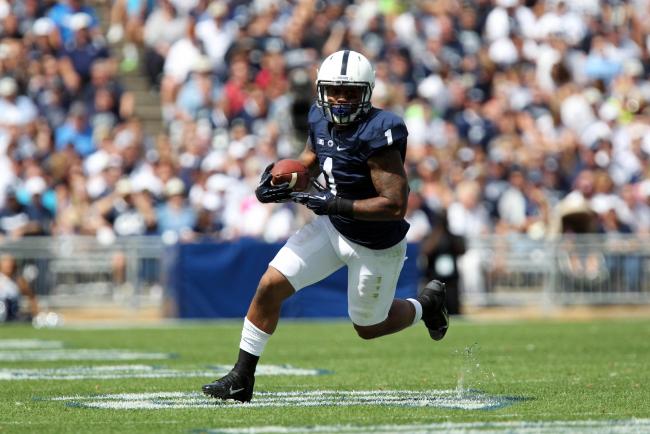 Penn State 43, Michigan 40 (4OT)
Bill Belton did it.
The Nittany Lions have ousted Michigan in Happy Valley, 43-40, after blowing a 21-10 lead at halftime.
Belton finished the night with 24 carries for 86 yards and a touchdown, a two-yard game-winner.
How It Happened:
Belton took the handoff from Hackenberg's left side and followed his tackle's block into the end zone.
Michigan football is quickly becoming my favorite sitcom on television.

— Matt Sheehan (@MattSheehan333) October 13, 2013
Matt Sheehan, editor of the State News sports section, Michigan State's student paper, has thoughts on Wolverines football.
Penn State converted on 4th-and-1 to extend its drive. This game just won't end. Michigan played well in the second half, but part of me feels like Penn State played harder and deserves the win.
Michigan 40, Penn State 37 (4OT)
Brendan Gibbons hit a 41-yarder to keep the game going strong into the night.
Michigan is called for delay of game.
It's now 3rd-and-15 from the PSU 30.
Kicking Rocks
Gibbons 1-for-3
Ficken 1-for-3
Something has to give. One of these guys will eventually make one.
Penn State 37, Michigan 37 (4OT)
Brendan Gibbons missed a dead-eye 33-yard field goal.
Penn State ball.
Gardner fires a hot one to Gallon the right sideline near the 15-yard line.
Michigan is in good position for a game-winning field goal.
Frank Clark may have just won the game for Michigan.
Clark has been a defensive menace all night. Sacks, fumbles and pure disruption. What an asset to Greg Mattison's defense.
Allen Robinson didn't have a good grip on that ball.
Penn State 37, Michigan 37 (3OT)
Sam Ficken's foot saved Penn State's tail.
Michigan 37, Penn State 34 (2OT)
The Wolverines have to keep Penn State out of the end zone if they want to leave Happy Valley as winners (Gibbons FG).
Penn State linebacker Mike Hull made a game-saving deflection. Nice awareness on his part.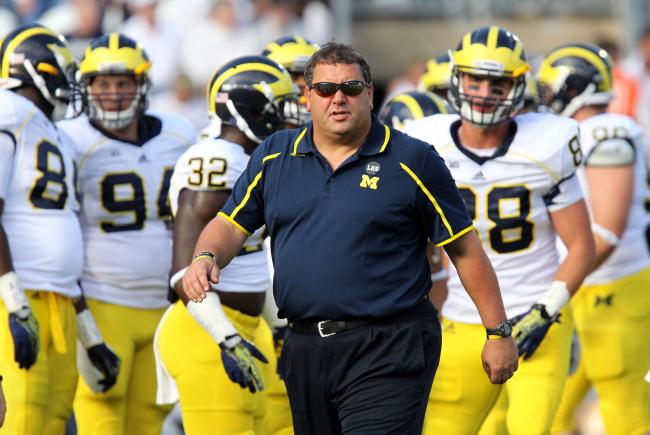 This game figured to be close, but a double-overtime thriller?
Who saw this coming?
I certainly didn't. I predicted a 28-24 Michigan win.
Blocked!
Michigan's chance at the win was denied by Penn State's special teams. Brendan Gibbons' kick was sent back, Dikembe-style.
Brendan Gibbons knows clutch kicks. He beat MSU with one, won a Sugar Bowl...it's child's play, people.
Michigan 34, Penn State 34
Sam Ficken...poor Sam Ficken.
The Penn State kicker missed the field goal in overtime. It was a chip shot. Has to hurt.
That was almost Blake Countess' fifth pick of the year. Hackenberg forced that ball.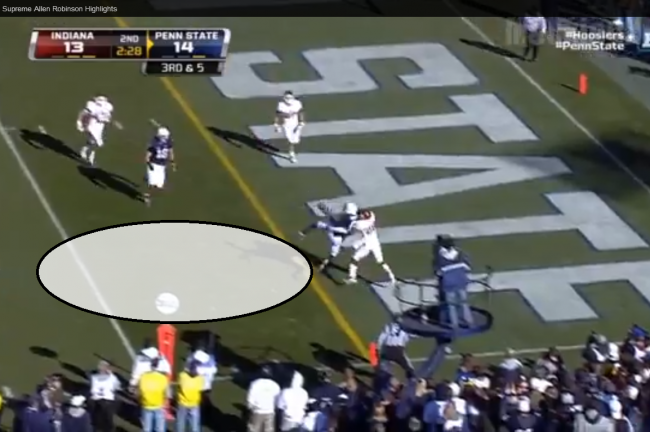 I used this graphic in a Robinson piece earlier this week. It demonstrates his skill along the ropes.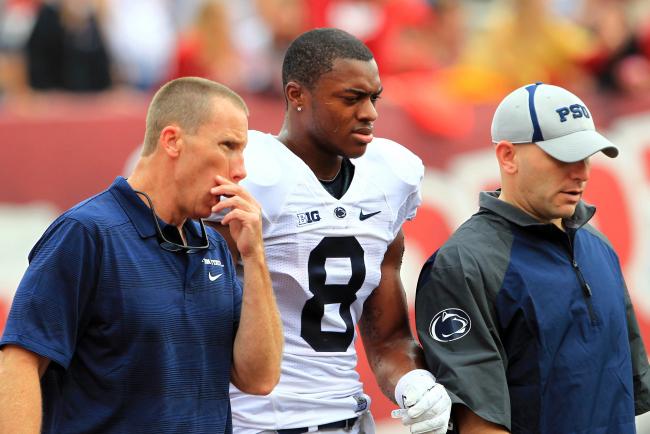 This has shaped up to be a classic.
Seeing Hackenberg with ice in his veins is a great sign for Penn State. Only a freshman, he's proved that he can lead under pressure. Penn State has a good one in the former 5-star recruit.
Michigan is lucky to be in this one, but think back to Minnesota and you'll remember that the Wolverines can score in bunches. They scored 28 against the Gophers in the second and put up 24 on Penn State.
Michigan 34, Penn State 34 (OT)
Brendan Gibbons couldn't convert on a 52-yarder, so we're headed into overtime.
Grand Blanc's Justice Hayes just caught a short pass from Gardner with about 10 seconds to play. Looks like Brendan Gibbons will decide this one.
Devin Gardner's pass to Jeremy Gallon has the Wolverines to PSU's 47-yard line with 12 seconds to play.
This article is
What is the duplicate article?
Why is this article offensive?
Where is this article plagiarized from?
Why is this article poorly edited?