The Texans Longhorns survived a scare against the Iowa State Cyclones, winning 31-30. However, it was an ugly game, and the Longhorns got away with a rather controversial win.
David Ash missed his second consecutive game for the Longhorns, forcing Case McCoy into the starting lineup.
The Longhorns got off to a quick start just a few minutes into the game thanks to a 45-yard touchdown by Johnathan Gray to go up 7-0. It was the longest touchdown run of Gray's career, and it looked like it might be a long night for the Cyclones.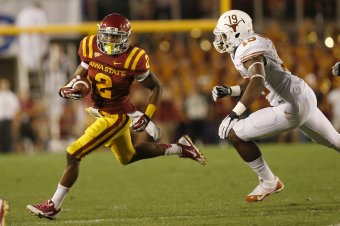 David Purdy/Getty Images
A couple of miscues by Mike Davis and McCoy killed the momentum for the offense. Davis was wide open in the end zone on third down near the end of the first quarter, but McCoy threw a bad pass and missed a crucial opportunity, as the Longhorns had to settle for just a field goal.
Aaron Wimberly got off to a nice start for the Cylones, running for 33 yards in his first eight carries, and helped lead Iowa State to their first points of the game on a field goal at the start of the second quarter. He then scored on an 11-yard pass to tie the game with less than five minutes remaining in the half.
Sam Richardson was making good plays with his legs against the Longhorns defense, and Max Olson from ESPN.com brought up that the quarterback was already ahead of his career average for rushing yards through just the first half.
Sam Richardson averages 49 rush yards per game in his career. Already up to 56 tonight. #TEXvsISU

— Max Olson (@max_olson) October 4, 2013
After another field goal for the Cyclones, things got wild to end the first half. McCoy stepped back and threw one up, hoping something would happen. John Harris was able to haul in the 44-yard bomb to put the Longhorns up 17-13 at half.
Richardson answered once again in the third quarter, finding Quenton Bundrage for a 97-yard touchdown, the longest play in school history, according to SportsCenter.
An Iowa State CYCLONE! Sam Richardson finds Quenton Bundrage for a 97-yard TD, longest pass play in school history. ISU leads Texas, 20-17.

— SportsCenter (@SportsCenter) October 4, 2013
Around two minutes later, Joe Bergeron scored on a six-yard touchdown to put the Longhorns up 24-20, but that isn't what's going to be remembered from the play.
Davis, who was clearly frustrated in this game with some missed opportunities, committed an absolutely inexcusable penalty. He dove at a Cyclone player's legs well after the play was blown dead.
It was an incredibly dirty play, and there's likely going to be a punishment associated with it. You can see the late hit here thanks to @PlannedSickDays on Twitter.
Texas cheap shot https://t.co/zkRiIwvKEw

— PlannedSickDays (@PlannedSickDays) October 4, 2013
Mack Brown didn't see a problem with it though, per ESPN's Max Olson:
Mack Brown strongly defending Mike Davis' block, thought Davis didn't hear whistle. "I thought it was competing."

— Max Olson (@max_olson) October 4, 2013
After a Bergeron fumble, Wimberly was able to get his second touchdown of the night and put the Cyclones up 27-24. The Longhorns were really struggling on both offense and defense, with things looking dark for this team.
McCoy continued to struggle, yet the Longhorns seemed determined to continue to throw the ball. The plan didn't work, as McCoy kept missing throws rather badly. A Cyclones field goal put the game at 30-24, and McCoy had to lead a possible game-winning drive.
The Longhorns started marching down the field, and when they were inside the end zone, McCoy threw to Greg Daniels in the end zone. The tight end was able to draw pass interference, and the Longhorns got the ball at the 2-yard line.
On the very next play, Jeremiah George appeared to have stripped the ball out of Johnathan Gray's hands. Gray was ruled down by contact, and the call stood after video review despite the fact that it appeared George successfully stripped the ball out. ESPN's own Bomani Jones shared his own thoughts on the call.
if you think that call was unbelievable, you must be unfamiliar with the big 12.

— Bomani Jones (@bomani_jones) October 4, 2013
BuzzFeed Sports got a picture of the call, and it was certainly a very difficult one to judge.
Here's when Gray's knee is down in Texas-ISU, which hinged on whether this was a fumble (GIF from @SBNationCFB) pic.twitter.com/IOTtsx84Ix

— BuzzFeed Sports (@BuzzFeedSports) October 4, 2013
On the very next play, it appeared that Gray fumbled the ball once again, but nothing was called. Two straight controversial calls had upset Cyclones fans, but there was nothing that they could do.
One play later, McCoy ran in for the touchdown. The extra point put the Longhorns up 31-30 with 51 seconds remaining.
The Cyclones tried to pull off an epic fourth-quarter comeback, but Richardson had a pass tipped at the line of scrimmage that was intercepted by Texas to seal the game for the Longhorns despite the goal-line stand.
McCoy finished the day 26-for-45 with 244 yards and two total touchdowns. The stat line looked nice, but he struggled. Also, keep in mind that one of those touchdowns came on that Hail Mary. In fact, McCoy's struggles nearly forced Texas to put in true freshman quarterback Tyrone Swoopes, who, according to Jeff Howe of 247Sports.com, was warming up on the sidelines.
Tyrone Swoopes, helmet on, getting loose. #HookEm #Longhorns #UT

— Jeff Howe (@JeffHowe247) October 4, 2013
A lot of credit has to go to Richardson and Wimberly for the Cyclones. Richardson finished the day with 262 yards through the air and 83 on the ground with two passing touchdowns and that interception at the end of the game. Wimberly had a big day as well, grabbing 140 total yards and two total touchdowns on the day.
With all of the issues surrounding the Longhorns this season, they'll take any win that they can get. However, this team shouldn't be satisfied, as it nearly let this one slip away.