What I Loved and Hated in College Football Week 4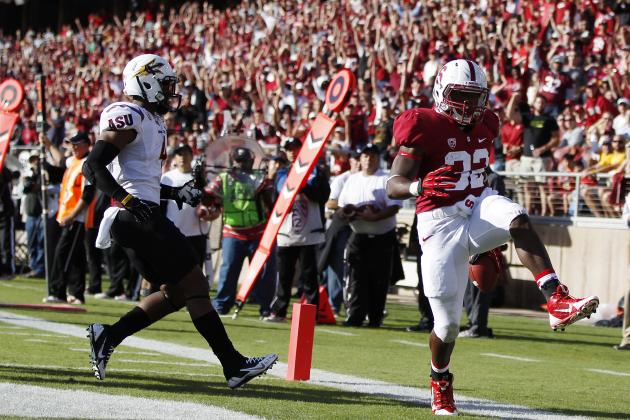 Stephen Lam/Getty Images

In an actual college football game, two coaches agreed to shorten the fourth quarter by three minutes because the score was so lopsided. In a lot of ways, this serves as the perfect Week 4 synopsis.
Yes, Week 4 lacked intrigue. The matchups were not for the faint of heart, and the results played to form. Yet even with the uneventful scores, there were plenty of interesting happenings.
There were fights, crafty onside kicks, ridiculous one-handed grabs, Jameis Winston doing Jameis Winston things and, of course, a baby bison. There was also a fantastic team gesture that trumped any result or on-field happening throughout the weekend.
Here's what I loved and hated from Week 4.
Begin Slideshow

»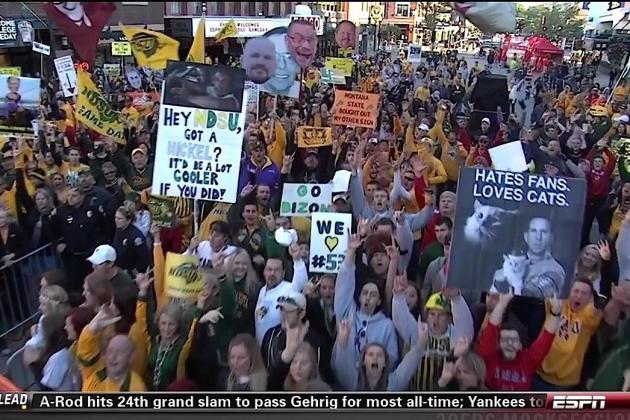 Image via http://30fps.mocksession.com
The decision for ESPN's College GameDay to head to North Dakota State—insert your terrible Fargo impression here, and it is terrible—turned out to be a good one.
The atmosphere was electric on the campus of the FCS power, and the signage was also top-notch. Yes, that is Bo Pelini with a cat—topical and funny—and there was also a sign pointing out the city's cellphone coverage.
Save your 4G jokes; they've already been taken.
I can't imagine this was an easy sell for the GameDay crew, but it was a brilliant idea that they should revisit each year. Giving schools a chance at the tailgate-centric spotlight seems to be the formula for great live telecasts (and also great signage).
Last year, Lee Corso surprised America by saying something that probably shouldn't be said during a live broadcast (it's here, and it's very NSFW).
In Week 4, he didn't quite approach this level of awesome, but his "bitching" rant—and he said it twice—served as yet another solid moment in GameDay history.
The best part? Corso was talking about Bo Pelini's curse-infused rant from two years ago, and this was the way for him to get his point across.
Outside of this, Corso closed out the broadcast by escorting a terrified baby bison.
The man has majestic football talents.
Here's the thing about punching someone.
First, don't punch someone. And if you're going to anyway, you probably shouldn't do it in front of officials looking for these kinds of things, a stadium looking for anything on the field and 100 or so cameras televising a prime-time game that will undoubtedly catch this punch from a variety of angles.
Second, don't punch someone with a helmet on. The negatives about something like this need not be explained, but this action is not all that bright whether you hit the facemask or the helmet.
This information would have been handy for Clemson offensive tackle Isaiah Battle, who uppercutted N.C. State defensive back Jarvis Byrd near the end of Thursday night's game.
Also, who uppercuts?
This will likely result in a suspension and some not-too-fun sessions with the strength coach.
One-handed catches should not be allowed to look this easy. It makes the rest of us look bad.
Toledo wideout Alonzo Russell is not worried about the rest of us, however, and he showcased this against Central Michigan.
In the first half, he came down with one of the most absurd one-handed grabs you will ever see. He went up in the air while being pulled by a defender and casually grabbed the ball with his available hand.
He made it look so easy that it might have you questioning whether it warrants potential catch-of-the-year consideration.
There's no doubt about it.
The Ohio State-Florida A&M game was not fun or fair. It was also over in approximately three minutes.
It did, however, give us one noteworthy play, thanks to an official who was stuck in the wrong place at the wrong time.
Ohio State running back Jordan Hall got loose in the middle of the field, and the official could not get out of the way.
Like running behind an offensive lineman, Hall patiently ran behind the man in black and white for a short while—making use of this unintentional screen—and found the end zone.
And then the ref went boom.
Rice kicker Chris Boswell is a kicking wizard with a bag of unmatched kicking tricks. Well, at the very least, he has one trick that is awfully impressive.
It's serving a football, a pinch of that soccer move you tried in your front lawn as a child and a solid helping of "what the heck—we tried this in practice once; give it a try."
Boswell's back-foot onside attempt (and recovery) might become the next big thing in special teams. It will likely result in a good portion of the kickers falling flat on their faces well before they attempt the kick, but he's on to something here.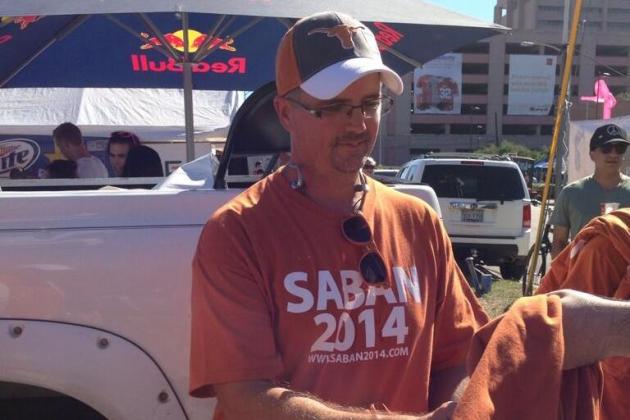 Image via @JasonARogers
This is a waste of a good T-shirt.
In four months, when Texas has decided on [insert intriguing coach with enormous pressure and a high salary here], these "Saban 2014" T-shirts are going to be bottom-of-the-barrel workout shirts or extra towels to dry cars with after a nice wash.
Yes, the Saban-to-Texas rumors had a brief shelf life this week following reports of a meeting between Saban's agent and a Texas regent. With that out in the open, you (yes, you) have about as good of a chance to coach the Longhorns as Saban does.
Congrats? Now wear this shirt before you wash your tires with it.
Returning a punt for a touchdown is rare. Returning back-to-back punts for touchdowns is an achievement reserved for football video games set on easy.
The Iowa football team has lacked explosiveness of late, and perhaps that's being kind. Against Western Michigan, however, the Hawkeyes exploded for two special-teams touchdowns and two defensive touchdowns in a 59-3 win.
The two special-teams touchdowns came on punt returns, and both were returned by Kevonte Martin-Manley. Better yet, they came on consecutive punts.
The phrase "keep your head on a swivel" comes to mind. Although, let's be honest: If you're standing well beyond the sideline at a football game, you're operating off the assumption that you're far away from the action. In this case, "action" includes footballs to the face.
Well, that was not the case for this poor Kansas State staffer who took a David Ash throw to the chops. Ash, of course, was in trouble and was just trying to throw the ball away. The staffer's face just got in his path.
This was clearly not intentional, just unfortunate for the unexpected sideline drifter. The mascot in Bull Durham knows exactly what that's like.
This Jameis Winston touchdown has it all.
It starts slow with a ridiculous broken tackle, heats up with Winston's scramble, really gets cookin' when he throws the ball while falling down and reaches max temperature when the Florida State receiver comes down with the catch.
The Chuck Norris reference at the end? Well, that's just a bonus.
This is your required weekly reminder that Winston is ridiculous, and you're going to be hearing this for a few more years.
Be prepared.
Bonus love, and "love" has never felt more appropriate.
It was only a four-yard gain in the box score, although the significance of this play outweighs everything by a substantial margin. This was special.
To honor late wide receiver Nick Pasquale—the freshman wideout who was struck by a car and killed—UCLA ran its first offensive play against New Mexico State with only 10 men on the field. Wideout Shaquelle Evans jogged off the field shortly before the play was hiked, and the Bruins ran the football.
What a wonderful gesture.