Week 3 of the season for the Big Ten was about as interesting as we've seen in quite some times. From struggles against supposed weaker opponents to insanity in the desert, things were interesting to say the least.
The Big Ten provided drama on a massive scale from the opening game of the day to the final seconds of the nightcap.
This was supposed to be the bellweather weekend in the Big Ten, with six games against fellow BCS level foes. So, as we look back at the weekend that was, what exactly did we learn in Week 3 of the season?
Bottoms Up
The bottom of the Big Ten was supposed to be super weak, especially after seeing Purdue's opening two games. However, on Saturday Purdue took Notre Dame to the brink, forcing a mad 21-point scramble in the fourth quarter by the visiting Irish in order to restore all that was supposed to be in the college football world.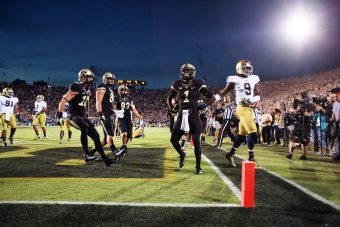 Brian Spurlock-USA TODAY Sports
However, the Boilermakers looked like a vastly different team than we saw the previous two weeks, and they may not be as bad as we thought after all. In fact, they may pose a problem or two to a few Big Ten teams in a few weeks.
Then you have Illinois, which looked very good on a neutral field against No. 19 Washington, losing 34-24. The end result may not be as important as what took place during the game itself. Illinois isn't the pushover it was a season ago—even against top-level opponents.
Overall, the bottom of the conference's stock has to be on the rise after the results this weekend.
Ferentz is safe.... For Now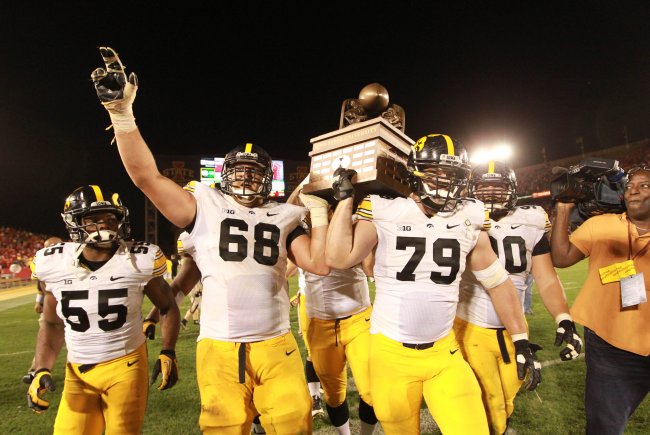 Reese Strickland-USA TODAY Sport
Iowa went in to Ames, took back the CyHawk Trophy and helped Kirk Ferentz out big time as well. The Hawkeyes looked like the Hawkeyes of old, pounding the ball and using the run game to set everything else up.
The Hawkeyes out-gained the host Cyclones 218-59 on the ground. It's impressive on both sides of the ball, especially defensively as they showed what they were doing the first few weeks wasn't a fluke at all.
Iowa appears to be a much improved football team, or Iowa State wasn't as good as expected. Whichever it was, the Hawkeyes put down an impressive game, and it may just have taken Ferentz's name off the hot seat for a few more weeks.
The question is, can this be a team that is a winner on a week-to-week basis in the Big Ten? I'm not sure yet, but at least they are better by any standard almost everywhere on the field early in the season.
Michigan Is Most Over-Hyped Team in Big Ten
Devin Gardner was getting pummeled all game long, the Akron offense was moving at will, and the kicking game wasn't spectacular to say the least.
In fact, this was about as bad a performance as we've seen in the Hoke era for the Michigan offensive line. Gardner leading the team in rushing isn't exactly how the Wolverines were hoping to draw up the victory on Saturday, but the lack of time given to him in the passing game was the major contributor to that situation.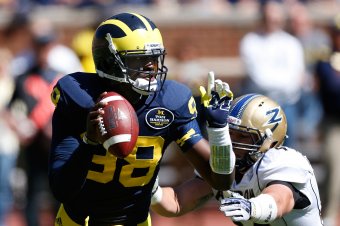 Gregory Shamus/Getty Images
Gardner was left running for his life more often than not and doing so against a defense that gave up 188 yards on the ground to James Madison a week earlier. Fitzgerald Toussaint looked like the Fitz Toussaint of the early part of last season, too—rushing for an average of just 3.7 yards a carry on the day.
The offensive line wasn't the only issue obviously, but its inability to control the mighty Akron Zips pass rush sure should send up red flags.
So, while we all may have been guilty of putting too much stock into the Notre Dame result, there is no way to sugarcoat what took place at the Big House on Saturday afternoon. Michigan had no business being in a game with the Zips.
Akron is awful, and this may be the best game they play all season. But, at least the Wolverines survived, right?
However, the version of Michigan we saw on Saturday sure didn't look like a Big Ten title contender.
So, we must apologize for jumping on the "Michigan is great" bandwagon just a bit too soon, especially given what Notre Dame did on Saturday themselves.
Wisconsin Isn't Going to Go Quietly in Big Ten Race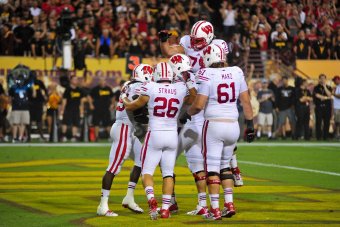 Matt Kartozian-USA TODAY Sports
Yes, the Badgers lost out west once again, and yes the ending was controversial, to say the least. However, the performance overall against a very tough Arizona State football team bodes well for the Badgers' chances in the Big Ten.
Melvin Gordon gashed the vaunted ASU defense for 193 yards and two touchdowns. Yes, 80 of it came on one play, but that one play should tell you all you need to know about the competitiveness of the Badgers team.
Tight ends got seal blocks, and wide receivers were blocking like mad on the edge as well. This is a team that will compete and out-physical most football teams still.
UW isn't without issues, but is there a perfect team in college football, let alone the Big Ten right now? No, and the things learned by this team (especially a young secondary) will likely only make this team stronger going forward.
Adversity shows true character, and we're about to find out how the Badgers respond to a game they feel they won, but didn't on the scoreboard. Luckily for Wisconsin, the Badgers have seniors on this team who have gone through a ton of adversity already.
Wisconsin may not win its fourth straight conference title, but it won't be a pushover either.
Ohio State just put Nation on Notice
Braxton Miller didn't play a lick of football on Saturday night, and it didn't matter one bit. That's scary, because this wasn't the first time either. Two weeks of football without Miller and two blowout wins to Ohio State's credit.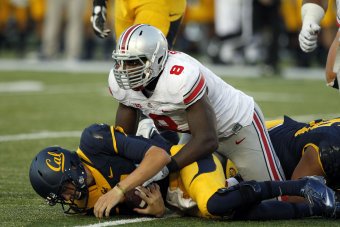 Cary Edmondson-USA TODAY Sports
Doing it on the road against a Cal team that can score points in bunches was impressive.
So, too, was Kenny Guiton once again, and that's got to scare opposing defenses and opposing coaches.
It should also impress voters—you know, the same voters that dropped the Buckeyes each of the first two weeks of the season. At least this time around they were able to avoid the drop, right?
Guiton's 276 yards and four touchdowns through the air to go along with 92 yards on the ground sent a pretty strong message:
This isn't the 2012 Buckeyes, and we're as loaded as any team in the country—at least on offense. Now about that defense that gave up over 500 yards and 34 points...
Michigan State's Offense May Be Getting on Track
Connor Cook became first Michigan State QB with 4 TD passes in a game since Brian Hoyer in 2007 http://t.co/9PH6WqLEH0

— Jason Kemp (@kempjaso) September 15, 2013
It was just one game, and it was against an FCS opponent, but the Spartans offense finally appeared to get an identity with Connor Cook under center as "the guy," and that has to please the coaching staff and fans alike.
Cook was 15-of-23 passing for 202 yards and four touchdowns. That's four more touchdowns than the Michigan State passing game had all season long.
If nothing else, at least it was a starting point and a confidence builder, and you have to start somewhere.
Now the real tests begin as Michigan State faces Notre Dame and Iowa on the road the next two weeks. Show the world you can score points and win games on offense against real competition, and this team could be dangerous.
But, call me crazy if you will. I'm taking a wait-and-see approach with this offense.
*Andy Coppens is the lead Big Ten writer for Bleacher Report. You can follow him on Twitter for more coverage of all things B1G.