Florida's Brent Pease does not take kindly to vanilla.
And Florida's offense was anything but that versus the Miami Hurricanes last Saturday.
Pease coached up a few wrinkles made famous by both the San Francisco 49ers and Green Bay Packers in hopes of recharging an offense that ranked 97th in the country in 2012.
Given quarterback Jeff Driskel's prototypical size (6'4", 245 pounds), arm strength and mobility, the Gators found success employing both the "diamond" and "full house" formations against the Hurricanes despite losing 21-16.
I charted Florida's success when using both formations. Although it's a small sample size, the results are certainly positive and speak to the direction of Florida's offense moving forward in 2013.
Florida lined up in these two formations on 10 occasions versus Miami, making up 12.9 percent of its total plays. The Gators combined for 45 yards, including an 18-yard strike to Solomon Patton, three first-downs and a touchdown, all the while averaging five yards or more per play.
The full house, as outlined by Football Outsiders, is tailored to Florida's strength running the ball behind the likes of Matt Jones and Mack Brown.
Both formations create running opportunities for Driskel. But let's focus particularly on the diamond formation.
What makes this formation difficult to defend is Florida's ability to mix-and-match power and speed in a single formation. With the likes of a big-bodied Matt Jones coupled with a speed-demon in Valdez Showers, the Gators can instantly create confusion at the line of scrimmage.
The diamond combines three running backs in the backfield with the quarterback, who instead of lining up under center, takes the snap in the shotgun giving off a pistol formation look.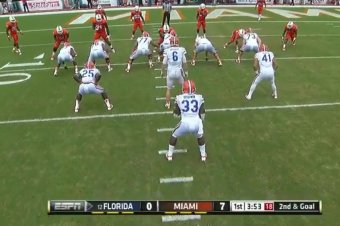 With it comes a dizzying array of play potential, including the inside zone read and play-action pass.
Let's examine this further.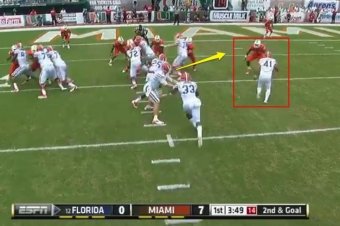 In the red zone, during the first quarter of last Saturday's contest,
Pease
opted to use the diamond formation on 2nd-and-goal, as illustrated to the right. Florida lines up with two fullbacks opposite of
Driskel
with Mack Brown as the lone halfback.
At the snap, Driskel reads the end man on the line of scrimmage, and rides Mack Brown through the mesh point.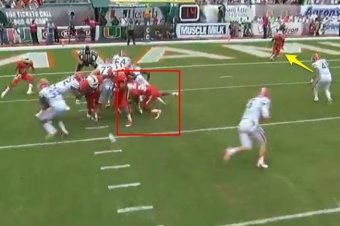 The defensive end crashes down towards the inside run and
Driskel
makes an easy read by pulling the ball back on the zone read play. With fullback Hunter
Joyer
lead blocking on the outside,
Driskel
scores an untouched 9-yard touchdown.
Moving forward, Florida can run several plays from this formation such as the power read, jet-sweep and Urban Meyer's shovel option.
Amidst all the discussion surrounding Pease's play calling, and the concerns some have about Florida's offense, the Gators appear to be adding an element of creativity to their offense that was absent last season.