The Brigham Young Cougars rode a historic rushing performance to notch a dominant win over the No. 15 Texas Longhorns in a 40-21 win Saturday night in Provo, Utah.
BYU's ground success was unquestionably the story of the game, racking up 550 yards. It helped to make up for a paltry passing performance by sophomore quarterback Taysom Hill, who made up for a 9-of-26 night with 259 yards and three scores rushing.
BYU football's Instagram account summed up the victory:
The Cougars' ground assault resulted in one of the worst defensive performances in the long history of Texas football, as ESPN Stats & Info pointed out:
BYU has passed 480 yards rushing This is the most rush yards in BYU history And the most rush yards allowed in Texas history.

— ESPN Stats & Info (@ESPNStatsInfo) September 8, 2013
Despite the gaudy numbers, it wasn't all BYU from the get-go. The Cougars struck first with a field goal on the game's opening drive, but Texas QB David Ash connected with Mike Davis on a 57-yard first-quarter touchdown to put the Longhorns up 7-3 early.
Texas would get the lead back at 14-10 four-and-a-half minutes into the second quarter, but that's all the lead they'd have as BYU rallied back for three touchdowns in the final 7:48 of the half to take a 27-14 lead into the locker room.
The first half was especially potent for BYU on the ground as they racked up 349 yards. Another ugly observation by ESPN Stats & Info as far as the Longhorns are concerned:

Texas allowed 349 rush yds in the 1st half to BYU, its most in a first half in the last 10 seasons. Its previous high? 206 to Oklahoma.

— ESPN Stats & Info (@ESPNStatsInfo) September 8, 2013
BYU quickly extended their lead to 34-14 with a 26-yard run from Hill (his third on the night), but Ash and the Longhorns got those points right back on another touchdown pass to Davis.
Despite the Cougars' late struggles offensively, Texas couldn't sustain drives late and its poor 5-for-17 execution on third down played a huge role in the end result. Texas got up and down the field a bit with 445 total yards, but only 132 came on the ground and their late deficit forced Ash to push the envelope, which didn't translate to success.
But in the end, it was the defense's inability to stop a nosebleed that led to the Longhorns' demise. B/R's own Barrett Sallee poked fun at Texas' recent recruiting of a certain Heisman Trophy winner for the wrong position:
I mean, in reality, Mack Brown really could have used Johnny Manziel as a safety.

— Barrett Sallee (@BarrettSallee) September 8, 2013
The Longhorns were able to keep the scoreboard from getting too ugly, but the box score spoke for itself—it was one of the worst defensive performances in the University of Texas' rich history.
Grades
BYU QB Taysom Hill: A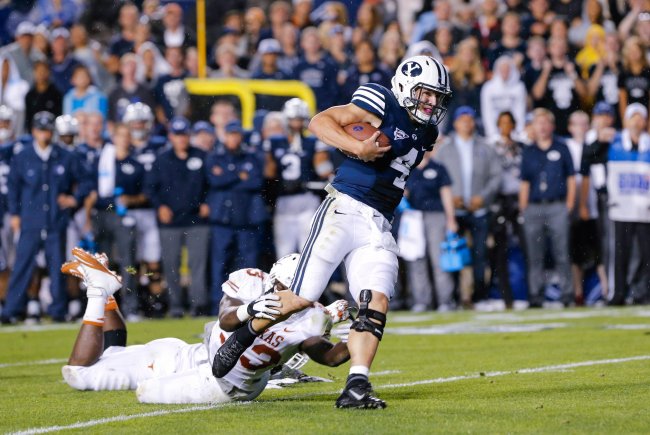 Chris Nicoll-USA TODAY Sports
You have to do a heck of a lot on the ground to earn an "A" as a quarterback after going 9-of-26 for 126 yards (and an interception) through the air.
The sophomore's incredible, 259-yard rushing night included a 68-yard score that came in one of the rare moments that his Cougars had a deficit. Texas was unable to contain him all game long, and when they would shut off his lane, he would set up one of his backs for yardage.
Texas QB David Ash: C+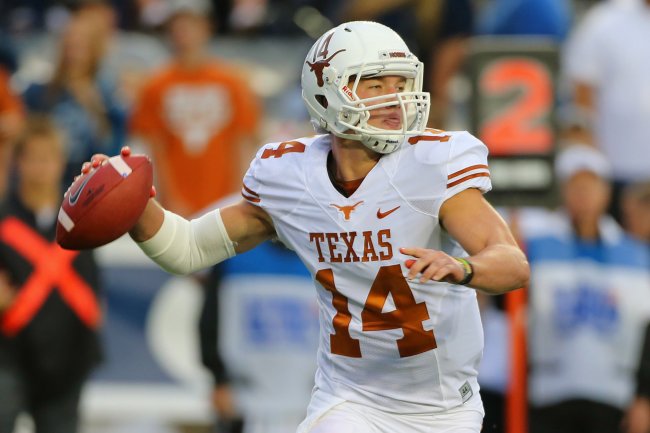 George Frey/Getty Images
David Ash's stats on the night don't make you cringe—19-of-34 for 251 yards, two scores and no picks—but his poor decision-making and inability to sustain drives suffocated his Longhorns' chances in the second half.
Other than making some magic on a couple of plays with receiver Mike Davis, Ash was quite ineffective in running the offense. He recorded four three-and-outs and the visitors were forced to punt eight times on the night.
Ash took care of the football, but that was about it. If Texas' defense is going to be that bad this season, they are going to need a lot more from the quarterback position. As Kirk Bohls of the Austin American-Statesman noted as well, Ash suffered from an unknown injury and wasn't able to finish the game, being replaced by Case McCoy.
BYU RB Jamaal Williams: A-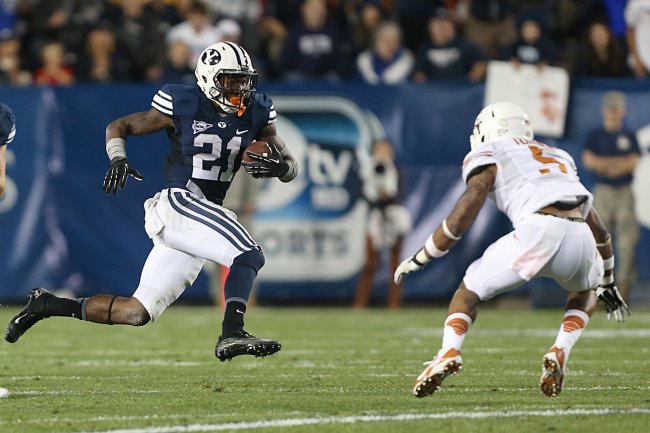 George Frey/Getty Images
Hill was the impact rusher for BYU all night, but a rushing attack is often only as good as its workhorse, and Jamaal Williams shined in that role Saturday night.
Williams finished with 30 carries for 182 yards and a long run of 37 yards. He failed to get into the end zone, but you can't complain much about a 6.1 average.
The sophomore's 326 rushing yards through the first two games is sure to rank up there among the nation's leaders when the week is all said and done.
What's Next?
Things don't get much easier for the Longhorns, as the rising Ole Miss Rebels head to Austin for a matchup next weekend, and Kansas State visits a week later. The Rebels are on the cusp of the AP Top 25 after a 2-0 start.
Meanwhile, the victorious BYU Cougars recovered to .500 and will stay at home to face Utah next weekend. The Utes are 2-0 after a 70-7 massacre of Weber State.