Central Michigan vs. Michigan: Live Score, Analysis and Results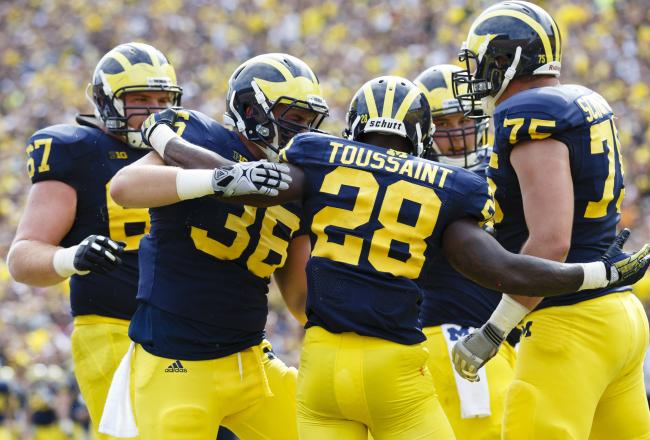 Michigan rolls, 59-9.
Rick Osentoski-USA TODAY Sports
Michigan 59, CMU 9 (Final)
It was all Michigan from the get-go Saturday.
The No. 17-ranked Wolverines demolished the visiting Central Michigan Chippewas, 59-9, in front of a raucous crowd at the Big House.
Team 134 was led in the first half by quarterback Devin Gardner, who despite throwing two picks, made plays on his feet while throwing for 162 yards and a touchdown. In relief duty, freshman Shane Morris managed the offense and got meaningful snaps against a still-feisty Chippewas defense in the second half.
Freshman Derrick Green rushed for a team-high 58 yards and a touchdown. Senior Fitz Toussaint rushed for 57 yards and scored two touchdowns.
The Wolverines were without starting safeties Courtney Avery and Thomas Gordon. Avery underwent surgery and Gordon served a one-game suspension for violation of team rules.
Central Michigan's Cody Kater was given a rude welcoming to FBS football. The first-time starter was relentlessly attacked from the opening kickoff. After only six attempts, he was pulled for Alex Niznak, who threw for 131 yards.
Chippewas field-goal kicker Ron Coluzzi was 3-of-3, including a long of 33 yards.
Follow Bleacher Report's Michigan Wolverines football writer Adam Biggers on Twitter @AdamBiggers81.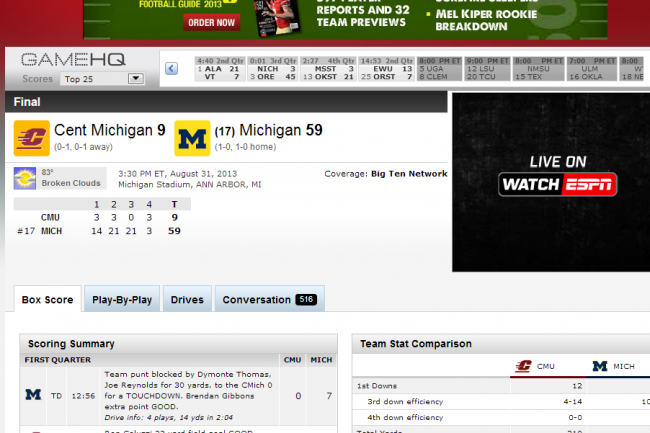 Final Thoughts
Michigan's resounding victory comes as no surprise. The main focus seemed to be getting an early lead in an effort to allow young players the opportunity to get meaningful playing time.
Coach Brady Hoke called upon true freshmen Derrick Green, Shane Morris and DeVeon Smith, among others, to help extend the already gaudy lead in the second half. Green finished with a team-high 58 yards and had a 30-yard run on a late scoring drive.
Morris looked comfortable but not 100-percent mechanically sound. That's fine. That's what games against Central Michigan are for—to learn and grow. He didn't appear too rattled and made good decisions.
Michigan 59, CMU 9 (Final)
Brady Hoke's Wolverines kept the ball on the ground after Devin Gardner gave way to freshman quarterback Shane Morris. The defense was spectacular but still needs to watch the deep ball. Central Michigan connected on a couple of nice longballs against the secondary.
No reason to worry about the condition of tight end Devin Funchess and receiver Joe Reynolds.
According to the IMG Michigan Football Radio Network, Joe Reynolds and Devin Funchess are "just fine".

— Michigan Football (@umichfootball) August 31, 2013
Ahh, right on queue: Brian Cleary, a redshirt sophomore walk-on quarterback, has entered the game for the real mop-up duties.
Michigan's underclassmen are playing hard. I think the second-teamers could hang with lower-tier Big Ten teams. The Wolverines are that deep. The secondary should be great in the next two years, especially with the addition of Jabrill Peppers, one 2014's top recruits.
Michigan 59, CMU 9 (6:00, 4th Quarter)
Chip-shot from Brendan Gibbons, his 14th straight field goal.
And there was Shane Morris' first pick. Glad to see him get that out of the way. His defense just gave him a shot at redemption. Pick, but Wolverines scoop it up and hand it back to the frosh.
Michigan 56, CMU 9 (11:00, 4th Quarter)
The Chips get a field goal for the third time today. They look overmatched in every way possible. Time to regroup and try to take something positive from today—which would be hard, considering Zurlon Tipton was injured.
I can't see Hoke rubbing it in too much, but I'd like to see Morris get at least five more passing attempts. Let him take shots down the field. Let him create a play on his feet. Let him make a mistake. This is the time to learn.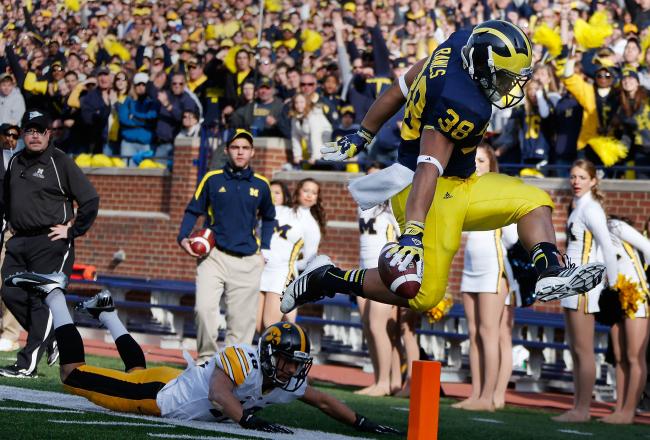 Michigan 56, CMU 6 (15:00, 4th Quarter)
Thomas Rawls put the finishing touches on Shane Morris' first drive with a two-yard touchdown as the third quarter drew to a close. It's over, folks. Nothing more to see here, other than a possible Brian Cleary sighting at quarterback. However, Morris could just ride it out until the end. He's getting good looks right now.
Brady Hoke is calling the game as expected: getting a big lead, playing freshmen, enjoying late productivity from future stars. No surprise here.
The wait is over: Shane Morris has taken the field for the first time as a Wolverine. First play was a handoff to Justice Hayes.
More on the Green drive:
10-play drive, all runs. All Green (6 car, 42 yds, TD) and Smith (4 car, 13 yds)

— Nick Baumgardner (@nickbaumgardner) August 31, 2013
Too bad that college football doesn't have a running clock. Michigan's defense is smothering the Chippewas without mercy. It's brutal. The mismatches and differences in size on the lines are staggering.
Michigan 49, CMU 6 (4:55, 3rd Quarter)
So far, I'm seeing Graham Glasgow at center, Green and Smith at running back. Where's Morris?!
Green caps a 10-play, 55-yard drive with a one-yard touchdown. He set it up with a bruising 30-yard scamper, only to give way to DeVeon Smith, who fought for a few yards on the home stretch.
Hello, Derrick Green. True frosh breaks off about a 30-yarder to get the crowd going wild.
Reshirt freshman RB Drake Johnson got roughed up on the kickoff.
Drake Johnson walks off the field on his own to be evaluated.

— Michigan Football (@umichfootball) August 31, 2013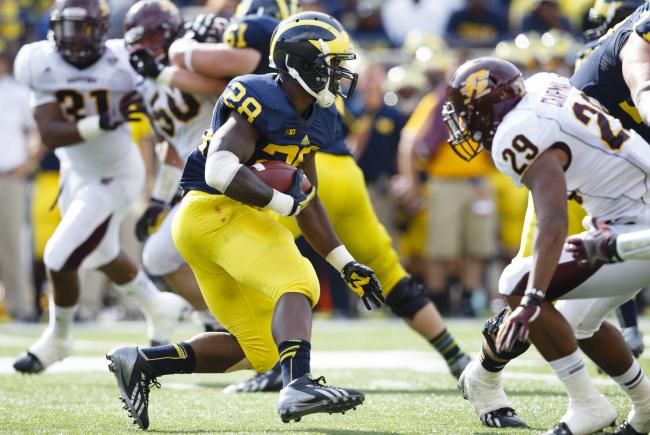 Michigan 42, CMU 6 (12:00, 3rd Quarter)
Time to wrap it up, here. Michigan's huge lead could prompt the entrance of youngsters on both sides of the ball. Still waiting for Shane Morris to take over at quarterback. Wouldn't mind seeing Derrick Green get a few carries, either.
I'm not surprised to see Devin Gardner come out during the first series of the second half. I have a feeling if this drive ends in a touchdown that it'll be Gardner's last drive of the game.
Gardner to Joe Reynolds for 45 yards, as I write this.
Halftime stats via @umichfootball:
Team Stat Comparision: 1st Downs (U-M 12 - CMU 7), Total Yards (U-M 243 - CMU 139), Rushing (U-M 143 - CMU 68), Passing (U-M 100 - CMU 71)

— Michigan Football (@umichfootball) August 31, 2013
And now from me: Gardner was 8-of-13 with 100 yards, one touchdown and two picks.
What are your thoughts about the first half? Judging by the few comments I have so far, it seems that some weren't thrilled with Gardner's play. Neither were people on Twitter, if that makes any difference.
He forced a couple of throws, leading to two picks and six points for CMU. Other than that, he's managed the game well and has put his athleticism to work. For his first start of the year, I'd say he's playing at about a C+ level.
What do you think? Grade him. Tell me why I'm wrong or why you agree with my assessment.
Michigan 35, CMU 6 (Halftime)
Has Devin Gardner made up for those picks yet? He's been a big part of two scoring drives, and his Wolverines are cruising along nicely at The Big House.
Now, a question must be answered: With Michigan being up big, will we see freshman Shane Morris get action? He was named the No. 2 quarterback and could greatly benefit from seeing snaps against a hard-playing Central Michigan defense.
Michigan 35, CMU 6 (Halftime)
Devin Gardner has thrown two interceptions, but he's making up for those mistakes with great scrambling. His five-yard touchdown run gives the Wolverines a commanding 35-6 lead over the Chippewas.
Central Michigan's offense sputtered all day, but the majority of its power was lost when running back Zurlon Tipton left with an ankle injury.
Now it's ugly.
Raymon Taylor, with a huge interception, has Michigan in scoring position with just over a minute to play before the half.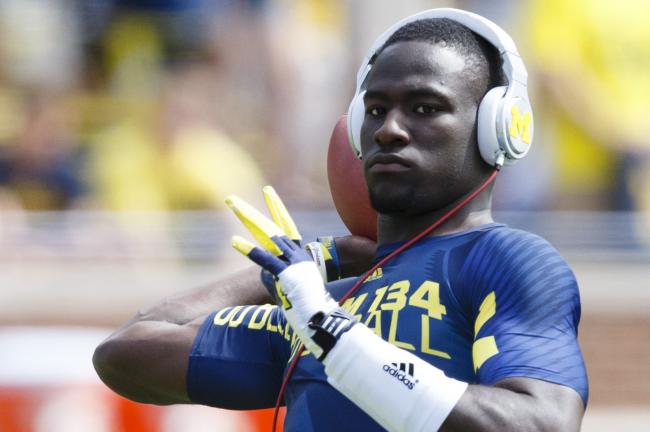 Michigan 28, CMU 6 (2:00, 2nd Quarter)
There's that combination again: Devin Gardner to Jeremy Gallon for a 16-yard touchdown. Gardner was great on his feet during that drive and sent a message about his performance (he's being torched on Twitter).
This article is
What is the duplicate article?
Why is this article offensive?
Where is this article plagiarized from?
Why is this article poorly edited?