New Mexico State Aggies vs. Texas Longhorns: Complete Game Preview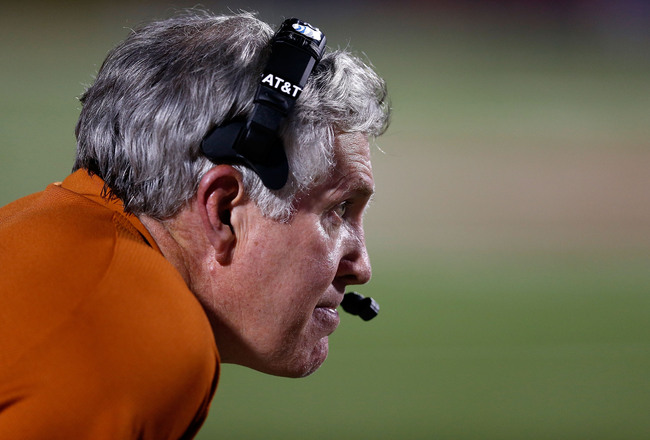 Scott Halleran/Getty Images
Texas head coach Mack Brown enters his 16th season in Austin with one goal in mind—getting the Longhorns back to the Texas standard.
At Big 12 media days, Brown said Texas is about to make another run at a national title.
The first step to a title will come Saturday when the No. 15 Texas Longhorns host the New Mexico State Aggies at DKR Texas Memorial Stadium.
With 19 returning starters, Texas enters 2013 as one of the most experienced teams in college football. The Longhorns are coming off of a 9-4 record and are preparing to unveil a new uptempo offense run by junior quarterback David Ash.
Following a 1-11 season, the Aggies are ready to progress in 2013 under new head coach Doug Martin and offensive coordinator Gregg Brandon. The Aggies return 14 starters—seven on offense and seven on defense—and will feature new starting quarterback Andrew McDonald.
The Longhorns hold a 4-0 record over the Aggies, and the last meeting in 2003 ended in a 66-7 Texas blowout.
Can New Mexico State break its Texas losing the streak?
When: August 31, 2013 at 8 p.m. ET
Where: DKR Texas Memorial Stadium, Austin, Texas
TV: Longhorn Network
Radio: KVET; Sirius Ch. 117; XM Ch. 202
Spread: Texas (-42), per VegasInsider.com
Texas Keys to Victory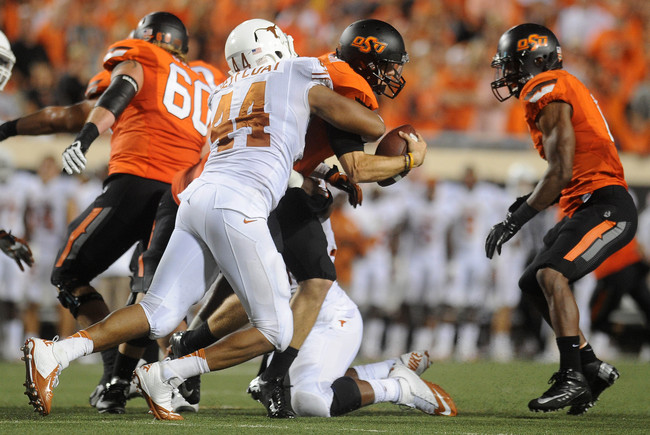 Mark D. Smith-USA TODAY Sports
Defense
The biggest question mark for Texas is if the defense can improve after last season's horrible showing. The 2012 defense was the worst statistical defense in school history—allowing 404.2 yards and 29.2 points per game.
The excuse the Longhorns defense had last season was it was forced to play young defensive players when starting defensive end Jackson Jeffcoat and linebacker Jordan Hicks went down with season-ending injuries. With Jeffcoat and Hicks back in the mix, it's time for the defense to put up or shut up.
Game Management
Junior quarterback David Ash enters 2013 as one of the most experienced QBs in the Big 12. But his role as game manager will be put to the test when Texas displays its uptempo spread offense Saturday against the Aggies.
When asked about the differences in managing the game in uptempo play compared to being in the huddle, David Ash said:
It's easier to command the offense in a huddle. Whenever you're going fast, you have to be aware of everything that's going on and make sure everyone knows the play. Everybody has to know what to do and pay attention to details. It has to be sound football. When you're going fast, the biggest thing is you can't lose the quality of play.
NM State Keys to Victory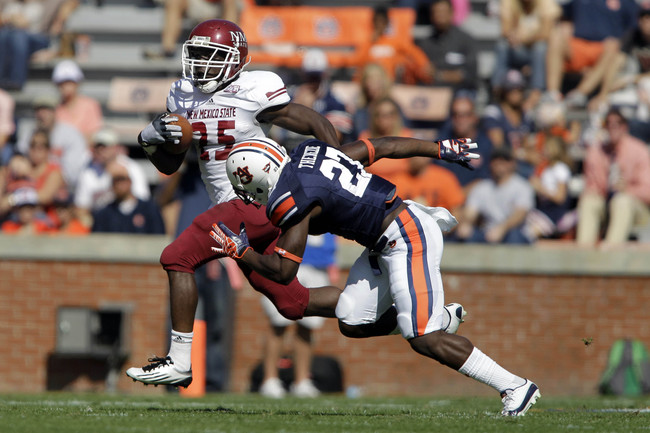 John Reed-USA TODAY Sports
1. Running the ball
At the end of 2012, Texas ranked 88th nationally against the run and allowed an average of 192.5 rushing yards per game. The Longhorns have continued to say the defense will be better in 2013, but New Mexico State needs to put the rush defense to the test Saturday.
Senior tailback and 2012 leading rusher Germi Morrison needs to have the best game of his life against a defense that has a lot to prove.
2. Stopping the Run
New Mexico State's defensive line is a work in progress, losing five linemen from 2012. The most seasoned member of the line is nose tackle Kevin Laudermill, who appeared in 11 games last year.
With Texas running backs Johnathan Gray, Joe Bergeron and Malcolm Brown healthy, the Aggies will need to find a way to stop this three-headed monster.
3. Prayer :)
Texas Players to Watch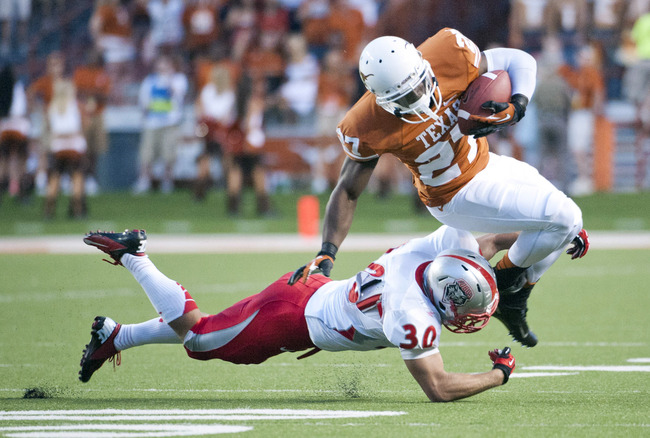 Brendan Maloney-USA TODAY Sports
Daje Johnson
Sophomore wide receiver Daje Johnson has been a hot topic all offseason after he made the move from running back to wide receiver. Johnson said he likes to compare himself to wide receiver Tavon Austin, who just so happened to be the eighth overall pick to the St. Louis Rams in the 2013 NFL draft. And Johnson's comparison is not far-fetched.
Johnson's attitude and maturity were the biggest issues his freshman year. But after his family and the Texas coaches told him to he had to grow up, Johnson has changed his work ethic and is determined to be an impact player in 2013.
"I am much better than last year," Daje Johnson said. "I have matured, I'm buying into the offense, buying into the team and I'm ready to get it doing. I'll definitely be a big contributor."
With little depth at wide receiver, Daje Johnson is a player to watch.
David Ash
David Ash faced a tremendous amount of adversity his first two seasons at Texas, but I expect to see a different Ash in 2013.
David Ash is not the most vocal player on the team and has even been referred to as awkward by his teammates. Ash entered the offseason knowing the quarterback role was his. To help him with his leadership, Ash relied on former Texas quarterback Vince Young for guidance.
"The most important thing I took away from my time with Vince [Young] was to be visible to my teammates," Ash said. "He didn't tell me I had to change who I was or had to be Vince Young. He just said be who you are but be visible and be around. He said 'If you do that, then it will all come together.'"
Ash's leadership role will be imperative for Texas this season, as the Longhorns make the shift to the uptempo offense.
NM State Players to Watch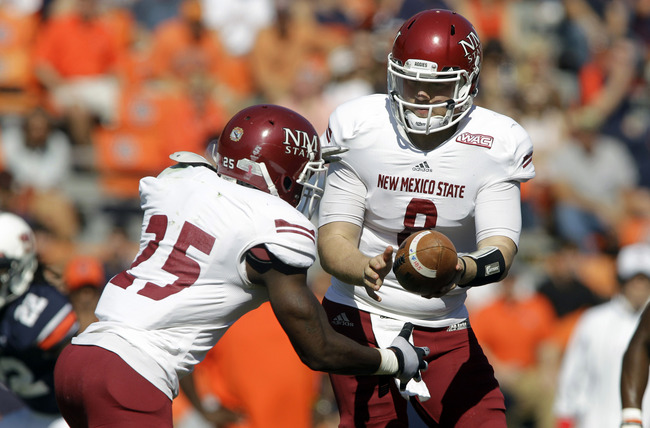 John Reed-USA TODAY Sports
QB Andrew McDonald
The fate of the New Mexico State offense will lie in the hands of senior quarterback Andrew McDonald.
Saturday will be McDonald's first start as an Aggie, but the QB showed potential with his 2,000 passing yards and 62 percent completion rate at Santa Ana Community College.
McDonald needs to enter DKR Texas Memorial Stadium with fire in his eyes and the drive to lead the Aggies to more than just one win this season.
S Davis Cazares
Senior safety Davis Cazares is arguably one of the best players on the Aggies defense. Cazares led the WAC in 2012 with 116 tackles and ranked 28th nationally in solo tackles.
New Mexico State's defense needs to mold itself after Cazares' production on the field and ability to take down the opponent's offense.
Offensive coordinator Gregg Brandon
New Mexico State's offense averaged 18.7 points per game in 2012 and finished 112th out of 120 in scoring offense.
Offensive coordinator Gregg Brandon enters his first year with a lot to improve. Brandon, who worked under Urban Meyer at Bowling Green, needs to find the weapons on the Aggies offense and utilize them to their full potential.
What They Are Saying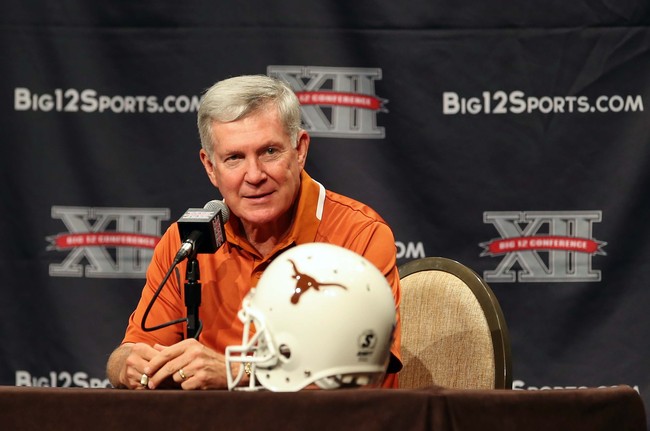 Kevin Jairaj-USA TODAY Sports
Texas head coach Mack Brown
We're really not sure what we're going to see Saturday, with Gregg Brandon coming in as offensive coordinator from Wyoming, who worked under Urban Meyer at Bowling Green. Is it going to be a quarterback run or an option offense? Is it going to be what we saw at Wyoming? We're just not really sure what we're going to see on Saturday night.
Texas quarterback David Ash
[New Mexico State] has a new coach and it's the season opener, so we don't have any recent film on them. But we can look at last season and gather what we can. We can look at the different coach's history and their style, to see what they've done at different schools. Home openers are always a little bit different in that you just have to go and be ready to adjust, be ready to get an idea of what they're doing and play football.
Texas defensive end Jackson Jeffcoat
New Mexico State's offense is not going to be an easy team to play against. They're a D1 team. You can never take an opponent lightly or overlook any opponents. We are going to study the film and look at the personnel because you don't know what they're going to do with a new coach and offensive coordinator.
Prediction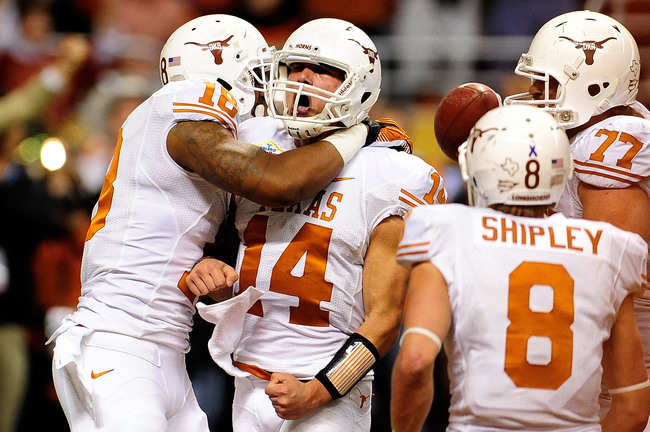 Stacy Revere/Getty Images
Let's be honest: Does anyone actually think New Mexico State has a chance against Texas? There's a reason why the Longhorns schedule certain teams as home openers—the likelihood of them losing is slim to none. Texas has won the last 13 home openers under Mack Brown, and I doubt that streak will change on Saturday.
Texas could not have scheduled a better team to debut a new offense against than New Mexico State. Texas' defense was bad last year, ranking 67th in total defense—New Mexico State's was worse at 111th.
Mack Brown and some Texas players have said they don't know what to expect from New Mexico State under new head coach Doug Martin and offensive coordinator Gregg Brandon. I understand that. But the chances of NM State steamrolling over an unprepared Texas team come Saturday night are slim to none.
Sorry Aggies, but this game will not be close.
Texas 49, New Mexico State 10
Unless otherwise noted, all quotes were obtained firsthand.
Follow Taylor on Twitter @Taylor_Gaspar
Keep Reading