With the BCS making its farewell tour in 2013, it would be fitting if its biggest beneficiary—the SEC—won its eighth consecutive title as the lights go out in Pasadena.
It's no coincidence that the SEC's reign of dominance coincided with the BCS era; the two were made for one another.
Think about it this way: What better partner for a conference that offers the highest level of competition and draws the top athletes than a system that uses computer rankings to seed a single championship game?
When the impartial processor makes the call, a one-loss SEC champion will trump an undefeated non-BCS or Big East team every time.
And, as 2011 proved, the championship computers favor a one-loss SEC team (Alabama) that didn't even win its own division over a one-loss Big 12 team (Oklahoma State) that won its conference.
The argument is simple. The SEC team played a more difficult schedule against the most talent-rich teams in the nation.
And this is the case, even though SEC teams tend to schedule—at most—one quality BCS non-conference opponent a year.
This explains why the insular SEC has such a dominant record against the other big leagues. With the exception of bowl games, its members don't regularly play big-time outsiders.
To illustrate, last season 12 of the 14 SEC programs played a non-conference game against a BCS team. Though this sounds impressive on the surface, the details leave room for further thought.
Texas A&M and Mississippi State didn't play a BCS non-conference game in 2012, somewhat tarnishing the 11-2 and 8-5 respective finishes.
Four of the 12 games—Georgia and Georgia Tech, South Carolina and Clemson, Florida and Florida State and Kentucky and Louisville—were against in-state rivals and are scheduled annually.
Though all high-quality affairs, they were part of the long-term schedule and not a case of a program "stepping up."
Two of the games were losses to Big East foes (Arkansas to Rutgers and Missouri to Syracuse), which isn't exactly as humbling as losing to a WAC team, but it isn't losing to a Big 12 program, either.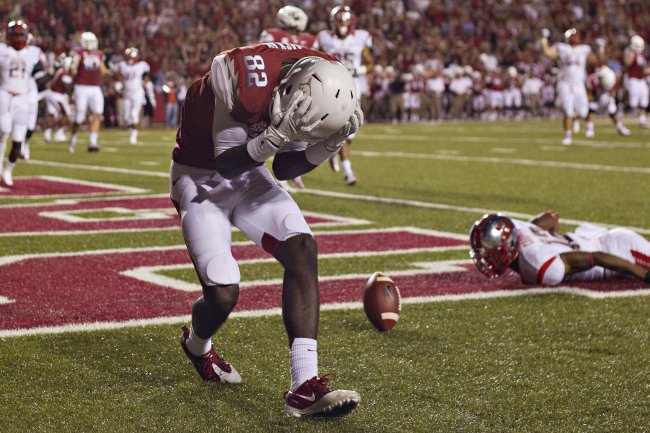 Wesley Hitt/Getty Images
The remaining games were against BCS teams of a wide variety. Alabama played Michigan, LSU played Washington, Ole Miss played Texas, Auburn played Clemson, Tennessee played N.C. State, Vanderbilt played Northwestern and Missouri (which had two BCS non-conference games) played Arizona State.
The SEC's regular-season record versus non-conference BCS foes in 2012 was 7-6. Despite this dubious mark, the SEC had six members in the final BCS Top 10 last season.
The SEC's mastery of the BCS scheme has earned the conference two assets that continue to fuel the success: world-class coaches and top-ranked recruits.
Whether the hiring of the coaches led to the wave of successful recruiting, or the talent attracted the coaches, the combination of the two has been lethal.
Key hires timed near the beginning of the SEC's BCS title run were Florida's Urban Meyer, South Carolina's Steve Spurrier and LSU's Les Miles—all in 2005—and Alabama's Nick Saban in 2007.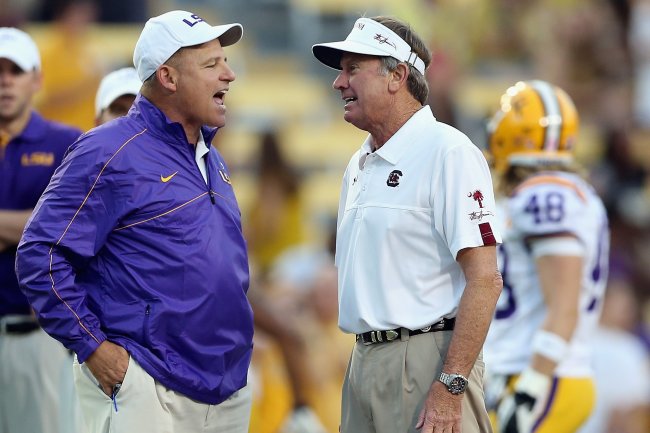 Ronald Martinez/Getty Images
This goes a long way in explaining how an SEC team managed the No. 1 rated recruiting class seven of the last eight years. To put a finer point on it, 46 percent of the top-10 recruiting classes since 2007 have gone to SEC members.
This all adds up to the SEC and the BCS scheme being a win-win situation for both parties.
Though it's easy to identify Alabama as the team to win the final BCS sweepstakes, don't forget that the Tide were one play away—on at least two occasions—from a different scenario last season.
Yes, if AJ McCarron doesn't find T.J. Yeldon for a 28-yard touchdown pass with less than a minute to go against LSU, it's likely both the SEC title and the BCS championship are gone. And, if Georgia's Aaron Murray doesn't complete the pass to Chris Conley, who was tackled in-bounds at the 5-yard line as time expired, the Buldogs would have had one more chance to score, win the SEC and face Notre Dame in the title game.
Suddenly, the conversation would have changed from, "Can Alabama three-peat as national champion,'' to "Can the Tide redeem itself in 2013?''
But since the Tide did win it all, they remain the prohibitive favorite. However, they aren't the only SEC team with national championship aspirations.
Georgia
With nine starters back on offense and only three on defense, Georgia's championship dreams will come down to retooling its No. 18-ranked scoring defense.
The Bulldogs return just two members of the front seven, which may be the biggest indicator of how far they can go, especially given that Georgia ranked No. 80 versus the run in 2012, finishing No. 12 in the SEC.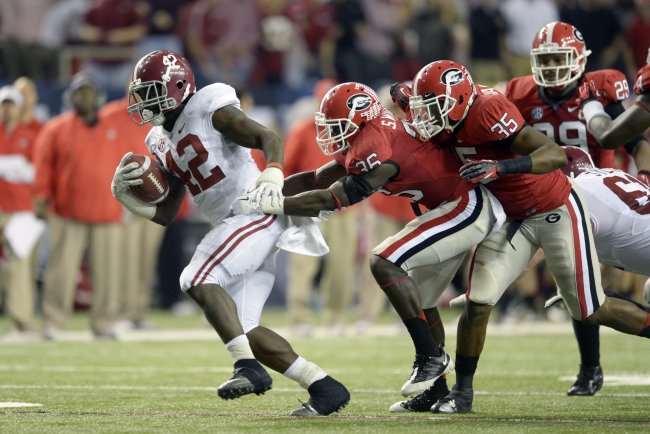 USA TODAY Sports
On the plus side, the Bulldogs play LSU (in Athens) and Auburn out of the West, leaving Alabama and Texas A&M off the slate in the regular season.
Georgia does have two BCS non-conference games—both on the road—serving as bookends to the season. The Bulldogs open the season at Clemson and finish with a game at Georgia Tech.
LSU
Like Georgia, LSU will need to retool its defense to be a title team in 2013.
The Tigers must replace their entire defensive line, a linebacker and three members of the secondary. The good news is that LSU has more talent returning, finishing last season ranked No. 9 nationally against the run.
Sam Greenwood/Getty Images
LSU's schedule is no picnic, drawing games at Georgia and versus Florida from the East. The Tigers get Alabama on the road (after a bye week) and open up against TCU in Arlington, Texas.
Texas A&M
Regardless of whether Johnny Manziel is deemed eligible to play in 2013, the Aggies have plenty of other obstacles to overcome to improve on their 11 wins.
First, four of Manziel's top five targets will be gone, as will three members of the secondary that struggled to a No. 88 national finish in 2012.
Ronald Martinez/Getty Images
What will help Texas A&M is a schedule that is devoid of any BCS non-conference opponents and draws Vandy and Missouri from the East. South Carolina, Florida and Georgia are off the regular season slate.
Though the Aggies get Alabama at home, the LSU game is on the road. Both of these key contests will be played after the Tide and Tigers enjoy a bye week.
Florida
Florida will need its No. 5-ranked scoring defense from a year ago to continue to play well to allow its offense an opportunity to improve on its dismal No. 78 scoring rank.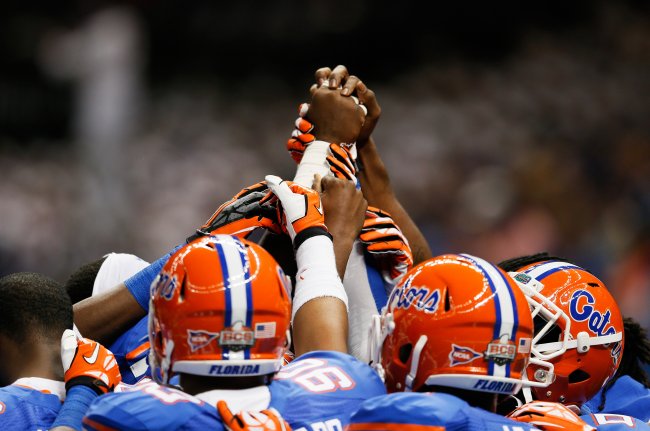 Kevin C. Cox/Getty Images
Six starters return on offense and five on defense, a number that is missing all but one member of both the defensive line and linebacker corps.
The Gators' schedule leaves little room for error. They have non-conference games at Miami (Fla.) and Florida State, and contests at LSU and versus Arkansas from the SEC West.
South Carolina
Though defensive end Jadeveon Clowney and seven members of the offense are back in 2013, the Gamecocks don't return a single starter at linebacker.
With a tricky opener versus North Carolina at home followed by a road trip to Georgia, South Carolina must get up to speed early.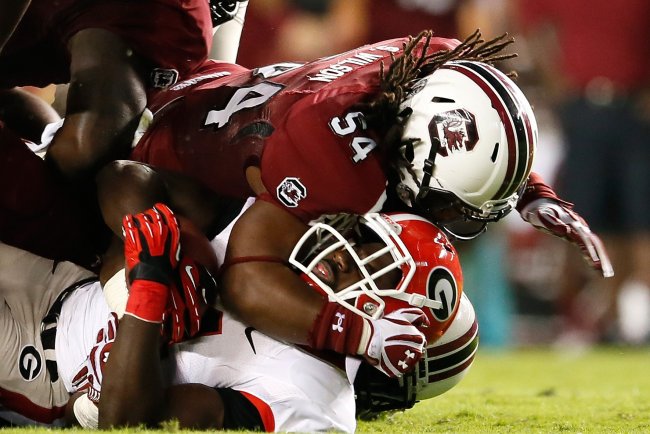 Kevin C. Cox/Getty Images
The upside for the Cocks is that games against the West are limited to Arkansas and Mississippi State, leaving big dogs Alabama, LSU and Texas A&M off the schedule.
What South Carolina has to prove—perhaps most importantly to itself—is that it can win a conference title, something it has not done since capturing the 1969 ACC crown.
A BCS Postscript
What's even more interesting than predicting which SEC team will win the big enchilada in 2013 is considering if an SEC team will win it all in 2014.
Indeed, will the four-team playoff balance the playing field just enough for another conference to begin its own reign of terror?