Every Pac-12 Team's Biggest Competitor for Its Top 2014 Recruiting Target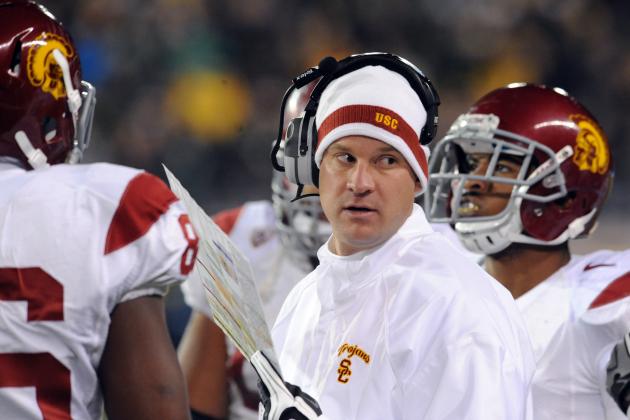 Steve Dykes/Getty Images

Pac-12 schools build most of their recruiting classes with talent from California, as the state serves as a national hotbed. With so many good players available each year out West, Pac-12 programs routinely compete for the same prospects.
Each Pac-12 program has at least one recruit that it desperately wants. However, many other Pac-12 schools likely covet that same prospect.
Oregon is trying to take a speedy prospect from Washington, while Arizona State is fighting an SEC program for an offensive lineman. Also, USC has stiff national competition for several of its top targets.
Player evaluations are based on review of tape at Scout.com, Rivals, 247Sports and ESPNU.
Begin Slideshow

»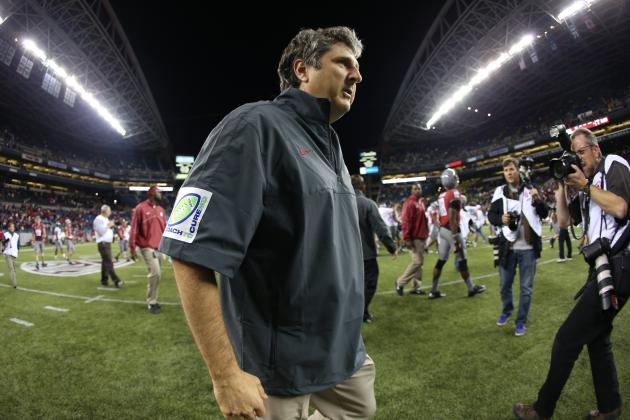 Otto Greule Jr/Getty Images

Top Target: Denzel Fisher, CB
A tall cornerback at 6'1" and 165 pounds, Fisher can press receivers at the line effectively due to his long arms. He has loose hips, can turn-and-run well and has good short area quickness.
Fisher, who is from Los Angeles, is a 3-star cornerback who can also play safety. He supports the run off the edge, but also plays with a swagger. Utah is Washington State's biggest competitor for him, per 247Sports.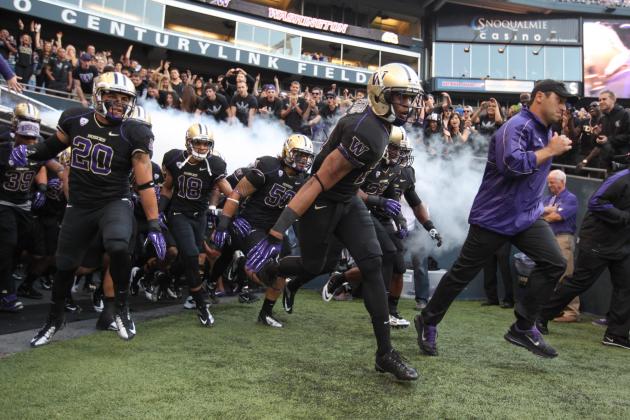 Otto Greule Jr/Getty Images

Top Target: Budda Baker, ATH
Baker, a 4-star prospect from Washington, is the top player on the Huskies' board. The versatile player has fantastic speed, as he can use his skills to impact the game in several ways.
Baker, who is 5'9" and 174 pounds, can play receiver and running back on offense, cornerback and safety on defense and also return punts and kicks. He would receive early playing time in Seattle, as head coach Steve Sarkisian will immediately get Baker on the field.
However, Oregon and UCLA also are on Baker's mind, per 247Sports.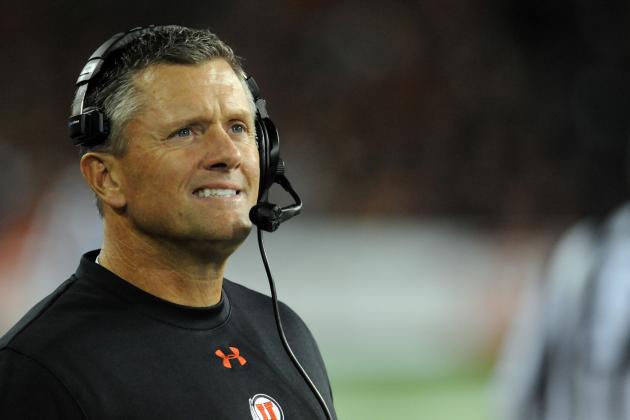 Steve Dykes/Getty Images

Top Target: Jarrett Hildreth, QB
A confident quarterback, Hildreth shows some "gunslinger" characteristics on tape. He takes chances, puts a lot on his shoulders and is not afraid to attempt risky plays.
Hildreth, a 6'3", 212-pounder from Texas, is a 3-star passer who would infuse confidence into Utah's program as it continues its transition into the Pac-12. He's a player the Utes must land, as Hildreth would not be intimidated by schools such as USC, Oregon and Stanford.
Colorado State and Houston are Utah's biggest competitors, according to 247Sports.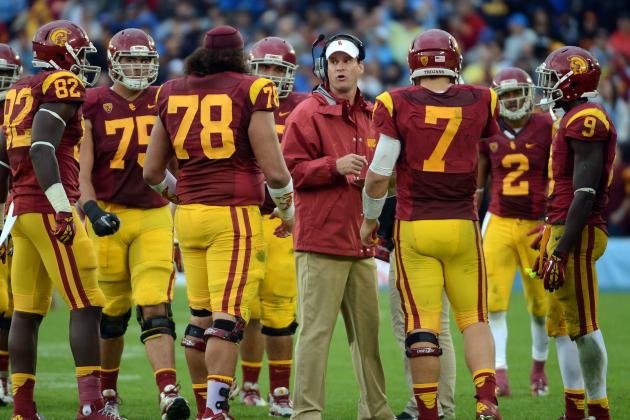 Harry How/Getty Images

Top Target: Adoree' Jackson, CB
Prospects such as 5-star athlete John Smith, 5-star guard Damien Mama and 4-star athlete Michiah Quick were considered, but with USC needing better cornerback play, Jackson gets the nod.
A 5-star recruit, Jackson is a 5'9.5", 182-pound cover man with quick-twitch athleticism, great speed and deceptive strength. He lacks great technique, but his athletic ability and natural instincts allow him to make rare plays.
Florida stands in the Trojans' way, says 247Sports, but also keep an eye on UCLA, Michigan, Illinois and LSU.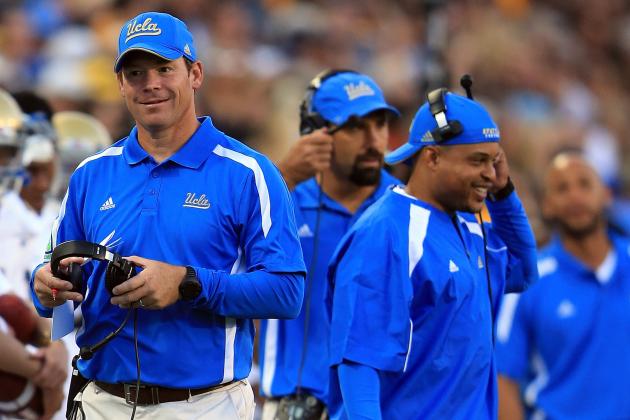 Doug Pensinger/Getty Images

Top Target: Malachi Dupre, WR
Dupre is a talented receiver who has a high ceiling. The New Orleans product is 6'2.5" and 187 pounds, but could weigh 215 pounds when he graduates from college.
He builds up into his routes, shows solid quickness to separate from cornerbacks and has good hands. Dupre, a 5-star prospect, can be a strong runner in the open field after the catch.
Landing him would be a major coup for the Bruins, but LSU is thick in the mix, per 247Sports.
Kyle Terada-USA TODAY Sports

Top Target: Solomon Thomas, DL
Thomas plays on the edges in high school, but he will move inside in college. The 6'3", 256-pound 5-star recruit has great strength, can stack blocks and has the ability to anchor versus running plays.
Thomas rushes the passer with power, as he keeps fighting during a play until he reaches the quarterback.
He would be a great fit as a defensive end in Stanford's 3-4 defense, however, schools such as Alabama, Texas, Ohio State and Notre Dame are also being considered, according to 247Sports.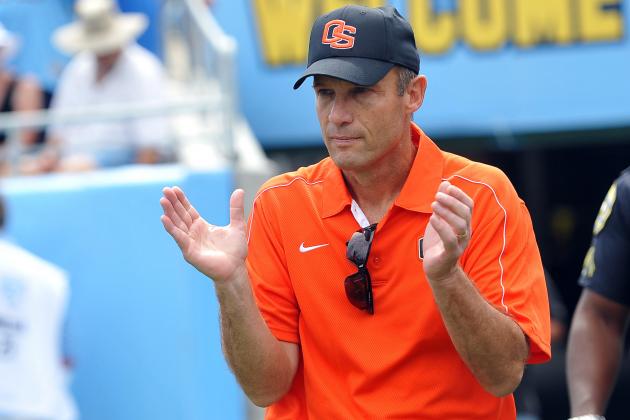 Jayne Kamin-Oncea-USA TODAY Sports

Top Target: Jalen Brown, WR
Brown has adequate quickness to release off the line, and he has solid speed to factor in the vertical passing game, but he does most of his damage on intermediate routes.
A 4-star receiver, the Arizona prospect is 6'2" and 187 pounds. He adjusts his routes on the fly, finds holes to settle in and has excellent hands. He is a similar receiver to 2013 Vanderbilt signee Jordan Cunningham.
Vanderbilt, Wisconsin, Oregon and Ohio State are four schools the Beavers will have to beat out, according to 247Sports.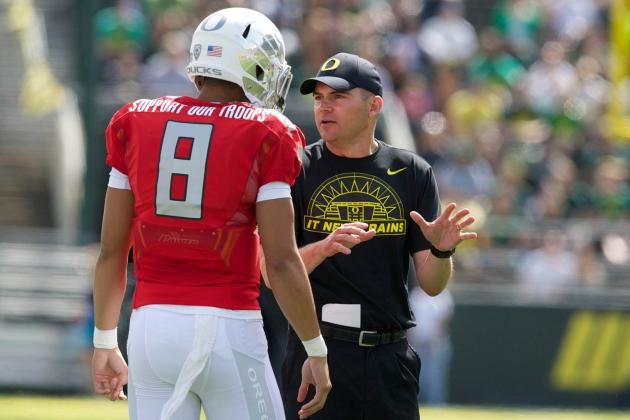 USA TODAY Sports

Top Target: Budda Baker, ATH
Although he can play in the defensive secondary, Baker would likely play on offense in Eugene. His speed, quickness and elusiveness with the ball make him a perfect fit for the Ducks' speed-based spread offense.
The 5'9", 174-pounder from Washington is a 4-star recruit who can make dazzling plays. Baker has an outstanding burst to get upfield in a flash, and he can also outrun defenders to the end zone.
He could be a similar player to running back De'Anthony Thomas for Oregon.
UCLA and Washington are also in the hunt, per 247Sports.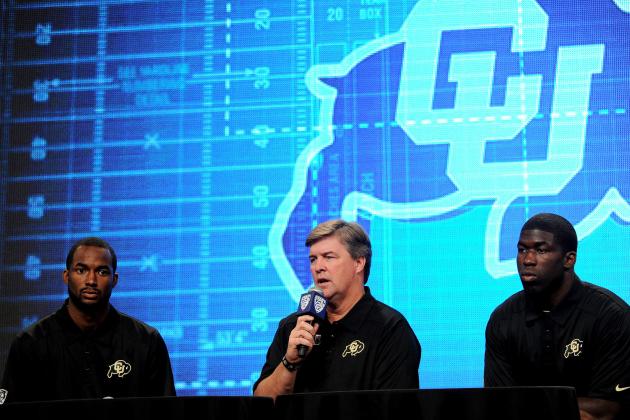 Jayne Kamin-Oncea-USA TODAY Spor

Top Target: Dominique Barnett, CB
Barnett, who is a 3-star prospect, would be an excellent fit in a cover-2 defense. He is a physical cornerback who excels in zone coverage due to his awareness.
Barnett, who is 6'1" and 175 pounds, lacks great speed and man-to-man cover skills. However, his ability to peel off the edge to support the run, jam receivers at the line and communicate in the secondary will be assets in college.
UTEP is Colorado's main opponent, says 247Sports.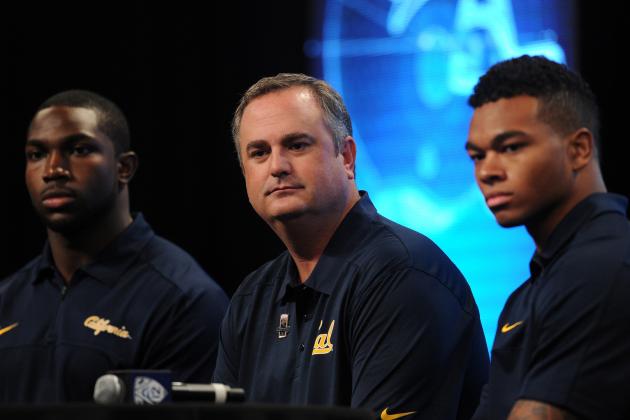 Jayne Kamin-Oncea-USA TODAY Spor

Top Target: Joe Mixon, RB
Mixon is a 6'2", 195-pound running back who plays like a receiver. He is a threat in the passing game due to his great straight-line speed, hands and natural receiving skills.
Mixon has a solid burst through alleys, runs with good vision and flashes solid power. The 5-star recruit would be an ideal fit in head coach Sonny Dykes' spread offense.
However, programs such as Oklahoma, USC, Wisconsin and Florida are also under consideration by Mixon, according to 247Sports.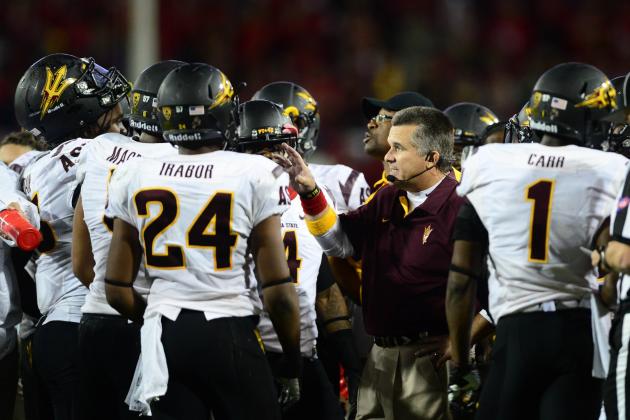 Mark J. Rebilas-USA TODAY Sports

Top Target: Casey Tucker, OT
Tucker is a 4-star offensive lineman who is an in-state recruit for the Sun Devils.
He has a nasty demeanor on the field, as he plays strong at the point of attack and looks to finish each block with his opponent on the ground.
Tucker, who is 6'6" and 270 pounds, has the ability to powerfully anchor versus massive rushers to protect the quarterback. He would be a candidate for immediate playing time in Tempe.
Texas A&M, USC, Stanford and Notre Dame are also in the hunt, reports 247Sports.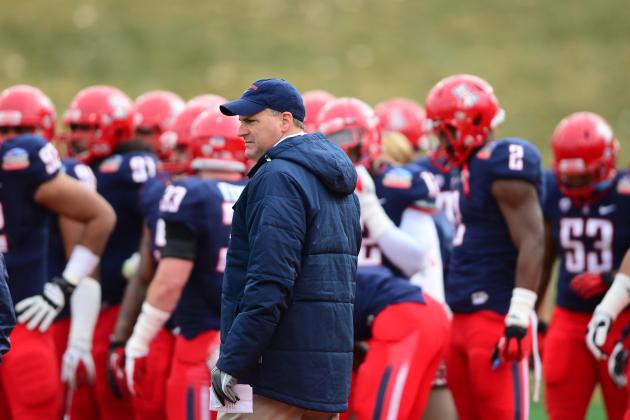 Mark J. Rebilas-USA TODAY Sports

Top Target: Jamardre Cobb, LB
The Wildcats are looking to build a great defense, and Cobb could play a vital role in Arizona reaching it's goals.
The 4-star recruit is a strong outside 'backer who can jam tight ends at the line of scrimmage, attack off the edge and play big at the point of attack. Cobb, who is 6'2" and 230 pounds, is a physical player who would be ready to contribute early in his career for 'Zona.
Oklahoma is the Wildcats' main competitor for him, according to 247Sports.
Several recruits from this list are on the 2014 Bleacher Report College Football Recruiting Heat Map. Check it out and to locate some of the Pac-12's most coveted recruits!
Edwin Weathersby is the College Football Recruiting Analyst for Bleacher Report. He has worked in scouting/player personnel departments for three professional football teams, including the New York Giants and Cleveland Browns.