Non-BCS Players with the Best NFL Potential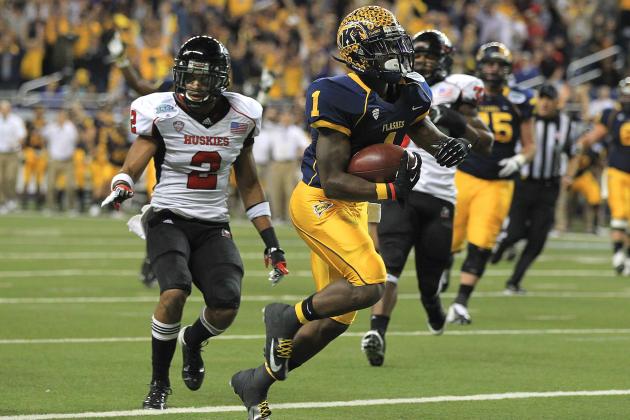 Dave Reginek/Getty Images

The non-BCS leagues found no success in last year's BCS, watching their lone representative, Northern Illinois, flounder against Florida State in the Orange Bowl.
Still, the No. 1 overall pick, Eric Fisher, came out of Central Michigan.
The left tackle soared up draft boards and was taken by the Kansas City Chiefs, becoming the first non-BCS player to claim that spot since Alex Smith in 2005.
The only other offensive tackles to ever go No. 1 went to USC (Ron Yary), Ohio State (Orlando Pace) and Michigan (Jake Long)—three of the most esteemed programs in college football history.
Who else is ready to shatter the mold this season? Check out the list, which is listed in alphabetical order.
Note: Notre Dame and BYU were both excluded from the list for playing as Independents.
Begin Slideshow

»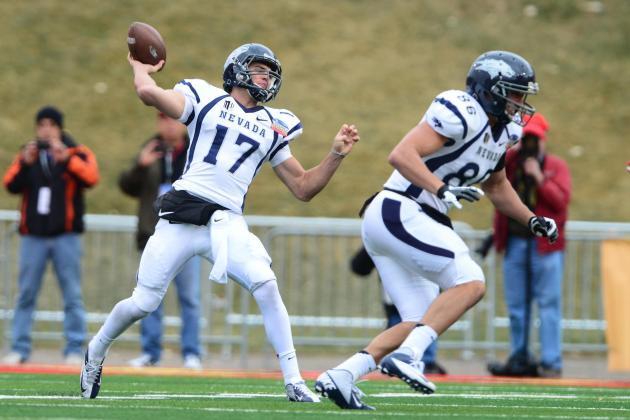 Mark J. Rebilas-USA TODAY Sports

Cody Fajardo, QB, Nevada
Cody Fajardo has already drawn comparisons to Colin Kaepernick, and not just because they went to the same college. He excels as a runner, but Fajardo needs to work on his arm if he plans on following in Kaep's footsteps.
Matt Miller, WR, Boise State
Matt Miller is a big (6'3", 218 lbs), physical possession receiver with strong enough hands and just enough mobility to subsist at the next level. Plus, how fun will it be when Bleacher Report's Matt Miller gets to scout him?
Tyler Larsen, C, Utah State
Tyler Larsen is the heart and soul of his team and one of the best center prospects in the draft. Even Alabama's Barrett Jones, a two-time first-team All-American, lasted until Round 4 this year. That said, Larsen could carve out a solid career at the next level.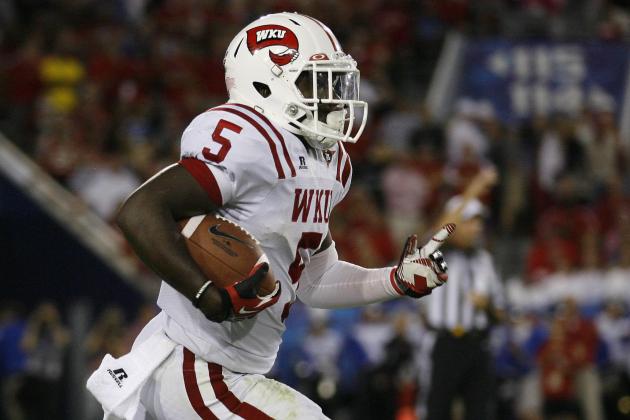 Mark Zerof-USA TODAY Sports

The Western Kentucky Hilltoppers' "Mr. Everything," Antonio Andrews finished 2012 with 2,160 yards of offense (1,728 rushing, 432 receiving) on 341 touches, good for an average of 6.33 yards per touch. Only two players, Arizona's Ka'Deem Carey and Utah State's Kerwynn Williams, gained more yards from scrimmage last season.
Throw in his contribution on kick and punt returns, and Andrews finished 2012 with 3,161 all-purpose yards. Those are Reggie Bush-type numbers.
Andrews has a big frame (6'0'', 211 lbs) that should allow him to handle the physicality of NFL football. Blessed with the tutelage of Bobby Petrino for his senior season, he should also learn a lot about pro-style concepts.
That will only make him more desirable.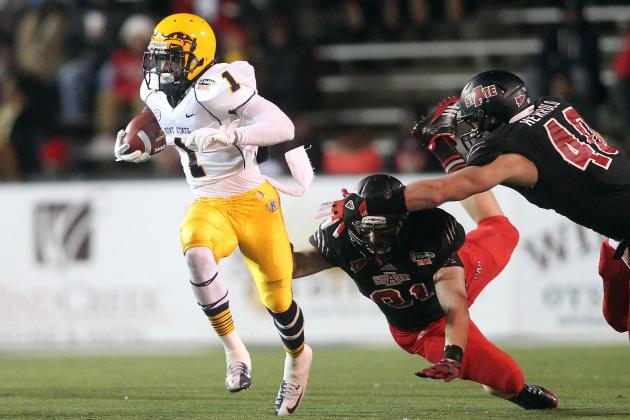 Crystal LoGiudice-USA TODAY Sports

The picture above does Dri Archer little justice. This video is more like it.
Basically, he's De'Anthony Thomas—a guy capable of turning any play, at any time, from any spot on the field into a touchdown. He led the nation (by a large margin) with 9.0 rushing yards per attempt last season, finishing with 1,429 yards on 159 carries.
He also led the nation in kickoff-return average, finishing with 36.9 yards per return and three touchdowns. If Tavon Austin can parlay that type of explosion into a top-10 pick, there's no reason Archer can't go on early in 2014.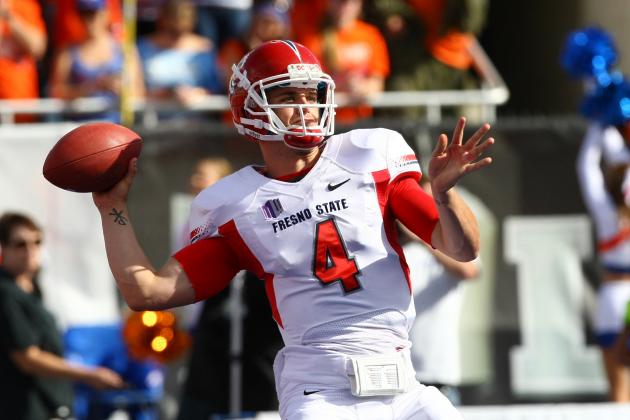 Brian Losness-USA TODAY Sports

Derek Carr's brother, David, made a name for himself at Fresno State, so much so that he was taken No. 1 overall by the Houston Texans in 2002. Though he's still in the league, now with the New York Giants, he hasn't lived up to the hype.
Derek may be different.
He threw for 4,104 yards as a junior last season, his second consecutive campaign with over 3,500 yards. If he repeats (or improves upon) the feat again this year, he'll cross the 11,000-career-yard mark, which would be a tremendous accomplishment.
That will make NFL scouts take notice.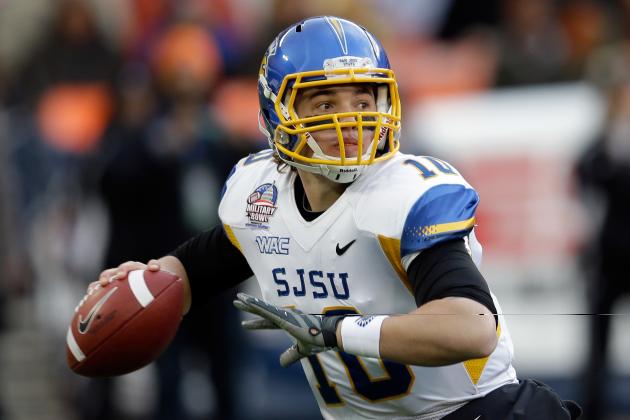 Rob Carr/Getty Images

David Fales is the most accurate quarterback in college football, leading the nation in completion percentage (72.5) last season and dazzling in a skills competition this summer.
The new mode of football, in Chip Kelly's own words, calls for "repetitive accuracy" above all else from the quarterback position. That should make Fales a sought-after commodity.
Though that percentage will drop at the next level, Fales can show scouts he can play with the big boys if he puts up a big game at Stanford on Sept. 7.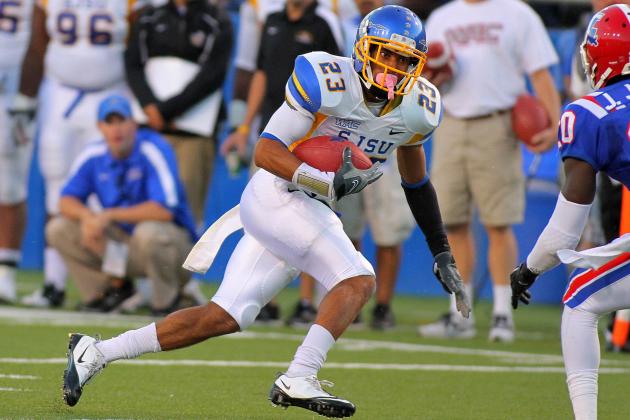 Spruce Derden-USA TODAY Sports

Noel Grigsby makes QB David Fales' job much easier. Throwing to an NFL-caliber receiver against lower-level cornerbacks will do that for you.
Grigsby finished last season with 82 catches for 1,307 yards, bringing his three-year totals up to 227 and 3,015, respectively. Another 1,300-yard season would bump his career total over 4,300, making him one of the top 10 receivers in FBS history.
He and Fales are truly one of the best combos in college football. If they continue that success this season, both could see themselves playing big roles on Sundays.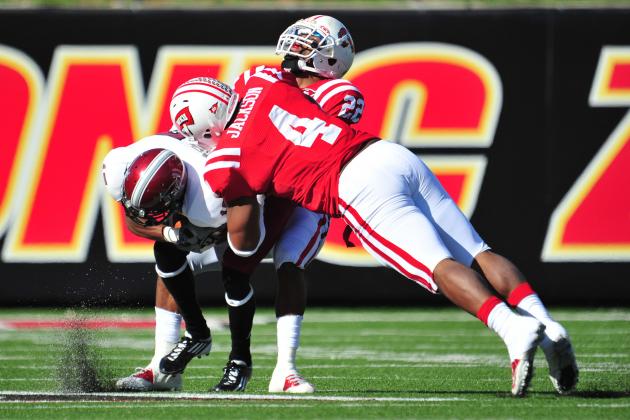 Don McPeak-USA TODAY Sports

Just check out the photo above, where Andrew Jackson is spearing two players in one fluid motion. That's an accurate depiction of his game.
Like Antonio Andrews for the Hilltoppers offense, Jackson is a Mr. Everything-type player on defense. He's finished with over 108 tackles in each of the past two years, including 122 (and 16.5 tackles for loss) last season.
He also led the Sun Belt with four forced fumbles last year, something he has a knack for and could translate into professional success.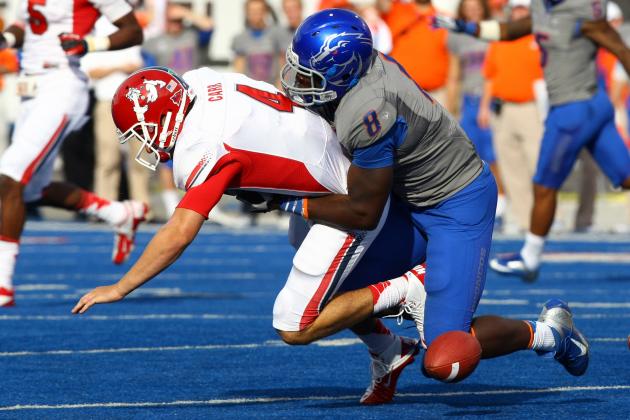 Brian Losness-USA TODAY Sports

Remember all those nice things you just read about Derek Carr? This (above) is what happens when Demarcus Lawrence gets to the quarterback.
Lawrence is the latest is a long line of NFL prospects in Boise, following the lead of first-round end Shea McClellin a couple of seasons ago. In his first and only year recording stats for the Broncos, he posted 9.5 sacks and 13.5 tackles for loss.
If he improves upon those numbers as a junior, Jackson might not be around to improve again as a senior.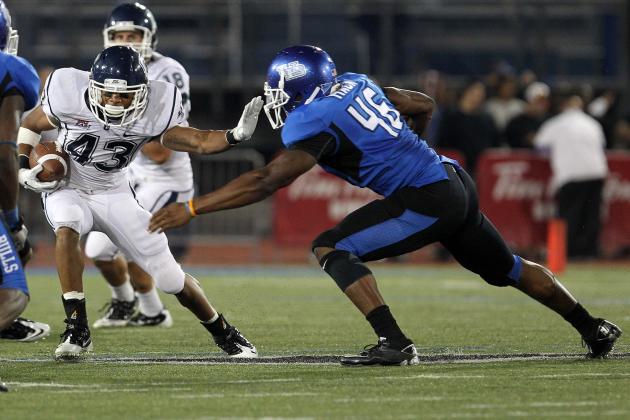 Timothy T. Ludwig-USA TODAY Sports

The numbers Khalil Mack has put up at Buffalo jump off the page. He had 14.5 tackles for loss as a freshman, 20.5 as a sophomore and 21.0 as a junior, good for a total of 56 in his three-year career.
Sports-Reference.com only measures TFL dating back to 2005, but Mack only need 13.5 this season to break George Selvie's 69 as the highest career total in eight years.
No NFL team will be able to ignore that production.