West Virginia Football: Top 10 Reasons to Watch the Mountaineers in 2013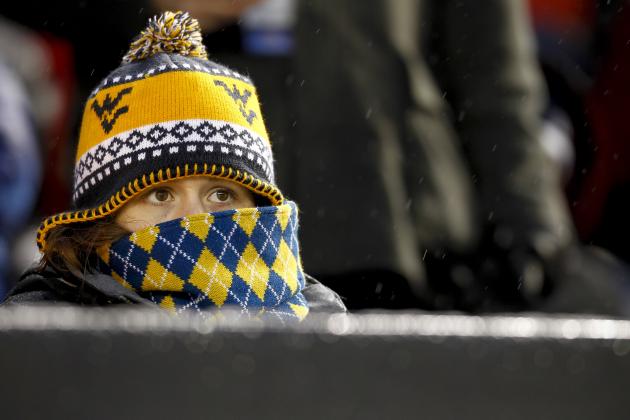 Jeff Zelevansky/Getty Images

Coming off a disastrous year, following the West Virginia Mountaineers football team could be slightly difficult this season. After losing six games in 2012, things got worse when they lost three offensive studs to the NFL Draft. However, this is no reason WVU should not be on your televisions in 2013.
The Mountaineers have made more changes this offseason than they have since the Rich Rodriguez-Pat White era. With coaching departures and arrivals, player transfers and freshmen commitments, West Virginia could look entirely different when the season takes off on August 31.
Head coach Dana Holgorsen will have his most unproven roster since he arrived in Morgantown in 2011. While what happens on the field is still a mystery, there are plenty of other reasons the country should tune in to check out what West Virginia has to offer.
Here are the top 10 reasons why you should put the Mountaineers on your television screen this college football season.
Begin Slideshow

»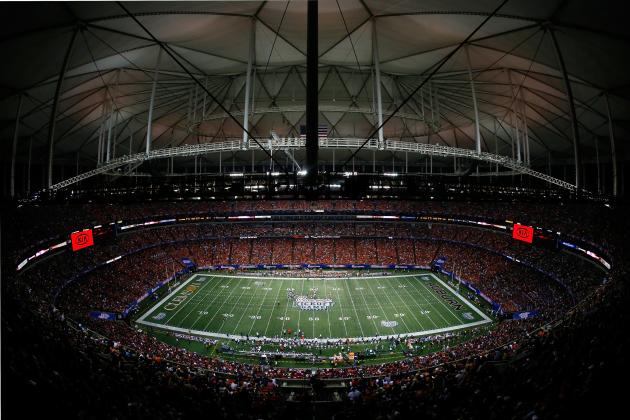 Kevin C. Cox/Getty Images
The Georgia Dome will play host to Alabama and West Virginia on Aug. 30, 2014.
In case you didn't know, the Mountaineers will open the 2014 season in Atlanta, against the Crimson Tide. Considering Alabama has been ranked either No. 1 or No. 2 in the AP Preseason Poll each year since 2010, there's no reason to believe it couldn't happen again.
Obviously, this is still more than a year away. But the stakes for this game are huge, and could be one of the biggest games in West Virginia history. To knock off Alabama in week one would be monumental, and a game changer in college football.
Several things will change between now and then, but by keeping an eye on the Mountaineers this year, we could start to look forward to how the Mountaineers could handle the Crimson Tide.
West Virginia will still have their starting QB, no matter who it is, and the receiving corps will have more experience under their belt. By that time, Charles Sims will be long gone, but guys like Andrew Buie and Dustin Garrison will be seniors.
Alabama will say goodbye to starting quarterback A.J. McCarron and will say hello to the top recruiting class in all of college football (at least for now). Amari Cooper will be a junior and should be primed to enter the NFL Draft as the best receiving prospect in the class.
Some may think this game is already over, that 'Bama will walk all over the Mountaineers to start what could be another championship season. But to be entirely sure of that, one must watch West Virginia this season to see if they can be a true contender or not.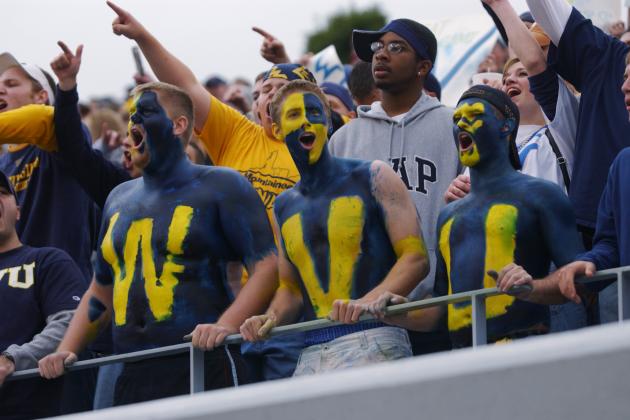 Doug Pensinger/Getty Images

Want a rather interesting experience? Find your way into the WVU student section during a Mountaineers football game. I guarantee you, it will be something you can never forget.
Nearly 30,000 students take to the streets during game days throughout football season, and yet just 11,000 are granted entrance into the stadium. While those in the upper deck can often filter out before the end of the game, the lower section is filled with the most rowdy, passionate fans in all of college football.
For a noon game, fans are tailgating throughout Morgantown at, or before 8 a.m. The reputation the school has is no secret, and the students love to show it off. They'll get into the stadium in the wackiest of outfits with a better game face than the actual athletes.
Once the opposing team runs out onto the field, the lower section will blast them with anything you can imagine in order to get into their heads. If an opposing player responds to a comment from one fan, the entire section will hop all over that athlete like he's a piece of meat.
West Virginia fans take their football seriously. It's all the state has, and they show it. They don't just do it for a good time, they know their football team as much as anyone in the country. Game days is just their chance to show it off.
To watch this team based on the defense alone would be a reach. To watch a particular member on this defense is completely justifiable.
Karl Joseph is entering his sophomore year and is already the most dominant member on the defensive side of the ball. He's a small 5'10'' but can lay the lumber like a gladiator. He flies all over the field and isn't afraid of contact, which makes him a force to beware of this coming season.
He finished with a team-leading 102 tackles in 2012, that's 12 more than the next best man, Isaiah Bruce. Those two also led the team in interceptions, although they only came up with two each.
The defense lacks some serious talent, but Joseph does what he can to make up for it. The No. 8 will consistently fly all over the field and it's not hard to notice. Opposing players should be considered lucky if they're brought down before Joseph reaches them.
The one thing Joesph could work on is being patient and ensuring no receivers get behind him in the passing game. If he can do that, there is no reason he can't be an elite Division I safety.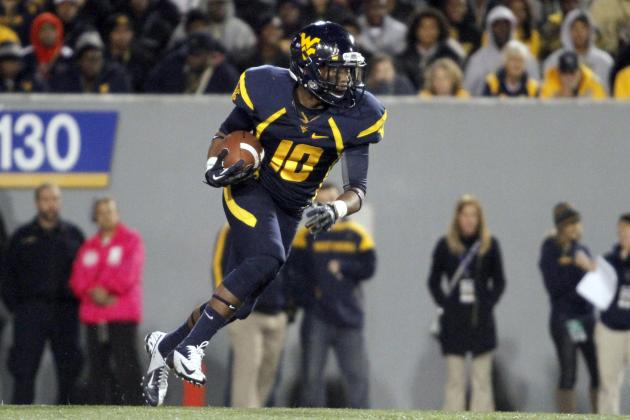 Justin K. Aller/Getty Images

One of the biggest question marks for West Virginia is who will replace those who left. Tavon Austin, Stedman Bailey and J.D. Woods are all gone. That's 285 receptions, 3,551 yards, and 41 touchdowns out the window.
So, in comes a new crop of receivers looking to replace those names and numbers without a bump in the road.
Jordan Thompson headlines the group. The sophomore saw some time last season but was often overlooked. His spring game performance this year, however, immediately showed us that he has what it takes to lead the corps (123 receiving yards, three touchdowns).
Following him is a bunch of unproven players who have little to no experience in Division I football. Kevin White (Lackawanna transfer) and K.J. Myers (redshirt sophomore) should be holding things steady on the outside. Ivan McCartney also returns to the squad in hopes to make the big plays he has in the past.
Shelton Gibson also joins the staff as the most prized recruit from this past year. The high school All-American will compete with Mario Alford, Ronald Carswell and others for playing time.
Each player possesses an ability that their teammates may not. White is a big man who can go up and get the ball. Gibson is a straight line speed receiver while Thompson works through his agility. Head coach Dana Holgorsen should have the weapons needed to keep that high octane offense churning.
Who doesn't love new clothes? The feeling of wearing something for the first time is desirable. That same feeling for an athlete throwing on a brand new jersey is about twice as strong.
The Mountaineers unveiled new uniforms this past spring, complete with an entirely different design. These jerseys aren't just here for a game or two like the Nike Pro Combats from a couple years ago, these jerseys are here to stay.
They're very flashy and beg for attention. Each and every detail on the jersey, from the numbers to the stitching, is true to the state of West Virginia and its mining history.
New uniforms can do more for a squad than what meets the eye. A sleek look can help in recruiting, a player's swagger and overall confidence. With 27 different combinations, the team captains will have their work cut out for them when deciding what to rock each week.
Look good, feel good, play good; that's the motto for this team and their new look.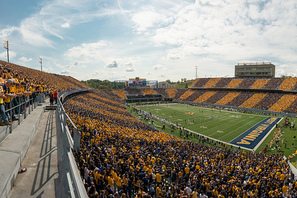 Courtesy: WVUsports.com
Last year, West Virginia University kicked off "Stripe the Stadium" for the first time. After a consistently packed house and 133 points, there's no doubt the idea was a success.
What the school and it's fans pulled off was nothing short of spectacular. Around 60,000 people filed into Milan Puskar Stadium with their fan gear. Individually, they looked no different than from any other game. But as they took to their seats and the stadium filled up, "Stripe the Stadium" became real.
It was homecoming week and the first game against a Big 12 opponent. It also turned out to be Geno Smith's best performance of his college career, with just six completions he threw for 656 yards and eight touchdowns.
In 2013, the second edition will fall on November 9 against the Texas Longhorns. The game time has yet to be announced, but if it reaches prime time, the entire nation could see how dedicated the WVU faithful truly are.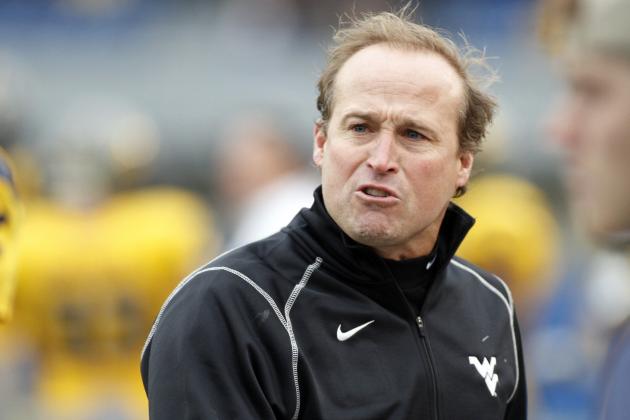 Justin K. Aller/Getty Images

What football coach can drink can, after can, after can of Red Bull and manage a football team on Saturdays? Well, Dana Holgorsen can.
One of the most outspoken coaches in college football, Holgorsen isn't afraid to show his emotions on the field. He also won't hold back in postgame press conferences with the media.
However he does it, he's become an offensive mastermind in the game and isn't slowing down. He's consistently recruited and built talent since his days with Texas Tech starting in 2005. He's made names out of Michael Crabtree, Justin Blackmon and, of course, Tavon Austin.
With quarterbacks, he's produced stars. Case Keenum led the nation in total offense with Holgorsen as his offensive coordinator in Houston. Brandon Weeden was a finalist for the Manning Award in 2010, and then there's Geno Smith who we all know very well.
What I'm saying is, although the roster has been completely rebuilt, Holgorsen will find a way to produce yet another top-10 offense. The fun part of it all is watching his acts on the sideline, which should happen often with an inexperienced group of guys on his team.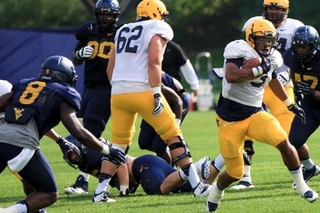 Courtesy: 247sports.com
Ironically, both Karl Joseph and Charles Sims come in on this list at the same number they'll be wearing on their jerseys. Interesting.
Sims hits this list relatively high for several reasons. He's brand new to the squad, has just one year of eligibility and is a top prospect in the 2014 NFL Draft.
He had 29 touchdowns and averaged more than six yards a carry during three years with Houston. He's a back who possesses a little bit of everything. He has a quick burst and strong lower body to run through wimpy tacklers, but has the straight-line speed to stay ahead of chasing defenders.
One of the best parts of Sims' game, and maybe the most vital for the WVU offense, is his threat in the passing game. He had 158 receptions for 1,707 yards during his time with the Cougars.
West Virginia has plenty of depth at the running back position which could cut into Sims' field time. With Dustin Garrison, Andrew Buie, Dreamius Smith and Wendell Smallwood right on his tail, he must produce week in and week out. The hype surrounding this senior isn't without reason, and he'll look to use his talents to carry the Mountaineers throughout the season.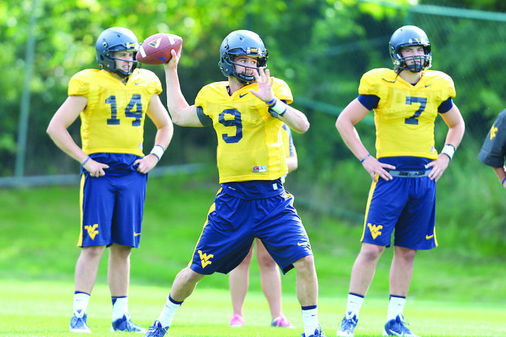 Photo Credit: Joe Signorelli
Not only did Geno Smith leave behind a legacy, but he also left behind a huge gap for who's going to quarterback this team.
Typically, a quarterback battle is between two players. In this case, three guys are fighting for the top spot, and each one has a legitimate chance to have it.
There's Ford Childress, a redshirt freshman from Texas who has the attributes of an ideal starting quarterback (6'5'', 234 pounds, rocket arm). However, he has no game experience whatsoever.
Then there's Paul Millard, a junior who has been the primary backup to Smith since he arrived. He's completed 9-of-19 passes for 87 yards and has thrown a pair of touchdown passes. However, it's hard for him to pass the eye test as he struggles with consistency and accuracy.
And lastly we have Clint Trickett, quite possibly the leading candidate for the job. He just transferred from Florida State in the spring and is available to play immediately. He has the most on-field experience and has showed brilliance with the time he received (threw for 336 yards and three touchdowns against Clemson as a freshman).
Head coach Dana Holgorsen isn't giving any hints to who has the upper hand at this point. The season begins in just over a week, and the team is looking for their leader. As the season continues, look out for the performances of these three and how the situation is handled by the coaching staff.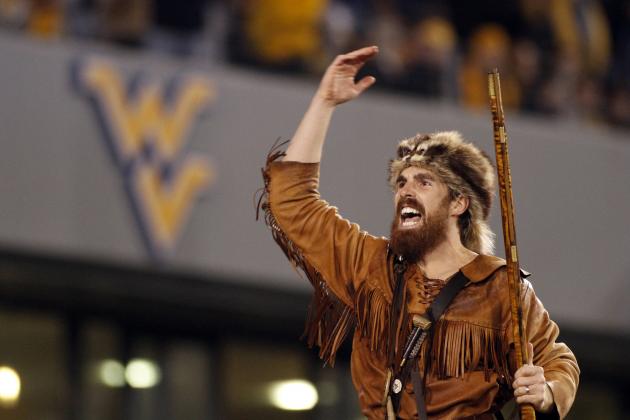 Justin K. Aller/Getty Images

When the Mountaineers score, they score quick. There's absolutely no wasted time in getting down the field and wearing down a defense on their way to the end zone.
When you think of fast offenses, Oregon immediately comes to mind. West Virginia might, but they're often overlooked. For a team that finished ninth in scoring in 2012, the Mountaineers have an elite offensive attack.
Head coach Dana Holgorsen will constantly keep defenses on their toes during a drive. He'll go four receivers wide with a constant deep-threat and keep one receiver back towards the line of scrimmage. Receivers are given a fair amount of freedom in their route running as they look for holes in the defense.
While the "Air Raid" from a year ago is all gone, that is no reason to believe the numbers will go down. The ball will be spread out much more than it was last year which will benefit West Virginia.
The amount of quick players on the team is also surprising. The Mountaineers will have guys like Jordan Thompson, Wendell Smallwood, Daikel Shorts and others who can all breakaway with their speed in the blink of an eye.
Watching a West Virginia football game is thrilling for any college football fan. There will be nonstop action and a constant threat for a big play. Keep your eyes peeled to the television screen and you won't miss a thing. But change the channel or walk away and you could be missing college football's next big thing.