SEC East Optimistic, Pessimistic and Realistic Predictions for 2013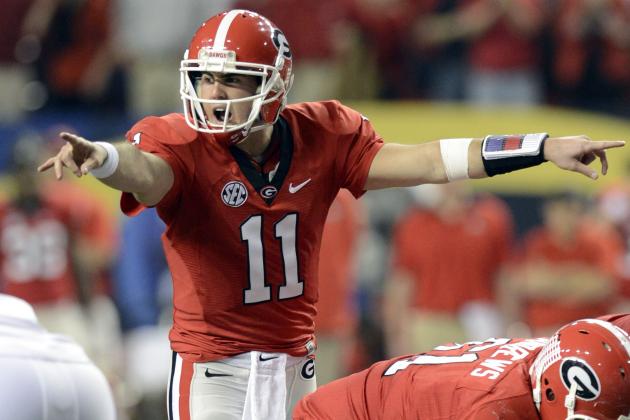 USA TODAY Sports
Georgia QB Aaron Murray
Yesterday, we did optimistic, pessimistic and realistic predictions for the SEC West. Today, we head East to what could be the most intriguing division in all of college football.
After back-to-back division titles, Georgia enters the season with the target on its back. But while Georgia has the hardware, South Carolina has three straight wins over the the Bulldogs and could be considered the most consistent team in the division over that stretch.
Then there's Florida. The team that remained in the national title discussion all the way through the end of the regular season was picked third at SEC Media Days, and didn't receive one vote to win the conference title.
Will Florida take the next step? Which of the three contenders will successfully fill the holes and emerge as the front-runner? Will Vanderbilt get that signature win?
Begin Slideshow

»
Scott Halleran/Getty Images
Florida head coach Will Muschamp
Of all the teams in the division, Florida is the most mysterious.
The passing game was simply woeful last season, and there weren't many questions answered this spring. Wide receiver Quinton Dunbar has been a spring superstar for a few years now, but that hasn't translated to the fall. Incoming freshman Demarcus Robinson has the talent to be a downfield threat and help quarterback Jeff Driskel spread the field, but will that inexperience lead to inconsistency?
The defense will be great, but Muschamp is debating moving cornerback Loucheiz Purifoy to offense to play wide receiver. He will see some time there. How much depends on how the wide receivers progress in the first 12-to-14 practices.
Matt Jones has the potential to be a superstar, and he showed flashes of brilliance last season, rushing for 275 yards and three touchdowns. But he's still only a sophomore.
Florida won last season with a stifling and opportunistic defense and a reliable running game. Can the Gators count on the same thing in 2013? If the passing game doesn't improve, they may no other choice.
Optimistic: 11-1, with a loss to LSU, Georgia or South Carolina. If the pieces come together, Florida can be a national title contender again. But the difference between Florida and the rest of the top end of the SEC is minimal, so running the table isn't likely. As long as that one loss isn't the wrong loss and forces the Gators to lose a tiebreaker, it should be good enough for a trip to Atlanta.
Pessimistic: 6-6, with losses to Miami, LSU, Georgia, South Carolina, Florida State, and either Tennessee or Vanderbilt. This isn't as far-fetched as it seems. Five of those six losses would not be a surprise, and if Florida can't fix its issues, the margin for error will be thin. That makes an upset loss to Tennessee or Vandy more likely.
Realistic: 7-5, with losses to LSU, Georgia, South Carolina, Florida State and Miami. Florida was ahead of schedule last season, and it may come back to the pack this season. The schedule is brutal, and until it fixes its passing game, I'm not sold.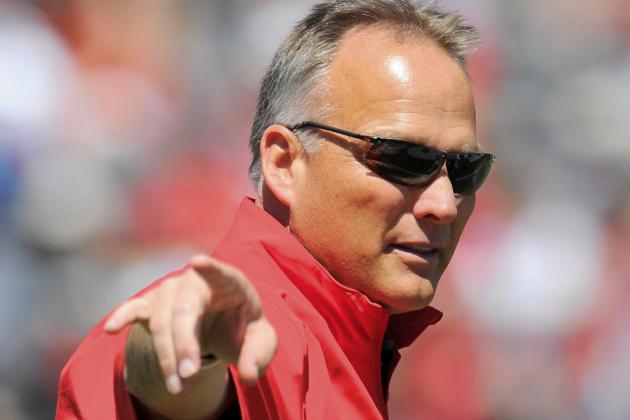 Dale Zanine-USA TODAY Sports
Georgia head coach Mark Richt
Georgia was five yards from playing for the crystal football last season and are the favorites to three-peat as division champs this season.
But it won't be easy.
The schedule is more difficult for head coach Mark Richt in 2013, especially in September when the Bulldogs play Clemson, South Carolina and LSU—all of which are potential Top 15 teams.
Offensively, there are no issues. The Bulldogs get virtually everybody back from last year's team that finished third in the SEC with 467.6 yards per game.
The big questions are on defense, where stars like linebackers Jarvis Jones and Alec Ogletree, defensive lineman John Jenkins, and safety Bacarri Rambo are gone.
Jordan Jenkins, Amarlo Herrera, Mike Thornton and Tray Matthews are talented players who are being asked to fill in for that group. But with national title hopes hanging in the balance during the first month of the season, the new-look defense can't afford to be inconsistent.
Optimistic: 12-0, with a trip the SEC Championship Game and BCS National Championship Game. If the pieces come together during fall camp, this team is fully capable of hitting the ground running and running the table.
Pessimistic: 8-4, with losses to Clemson, South Carolina, LSU and Florida. That would certainly be a disappointment for Dawg Nation, but losing to those four teams would be nothing to be ashamed of.
Realistic: 11-1, with a loss to LSU. Sure, the home loss to LSU would hurt, but it wouldn't cost the Bulldogs a chance at the SEC Championship. Georgia is a bully that will line up and punch you in the mouth, but so is LSU. Still, with Georgia's offense, it can succeed no matter what kind of game it's forced to play, which means a return trip to Atlanta is likely.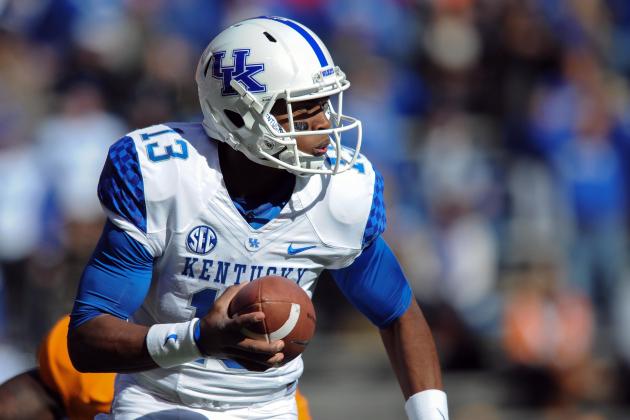 Randy Sartin-USA TODAY Sports
Kentucky QB Jalen Whitlow
Recruiting success and the positive direction of the program under first-year head coach Mark Stoops have Big Blue Nation excited about the future of Wildcat football, but can that be sustained throughout the season?
Jalen Whitlow emerged this spring as the leader of the three-man quarterback battle with Max Smith and Patrick Towles, and he could bring a new dimension as a mobile quarterback in Neal Brown's air raid system. But can he be consistent?
Kentucky needs to have wide receivers step up. But, regardless, Brown will have Raymond Sanders as a threat in the running and passing game out of the backfield.
Defensively, Stoops has talent on hand, including linebacker Avery Williamson—the second-leading tackler in the SEC last season—defensive tackle Donte Rumph and defensive end Za'Darius Smith. But will the lack of depth become an issue?
It's a transition year for Kentucky, but if Stoops and Co. can get through it, the best is yet to come.
Optimistic: 6-6, with wins over Western Kentucky, Miami (Ohio), Mississippi State, Alabama State, Missouri, and either Vanderbilt or Tennessee. The out-of-conference games listed above are reasonable, and beating Missouri and Mississippi State isn't out of the question as long as the Wildcats stay healthy. If they catch some breaks, beating Tennessee or Vanderbilt wouldn't be totally shocking.
Pessimistic: 2-10, with wins over Miami (Ohio) and Alabama State. That Western Kentucky game in Week 1 is tricky. The Hilltoppers topped the Wildcats a year ago, and there's no question they have a coaching advantage this season with Bobby Petrino at the helm. If Western Kentucky springs the upset, it could be another miserable season in Lexington.
Realistic: 4-8, with wins over Western Kentucky, Miami (Ohio), Alabama State and either Mississippi State or Missouri. Kentucky will be competitive against the middle-to-lower-tier SEC teams, which makes one SEC win possible. But with the rest of the division either in "next man up" mode or improving from the middle of the pack, it's hard to find wins on that schedule.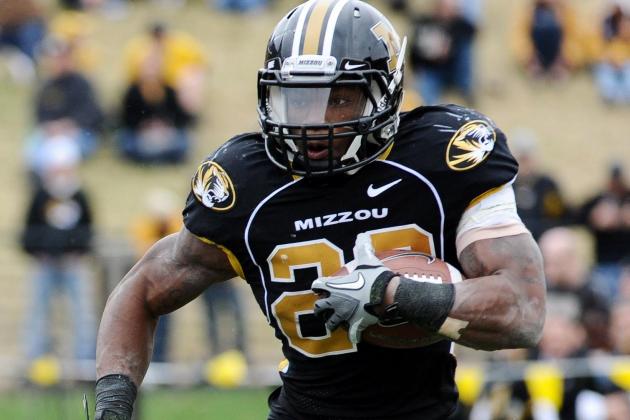 Dak Dillon-USA TODAY Sports
Missouri RB Henry Josey
Of all the coaches in the SEC, the only one sitting on a seat that's either hot or warm is Missouri's Gary Pinkel.
A 5-7 season in Year 1 in the SEC was a major disappointment for the Tigers, and if they don't show marked improvement this season, it could spell the end of the Pinkel era.
The good news, though, is that running back Henry Josey is back after sitting out last season with a knee injury. Josey rushed for 1,168 yards and nine touchdowns in 2011 in only 10 games. If he's back at 100 percent, that will help stabilize the offense and create bigger seams for quarterback James Franklin to find wide receivers Dorial Green-Beckham and Marcus Lucas.
Defensively, Andrew Wilson is a solid linebacker and E.J. Gaines is a quality cornerback, but can they be consistent enough to stay in games in the fourth quarter?
Optimistic: 7-5, with wins over Murray State, Toledo, Indiana, Arkansas State, Kentucky, Vanderbilt and Tennessee. That would probably be enough for Pinkel to keep his job, especially if the Tigers are competitive in losses to the big boys.
Pessimistic: 3-9, with wins over Murray State, Toledo, and either Indiana or Arkansas State. Missouri is fighting for respect in the SEC East, plus it draws Texas A&M and Ole Miss out of the West. If things go south, a winless SEC season isn't out of the question.
Realistic: 6-6, with wins over Murray State, Toledo, Indiana, Arkansas State, Kentucky, and either Vanderbilt or Tennessee. It all depends on Franklin's ability to stay on the field. When he's healthy, he can be a dynamic playmaker. But staying healthy was an issue in Year 1 in the SEC.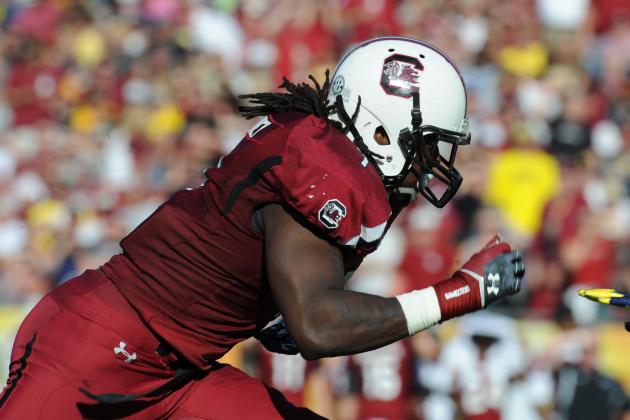 Al Messerschmidt/Getty Images
South Carolina DE Jadeveon Clowney
South Carolina has posted back-to-back 11-win seasons, making this the most prosperous time in program history.
Now it's time to take the next step.
Sure, running back Marcus Lattimore and wide receiver Ace Sanders are gone, but Bruce Ellington is back outside and South Carolina has been able to keep the train rolling in the right direction after Lattimore's injuries in each of the last two seasons.
Mike Davis and Brandon Wilds are quality running backs, and coupled with the running ability of quarterback Connor Shaw, they should create a versatile attack.
Defensively, there are questions—particularly at linebacker. But the secondary led by Victor Hampton and Jimmy Legree is vastly underrated and will benefit from a tremendous defensive line that features Jadeveon Clowney, Kelcy Quarles and Chaz Sutton.
Look out for the Gamecocks.
Optimistic: 12-0, with a trip to the SEC Championship Game and the BCS National Championship Game. With Georgia early in the season (with two extra days to prepare) and a bye week before hosting Florida, the schedule sets up nicely.
Pessimistic: 7-5 with losses to Georgia, Florida, Clemson, North Carolina and Vanderbilt. For this to happen, it'd mean that the running game doesn't click, Shaw isn't able to stretch the field and the coaching staff is unable to find answers at linebacker.
Realistic: 11-1, with a loss to Georgia. This probably would mean that the Gamecocks miss out on the SEC Championship Game because that tiebreaker to Georgia would loom too large. But it would mean that the Gamecocks have maintained their position in the national discussion. Ten years ago, that was a pipe dream in Columbia.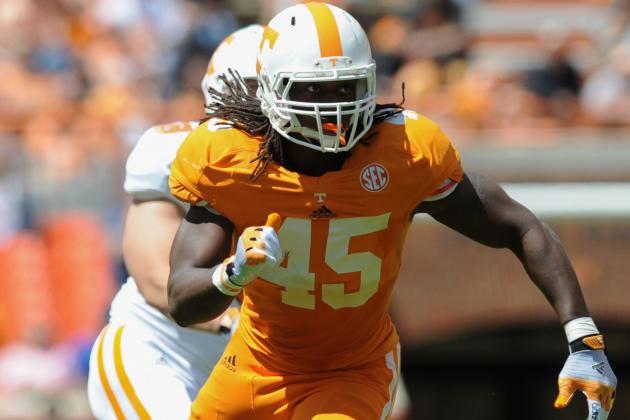 Randy Sartin-USA TODAY Sports
Tennessee LB A.J. Johnson
In just a few short months at the helm, head coach Butch Jones has fans on Rocky Top excited about Tennessee football again.
While he's been recruiting well, there's still plenty of issues for Jones to deal with on the field in Year 1—particularly in the passing game and on defense.
Justin Worley and Nathan Peterman enter fall camp as the front-runners to win the starting quarterback job, while newcomers Riley Ferguson and Josh Dobbs will by playing catchup this August. There are questions at wide receiver, but an underrated rushing attack and a stout offensive line could stabilize the offense.
Defensively...whew.
The Vols have talent, but underachieved last season in Sal Sunseri's 3-4 system. Now back in the 4-3 under John Jancek, expect big things from linebacker A.J. Johnson, safety Brian Randolph and defensive tackle Daniel McCullers. But can that defense be consistent? That may be the difference between a bowl game and a boring holiday season.
Optimistic: 7-5, with wins over Austin Peay, Western Kentucky, South Alabama, Missouri, Auburn, Vanderbilt and Kentucky. There aren't any signature wins there, but there aren't any signature losses either. That'd be marked improvement for this program.
Pessimistic: 4-8, with wins over Austin Peay, Western Kentucky, South Alabama, and one from a group consisting of Kentucky, Missouri and Auburn. If the defense doesn't click and Jones can't find a quarterback, it's not out of the question.
Realistic: 6-6, with wins over Austin Peay, Western Kentucky, South Alabama, Missouri, Kentucky, and either Vanderbilt or Auburn. That Auburn game will be huge for both programs and could be one of the bigger games in determining the lower half of the SEC's bowl destinations.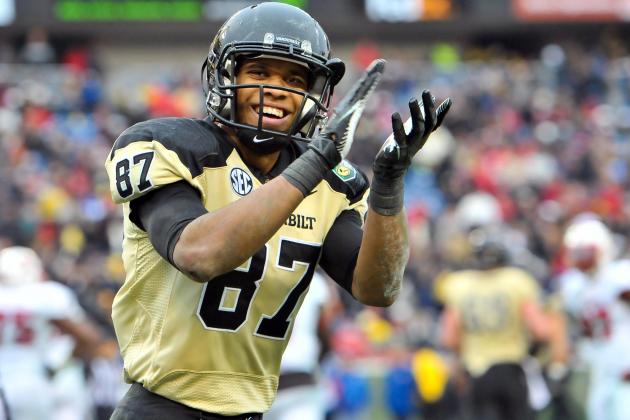 USA TODAY Sports
Vanderbilt WR Jordan Matthews
Vanderbilt was an offensive machine late last season, scoring 38 or more points in five of its final games—all seven of which were wins.
The bad news is that quarterback Jordan Rodgers and running back Zac Stacy are gone, but the good news is the bulk of that offense returns. Jordan Matthews can make an argument that he's the best wide receiver in the SEC, and combined with Chris Boyd, the two constitute a dangerous one-two punch at wide receiver.
Wesley Tate, Brian Kimbrow and Jerron Seymour form a talented and versatile committee at running back, and Austyn Carta-Samuels proved from his time at Wyoming that he is a dangerous dual threat at quarterback.
Defensively, Andre Hal is one of the best cornerbacks in the SEC, and Chase Garnham is the best linebacker you've never heard of.
It should be a fun season in Nashville. Franklin has raised the floor. Now the Commodores are looking to do the same to the ceiling.
Optimistic: 9-3, with losses to three out of a group consisting of Texas A&M, South Carolina, Georgia and Florida. Not only does that mean Vanderbilt takes care of business against teams it should beat, but also that it springs at least one upset along the way. That'd be tremendous progress.
Pessimistic: 5-7, with wins over Austin Peay, UMass, UAB, Kentucky and Wake Forest. This is unlikely, because it would mean that Vandy would lose to Missouri and Tennessee. This finish is not likely, but it wouldn't be the most shocking outcome in the world.
Realistic: 7-5, with losses to Ole Miss, South Carolina, Georgia, Texas A&M and Florida. So much depends on that season-opener against Ole Miss. If it drops that, Vandy will take a step back. Win it, and the program at worst stays at its current level.