College Football Players Who Can Hurt Their NFL Draft Stock in 2013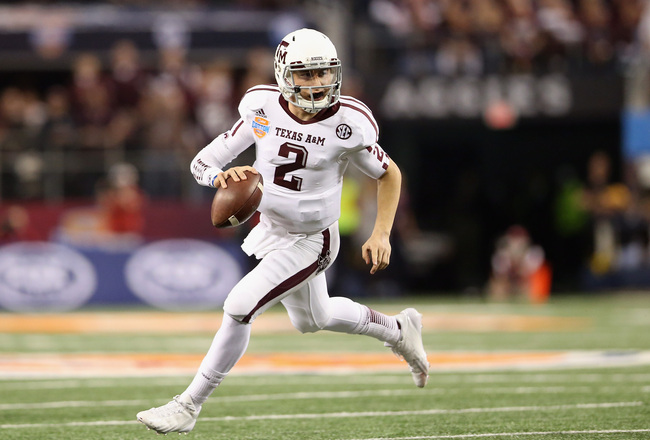 Ronald Martinez/Getty Images
Best not get too attached to that big board, folks.
No matter how good a player's stock looks in July or August, the 2013 college football season is the primary trial for the 2014 NFL draft. And with the season about to kick off, several highly regarded players could be in store for a fall in the fall.
Don't believe me? Take a quick look at B/R draft guru Matt Miller's mock draft from last August. Here are some highlights from the first round:
No. 1:

QB Logan Thomas, VT
No. 2: CB David Amerson, NCST

No. 3:

WR Keenan Allen, CAL

No. 5:

QB Matt Barkley, USC

No. 7:

QB Tyler Wilson, ARK

No. 11:

OT Ricky Wagner, WIS

No. 15:

LB Sean Porter, A&M

No. 19:

OT Alex Hurst, LSU

No. 23:

LB Nico Johnson, ALA

No. 26:

DE William Gholston, MSU

No. 29:

WR Kenny Stills, OU
That's not an indictment of Miller's prognosticatory powers. He's a veteran scout who's incredibly good at his job. This is simply the nature of the business.
So try not to complain if you see your favorite player on your favorite team on this list. I promise I don't have it out for them or you.
Just remember: USC fans would have started a riot if they saw Matt Barkley here last season.
WR Sammy Watkins, Clemson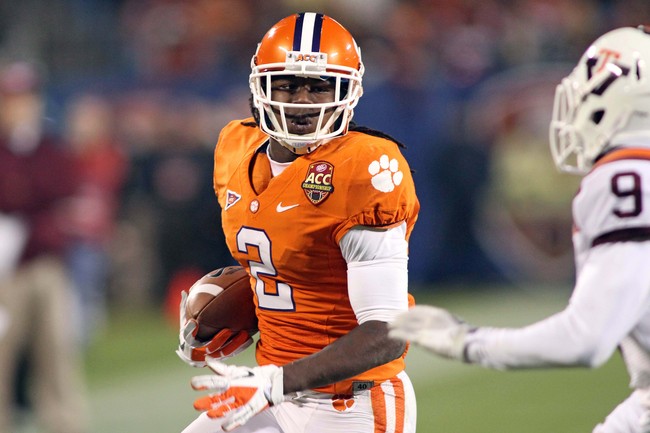 Jeremy Brevard-USA TODAY Sports
The world seems ready (if not eager) to forgive Watkins' slow sophomore year, a season where he faded to the background and let his teammate, DeAndre Hopkins, become a household name.
He probably deserves the second chance. The numbers Watkins posted as a true freshman in 2011 (82 catches, 1,219 yards, 12 TD) were transcendent for a player his age, and his blend of size and speed appears well-suited for the next level.
But he's being pegged as an All-American candidate again this year, which means there's potential for more disappointment. If he doesn't restore his freshman form, 66 percent of Watkins' college seasons would have to be considered letdowns.
And who would want to draft that in the Top 10?
QB Johnny Manziel, Texas A&M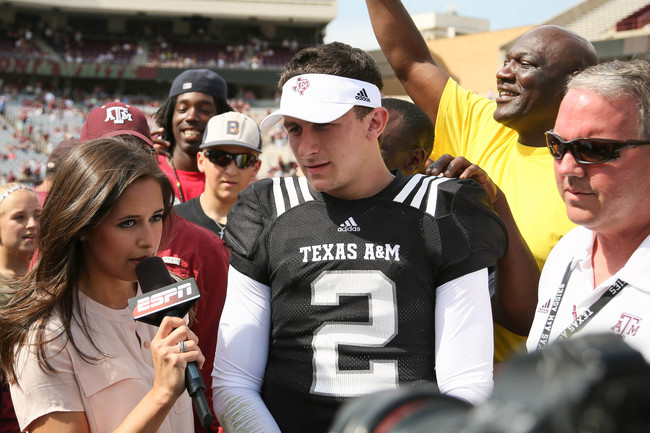 USA TODAY Sports
Manziel's NFL stock is all over the map. Quotes from league sources have ranged from "he would be in my Top 10 for sure" (via Charles Davis) to "mixed" reviews on his arm talent (via National Football Post).
With a player like Johnny Football, a prospect whose production far outweighs his physical gifts, even the slightest drop off in numbers could cripple his draft stock. He'll rely on gaudy sabermetric scores to vindicate his unimpressive measurements and arm strength.
Forget, for a second, the red flags surrounding his personal life (fair or not that they exist). Manziel can become a first-round lock if he still has answers for every opposing defense.
But if the rest of the sport has caught up with him, scouts will stop watching Manziel through rosy, Heisman-shaped lenses.
QB Zach Mettenberger, LSU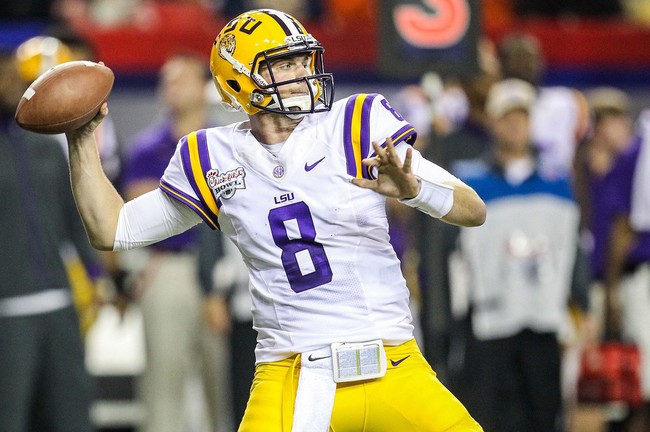 USA TODAY Sports
Mettenberger is the exact opposite of Manziel.
Johnny is highly regarded in spite of his stature and because of his production, whereas LSU's second-year quarterback is lauded because of his stature and in spite of his production.
Mettenberger is big and strong, and he possesses a true NFL deep ball. Stick this year's top eight QB prospects in a police lineup, with no outside information, and he's probably the one you'd pick first to start your franchise.
But he was wildly inconsistent last year, and his numbers suffered accordingly.
This season, a long-tenured NFL coordinator, Cam Cameron, has been dispatched to Baton Rogue to tutor him. Which means if he doesn't succeed, the whole "would translate well to a pro-style offense" note on his scouting report becomes moot.
If Mettenberger doesn't realize some of his potential this season, NFL general managers will give up on it.
DE Stephon Tuitt, Notre Dame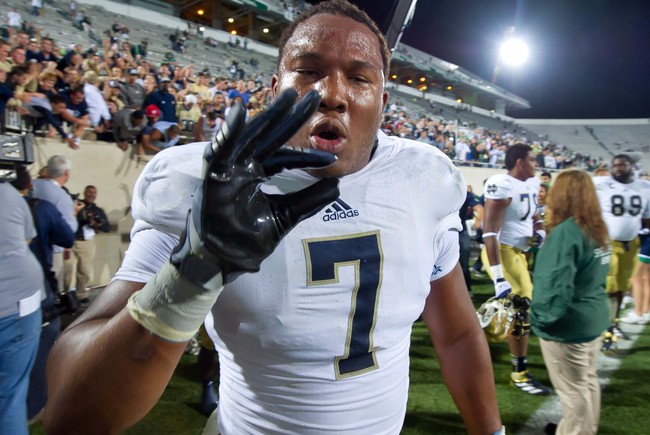 Matt Cashore-USA TODAY Sports
Because of Manti Te'o, it's hard to say whether Tuitt is over or underrated.
Even though he plays a different position, a case could be made that Tuitt's success was in part due to Te'o's—that blocking schemes so sharply focused on Te'o would sometimes leave Tuitt unattended.
But the case could also be made that Te'o overshadowed Tuitt last year—that the Heisman runner-up made plays because his All-American end was wreaking havoc on opposing offensive lines.
On tape, it appears to be the latter. Or at least it skews that direction. Tuitt is highly regarded and seems bound for a spot in the top 15 picks.
But now that he's the leader of the defense, there's a chance that tape could change. And if it does, Tuitt's stock could take a dip.
WR Jordan Matthews, Vanderbilt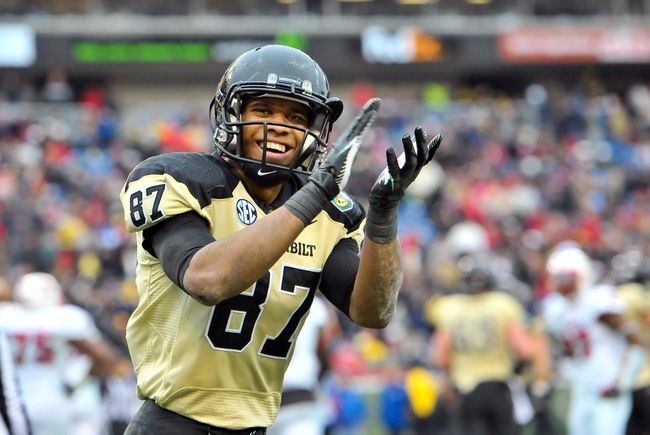 USA TODAY Sports
Matthews has prattled on and on about his team this offseason, saying his coach has the best job in America and that his cornerbacks are the SEC's best.
Which means he'll have no excuse for a down season.
With multiple quarterbacks starting in 2011, Matthews had a boom-or-bust season. He caught just 40 passes, but made them count by averaging 19.5 yards per catch. He exploded onto the scene as a junior, though, in large part because Jordan Rodgers (brother of Aaron) provided quality under center.
Now, entering his senior season in Nashville, question marks return at the quarterback position. Wyoming transfer Austyn Carta-Samuels is the likely starter, and he's a creative playmaker. But his arm skill is largely unknown, and he's yet to prove a live-action rapport with Matthews.
Vanderbilt won't sneak up on anybody this year, and neither will its star receiver. If that blend of factors causes a decline, it will reflect itself in Matthews' draft stock.
TE Austin Seferian-Jenkins, Washington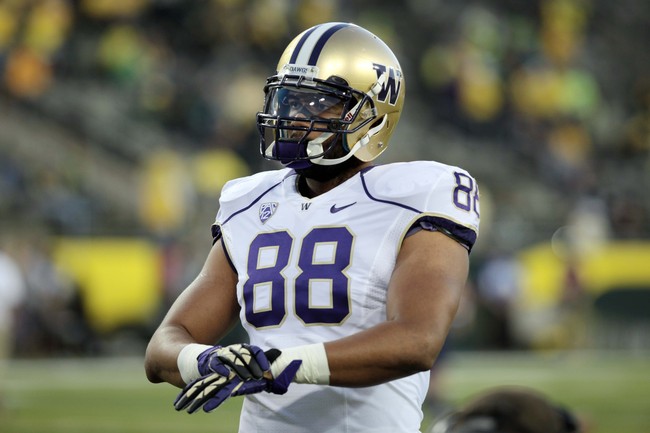 Scott Olmos-USA TODAY Sports
ASJ is a tantalizing prospect and a physical wonder, the type of new-breed tight end whose skills seem perfect for 2013's version of NFL football.
But so was Jared Cook.
Seferian-Jenkins has been good in his two years at Washington, and he could well be the best tight end in college football. But sometimes he's more of a headache than he's worth.
A DUI arrest led to an indefinite suspension this spring, and that came after he somehow found himself getting punched by a Washington State fan after last year's game in Pullman (although, in fairness, that might not have been his fault).
He also disappeared in some of the Huskies' biggest games last year, finishing with just four catches, 43 yards and no touchdowns combined against Stanford and Oregon.
Teams will be intrigued by Seferian-Jenkins' potential, and rightfully so. But he needs to prove that he can (a) play with consistency on the field, and (b) act like a professional off it.
If he can't do that this season, he'll drop down many teams' boards.
Keep Reading