2014 Recruits Who'll Win Awards in Their College Careers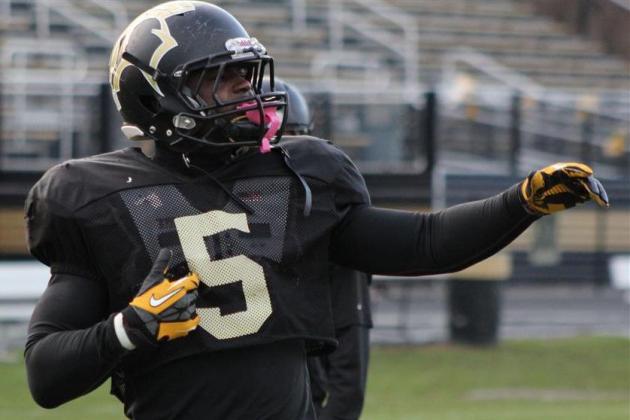 247Sports
Predicting a future Heisman winner is futile, as an overwhelming amount of factors play into a player's chances of winning the award. No one predicted Johnny Manziel to win a Heisman Trophy during the 2011 recruiting cycle.
However, predicting future winners of the other major awards in college football is easier due to the honors being more position specific. Several recruits in the 2014 recruiting class appear to have the skills to win an award at their position.
A running back who is ready to carry the load for a college offense now should win top honors for his position, while a shocking prediction awaits regarding the award for the nation's best linebacker.
Player evaluations are based on reviews of tapes at Scout.com, Rivals, 247Sports and ESPNU.
Begin Slideshow

»
The Paul Hornung Award is given to the nation's most versatile player. All-around athlete Jabrill Peppers would win the trophy in a landslide if it were given to high school players.
However, the Michigan commit will play cornerback in Ann Arbor, so his chances of winning this honor will be limited. Receiver Speedy Noil is going to win this award before he leaves college, as the dynamic multi-purpose threat can do an array of things.
Noil can play wide receiver, Wildcat quarterback and running back, and can return punts and kicks. He will remind many observers of St. Louis Rams receiver Tavon Austin, who won the award in 2012 at West Virginia.
Keller Chryst is headed to Stanford, where it will take him a season or two to get on the field. Chryst is a smart quarterback, but he needs a year to fully get the grasp of David Shaw's system. Plus, he will have to compete with 2013 signee Ryan Burns.
Those two significant factors will likely keep Chryst in Palo Alto through his senior season.
However, when he does become the starter for Stanford, Chryst will eventually be one of the best passers in the country and will win the Johnny Unitas Golden Arm Award, which is given to the nation's best senior quarterback.
The 2014 recruiting class lacks a consensus No. 1 receiver prospect, but K.D. Cannon—as it's spelled by ESPNU—deserves to be considered for the top offensive perimeter-player award in this class.
Cannon has shredded Texas competition over the past two seasons, as he has 167 receptions, more than 2,600 yards, and 36 receiving touchdowns since 2011.
He will put up big numbers at the next level, as he is likely to play in the Big 12—according to 247Sports—and the league is not known for having great defenses.
He is 6'0" and 162 pounds, has fantastic release quickness and incredible hands. Cannon has the potential to be a No. 1 receiver in college, where he will win the Fred Biletnikoff Award, which goes to the best receiver in the country.
Big offensive tackles who have quick feet, agility, strength and size always get noticed by those who vote on college football awards.
Cameron Robinson, who is 6'5" and 330 pounds, is a dancing bear who will win the Outland Trophy as a college left tackle. The Outland Trophy is given to the most outstanding interior lineman, which Robinson has the potential to be before the end of his junior season.
Robinson has great quickness at the snap, can mirror rushers with ease, and has the power to dominate on running plays. Whether he blocks at Alabama or LSU, Robinson has NFL potential, and his talent will get recognized in college.
Leonard Fournette is wasting his time competing with high school players at this stage of his career. He's ready to run the football in college, as the 6'1", 226-pounder has the size, strength and speed to challenge collegiate defenses.
Fournette is too talented of a player not to leave college without many decorations. Out of the several awards he should win, Fournette will be named the winner of the Doak Walker Award, which is handed to the best running back in America.
Fournette's combination of physical gifts along with his vision, instincts and maturity make him a special running back prospect.
Jabrill Peppers is perhaps the best pure talent in high school football this season. He is an outstanding player from New Jersey who has exceptional athleticism and instincts on a 6'1", 205-pound frame.
Peppers is headed to Michigan, where he will play cornerback. He has terrific cover skills, agility, short-area quickness and intelligence. He will play as a true freshman in 2014, and he will be a Freshman All-American.
A few seasons after Peppers' impressive freshman season as a defensive perimeter-player in Ann Arbor, he will win the Chuck Bednarik Award, which goes to the best defensive player in the country. Peppers is a more talented prospect than former Michigan cornerback Marlin Jackson was at this point.
An underrated player, Shaun Dion Hamilton should have a bigger buzz on the recruiting trail. The Alabama commit is a great inside linebacker prospect and is a perfect fit in the Tide's defensive scheme.
Hamilton, who is 6'0" and 240 pounds, has the ability to be dominant versus running plays. He reads his keys quickly, has great quickness to fill holes, plays big at the point of attack and is a solid tackler.
Hamilton is a thumper who hits like a freight train. He has deceptive explosiveness, speed and athleticism. Hamilton has a high ceiling and should reach his full potential under tutelage of Kirby Smart, who will make him the best linebacker in the country and coach Hamilton to win the Dick Butkus Award.
It is rare to find high school cornerbacks who are great at press-man, off-man and zone coverage. Usually, a prep cornerback prospect is good at only one or two of the three main coverage techniques.
However, Tony Brown excels in all three, as the 6'0", 188-pound defensive back is one of the top players at his position in the 2014 class. Brown has good strength to reroute receivers at the line, loose hips to sit back on the perimeter, and the range to patrol deep thirds, halves and quarters of the field.
He is a versatile defensive back who can play on the boundary or field side at cornerback. He also possesses the skills to play either safety position. Winning the Jim Thorpe Award, given to the nation's best defensive back, is in Brown's future.
Edwin Weathersby is the College Football Recruiting Analyst for Bleacher Report. He has worked in scouting/player personnel departments for three professional football teams, including the New York Giants and Cleveland Browns.