SEC Football Assistant Coaches Who Will Become Head Coach Someday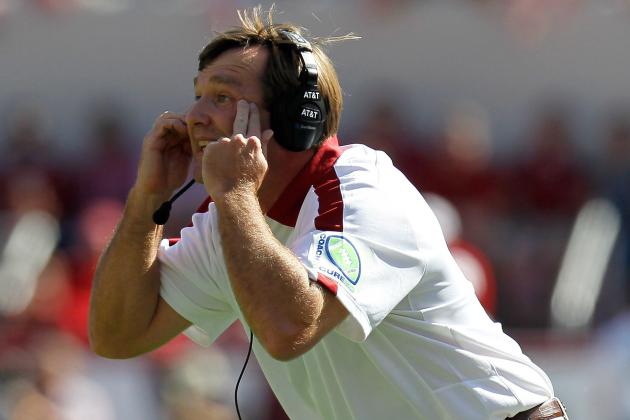 Kevin C. Cox/Getty Images

When you have a gem as an assistant coach in the SEC, it's best to show them the money and hold on tight.
Great coaching staffs win championships. Just ask Nick Saban, who won a championship in 2003 with Will Muschamp as his defensive coordinator and Jimbo Fisher as his offensive coordinator.
Sometimes, the man underneath the head coach is just as responsible for success as the coach. In some teams' cases, recruiting is a tool for success. For instance, because of the efforts by Clarence McKinney and David Beaty at Texas A&M, Kevin Sumlin has plenty of skill players to plug into his scheme this season. There are plenty of toys for "Johnny Football" to play with.
With so many great assistant coaches in the best conference college football has to offer, it's only a matter of time before the best get offered a promotion as head coach somewhere. Here are the most likely candidates.
Begin Slideshow

»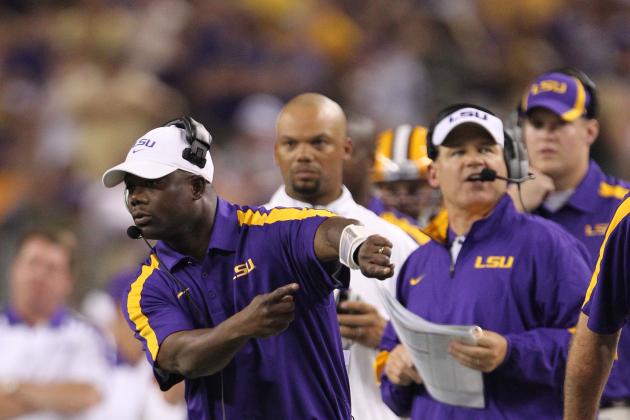 Matthew Emmons-USA TODAY Sports

Sooner or later, Frank Wilson is going to answer a call and change venues.
Look, Wilson loves LSU, and he's received coaching opportunities, but he continues to stay at LSU. He simply enjoys being the running backs coach and recruiting coordinator for the Tigers.
However, one day, he will answer the call and possibly change landscapes.
Why? Well, Wilson is a great running backs coach who, year after year, puts quality running backs on the field. From Stevan Ridley to Spencer Ware to Jeremy Hill, Wilson has done a great job of coaching up his backs.
But what makes him an MVP in Baton Rouge is his recruiting ability. Wilson is second to none in this area, as he continously grabs some of the best players in college football. In 2011, he was named recruiter of the year by Rivals.
Many may not know who George Barlow is, but that's simply because he's on Vanderbilt's staff.
You might as well change your mentality about Vanderbilt now, since these aren't your old Commodores. James Franklin has turned Vanderbilt into a contender in the SEC East, and he did it with the help of quality men on his staff, such as Barlow.
In his first season as defensive backs coach for Vanderbilt, he led the Commodores to having the third-best pass defense in the conference.
With experience returning in the secondary, it's likely that Barlow's secondary will, once again, be one of the best in the SEC.
I see a defensive coordinator job in this man's near future, followed by a head coaching position.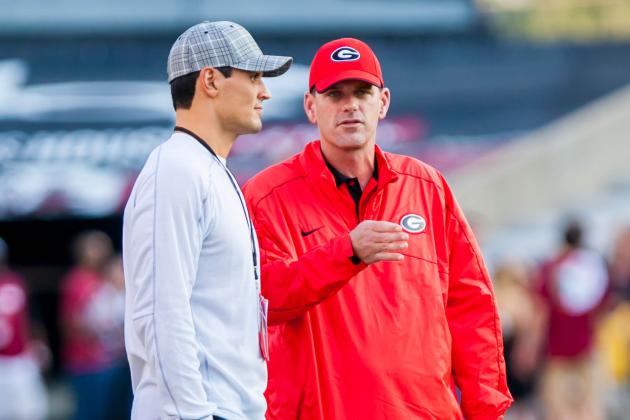 Jeff Blake-USA TODAY Sports

Here's your controversial pick.
Love him or hate him—and either way most fans have a strong opinion of him—no one can deny that Mike Bobo has had success in his coaching career.
Vanilla play-calling and all, Bobo's days as calling plays in the SEC were limited by many. Well, he's still calling plays for the Georgia Bulldogs today.
Here's what Bobo has done since taking over as the play-caller in 2007—top three offenses in 2011 and 2012, produced two All-SEC quarterbacks in Matthew Stafford and Aaron Murray and he's recruited players such as Josh Harvey-Clemons and Malcolm Mitchell.
He's a good offensive coordinator who does a great job at developing quarterbacks, and quite frankly, he's unappreciated. Commence your rant below Bulldog fans.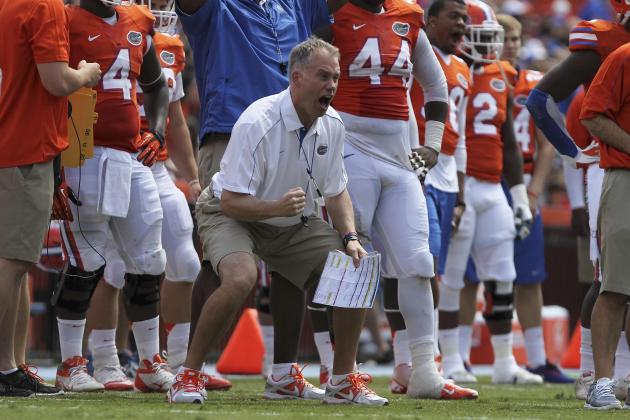 Kim Klement-USA TODAY Sports

That picture remind you of anyone?
Success can be found in the lineage of a teacher. Like Muschamp followed in the footsteps of Nick Saban, D.J. Durkin will likely follow in the footsteps of Muschamp.
It's a bit premature to know for sure, but heck, why not speculate? Once Dan Quinn left to coach the Seattle Seahawks, Durkin was given the opportunity to be defensive coordinator at the University of Florida, shared here in Muschamp's voice.
Granted, he just received the promotion, and this is his first season as defensive coordinator, so he has no reason to be on this list, right? Wrong; there's reason to believe he'll be successful and on the fast track to receive a head coaching gig.
First, he's working under Muschamp, who has a brilliant defensive mind. Like Saban molded him, Muschamp will give Durkin a nice rub. Another reason is his track record at Florida already.
As a linebacker coach, he's produced All-SEC players, such as Jelani Jenkins and Jon Bostic. Oh, and while he did this, he headed a special teams group that ranked seventh nationally in kickoff coverage, ranked 11th in punt returns and led the SEC in blocked kicks. Every year Durkin has served as special teams coordinator, the Gators have led the SEC in blocks.
With the talent Florida has coming back on defense, Durkin should have an incredible first season as defensive coordinator.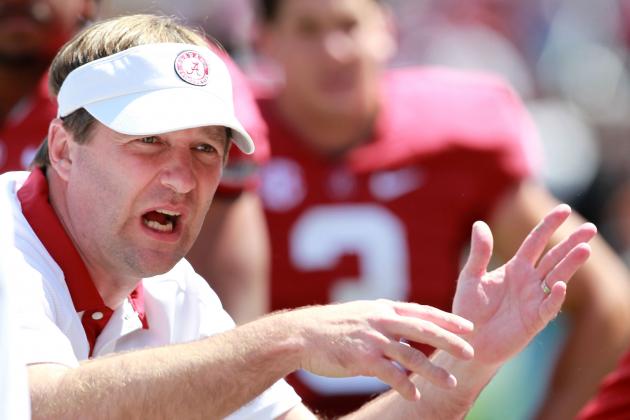 Marvin Gentry-USA TODAY Sports

Everybody and their mother could have predicted Kirby Smart would be on here.
Smart is undoubtedly the best assistant coach in college football. He was named assistant coach of the year last season, and he was previously awarded the honor in 2009.
Under Saban, Smart runs the best defense in the country. The Crimson Tide have posted top-five defenses in the last five seasons, including the top defense the last two seasons.
With Smart as defensive coordinator, Alabama has had seven first-round draft picks hailing from the defensive side of the football.
The knowledge Smart has received from Saban has made him the best defensive coordinator in football, and it won't be long before Smart conquers the football world as a head coach.