Florida Gators sophomore linebacker Antonio Morrison was arrested Sunday morning for the second time in just over a month. According to Edgar Thompson of the Orlando Sentinel, Morrison "was charged with interfering with police by harassing a police animal."
UPDATE: Tuesday, July 24, at 4:13 p.m. ET by Kyle Vassalo
USA Today's Dan Wolken provides an update on Antonio Morrison's charges:
Gainesville attorney Huntley Johnson told me the charges against Antonio Morrison will be dismissed this afternoon

— Dan Wolken (@DanWolken) July 23, 2013
The Orlando Sentinel provides confirmation of the dropped charges:
State Attorney's Office said charges against #Gators LB Antonio Morrison officially have been dropped. #Gators

— Sentinel Gators beat (@osgators) July 23, 2013
---End of update---
UPDATE: Monday, July 23, at 7:55 a.m. ET by Brandon Galvin
The Gainesville Sun's Maru I. Opabola has the latest on Antonio Morrison:
On the same day the Alachua County Sheriff's Office released the dashboard camera video of the Sunday morning of arrest of University of Florida linebacker Antonio Morrison, Sheriff Sadie Darnell said the arresting deputy should have given the 19-year-old a warning for barking at a police dog instead of placing him under arrest.

Darnell also said the arrest was a split-second decision during chaos.

The video footage does not show Morrison barking at Deputy William Arnold's K-9, but it does show Morrison walking past the vehicle with a small group of males before being beckoned by Arnold and then quickly being placed under arrest as multiple officers converged on him. ...

Minutes later, Morrison can be heard pleading with Arnold to release him.
---End of update---
UPDATE: Sunday, July 21, at 12:05 p.m. ET by Brandon Galvin
Rivals' Bryan Holt has the latest on Antonio Morrison:
Will Muschamp statement on Antonio Morrison: "He has been suspended from the team and will miss at least two games to begin the season."

— Bryan Holt (@Bryan_Holt) July 21, 2013
Will Muschamp said he is "extremely disappointed" in Antonio Morrison's decision-making. #Florida

— Bryan Holt (@Bryan_Holt) July 21, 2013
---End of update---
Should Florida cut ties with Antonio Morrison?
---Original Text---
The report claims the incident took place around 4:15 a.m. ET and states that Morrison was at a Gainesville bar that had police presence when he began barking at a K-9 unit. The incident led to his arrest, and the linebacker was released on his own recognizance Sunday morning.
While this story is unusual, Florida should be genuinely concerned about the pattern of poor decision-making from its young prospect.
Morrison was also arrested on June 16 for reportedly punching a bouncer at a nightclub, per Michael DiRocco of ESPN's GatorNation.
Head coach Will Muschamp had been uncommitted to taking any public disciplinary measures against Morrison in his first arrest, per Thompson, but the latest run-in with the law could force the program to consider all possibilities.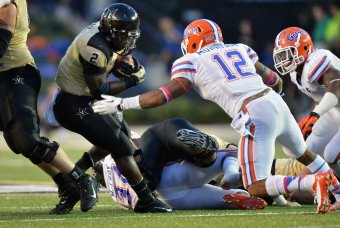 Don McPeak-USA TODAY Sports
Morrison is a bright prospect who is still learning the college football game on the field, managing 34 tackles and one interception in his first season in the Swamp, per ESPN. The question for the team now will be whether his off-field issues outweigh his potential success with the program.
If the Gators feel Morrison is a star of the future and a good person who just made another mistake, the university could decide to do what it can to get him the help he needs.
On the other hand, if Morrison continues to make mistakes off the field, the school will have all the reasons it needs to cut ties.